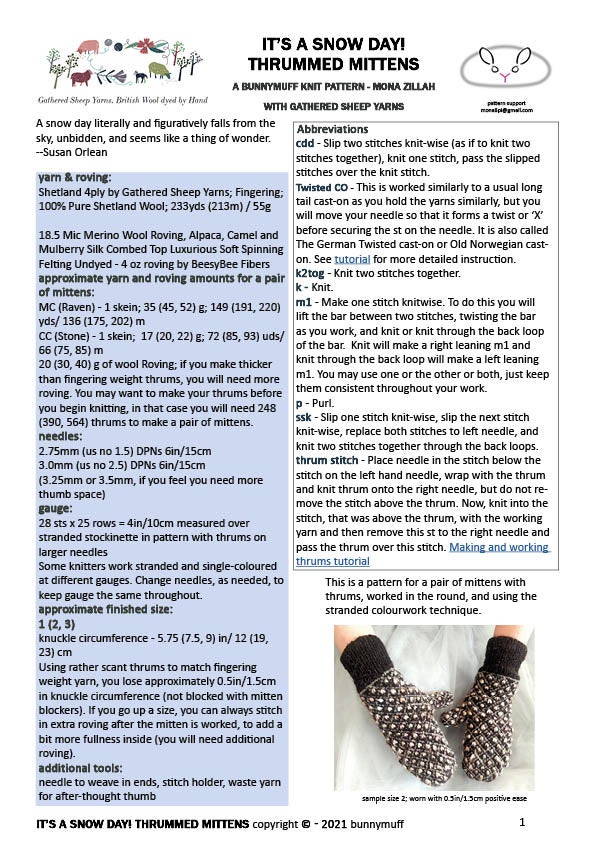 It's a Snow Day! thrummed mittens pattern
On Sale
$5.99
A snow day literally and figuratively falls from the sky, unbidden, and seems like a thing of wonder.
--Susan Orlean
This is a pattern for a pair of mittens with thrums, worked in the round, and using the stranded colourwork technique.
Roving/wool tops are included
in the It's a Snow Day Kit from
Gathered Sheep Yarns
!
(tops may be different than listed in pattern)
yarn & roving:
Shetland 4ply by Gathered Sheep Yarns; Fingering; 100% Pure Shetland Wool; 233yds (213m) / 55g
18.5 Mic Merino Wool Roving, Alpaca, Camel and Mulberry Silk Combed Top Luxurious Soft Spinning Felting Undyed - 4 oz roving by BeesyBee Fibers
approximate yarn and roving amounts for a pair of mittens:
MC (Raven) - 1 skein; 35 (45, 52) g; 149 (191, 220) yds/ 136 (175, 202) m
CC (Stone) - 1 skein; 17 (20, 22) g; 72 (85, 93) uds/ 66 (75, 85) m
20 (30, 40) g of wool Roving; if you make thicker than fingering weight thrums, you will need more roving. You may want to make your thrums before you begin knitting, in that case you will need 248 (390, 564) thrums to make a pair of mittens.
needles:
2.75mm (us no 1.5) DPNs 6in/15cm
3.0mm (us no 2.5) DPNs 6in/15cm
(3.25mm or 3.5mm, if you feel you need more thumb space)
gauge:
28 sts x 25 rows = 4in/10cm measured over stranded stockinette in pattern with thrums on larger needles
Some knitters work stranded and single-coloured at different gauges. Change needles, as needed, to keep gauge the same throughout.
approximate finished size:
1 (2, 3)
knuckle circumference - 5.75 (7.5, 9) in/ 12 (19, 23) cm
Using rather scant thrums to match fingering weight yarn, you lose approximately 0.5in/1.5cm in knuckle circumference (not blocked with mitten blockers). If you go up a size, you can always stitch in extra roving after the mitten is worked, to add a bit more fullness inside (you will need additional roving).
additional tools:
needle to weave in ends, stitch holder, waste yarn for after-thought thumb