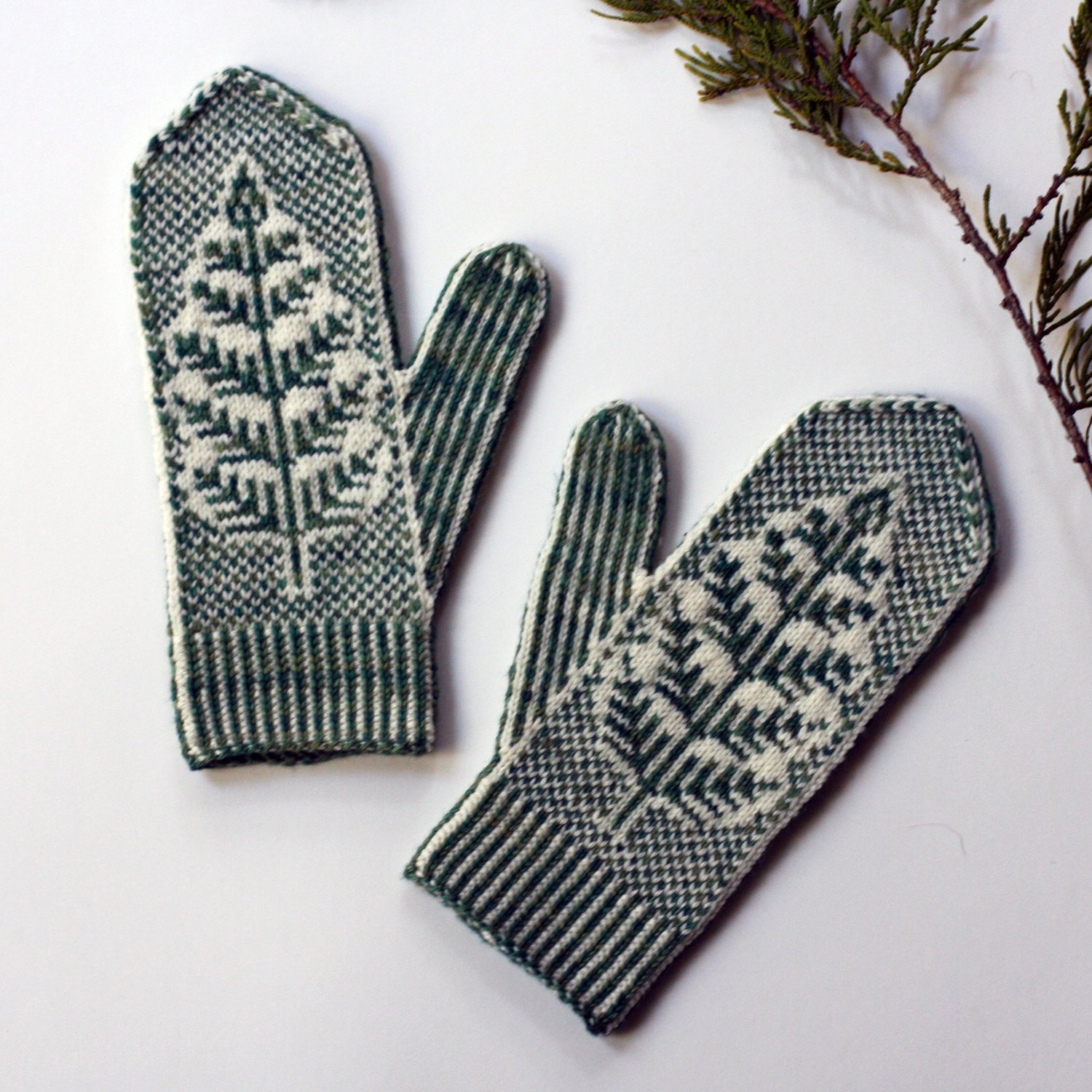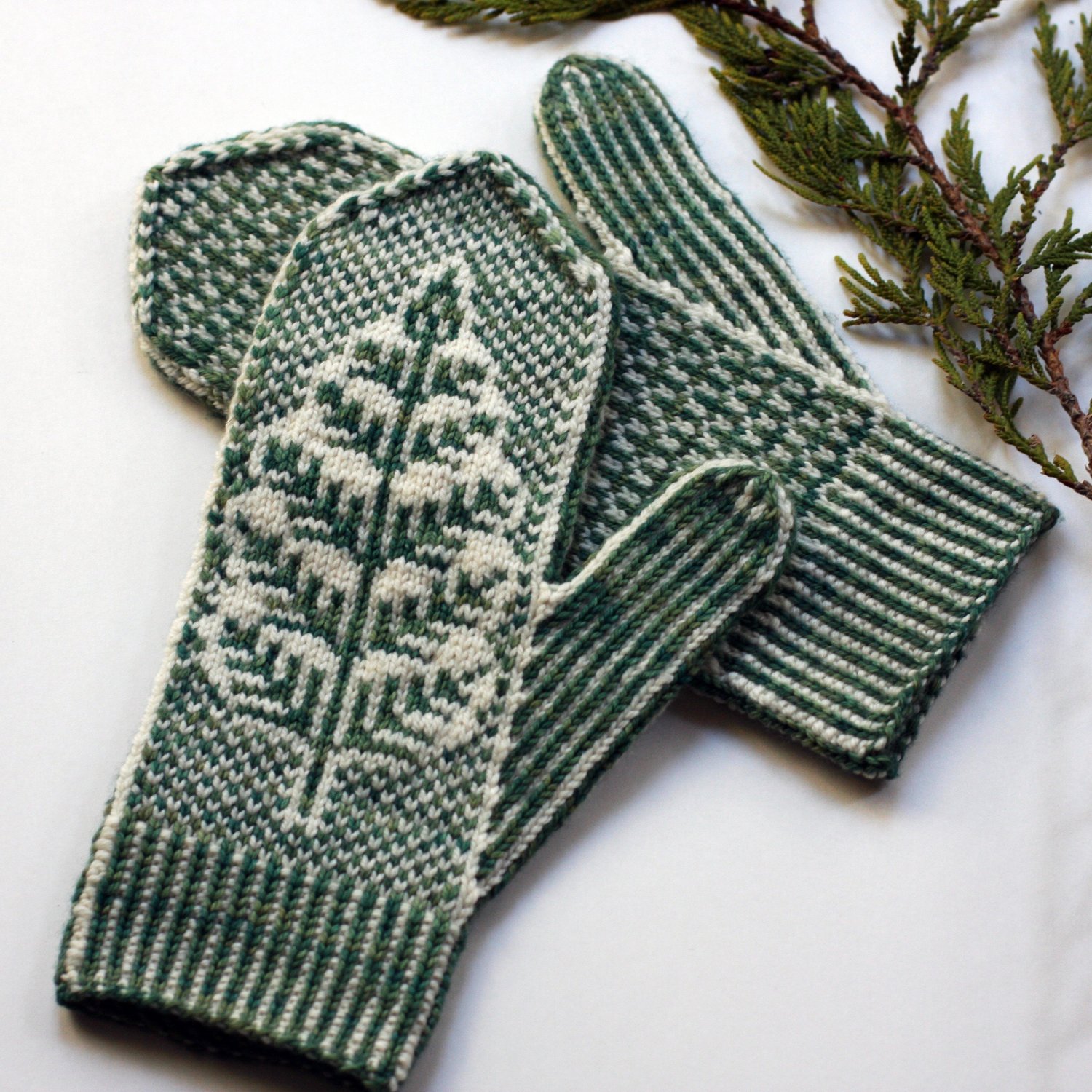 Brackthaw
On Sale
$5.50
Inspired by underbrush on the Wild Pacific Trail, Brackthaw features a botanical motif emerging from the ice and a small allover design on the palm.

These mitts are worked in a tight gauge from cuff to tip, growing at the wrist to accommodate the base of the thumb, and finished by working the rest of the thumb.

The finished mitts are 63⁄4 (7, 71⁄2)"/ 17 (18, 19)cm around the palm and 91⁄2 (10, 11)" / 24 (25.5, 28)cm from cuff to tip.

Materials:
Malabrigo Arroyo, 100% superwash Merino; 335y/ 306m; 3.5oz/ 100g. 1⁄2 skein each of Fresco y Seco (MC) and Natural (CC).

Tools:
US 11⁄2 (2.5mm) double pointed needles or needle size necessary to obtain gauge; scrap yarn; stitch marker.

Gauge:
36 sts/38 rnds over 4"/10cm in stranded stockinette in the round, blocked. Note: Because these mittens are knit at a tight gauge for warmth and weather-proofness, you may need to go down to a size US0 (2mm) needle and/or fingering weight yarn to match the gauge shown.

Abbreviations:
CC – Contrast Colour
Cdd – Centered Double Decrease (Slip 2 sts knitwise, k1, pass 2 slipped sts over k st) – decrease by 2 sts
K – Knit
K2tog – Knit 2 together – right leaning single decrease
M – Cast on 1 st by backwards loop cast on
MC – Main Colour
P – Purl
PU – Pick up
Rnd(s) – Round(s)
SSK – Slip, slip, knit – left leaning single decrease
St(s) – Stitch(es)


Inspirados en la vegetación de los caminos salvajes del Pacífico, Brackthaw nos presenta un motivo botánico que emerge del hielo y un pequeño diseño repetitivo en la palma.

Estos mitones se tejen desde el puño a la punta de los dedos, creciendo en la muñeca para acomodar la base del pulgar y terminando al tejer el resto de él.

Los mitones terminados miden 6¾ (7, 7½)"/ 17 (18, 19)cm alrededor de la palma y 9½ (10, 11)" / 24 (25.5, 28)cm desde el puño a la punta de los dedos.

Materiales:
Malabrigo Arroyo, 100% Merino superwash; 335y/ 306m; 3.5oz/ 100g. ½ madeja de Fresco y Seco (CP) y Natural (CC).

Herramientas:
Agujas doble punta n° US 1½ (2.5mm) o la necesaria para obtener la muestra de tensión; lana de descarte; marcadores de puntos.

Muestra de Tensión:
36 pts/38 vueltas son 4"/10cm en jacquard jersey en circular, después de ahormado. Nota: Estos mitones están tejidos con una tensión muy ajustada para brindarles calidez y resistencia a la intemperie. Puede que tengas que bajar el número de las agujas a US0 (2mm) o usar lana de grosor Fingering para lograr la muestra de tensión dada.

La diseñadora no habla español, consulta y dudas en inglés. Traducido al español por Marcela Chang Knits.