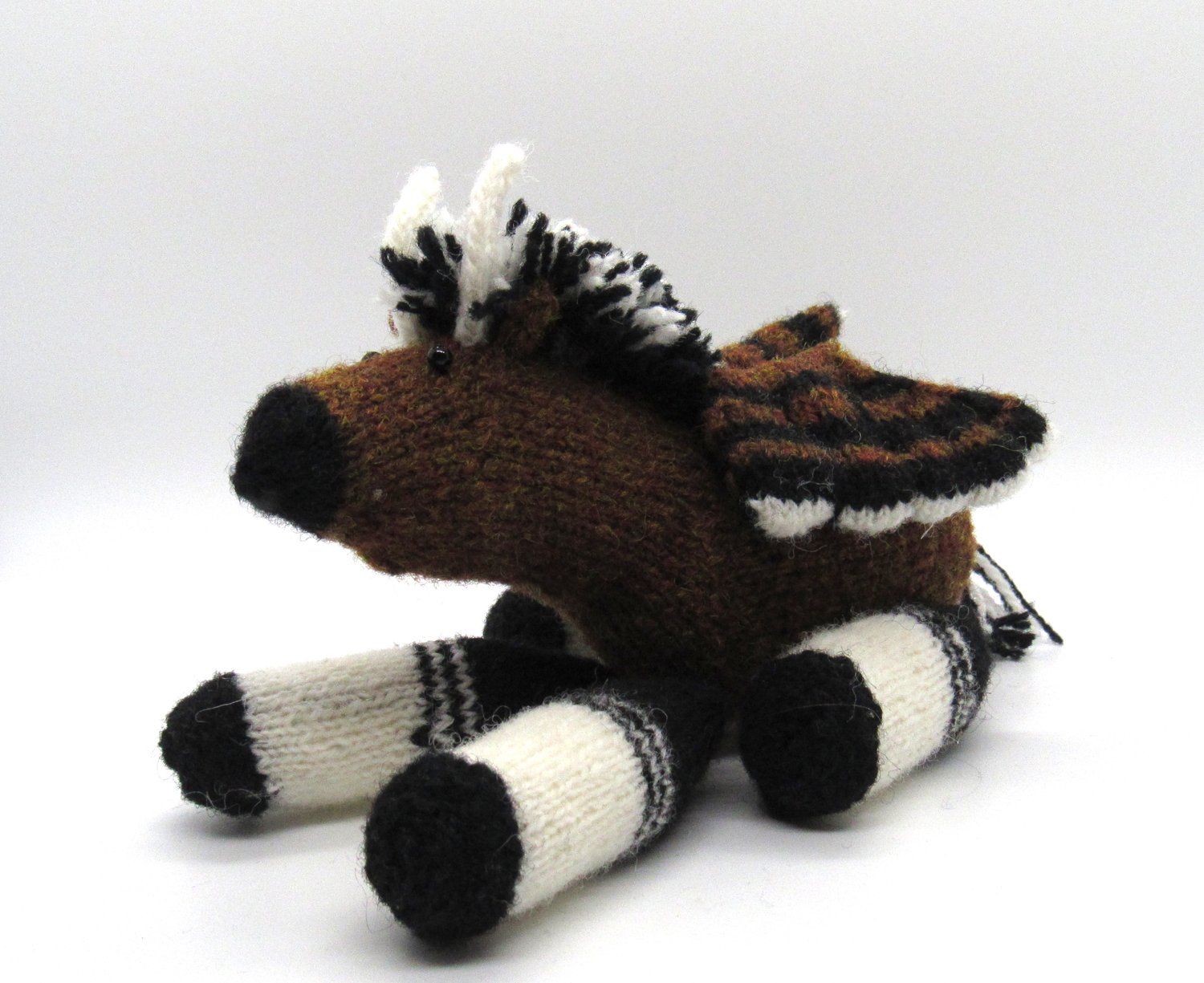 Pliny the Ethiopian Pegasus
On Sale
£3.50
According to Pliny (1st Century ACE), there was a second type of Pegasus found on an island in the Red Sea off the coast of Ethiopia. It also appears in later Medieval Bestiaries – although while Pliny describes it as a winged horse with horns, the later depictions show it as being more goat-like.
Sample uses:
Jamieson & Smith 2 Ply Jumper Weight
Colour 1: Shade 77 (Black)
Colour 2: Shade 1 (White)
Colour 3: Shade 122 (Reddish Brown)
This pattern is also available as part of the 
Mythical Bestiary 
collection, see
here
for details. 
Materials
194 yds / 185 m fingering weight yarn.
Colour 1: 72 yds / 65 m
Colour 2: 50 yds / 55 m
Colour 3: 72 yds / 65 m
2.00 mm / US 0 DPNs, or circular needles suitable for magic loop
Stitch markers (2)
Tapestry needle
Sewing needle
Thread
4mm round beads (2) (Black or preferred eye colour)
Toy stuffing
Embroidery thread (optional)
Gauge
8 stitches = 1 " / 2.5 cm; 32 stitches and 44 rows = 4 " / 10 cm
Size
Height: 6.5 " / 16.5 cm
Length: 6 " / 15.25 cm
Notes
Toy Safety
If the toys are for children, it is highly recommended that measures are taken to ensure that the toy is safe - for the eyes, use safety eyes or secure embroidery; and ensure that all limbs / wings / other additions - including manes and tails where appropriate - are secured firmly.
Sizing
The toys can be scaled up by knitting them in a heavier weight yarn (using the appropriate needles for that yarn weight). Please note that yardage / meterage requirements will change when altering size.