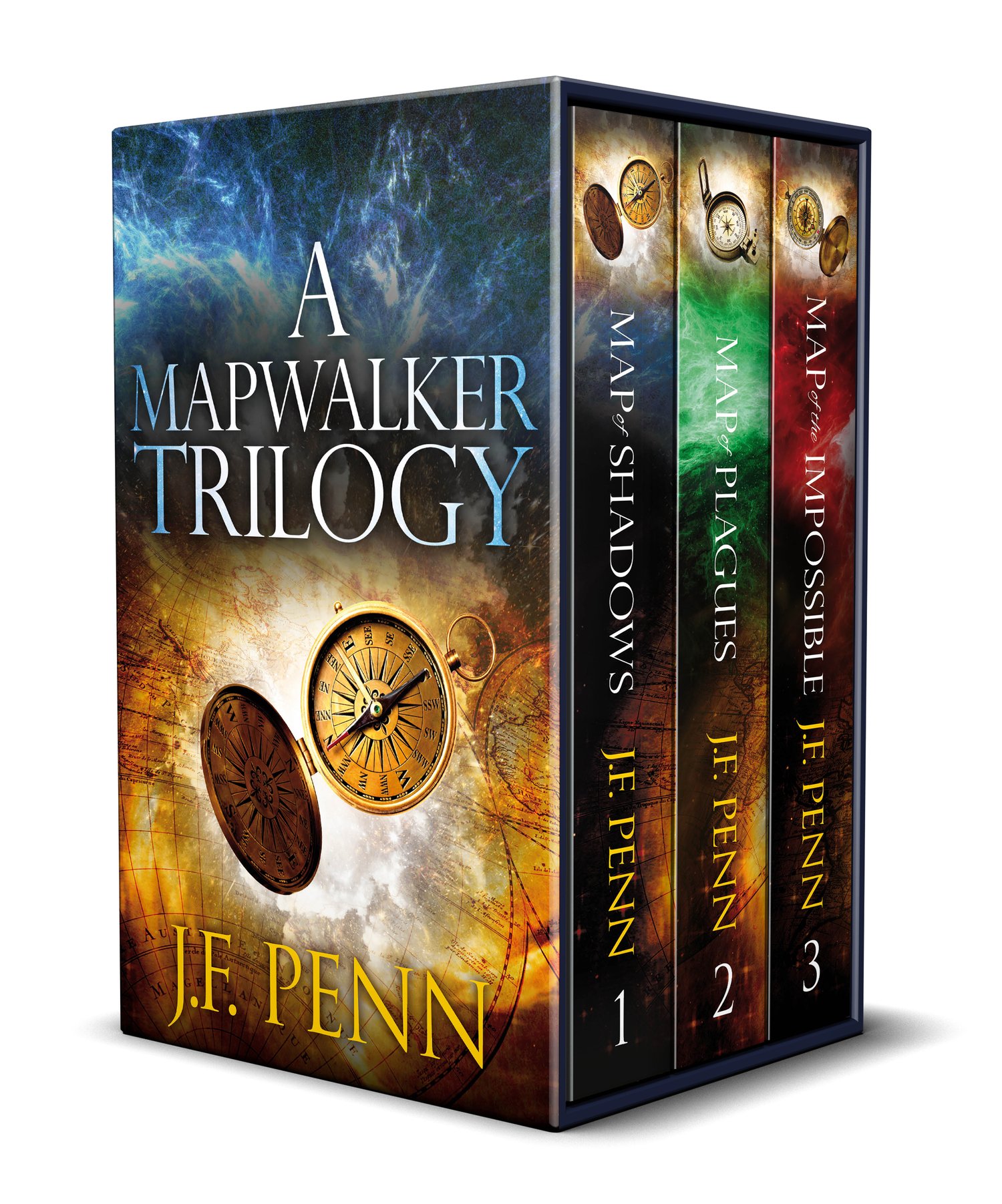 Mapwalker Trilogy Ebook Boxset
On Sale
Ebook boxset containing 3 full-length portal fantasy adventures. Files include ePub, mobi and PDF as well as Bookfunnel link for delivery to your preferred device. 
A place written out of history. A world off the edge of the map.
In this fantasy adventure trilogy, Sienna and the Mapwalker team must defend Earthside from the invasion of the Borderlanders and face their darkest challenge against the Shadow.

Map of Shadows
A map of skin etched in blood. A world under threat from the Borderlands.
A young woman who must risk the shadows to save her family.

When her Grandfather is murdered under mysterious circumstances, Sienna Farren inherits his map shop in the ancient city of Bath, England. She discovers that her family is bound up with the Ministry of Maps, a mysterious agency who maintain the borders between this world and the Uncharted.

With the help of Mila Wendell, a traveller on the canals, Sienna discovers her own magical ability and a terrifying place of blood that awaits in the world beyond.

But when she discovers a truth about her past and the Borderlands begin to push through the defenses, Sienna must join the team of Mapwalkers on their mission to find the Map of Shadows – whatever the cost.

In a place written out of history, a world off the edge of the map, Sienna must risk everything to find her father … and her true path as a Mapwalker.

Map of Plagues
A city threatened by an ancient plague.
A love across borders.
A desperate choice that could break their worlds apart forever.

When a fragment of a deadly map is recovered from a medieval plague pit in London, the Mapwalker team must cross over into the Borderlands once more.

In a race against time, they must find the remaining pieces of the map in a journey across long-lost cities before the Shadow Cartographers wield it against Earthside in a devastating attack.

Can Sienna resist the call of the Shadow as she struggles to save her home? Will Finn take a risk on love across borders or leave the Earthsiders to their fate?

Map of the Impossible
A journey through the realm of the dead.
A threat that will change the world.
A choice that might save everything—or end it all.

As natural disasters sweep Earthside, a mutant army rises in the Borderlands, driven by the dark force behind the Shadow Cartographers. Sienna and the Mapwalker team must use the Map of the Impossible to journey through the realm of the dead and face the nightmare at its heart.

But when one of their number is taken and the team begins to break apart, each Mapwalker must face their greatest challenge.

Can the Mapwalker team reach the Tower of the Winds before the Shadow claims Earthside?
Will Sienna choose Finn — or turn away from the Borderlands forever?

This ebook boxset contains three full-length portal fantasy adventure novels. The trilogy is the complete series.