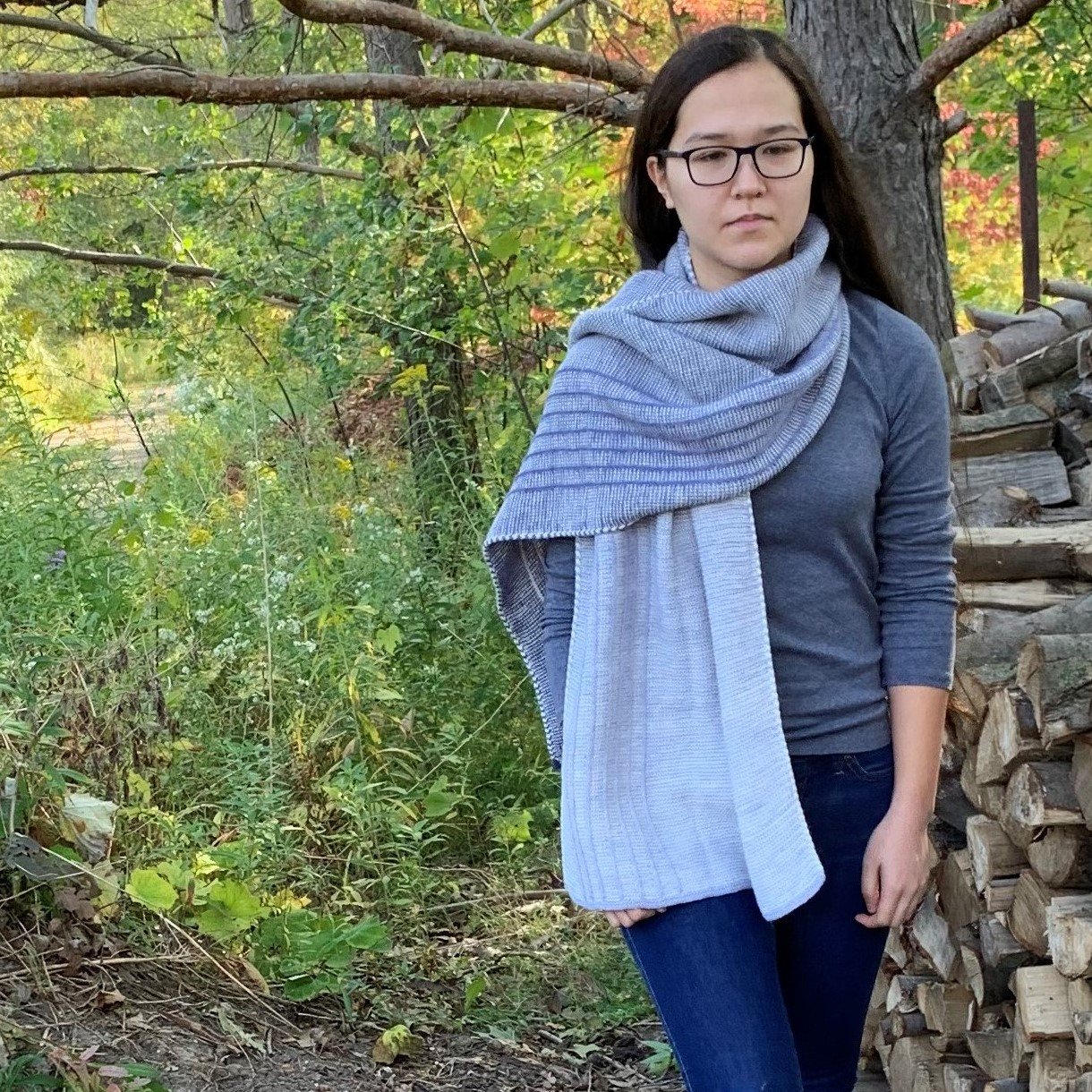 Path is Clear
On Sale
This pattern is a part of the
Just Lines e-book
.
This scarf/wrap uses a slipped stitch technique to create reversible lines that run up its length. The lines are double thick and are worked over garter stitch making this a very squishy drapey fabric. This pattern works with smooth yarns of any weight.
The scarf and wrap shown are both worked from fingering weight yarns but are worked to different gauges.
The wrap is made in Freia Fibers worked at a tighter gauge for incredible warmth. I have several Freia Fibers wraps and love them -- the yarn bombs make a generous wrap that double as a lap blanket. I "needed" another in the denim colourway – the crisp lines are easy to wear every day with a t-shirt and pair of jeans.
The scarf is worked in a looser gauge and is so drapey and soft that I wear it around all summer to guard against the chill of overactive air conditioners. My scrap bin is full of fingering weight purples (my favourite colour) and greys (my favourite neutral) and I knit each yarn till I ran out (so satisfying). The result was a scarf that goes with practically everything I own! The purples and greys blend together beautifully in the background while the reversible lines highlight the individuality of each yarn.
The reversible lines are clearly established in the first four rows of the pattern and this becomes an easy to memorize, relaxing knit. The fun part is watching the lines change colour with either the gradient or a new yarn. I also delight in how different the two sides look highlighted by lines of different colours.
Both the scarf and wrap have a playful 2 colour i-cord edge that is knit on as you go.
A slipped stitch reversible line is a simple combination of 2 stitches. Please see the 
Just Lines e-book
 to explore different ways that this technique can be used.
Tech editor: Kate Atherley
Ways to learn about my designs and reversible knitting:
Subscribe to my newsletter
 and receive a free pattern too.
Published in
Mary W Martin's Store
Just Lines
Craft: Knitting
Category: Neck / Torso → Shawl / Wrap
Suggested yarn: Knitwhits Freia Handpaints Freia Semi-Solid Shawl Ball Merino Fingering
Knitwhits Freia Handpaints Freia Yarn Bomb
both are used in this pattern
Yarn weight: Fingering (14 wpi)
Gauge: 28 stitches and 44 rows = 10 cm in stocking stitch
Needle size: US 2½ - 3.0 mm
Yardage: 800 - 1600 yards (732 - 1463 m)
Sizes available: Scarf or Wrap
Languages: English
See
RAVELRY Pattern Page
for more pictures and link to other projects.