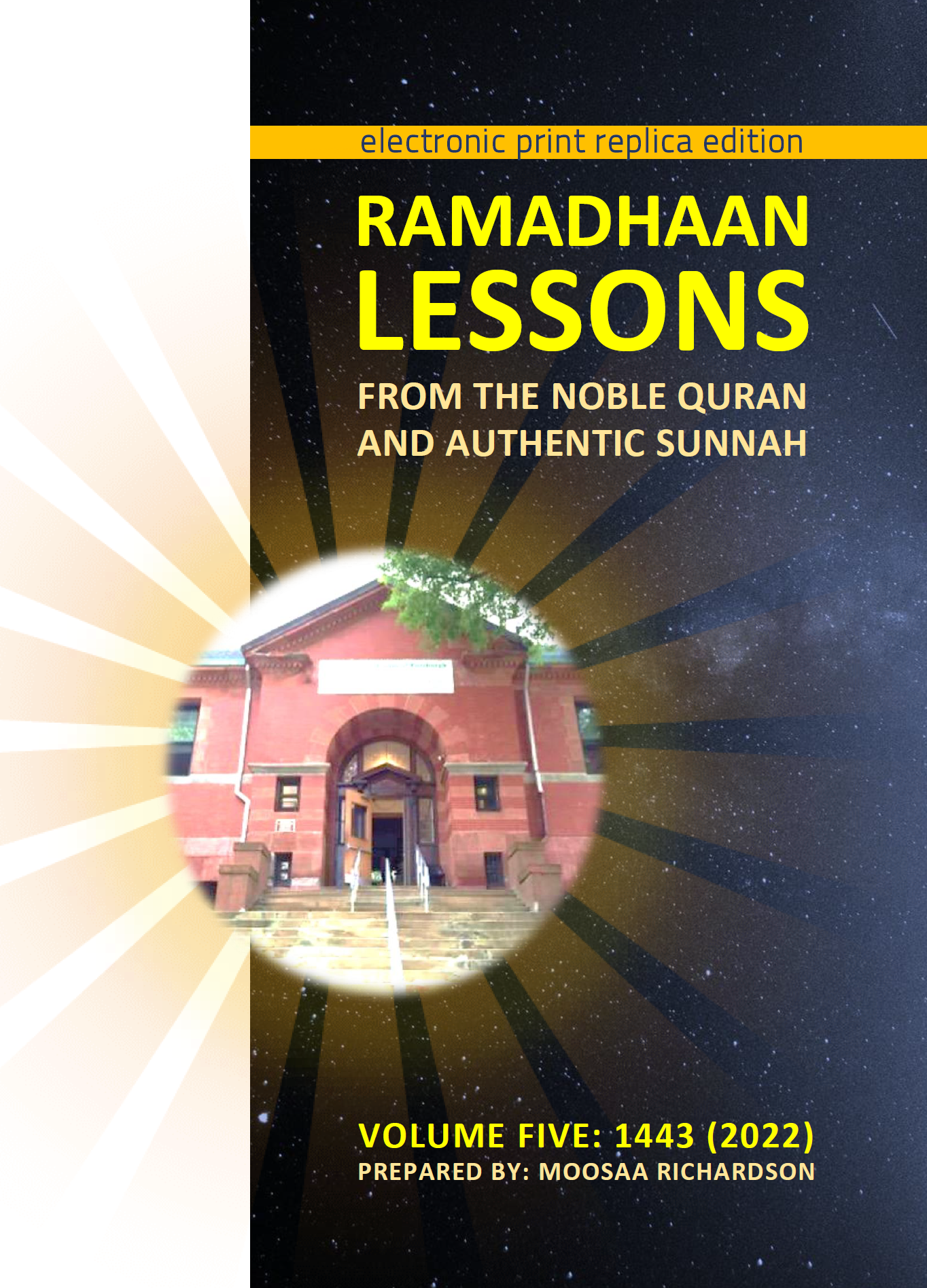 Ramadhaan Lessons From the Noble Quran & Authentic Sunnah, Volume 5, 1443 (2022
On Sale
$18.99
Preview
NOTE: 
This workbook is 
NOT
 for independent self-study, It is a study tool for those listening to the online classes of
Ustaadh Moosaa Richardson
in Ramadhaan 1443 (2022), or afterwards through the available recordings.
SOORAH GHAAFIR: 85 VERSES IN 30 DAYS
Chapter 40 of the Quran, 
Soorah Ghaafir
, is an amazing chapter to study. It features the amazing story of the "hidden believer" in Pharaoh's court, detailed descriptions of a number of affairs from the world of the unseen, like the angels who hold the Throne of Allah, the punishment of the grave, and the intense dialogue in Hell. Realities of the Hereafter will scare you! Amazing parables and rational appeals to the human intellect and calls for reflection and deep thought will awaken your sense of awareness and your passion for the Hereafter, by Allah's Permission! What better way is there to spend the days and nights of your Ramadhaan than pondering over Allah's Amazing Speech?
TWO GREAT BOOKS OF COMMENTARY
The monumental Tafseer books of two great imaams, al-Baghawee and as-Sa'dee lead us through this amazing month-long journey with Allah's Book!
TWO NEW LESSONS EACH DAY, ALL RAMADHAAN
Tafseer is just the beginning! Brace yourself for 60 classes this month, 
in shaa' Allah
. We hope this workbook and these lessons will be your key, by Allah's Permission, to many hours of focused study in Tafseer and Hadeeth. The 30 Tafseer lessons constitute a complete study of Soorah Ghaafir, from the explanations of
al-Baghawee and as-Sa'dee
. The 30 Hadeeth lessons remain a very consistent feature of our Ramadhaan Lessons. Similar to last year, we study 30 narrations relevant to the passages from the soorah found in each lesson, taking five brief points of explanation (usually) for each narration, like previous years. An occasional (and irregular) activity may be found in some of the lessons, like the supplications in Lessons 8 and 19, or the chain mapping challenges found in Lessons 4, 5, 25, and 29.
FREE MP3 recordings to study using this workbook: 
https://www.spreaker.com/show/1443-ramadhaan-lessons-vol-5
Purchase the print version from Amazon: 
https://www.amazon.com/Ramadhaan-Lessons-Noble-Authentic-Sunnah/dp/B09T7PYBY6/