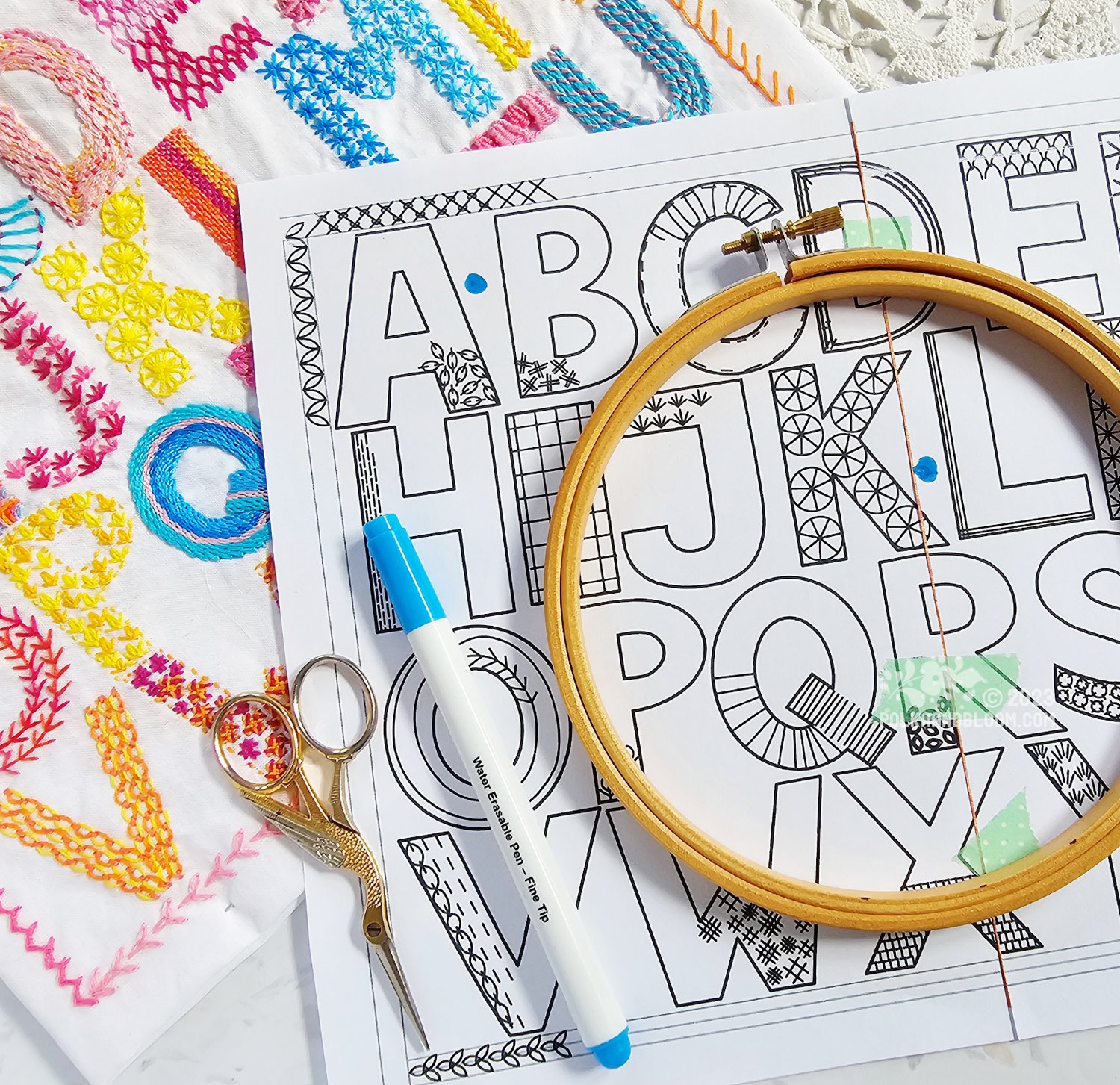 Alphabet Stitch Sampler Embroidery Pattern PDF
Work this sampler and learn 31 different stitches! You may know some of them already but you don't have to know any of them to stitch the sampler. If you already know back stitch, lazy daisy stitch and running stitch that is a great start. All stitches will be explained from start to finish.
There will be a video tutorial for each of the stitches (released on YouTube, two every week, starting with the first on July 13th.) The video tutorials will show the stitch more than once, both off and on the Alphabet sampler.
Please note: there are no separate introductions to basics like using a hoop, threading a needle and so on. But you will have access to a video with some tips for transferring the pattern to fabric.
The pattern is an original embroidery pattern from Polka & Bloom.
Once payment is completed you will receive an email with links to download the files in your order.
* * * * * * * * * * * * * * * * * *
Please note: the patterns are digital files which you download and print on your own printer. Patterns will not be posted to you.
* * * * * * * * * * * * * * * * * *
The pattern consists of:
- The Alphabet Sampler pattern PDF which includes:
- The pattern in two versions: horizontal and vertical layout. 
- A list of the stitches used.
- Links to two videos (only available when you buy the pattern) about transferring the pattern and choosing colours for your sampler.
- 31 stitch tutorials, available on YouTube.
Note: The pattern does not include a list or diagram of suggested colours to use.
*Pattern sizes - approximate measurements
>Horizontal sampler: 12" x 9" // 30 x 23 cm
>Vertical sampler version: 9" x 13.5" // 23 x 34 cm
I have stitched my version using two strands of Mouliné thread but you can use more if you like! :-)
The images in the pattern will be clear and not have the copyright note.
© The pattern and images are copyright Carina Envoldsen-Harris 2023-. The pattern is for personal use only.
Thank you for respecting the hard work that I put into creating my designs.
By purchasing this pattern, you are agreeing that you will not forward or pass on, duplicate (either print or make digital copies), upload or sell the pattern or any part of it (instructions, designs, photos) or sell any finished item using this design.