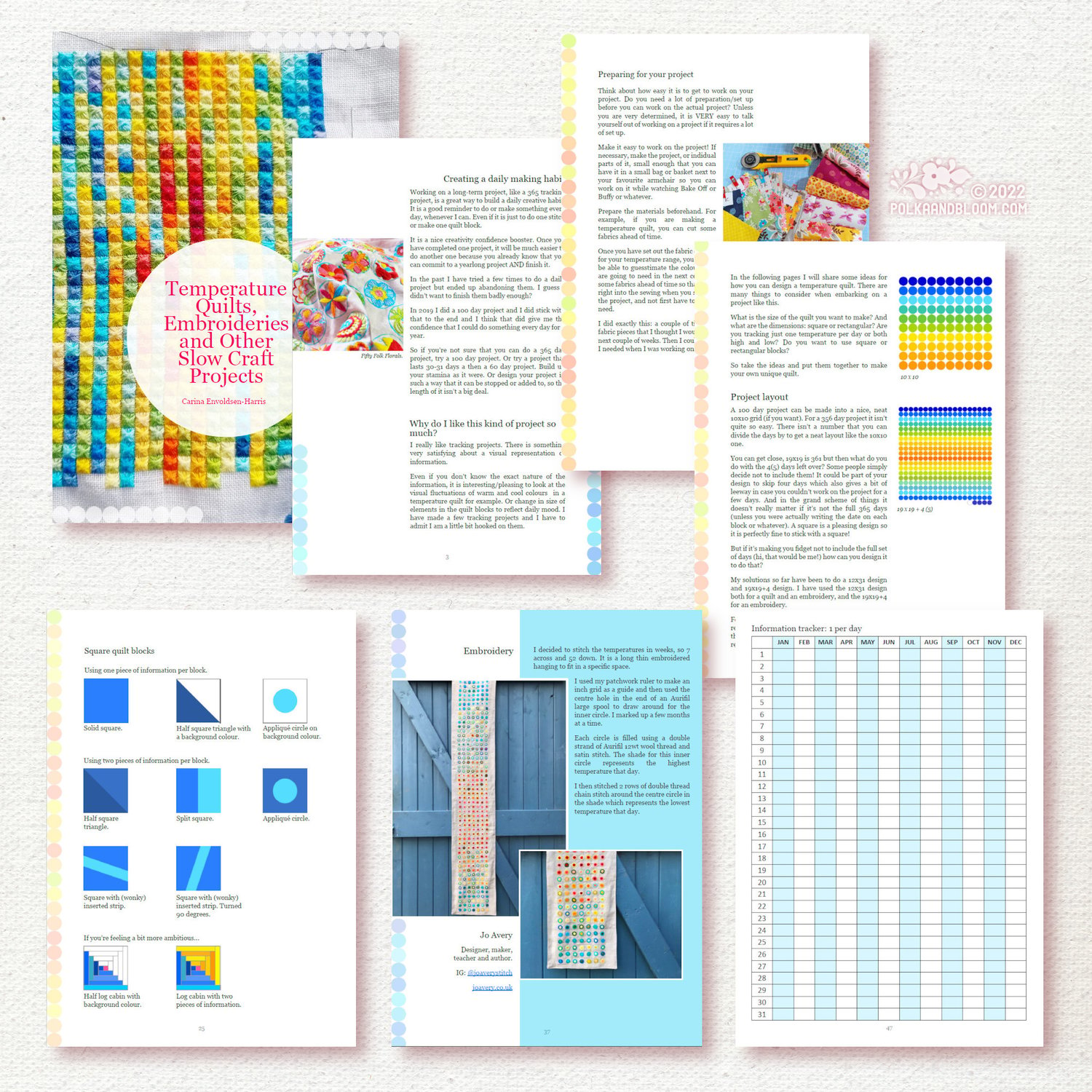 Ebook Temperature Quilts, Embroideries and Other Slow Craft Projects
£12.00
Preview
This is an ebook in PDF format.
It is a digital file which you download to read on your device (and print if you like). The ebook is designed to work best in a vertical format.
In 2020 I made a steps tracking quilt. It was a nice companion through the turmoil of that year. In 2021 and 2022 I worked on embroideries which tracked the temperatures where I live. I have really come to appreciate how long-term projects like these can be a comfort and a daily reminder to make something, even if it is a small something.
After doing a few of this type of project, as well as other long-term projects, I have learned a lot about what works and also some things that I would do differently.
This ebook is a resource I wish I had before I started these projects because there are a lot of things to consider!
The 62 page ebook contains tips, advice and resources:
How to work out a temperature scale (I also include the one I use)
Deciding on the size of the project
Ideas for things to track
How to keep track of your information
Tips on preparing for a large project
How to estimate the amount of materials you will need
Design/layout of your project
DMC thread colour range for a temperature project
Kona cotton colour range for a temperature project 
Quilt block suggestions
Interviews with others about their projects, including Jo Avery and Karen Lewis.
Templates and tracking spreadsheets
PLEASE NOTE:
This ebook does not tell you how to make a quilt or quilt blocks, nor how to do individual embroidery stitches, crochet techniques or other craft techniques. It is a guide to planning a quilt or other project. You will need to know the techniques of your chosen project craft already or do some internet searching to find that kind of information. :-)
© The contents of the ebook are copyright Carina Envoldsen-Harris 2022-.
The file is for personal use only. Please do not share a copy, digital or printed, with others.
Thank you for respecting the hard work that I put into creating my designs.
By purchasing this ebook, you are agreeing that you will not forward or pass on, duplicate (either print or make digital copies), upload or sell the ebook or any part of it (instructions, designs, photos).