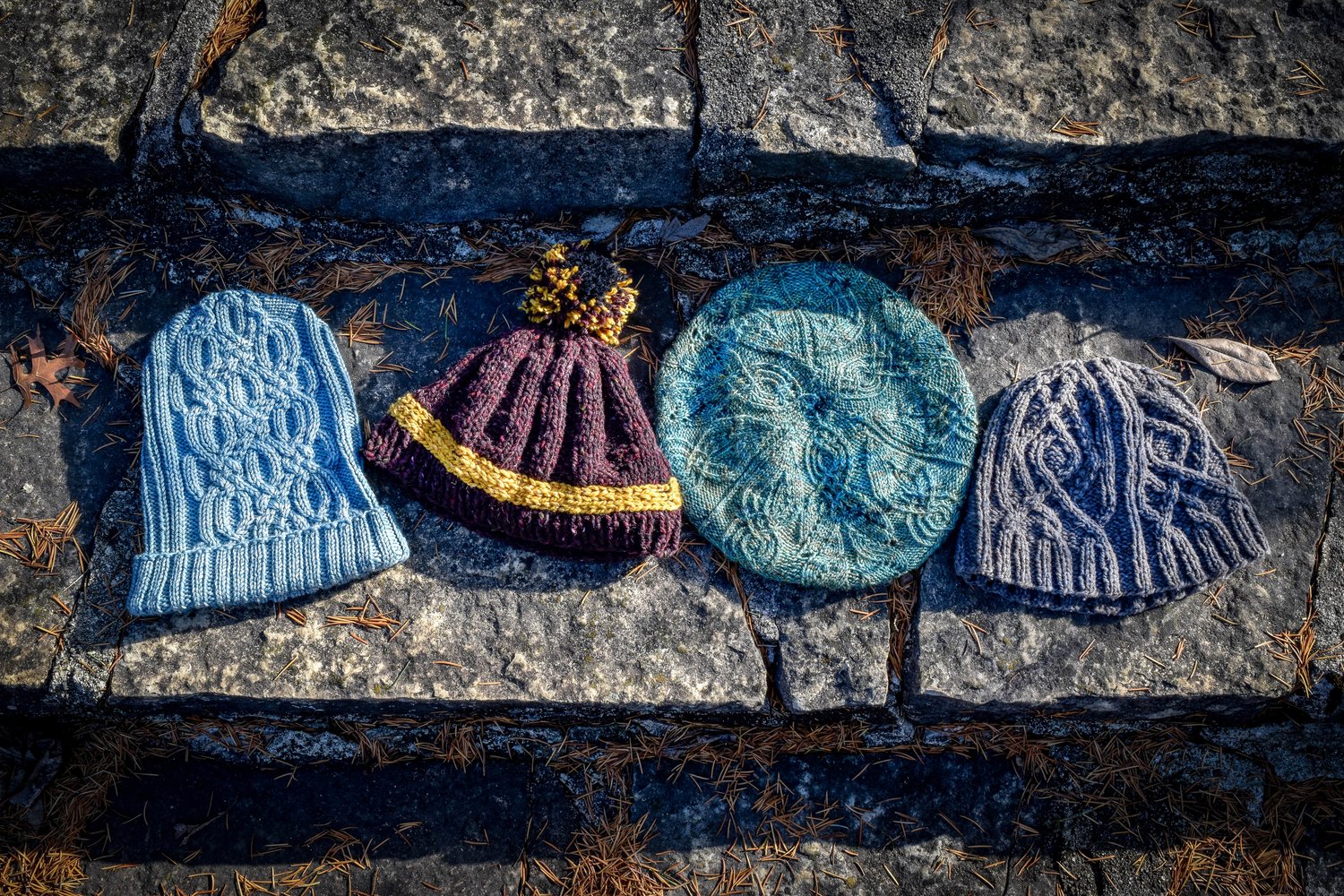 Seven for the Dwarf-Lords
On Sale
This hat design is part of my new 
The Lord of the Rings Hat Collection eBook
, a set of four hat designs each inspired by a line of JRR Tolkien's famous poem. You can check out the
lookbook here 
to see all 4 patterns!
"Three Rings for the Elven-kings under the sky,Seven for the Dwarf-lords in their halls of stone,Nine for Mortal Men doomed to die,One for the Dark Lord on his dark throneIn the Land of Mordor where the Shadows lie.One Ring to rule them all, One Ring to find them,One Ring to bring them all and in the darkness bind themIn the Land of Mordor where the Shadows lie."
— JRR Tolkien,
The Lord of the RingsThe Lord of the Rings 
was my introduction to epic fantasy. The story has never lost its luster for me – I never get tired of re-reading the books or marathoning the movies, and I probably never will. So, when I had this idea for a set of designs inspired by Tolkien's famous poem, I just couldn't wait to dive into the details of the story to create something new.
For this design, I wanted to embody the look and feel of Tolkien's "Dwarf-lords in their halls of stone". When I think of Tolkien's dwarves, cryptic runes, amazing craftsmanship, and wild tempers come to mind. I can't think of a better medium than cables to express this interpretation. I chose the beautifully rustic Brooklyn Tweed Shelter yarn to be the stone-colored canvas for the runic cables on my dwarven helmet toque. If you look closely at the cable design, you should be able to spot the seven rings mentioned in Tolkien's poem. Can you find them all?
Whether you're a die-hard 
The Lord of the Rings
 fan or just someone who loves cables, think of Gimli, start up a 
The Lord of the Rings 
marathon, and give this a try! Hopefully this cabled hat will keep you or a fellow Dwarf-lord warm the next time you happen to find yourself traveling through the snowy mountains on the way to Moria.
Yarn Used in Sample:
Brooklyn Tweed Shelter (Worsted; 100% Targhee-Columbia wool; 140 yd 128 m per 50 g skein); Stormcloud, 1.02 skeins
Needles:
16" (40 cm) US 6 / UK 8 / 4.0 mm circular needle and US 6 / UK 8 / 4.0 mm DPNs (or size needed to obtain gauge)
A 32" (80 cm) or longer circular needle can also be used to work the Magic Loop method.
Notions:
Stitch markers, cable needle, yarn needle
Yardage Estimates from Sample:
143 yd (131 m), 51 g
(I used a tiny bit more than 1 skein of Brooklyn Tweed Shelter for my sample – depending on your yarn's weight/yardage, 1 skein may be enough)
Final Measurements:
Circumference (Unstretched):
20" (51 cm)
Height:
8" (20 cm)
This pattern has been tech edited and test knit.