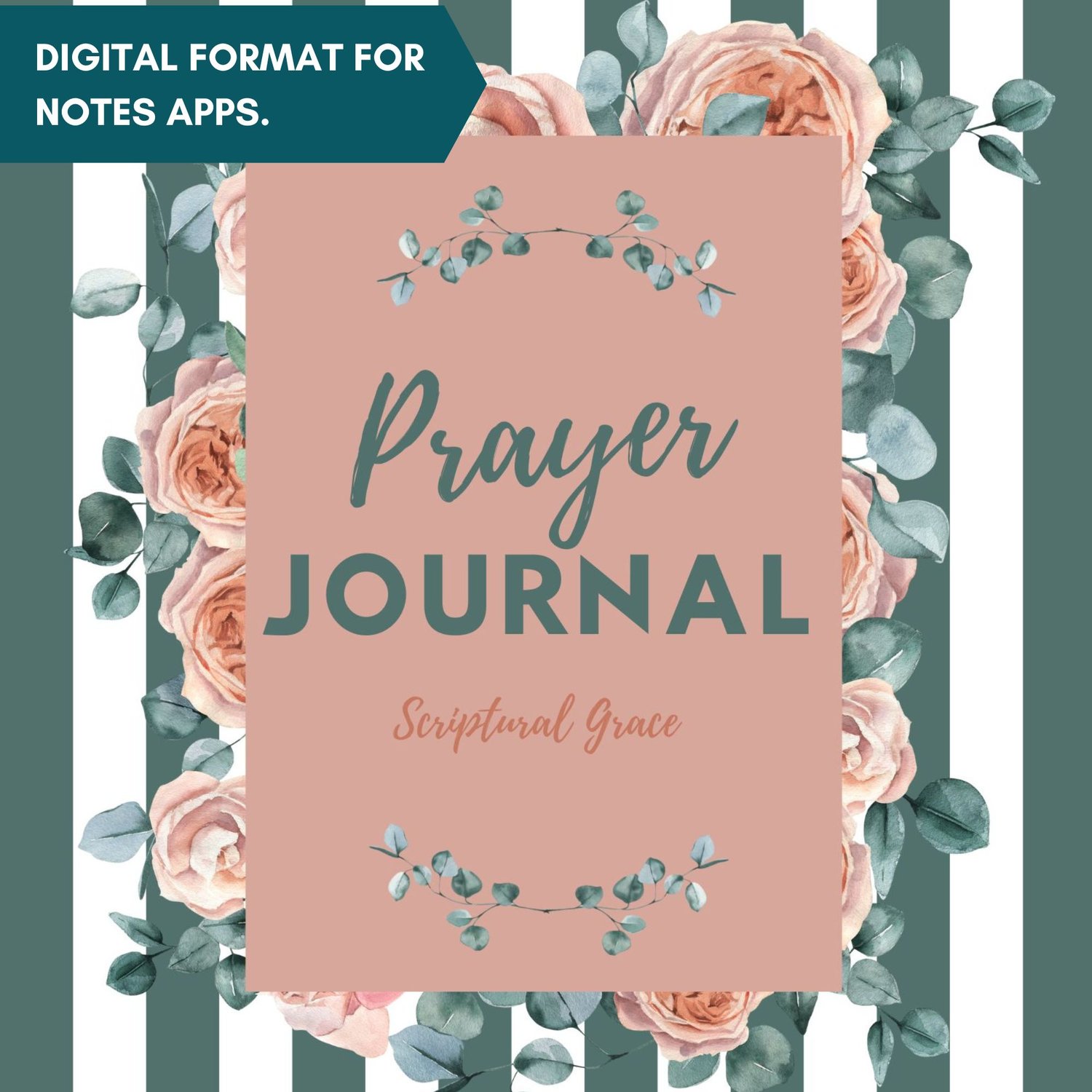 Digital Prayer Journal - Formatted for note apps.
On Sale
$14.99
✝️ This
Digital Prayer Journal
has been formatted for digital notes Apps. It is formatted to be used for 3 months. It is designed to be customizable and practical. It is designed to help you pray intentionally for yourself, friends, family, and church, and you can add your own topics. There is also a helpful list of prayer ideas that you could include on a specific day of the week in your journal.
💥Please note that this product is also included in the Devotional Bible Study discount bundle 
HERE. So if you have already purchased this bundle - just log in and download it😍
✅ This digital prayer journal is a simple PDF that can be used on any digital device. The weekly prayer journal page is hyperlinked to corosponding ' Day Of The Week ' pages so that you can intentionally write digitally using text boxes or a digital stylus. There are lists of scriptures on various topics to guide you in your intercessions.
✨Download to your Free notes APP. that you should already have on your digital device. I use mine in the iBooks App which is so easy to use. However, I love to add photos to my prayer pages and most of the FREE apps don't allow this function. So I purchased the GoodNotes App (not expensive and super easy to use) so that I can add photos!
At the start of each week (set for Monday) there is a weekly intercessory prayer plan that is hyperlinked to the corresponding prayer page for that day, just click on the name of each day. You choose the topic or person you want to intercede for that day each week. Add a photo to the frame!
The words ' Prayer Requests ' on all pages are hyperlinked to a separate prayer request list page if you choose to use it.
There are daily and evening prayer pages that are perfect to use in your own personal devotions, using the A.C.T.S method of prayer.
The 2nd PDF for this digital prayer journal contains lists of scriptures to help you in your prayers of adoration, confession, thanksgiving, and supplication. There are also scripture lists on various topics and Bible study note pages.
✨This digital prayer journal is part of the Prayer Journal Bundle - Forever access bundle that will be added to monthly -
so make sure you purchase through the Bundle Button HERE.

Or through
our super saver Devotional Bible Study And Prayer Resources Bundle HERE.

💥
Once you purchase this prayer bundle, you have access to it forever which also includes additional prayer resources that will be added frequently to equip you for your intercession.
💥 So make sure you check your bundle often (I also send out a weekly email usually on a Saturday to keep you updated on all new resources)
This is a printable PDF that you can print or open in a PDF annotating APP, such as Books on iPhone, XODO (FREE APPS) or Goodnotes, etc. It is a digital product, nothing will be shipped to you but you can use it immediately!😍
You will be automatically added to our weekly newsletter after downloading this eBook and you will be sent the password for our Resource Library to gain access to our vault of free bible plans, eBooks, and more!
REFUNDS are not available for digital products, sales are final but I will do everything possible to make sure you are happy with your order. If you have any problems, please let me know, karen@scripturalgrace.com.