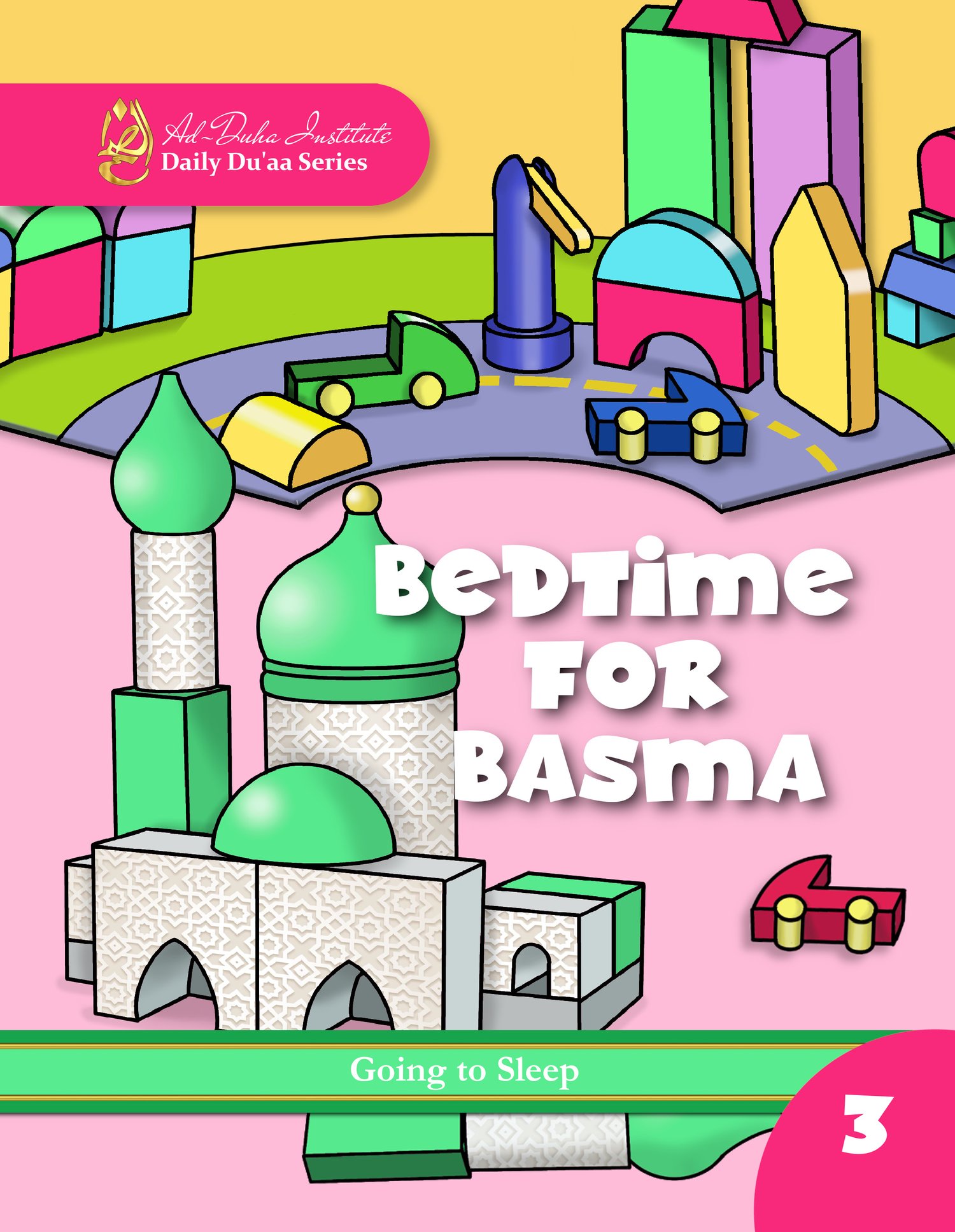 Daily Du'aa Series #3: Bedtime for Basma
On Sale
$9.98
Preview
Page Count: 36
Trim Size: 7.44 x 9.68
Format: e-Book (PDF download)
Recommended for Preschool-1st Grade (as a read-along with an adult), 2nd-3rd Grade (for independent study)
Summary:
Basma is busy playing with her toys and running around in her socks when her mother tells her it's time to go to bed. The problem is Basma doesn't want to go to bed...EVER! However, with help from her Mama, Basma soon learns the importance of the night for rest, the signs Allah has taught us about sleep, and the du'aa said before going to sleep. It's not long before Basma is fast asleep, getting ready for a new day of fun to come!
Click below to see the book preview: 
#3 Bedtime for Basma
Special Features:

Fun introduction to the daily supplications for children
Arabic text, transliteration, and English translation of each du'aa taught
Detailed Qur'aan & Hadith references
Bright, playful illustrations
Excellent lessons in Islamic manners from the Qur'aan and Sahih Ahadith
Entertaining rhymes to make learning memorable for young children
Footnotes explaining specific terms or Islamic concepts for new Muslims or non-Muslims
Multiple e-books in the series with more coming soon, Insha-Allah!
Available in high-quality, durable hardcover format as well (click here)
About this Series:
Each brightly illustrated book in the Daily Du'aa Series features ad'iyaa (supplications) taught through a playful rhyming story about a child just like your own. These ad'iyaa are the most important ones that every Muslim child should know from the earliest age.
This series is based on the classic text Hisnul-Muslim (Fortification of the Muslim) and supported with Qur'aan and Sahih ahadith, so you can rest assured that you are teaching your child from the most authentic sources.
What Parents are Saying About Ad-Duha:
"SubhanAllah, I am blown away by the quality and content. No regrets buying these books. It's at a level that even as an adult, I can learn together with my child."


Copyright Notice:
Ad-Duha's mission is to help families provide their children with quality Islamic materials. Therefore, we ask that our customers help us in this task by honoring the copyright so that the school can stay financially viable (i.e., cover the costs of development, production, and marketing) through the legitimate sale of our products.
Purchasing books entitles you to use the books in your own home for yourself and your children. It does not grant ownership of the copyright or permission to make copies of the books for others in any form.
Please be aware that posting these books online, transferring them to a third-party printer/copier to be printed, sharing through email, or making additional copies (digital or print) for others outside your household (for free or for sale) is a breach of the copyright.
Any right not specifically mentioned herein is reserved by Ad-Duha Institute. For more information on copyright law in Islaam, please see the Copyright and Terms of Use link below (scroll down to the Fataawa Section):
https://www.ad-duha.org/terms-copyright