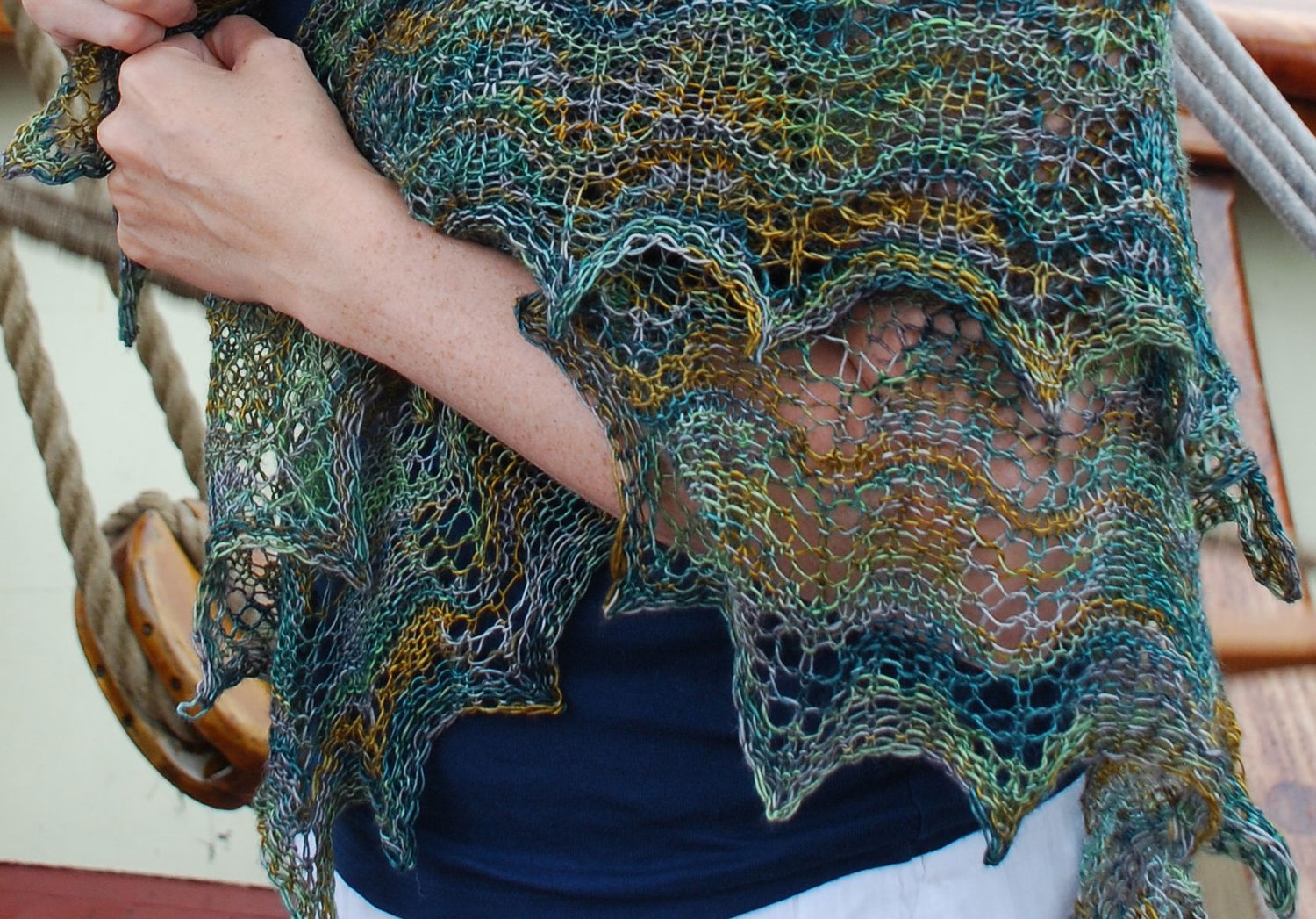 Hap-py Shawl
On Sale
A new-world homage to the Shetland Hap shawls of old. Worked all in one piece with one needle and one skein of yarn, this makes a perfect travel project, whether you're waiting on a park bench, soaring above the clouds, or sailing the high seas. Plus, the Crest of the Wave pattern (provided in both written and charted forms), an interesting variant on the traditional Feather and Fan, is easy to master with spectacular results. What are you waiting for? It's time to get Hap-py!
Instructions are given for a swatch, which will make a perfect little shawl for an 18" doll, plus the full-size shawl, which measures 32" square. Swatch and shawl do use all of the skein of Madeline Tosh Prairie, so be aware that not achieving gauge may lead to your needing more yarn.
I do love projects like this for travel: one "small of size but large of yardage" skein of yarn paired with a circular needle provides hours of knitting entertainment without the danger of losing a needle (or stabbing your seatmate). The central square (really a diamond kept on the square by working in Garter Stitch) is worked like Grandmother's Dishcloth plus the excitement of occasional eyelet rows. Then the edging is picked up all around the flexible sides of said diamond. Working the center from point to point means your shawl is free from the tight edges that can result from casting on and binding off many stitches. I've included my recommended bindoff for producing the perfect, flexible edge for your shawl.
What you'll love about knitting Hap-py:
1 skein + 1 needle + 1 pattern = 1 perfect portable project
With only three stitches to cast on and the lace bindoff, the shawl is free of tight spots and a dream to block
Center section is made of up Garter Stitch and Eyelet rows - straightforward knitting you can work without constantly referring to the pattern
Crest of the Wave is a wonderful lace with one "action" round to remember that gives you a beautiful undulating edging
What you'll love about wearing Hap-py:
Laceweight yarn gives you a lightweight shawl - perfect for style and warmth and easy to tuck into your purse to always have on hand
Garter stitch and increases every row blend multi-colored hand-dyed yarns into a beautiful whole
Square shape gives you multiple options for wear - drape it over your shoulders for elegant drama, fold it on the diagonal and cozy it up around your neck for warmth

Size/Finished Measurements
Shawl: 32 inches square
Doll Shawl/Swatch: 13 inches square
Materials
Madeline Tosh Prairie 100% Superwash Merino; 840 yards/768 meters per 114 gram skein; color: Plaid Blanket; 1 skein Note: With swatch, entire skein was used.
One US6/4.0mm 40-inch circular needle
Stitch markers, including one different to mark end-of-round
Tapestry needle
Gauge
18 sts x 18 ridges (36 rows) = 4 inches square in Garter Stitch after blocking
Skills Needed
casting on
binding off
knitting
purling
increasing
decreasing
following written or charted instructions for Crest of the Wave edging pattern (both included)
Thanks!
Technical Editing: Ruth Garcia-Alcantud
Photography: Nicholas Dames
Everything you need to create your own beautiful Hap-py is provided in the professionally designed (by me!) pattern. Both written and charted versions of the Crest of the Wave stitch pattern are included.