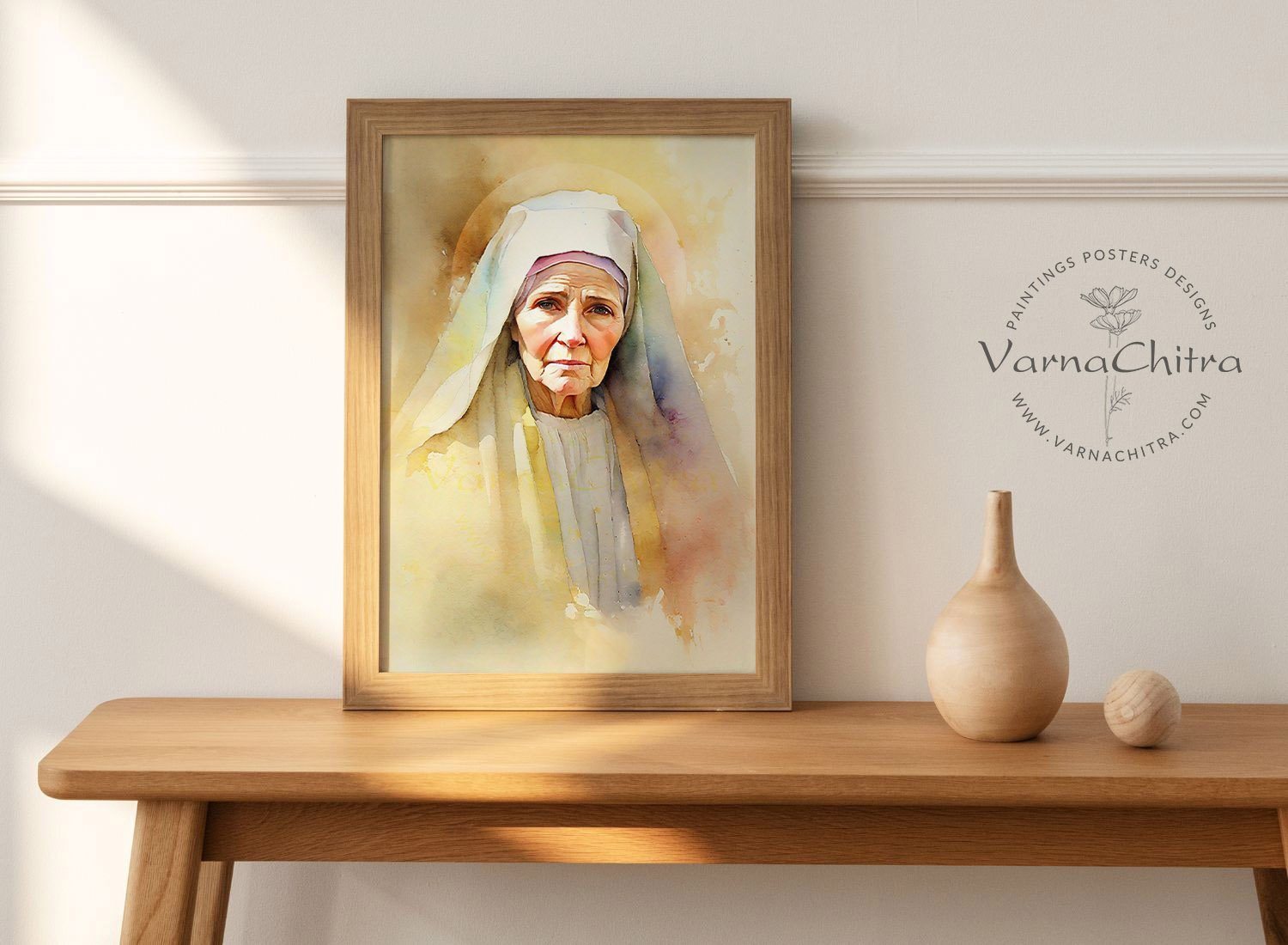 Saint Anne 1, Mother of Virgin Mary, Watercolor Painting
In this enchanting watercolor masterpiece, Saint Anne, also recognized as Saint Anna, the revered mother of the Holy Virgin Mary, is brought to life with an otherworldly grace that transcends the confines of the canvas. The radiance emanating from Saint Anne's countenance is skillfully captured, imparting a gentle luminosity that appears to emanate from her very soul.
The portrayal of Saint Anne captures a moment of tranquil contemplation, with her eyes reflecting both wisdom and maternal love. The interplay of light and shadow delicately highlights the subtle lines on her face, bearing witness to a lifetime devoted to spiritual insight and unwavering faith. Her expression exudes serenity, embodying the quiet strength inherent in her role within Christian tradition.
Executed with finesse, the artist employs a palette dominated by soothing blues and warm earth tones, cultivating an atmosphere of calm contemplation. The use of watercolor adds a fluidity to the painting, enhancing the ethereal quality that permeates the composition.
In the background, a subtle halo of soft light envelops Saint Anne, serving as a poignant symbol of her sanctity and profound connection to the divine. The watercolor technique imparts a delicate translucency to the painting, elevating the overall sense of spirituality and reverence that emanates from this sublime portrayal.
Great Gift for Ana, Anna, Anne, Annelien, Chanah, Ganna, Hanna, and Hannah.
Ref: Saint Anne 1
Upon purchase you will receive 1 jpg file as instant download for each item.
Use the downloaded files for customized printing and framing at any of the online printing and framing services like shutterfly, canvaschamp etc. You may also utilize the service of your local printing and framing shops. Read more about it here. Or buy framed print choosing your custom size, frame, mat and material from zazzle.
THIS ITEM IS A DIGITAL DOWNLOAD ONLY. NO PHYSICAL ITEM WILL BE SHIPPED.
YOU WILL GET 1 JPG FILE OF SIZE 32x48 inches with 300 ppi AS A DIGITAL DOWNLOAD.
The file can be easily resized to
24x36 inches(2:3 aspect ratio) and below
24x24 inches (1:1 aspect ratio) and below
18x24 inches (3:4 aspect ratio) and below
16x20 inches (4:5 aspect ratio) and below
11x14 inches
A3 (ISO) 11.7x16.5 inches
You can contact me for any other size after purchase.
For personal use only. No commercial use permitted.  
Display images contain hidden watermarks, but the download files don't.