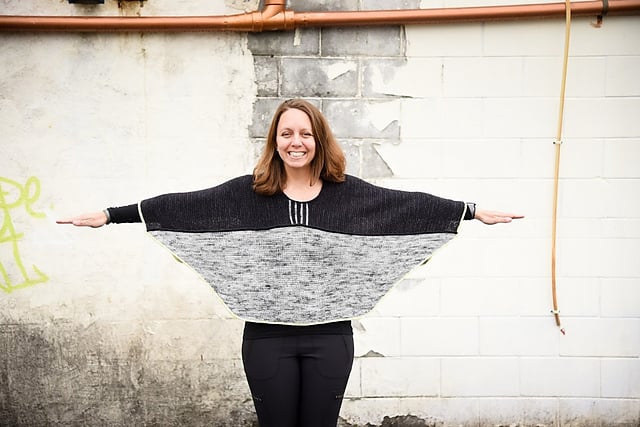 Moduloncho
On Sale
$5.00
Pay what you want:
(minimum $5.00)
It's a modular poncho… Moduloncho!

This cousin-of-a-shawl has a modular construction and classic lines for ease of wearing and styling.

The design accommodates a range of sizes, and can be easily modified to fit your needs based on its modular construction.

I used some great yarns from Leading Men Fiber Arts for my design! I love the range of colors and bases they have to offer. My poncho was created with 1 skein of Soliloquy (150g per 657 yards of fingering weight yarn, 100% Bluefaced Leicester), 1 skein of Diva (150g per 600 yards of fingering weight yarn, 80% Superwash Merino, 20% Silk) and 1 mini skein of Show Stopper (20g per 92 yards of fingering weight yarn, 75% Superwash Merino, 25% Nylon).

A larger sized garment can be created with 4 100g skeins of fingering weight yarn. This design would also lend itself to using partial skeins of yarn to create a wonderfully expressive garment!

SIZING:
Adult S/M (38.5" wide x 42" long / 98 x 107 cm)
Adult M/L (45" wide x 48" long / 114 x 122 cm)

The pattern is easily modifiable to fit your needs beyond these given sizes. One test knitter even knit a tiny moduloncho for a stuffed animal following the same directions with a different stitch count!

I can't wait to see you strike a pose in your #moduloncho !

Special thank you to several special people:
Yarn Support: Leading Men Fiber Arts
Tech Editing: Jennifer Riester
Photography: Emily Straw
Test reading and test knitting: Heather F., Michelle F., Penny H., Louise R., Amy S., and Jeannette S.