Founding Member Sale Now
⋆
Join the Academy today to lock in price
⋆
Founding Member Sale Now ⋆ Join the Academy today to lock in price ⋆
Here's the school you're excited to come to!
This is the type of learning that you'll see, experience and BE in your life. You're gonna activate your Potential in Learning About Yourself (aka PLAY!) by engaging in a variety of PlayShops, joining Lab Office Hours and meeting Lab PlayPals in a private community.
Were you one of those in school that would think, "I'm not gonna use this - why do I have to learn it?"
Or "I'm not even sure if I really get it because I'd have to use it or apply it."
Well, while you're enrolled in the DATE YourSelf Academy, you're in for a treat! You'll see that a way to Discovering (and Being!) your Perfect Authentic Self is seeing your life as one big experiment. There'll be all sorts of things happening and variables playing a role.
And, the DATE YourSelf Academy is your "lab" that's an Environment which celebrates and encourages experimentation in the evolution of you. You'll explore PlayShops that offer different perspectives into seeing who you are at your Core - and to see how they're playing a role in the way you Lead in life, so that you may Authentically Lead in ALL areas of your life with Confidence, Clarity and Compassion.
The design of the PlayShops and Academy is for you to go on "dates" with your Self where you'll engage with the material bypassing the brain's "I don't wanna!" switches, then being in an Environment where you're getting lil' nudges quite frequently that supports the new way of Being (aka brain connections!)
From the pieces of you to the wholeness of you
PlayShops for the DATE YourSelf Academy are designed to be "app-edu-taining" (yeap, totally made that up!) where concepts are:
Applicable
Educational
Entertaining
Your dates (aka the PlayShops with micro-steps) are designed for you to holistically experience the transformation creating new brain pathways in a way that invites your Whole Self to be involved - Spirit, Mind and Body.
When you DATE YourSelf...
Your dates (aka the PlayShops with micro-steps) are designed for you to holistically experience the transformation creating new brain pathways in a way that invites your Whole Self to be involved - Spirit, Mind and Body.
Your Academy Experience
When you join the DATE YourSelf Academy, you'll get:
Extended access to select PlayShops offered so you see you can go at your own unique pace, creating space for you to engage in whichever PlayShop is calling your attention at that time - going along with you as you evolve
Invitation to Lab Office Hours so you get your questions answered as you're implementing what you're learning, as well as any insight and strategy tips (including being able to submit questions, in case you aren't able to make it live)
Access to private chat community with other students, in case you'd like an accountability or study partner or to simply chat about the shifts that's been made for you as you integrate the PlayShops
Your Perfect Authentic Self is Ready...
Enrolling in the DATE YourSelf Academy is an investment into developing your Authentic Leadership, while optimizing your Holistic Health. This means, by going on Dates with your Self, taking part in the activities and being present with the material, you'll be transformed bringing you closer to Being your Perfect Authentic Self - by exploring the messages coming from the Whole Body Self (Environmental, Spiritual, Emotional, Mental and Physical.)
How will you do this and live your everyday life? Seamlessly! That's a part of the "app-edu-taining" process! It's all about the small steps that make a big ripple effect difference.
Join the DATE YourSelf Academy today…see you in class!
Get Your DATE On!
Academy Opening Pricing
per month
First payment of $57
Ends September 30, 2023. Includes $10 activation fee. First payment is $57, then $47/mo thereafter. Cancel anytime.
Additional Pricing Information
*You may cancel your membership subscription at any time from within the portal. Please take note of your renewal date.
*PlayDough Credit can NOT be used for this membership.
*Due to the nature of this digital product, no refunds will be issued. All sales are final.
* Pricing is subject to change without notice.
Bundle Includes
Here are all the products that are included in your bundle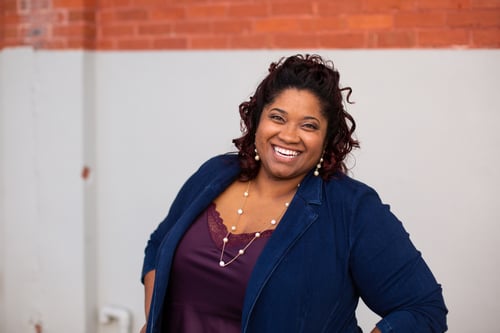 De'Nicea Hilton Harper
Nice to meet you! While practicing Acupuncture and Oriental Medicine, I got to witness the transformative healing power when people embraced a more loving relationship with symptoms and conditions they were experiencing - they're messages guiding us to our Perfect Authentic Self so we could Authentically Lead in ALL areas of our lives with Ease and Grace.
Learning to understand their message (and medicine), it opened Pathways to Potential and Possibility for me and patients...one where it oozed with Compassion for Self and others. Now whether it's in the MasterBeing, PlayShops, speaking or in trainings, you'll get to know them better, too.
Other goodness about me - I'm a multi-passionate lover of randomness (that isn't quite so random by Divine Order!) exploring just how connected we are, foodie, reader of at least six books going at a time, calmed by the Water and lovin' on other people's children and pets.