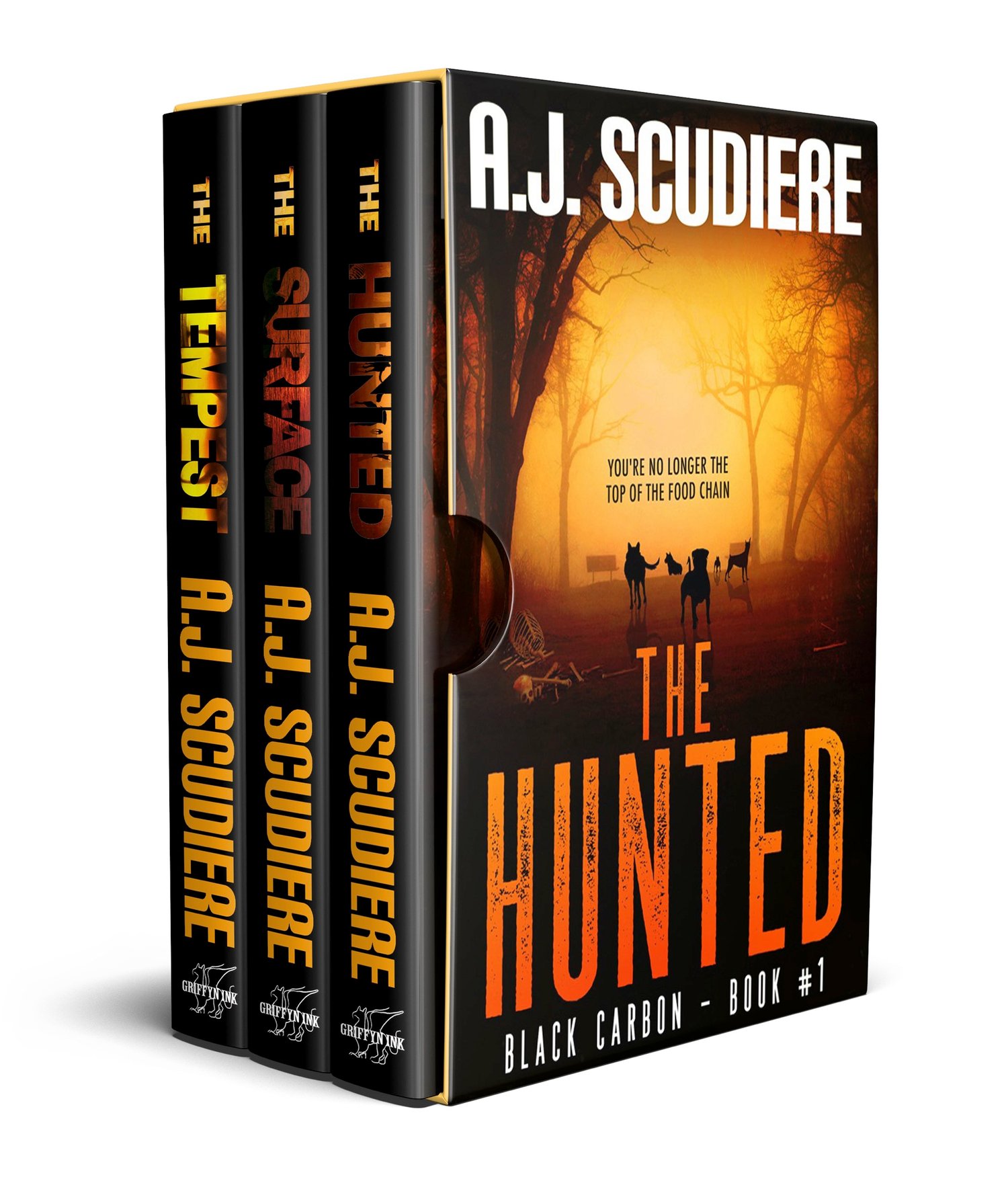 Black Carbon - Vol 1
HUGE SAVINGS OFF THE INDIVIDUAL BOOK PRICES!
Includes the first 3 novels in the BLACK CARBON series: The Hunted, The Surface, The Tempest
THE HUNTED
Lights out. Keep still. Pray for morning.
Joule and Cage Mazur feel like prisoners in their home. With something new stalking the streets at night, their family's only protection is bolting the door and embracing the darkness. And even though they manage to trap and kill one of the monsters, their locks won't hold forever…
Dealing with rising panic and rage in the neighborhood, the free-spirited survivors hatch a plan to undermine the killers. But with the night hunters picking off everyone they can, Joule and Cage know time is ticking toward humanity's extinction.
Can they kill the Night Hunters and reclaim the top of the food chain?
THE SURFACE
No Power. No Food. No Rescue.
When the rains came the first time and campus flooded, Cage thought it was a freak weather incident. Joule saw it for what it was--a warning. Life went back to normal when most of the water receded. But the standing puddles left behind weren't normal. Something had laid eggs in it…
The creatures from the San Fransisco Bay found a path into the floodwaters. As the rain comes harder the second time, the flood is much deeper and those who go underwater don't come back up.
The rip-currents are the least dangerous things in the water. Can Cage and Joule escape? How will they survive when even the land isn't safe? And what about the ones they left behind?
THE TEMPEST
Find shelter. Stay low. Hold on tight.
The first tornado was an anomaly. It cleared the land and bumped up the time scale on the job. But as everyone rushes to set up the new solar farm, they find that something has shifted… At first it was a series of small, unassuming whirlwinds, a nuisance more than a real concern. But soon the funnels get bigger and the winds get stronger, and there's nowhere safe to hide.
When Joule and Cage get separated, the winds get even more dangerous. They've always had each other's backs, but now they'll have to survive on their own. Can they even help the people who live in the path of the fury? Maybe, if they can save themselves first.
These are the first three books in the fast-paced Black Carbon apocalyptic thriller series by a USA Today bestselling author. If you like resourceful heroes, world-ending catastrophes, and breathtaking action, you'll love AJ Scudiere's spine-tingling series, BLACK CARBON.