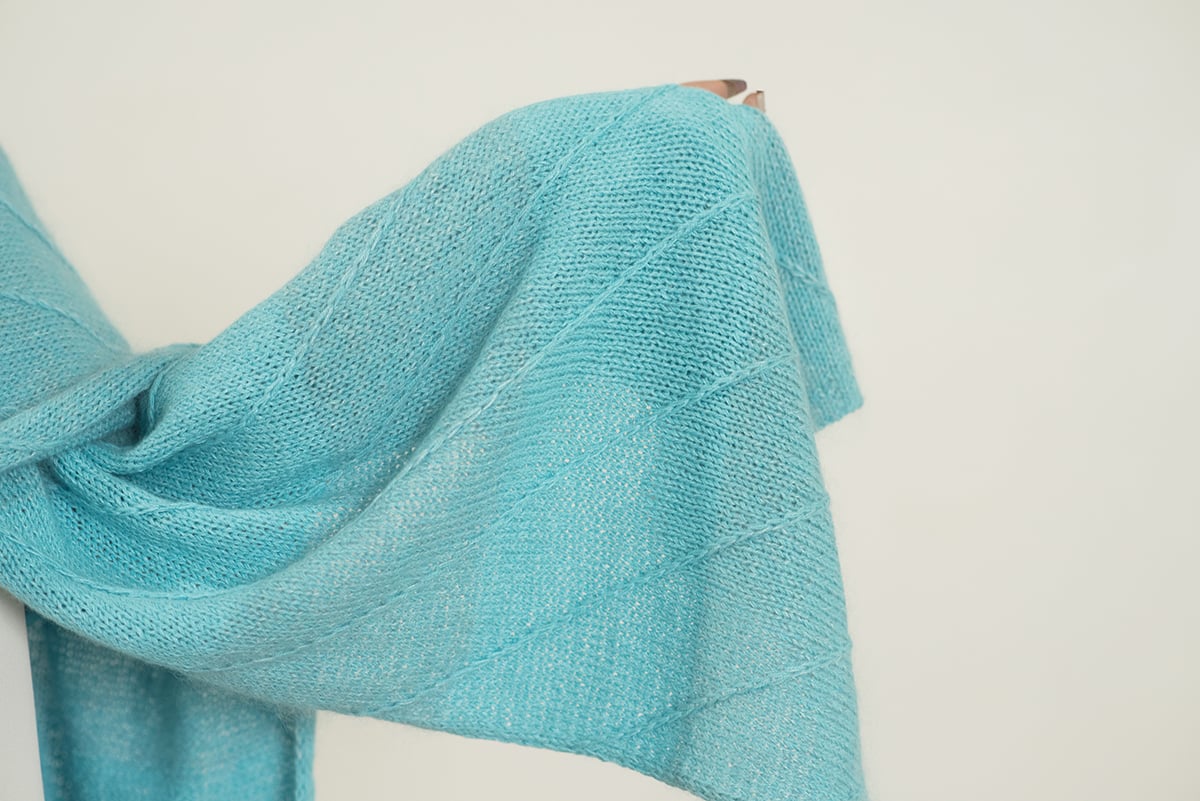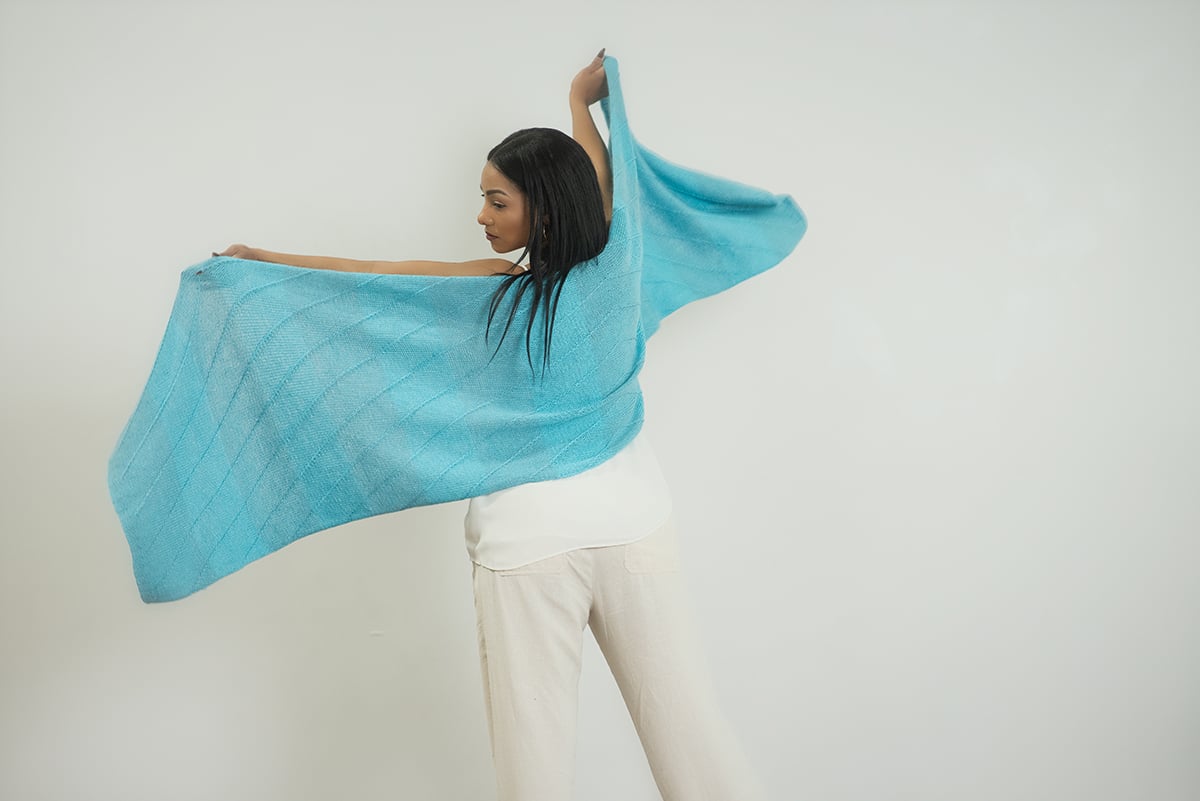 Refractious
On Sale
$10.00
Kits available at Shibui Knits.
Refractious showcases the tonal and textural variation between different yarns and fibres. Cima combines with alternating bands of Koan and Tweed Silk Cloud for a soft, drapey fabric with subtle shadow stripes. Slipped stitches flow across the fabric, adding stability and visual unity to this generous wrap. Designed by Elizabeth Elliott in collaboration with Shibui Knits as part of their Modern Wrap Collection.
To make Refractious, you will need to know how to cast on, bind off, knit, purl, and work cables. Instructions for adjusting the length and width of your wrap are included in the pattern. The pattern also includes an illustrated tutorial showing how to work the slip-stitch cables without a cable needle. Modelled by Yanira De La Cruz, who is 5 ft 4 in/163 cm tall.
Yarn
Shibui Knits Cima: 4 skeins (shown in Crete), and
Shibui Knits Koan: 3 skeins, (shown in Crete), and
Shibui Knits Tweed Silk Cloud: 4 skeins (shown in Crete)
Needles
US7/4.5 mm: 14 in/35 cm straight needles or 24 in/60 cm or longer circular (or size needed for correct gauge)
US6/4 mm 14 in/35 cm straight needles or 24 in/60cm or longer circular (or one size smaller than gauge needle)
Gauge
19 sts & 31 rows = 4 in/10 cm in stockinette stitch on larger needle with Cima held together with either Koan or Tweed Silk Cloud, worked flat and blocked
Exact gauge is not essential, but differences in gauge will affect size and yarn requirements.
Notions
yarn needle, cable needle (optional: see tutorial for working the cables without a cable needle)
About the yarns
Cima is a high twist, laceweight yarn in superbaby alpaca and fine merino wool. Cima's fibre content gives this yarn a lovely softness and drape, while its high twist keeps the alpaca from shedding or forming too much of a halo. The high twist and the 30% superfine merino also give the fabric some memory, so it won't lose its shape. Cima is a matte-textured yarn that dyes into pure, rich colours.
Tweed Silk Cloud is a laceweight silk/kid mohair blend consisting of two strands of mohair tightly plied together, then plied with a strand of silk with tiny neps in it. This yarn is slightly thicker than most silk and mohair lace-type yarns, with a bit less halo. Like those yarns, though, it can be knit at a fairly loose gauge for its weight, as the mohair fills in the stitches, making a wonderfully soft, airy fabric with little to no memory. The mohair and silk each take the dye slightly differently—the mohair coming out slightly paler than the silk—adding to the tweedy look and giving a subtly marled fabric with both a high sheen and a nice halo.
Koan is a cabled silk/linen blend made up of six fine singles: two strands of three plies Z-twisted together (so that the angle of ply runs upward from left to right), then loosely S-plied with each other (so that the 2 strands of Z-twisted plies are twisted together in the opposite direction). This yarn has a nice sheen, no halo, and no memory, giving a heavy, drapey fabric. It takes the dye well, though the same colourway looks slightly different on this yarn than on the other two.
If substituting yarns for this project, look for laceweight yarns with the following characteristics: a main yarn (Cima in the sample) with some memory to give the piece structure, and two other yarns in the same or a similar colourway with textures and/or colours that differ slightly from each other. You will need approximately 1312 yds/1200 m of the main yarn plus about 760 yds/695 m of the Tweed Silk Cloud substitute and 720 yds/658 m of the Koan substitute.
Photos © Gale Zucker.