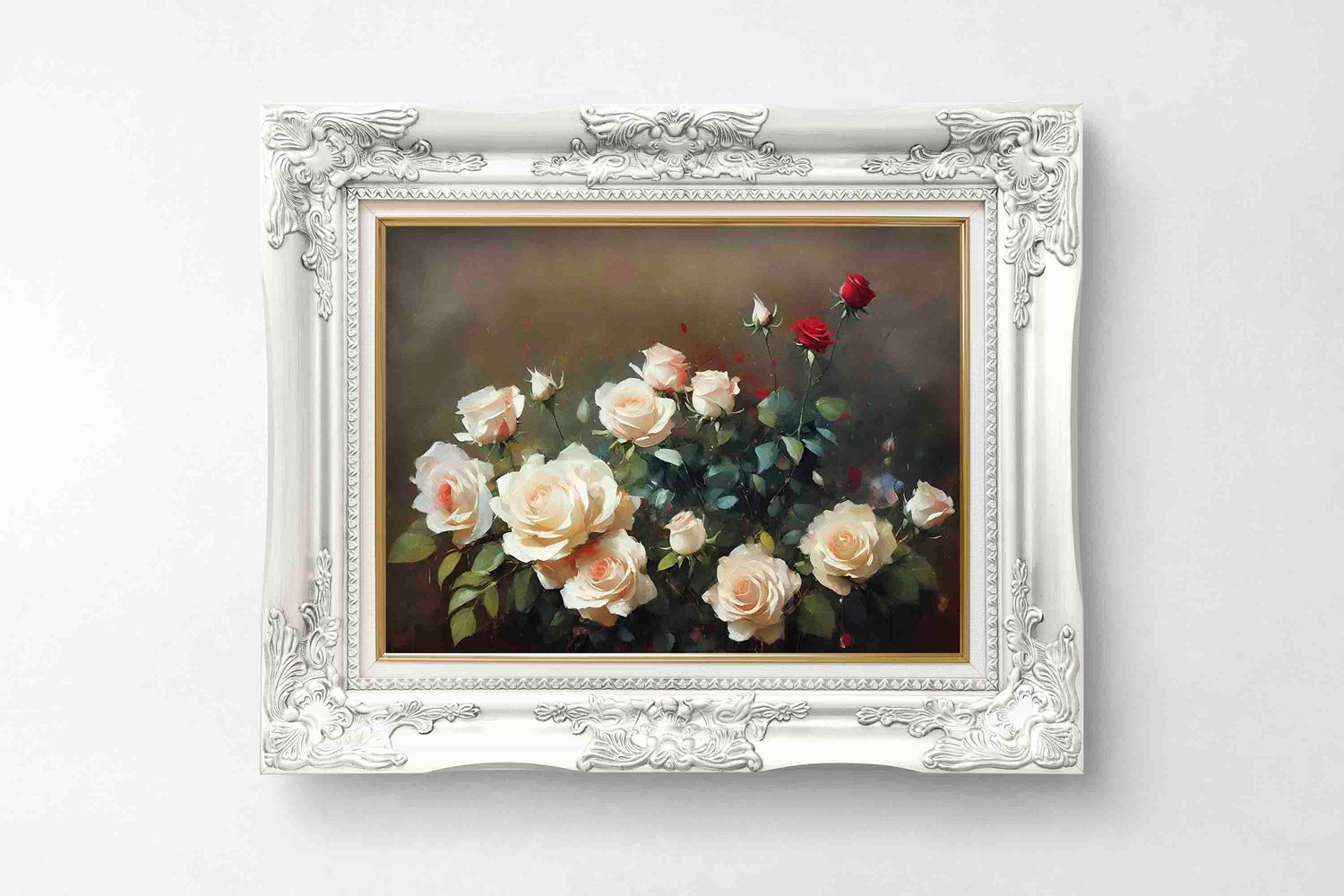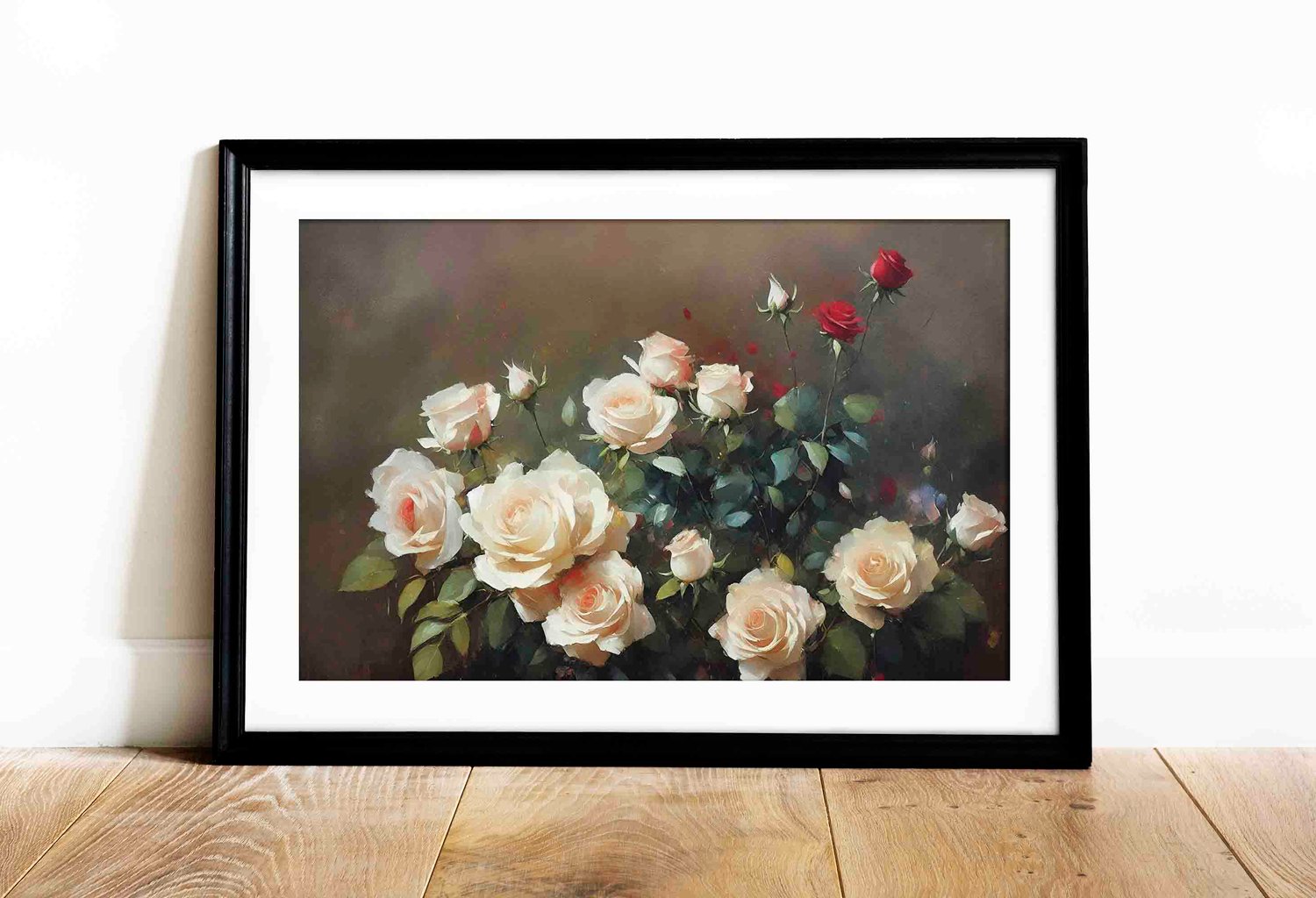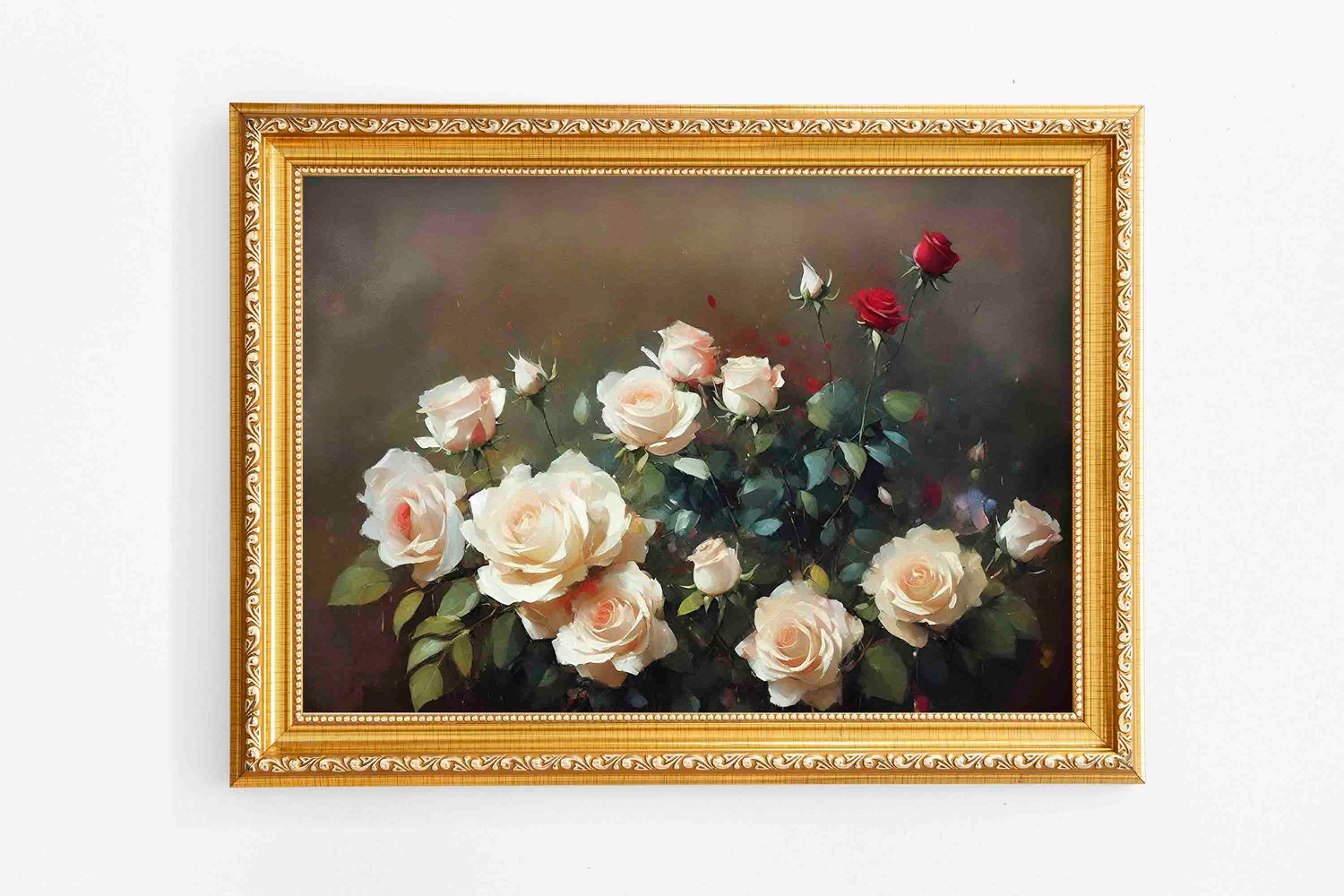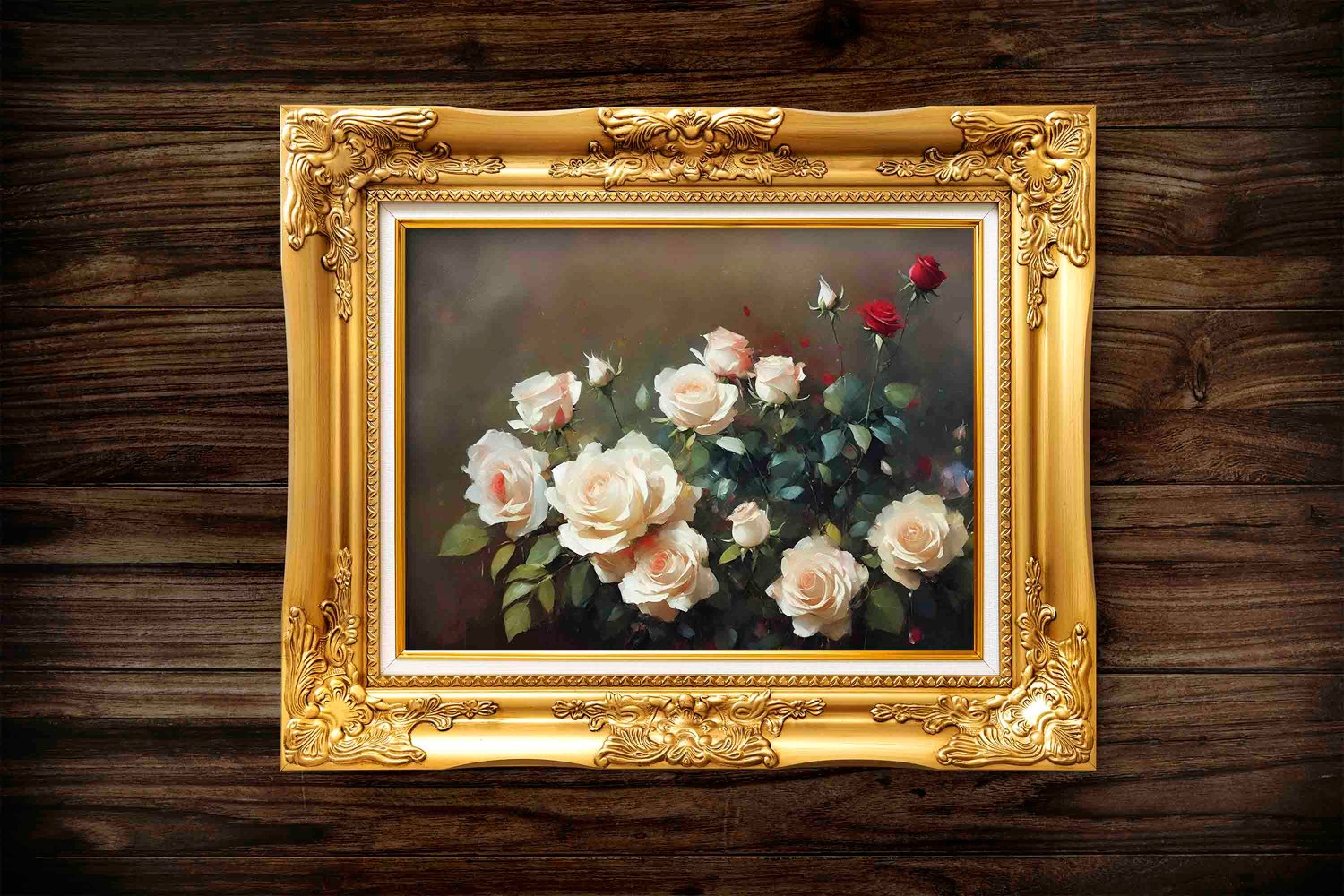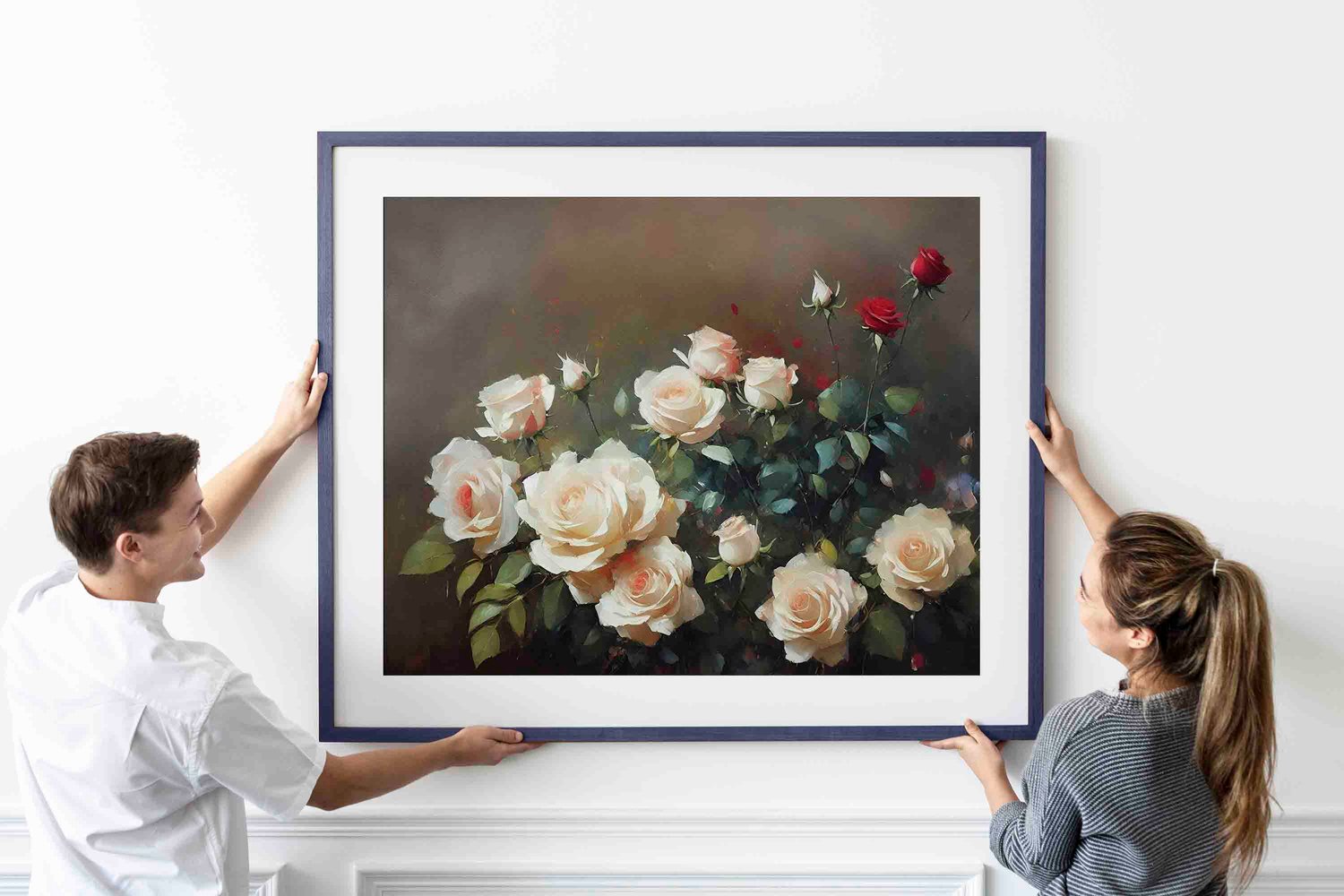 Classical Thick Oil Paint Impasto Roses Floral Painting Wall Art in Elegant Colors. Large Size Printable Instant Download. [Floral56]
The painting depicts a bunch of rose flowers rendered in classical oil paint style, but created using digital techniques. The roses are depicted in a range of soft pink, peach, and creamy white hues, with delicate petals that seem to unfurl before the viewer's eyes.
The roses are set against an elegant background of muted greens and blues, which creates a calming and soothing effect. The background is rendered with subtle brushstrokes and texture, which adds depth and dimension to the painting.
The white and off-white flowers in the bunch are expertly rendered with artistic strokes in painterly style. The painting captures the delicate beauty of the roses, showcasing their intricate structure and velvety texture.
Overall, the painting has a serene and calming feel, evoking a sense of peace and tranquility. The combination of soft colors and expertly executed brushwork creates a timeless and elegant piece that is sure to captivate the viewer.
Excellent gift for all occasions. High resolution image 8400x12000 pixels with 300 ppi as instant download.
Upon purchase you will receive 1 JPG file as instant download. 
Use the downloaded files for customized printing and framing at any of the online printing and framing services like shutterfly, canvaschamp etc. You may also utilize the service of your local printing and framing shops.
THIS ITEM IS A DIGITAL DOWNLOAD ONLY. NO PHYSICAL ITEM WILL BE SHIPPED.
YOU WILL GET 1 JPG FILE OF SIZE 40x28 inches with 300 ppi AS A DIGITAL DOWNLOAD.
The file can be easily resized to
36x24 inches(3:2 aspect ratio) and below
24x24 inches (1:1 aspect ratio) and below
24x18 inches (4:3 aspect ratio) and below
20x16 inches (5:4 aspect ratio) and below
14x11 inches
A3 (ISO) 16.5x11.7 inches
No watermark or signature on the download.
You can contact me for any other size after purchase.
For personal use only. No commercial use permitted.