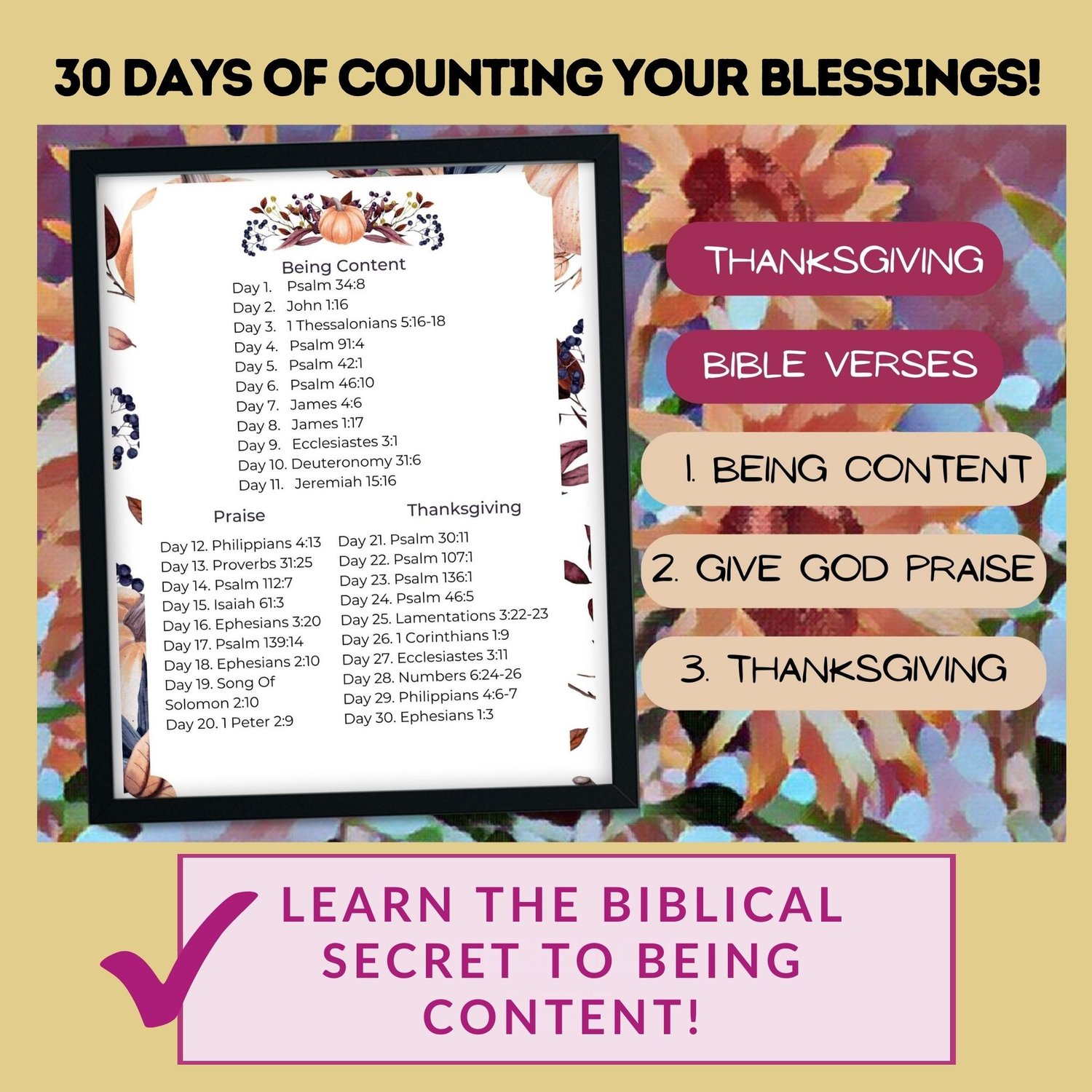 Count Your Blessings 30 Day Thanksgiving Devotional, Prayer And Gratitude Journal
On Sale
30-Day Thanksgiving Bible Study
Here is our Count Your Blessings devotional Bible study. This study is digital/printable and will be delivered straight to your email inbox so that you can print and start using it immediately!
Would you like to know what the Bible says about being thankful in hard times?
How can you thank God for His blessings in the midst of trials?
🍁Being thankful to God has to be a choice when everything around you seems to be falling apart. It is a matter of the heart and trusting that God has a good plan for your life!
💥
Please note that this product is also available in our Devotional Bible Study bundle HERE.
🍁This Count Your Blessings devotional contains:
✅30 days of devotionals
✅Prayer, and a gratitude journal to write out the scripture, your prayers, and things that you are thankful for.
✅Tips on how to use this devotional study in a women's Bible lesson group.
✅A beautiful print of Numbers 6:24-26- a Priestly Blessing that you can print out.
✅A ' Week In Review ' page after every 5 days with journal prompts to access what God has been speaking to your heart through His life-changing words. This page is perfect for helping you to use this devotional study in a group setting.
This is a digital download for you to use on your phone or tablet or to print out. I open these downloads in iBook or Samsung Notes or Xodo. They are free apps and they allow you to write on the journal pages. You can take this journal everywhere you go! 
🍁This is a unique devotional Bible study that has been designed to help you grow in your faith, and remind you that you can be full of joy and thankfulness even in hard or difficult times in your life because God is with you and He cares for you.
✅You will be automatically added to our weekly newsletter after downloading this eBook and you will be sent the password for our Resource Library to gain access to our vault of free bible plans, eBooks, and more!
REFUNDS are not available for digital products, sales are final but I will do everything possible to make sure you are happy with your order. If you have any problems, please let me know, karen@scripturalgrace.com.