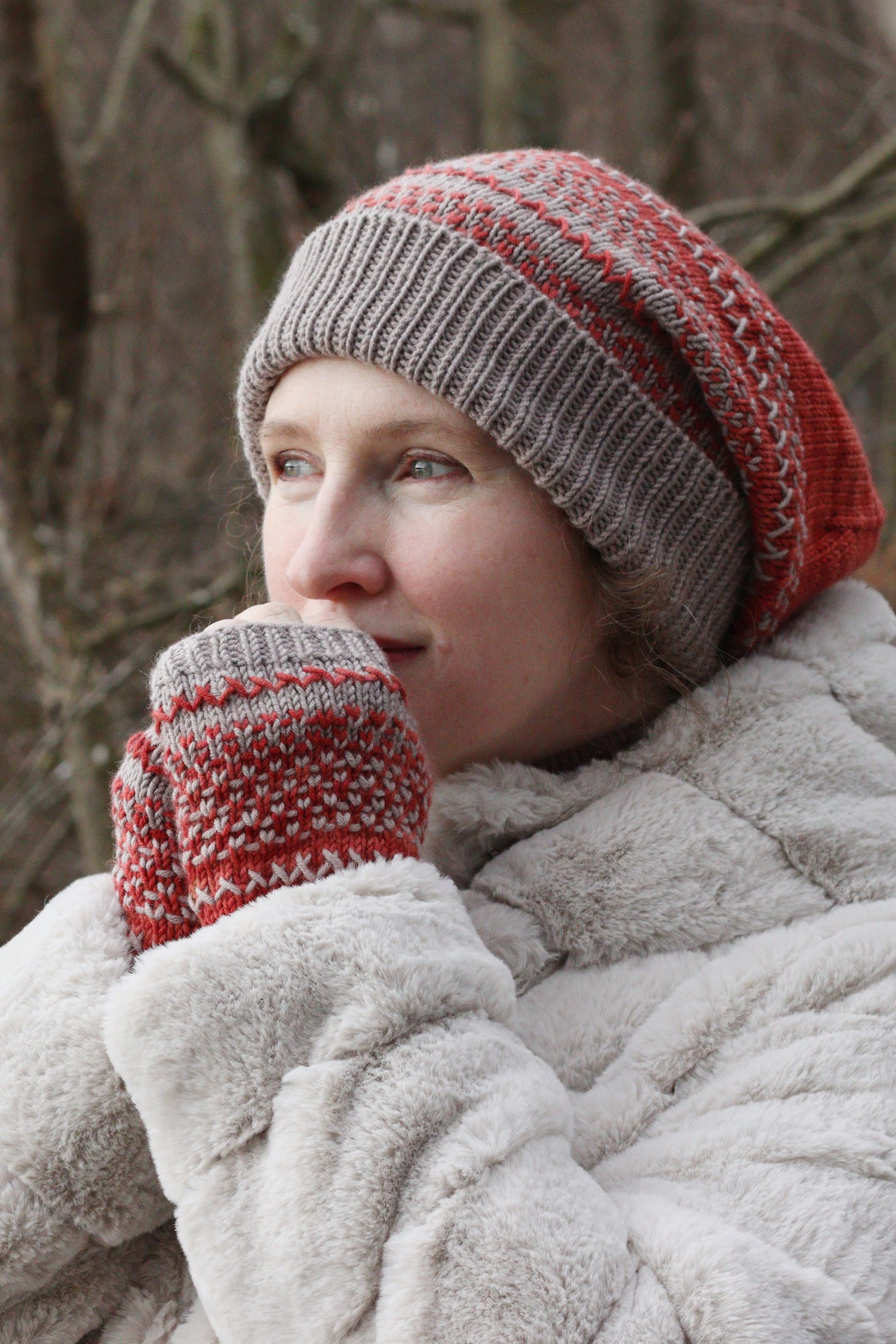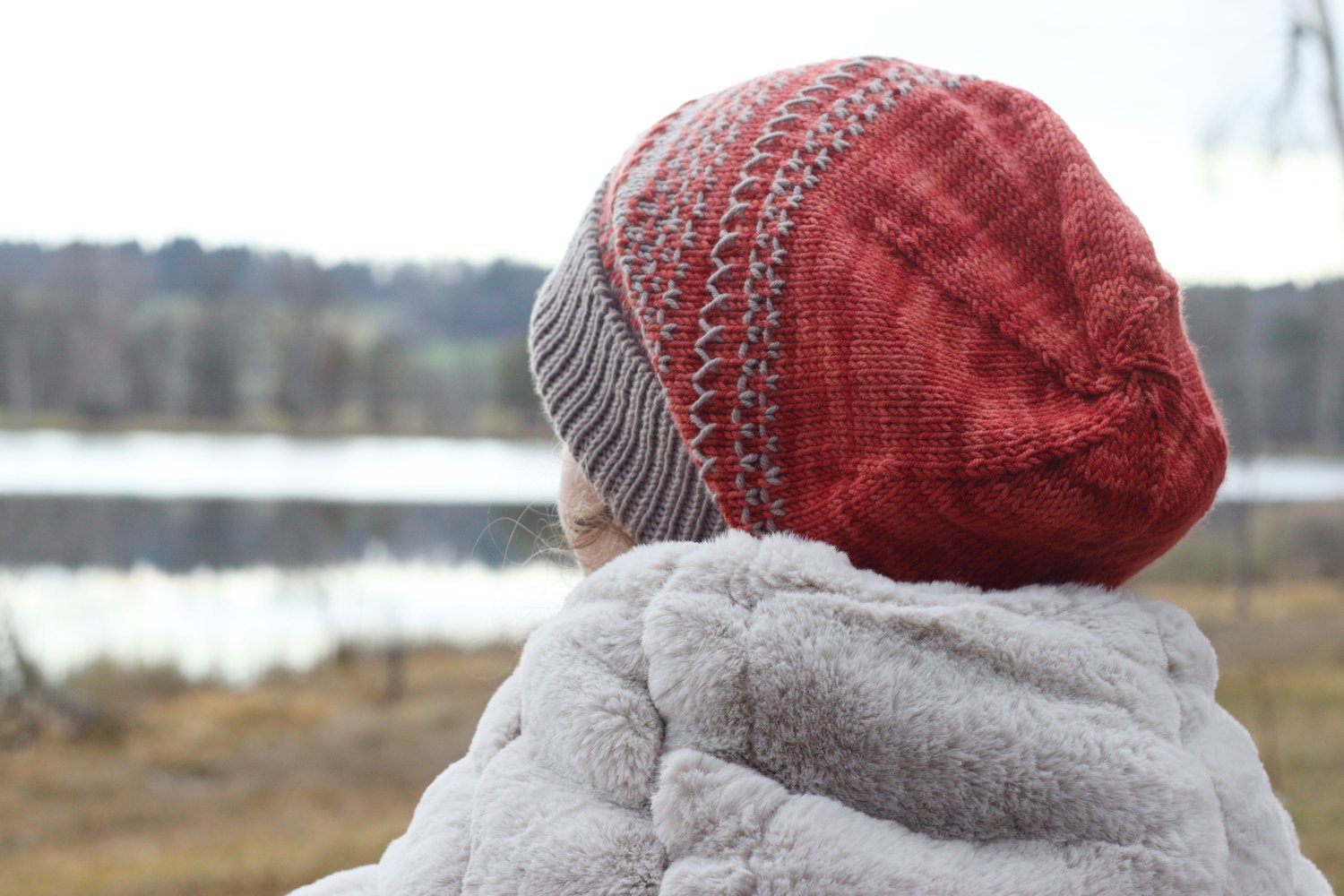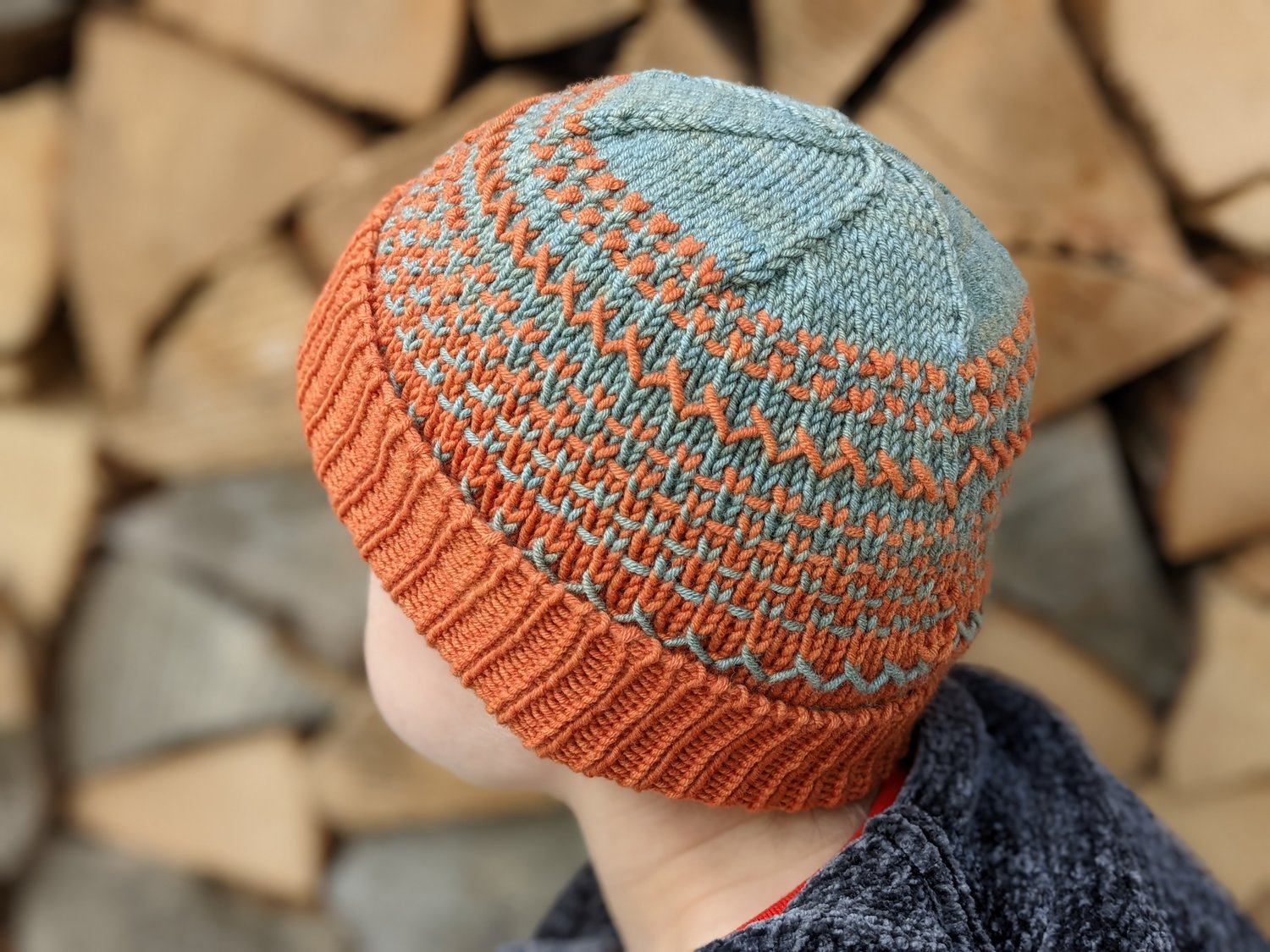 Mutzi hat & mitts
On Sale
Preview
Jetzt auch auf Deutsch – siehe unten! 

Mütze is German for hat, but in some Swiss German dialects, a Mutzi is a kiss. Rows of kisses embellish this hat design, which blends two colours of yarn in deceptively simple slipped-stitch patterning. Two skeins of worsted yarn will give you a generously slouchy hat and matching mitts, sized from child to large adult.

Sizing
Child 6–10yrs (Teen, Adult S, Adult M, Adult L)

Hat (shown in Adult L and Child): 
To fit head circumference: 
50 (52.5, 55, 57.5, 60) cm / 20 (21, 22, 23, 24) in

Mitts (shown in Adult M):
To fit hand circumference: 15 (16.5, 17.5, 19, 20) cm / 6 (6.5, 7, 7.5, 8) in

Gauge: 
Hat: 22 sts x 26 rounds
Mitts: 23 sts x 29 rounds
to 10cm / 4 in over stocking stitch using larger needles

Challenge level
Relaxed.  
Skills used: Working in the round, increasing and decreasing, slipped-stitch patterning.

Materials
Anna & Juan Merino Worsted, 200m / 219 yds per 100g:  1 x 100g skein in each of two colours (200g / 400m / 438 yds total) 

Needles:
Hat: 
brim: 3.5mm / US 4 
body: 4.5mm / US 7

Mitts: 
cuffs: 3.5mm / US 4 
hands: 4mm / US 6

Yarn needle for seaming
6 stitch markers (2 if only working the mitts)

Mitts: scrap of waste yarn

***************

Mütze, das verstehen wir, aber was heisst Mutzi? An manchen Orten in der Schweiz bedeutet das einen Kuss! Diese Set ist reihenweise mit Küssen bedeckt und viel einfacher zu stricken als es aussieht. Stricke für alle diejenigen, die Du gerne küsst. 

Grössen:
Kinder 6–10 Jahre (Teen, Erwachsene S, M, L)

Für Kopfumfang: 50 (52.5, 55, 57.5, 60) cm
Für Handumfang: 5 (16.5, 17.5, 19, 20) cm

Fertige Masse –
Mütze Umfang: 44 (46.5, 49.5, 52, 54.5) cm
Länge bis zur Umbruchkante: 24 (25, 28, 29.5, 30.5) cm
Stulpenumfang: 13 (14, 15.5, 16.5, 17.5) cm

Material
Anna & Juan Merino Worsted, 200m per 100g:
Je 1x 100g Strange in Farbe A und 1x in Farbe B (insgesamt 200g / 400m)

Gezeigt in Matterhorngrau (Farbe A) und Mabonarot (Farbe B) in Grösse L; Kindermütze in Alpenglühen und Gletscherwasser.

Schwierigkeitsgrad
Entspannt.
Verwendete Techniken: Rund stricken, abnehmen, Hebemaschen.

Vielen Dank an Kate Atherley für das technische Editieren, an Sibylle Peter für Unterstützung mit Übersetzen und an alle Teststrickerinnen.