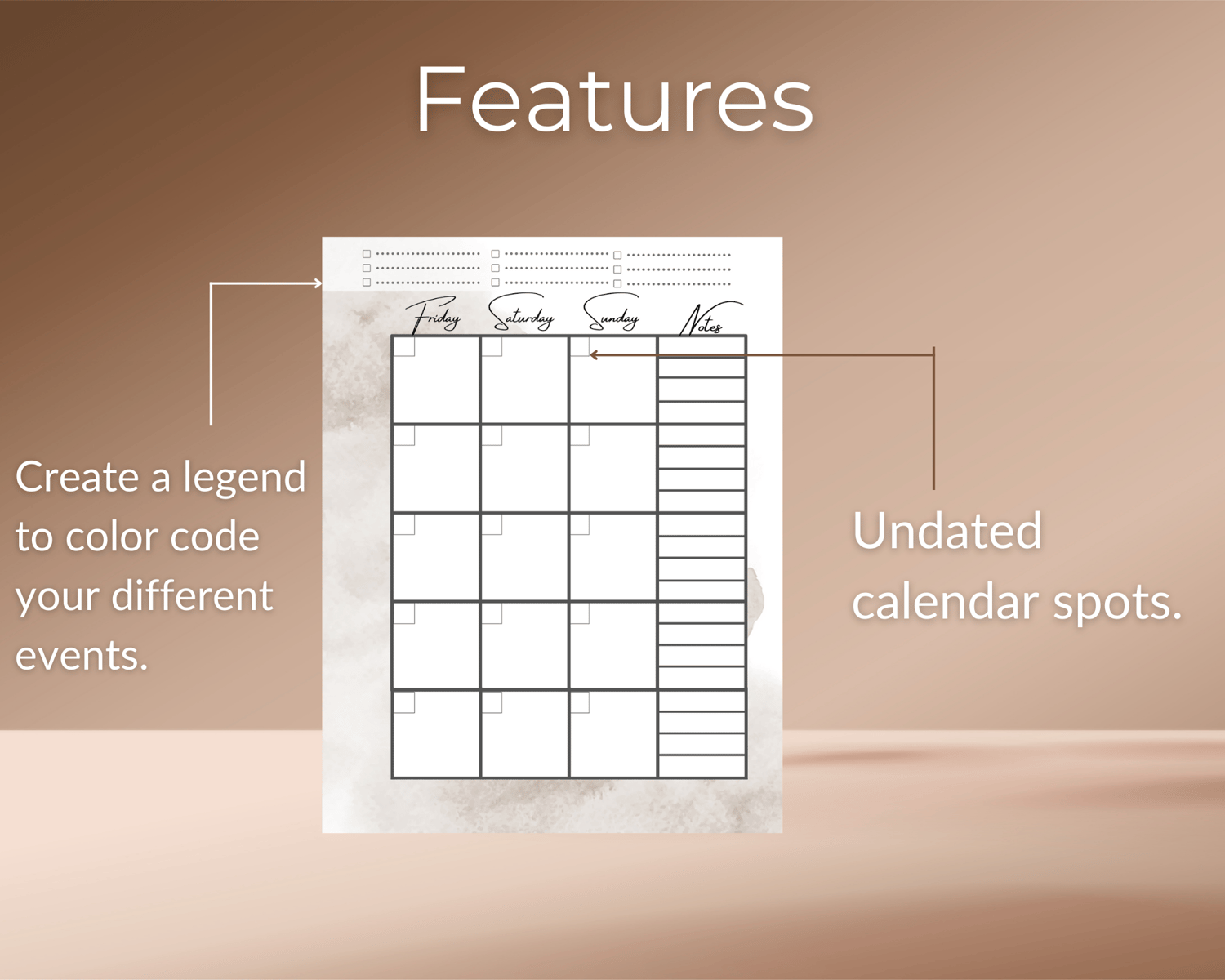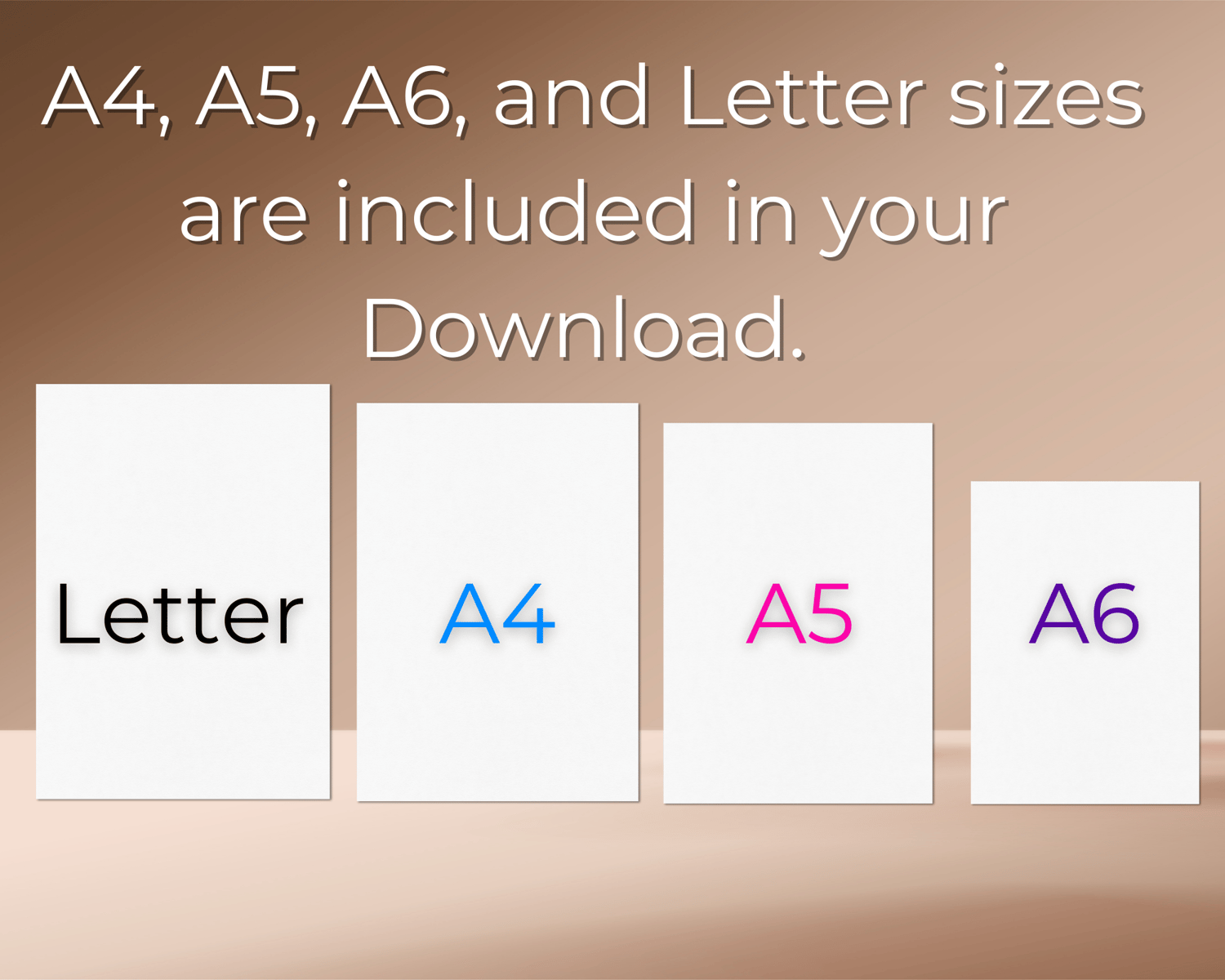 UPDATED Color-Coded Monthly Calendar Planner Insert - Digital Download in sizes A4, A5, A6, and Letter
$5.00
|♕ Features of the Color-Coded Monthly Calendar Planner Insert - Digital Download in sizes A4, A5, A6, and Letter♕ |
If you have always been looking for a different way to organize and manage your life for the month, this planner insert is for you! If you find yourself overwhelmed in between multiple projects, using this insert will help you map out tasks throughout the month. By using the color-coded legend, you can clearly plan out when you are working on specific categories and the time spent on that category.
The Color-Coded Monthly Calendar Planner Insert is beneficial if you need help organizing your tasks in your planner in a different way. The addition of the color-coded legend helps to quickly identify specific tasks by the designated color, symbol, or sticker.
This planner insert features a blank legend for you to fill out. Each line represents a category, priority, event, task, and more: the choice is yours! Write in the date fields with your colorful pens and markers, or go for a more uniform theme with numbered stickers and monthly labels. No planner is complete without a notes section. What about the extra space on the pages? That's for you to fill out with your favorite stickers, drawings, stencils, washi tape, and whatever represents you!
Once you download the file, you can print it off and use it in one of your favorite binder-based planners in the following sizes:
Size Dimensions ( Width x Length)
A4 8.27 x 11.69 inches | 210 × 297 mm
A5 5.83 × 8.27 inches | 148 × 210 mm
A6 4.13 x 5.83 inches  | 105 × 148 mm
Letter  8.5 x 11 inches  | 216 × 279 mm
FAQ can be found here: 
Frequently Asked Questions
♕Follow L.Piddy Collection on social media! 
♕Instagram - @lpiddycollection 
♕TikTok - @lpiddycollection 
♕Twitter - @lpiddycollectio
♕Facebook - @lpiddy
♕Pinterest - @lpiddycollection
♕Make sure to explore more digital downloads at  https://payhip.com/LPiddyCollection
♕L.Piddy Collection: https://www.lpiddycollection.com
minimalist, time, role, montserrat, sections, popular, self-care, day, health, work, legend, pageants, agenda, designs, different, planning, annual, student, thinking, collection, inserts, studying, life, office, pencil, orientation, planner, supplies, positive, pages, achieve, organizer, pageantry, mindset, social, monthly, prepare, washi, blank, routine, A4, item, mindful, project, multiple, customizable, checklist, coded, lines, font, ideas, week, manage, goals, finances, fitness, think, log, organization, canva, small, A6, prioritize, dates, A5, videos, daily, notes, shapes, unfilled, yearly, planning, bright, colors, aid, printable, school, page, lato, track, pen, media, important, marker, print, binder, tape, concentrate, weekly, household, floral, tasks, play, fast, suggestions, material, distractions, model, brainstorm, map, product, sizes, do, advocacy, year, digital, business, portrait, uniqueness, abilities, organize, production, filled, register, mini, productive, projects, kit, highlighter, hour, pdf, download, stickers, neon, ADHD, virtual, landscape, opportunity, achieve, thoughts, letter, to multi, routines, amsterdam, size, color, bills, look, online, neurotypical, schedule, file, immediate, journal, interactive, management
Psst.... If you read all of this, you deserve a coupon code! Use LPCSMSECRETCODE to get 50% on all L.Piddy Collection Etsy and PayHip Items. Thanks for you support!