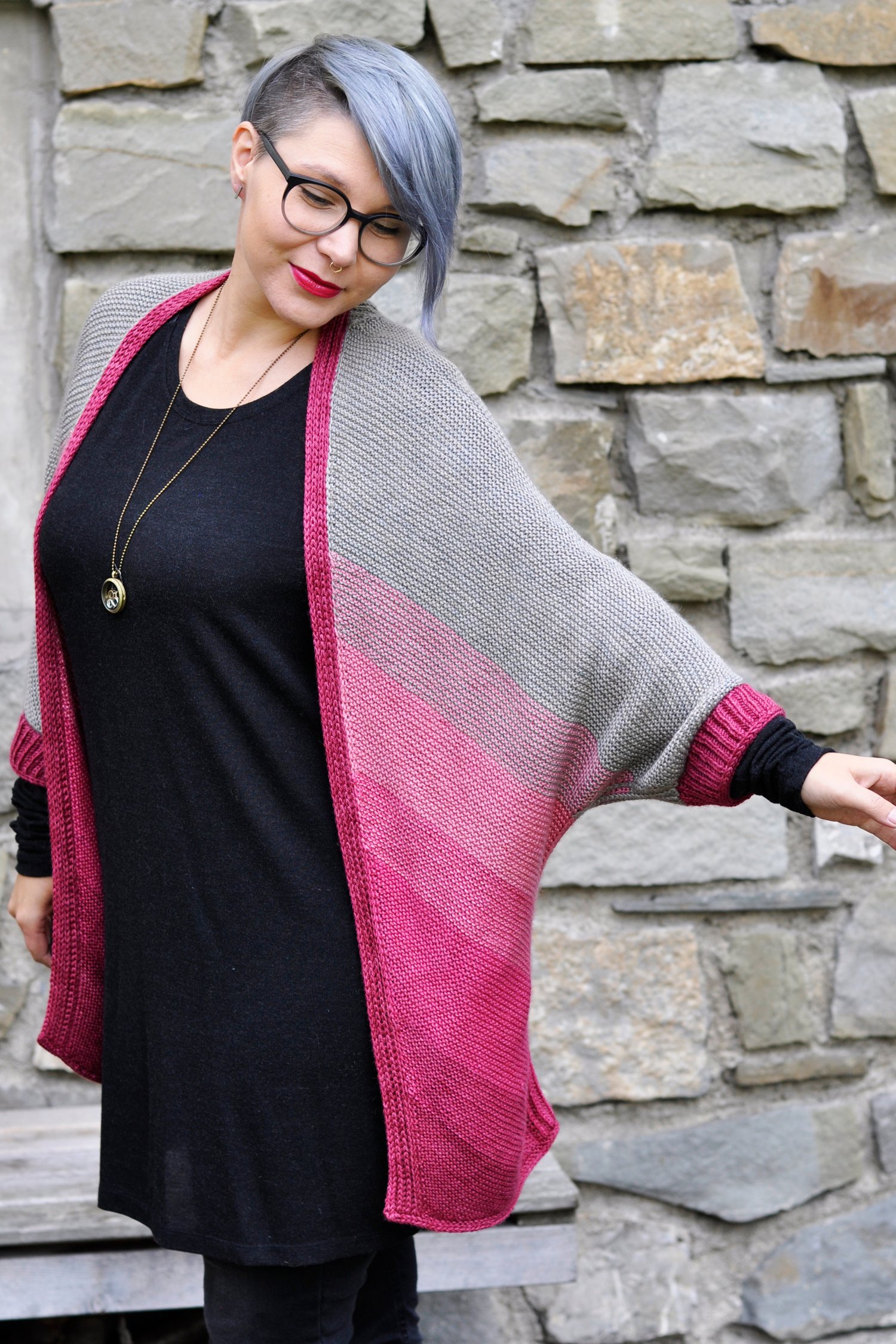 Autumn Affinity Cardigan
On Sale
€6.50
DIGITAL KNITTING PATTERN available in English and German
A comfortably casual cardigan is a fall staple – for good reason! When it's too chilly to go out and about without a little something to ward off the oncoming chill, but still too warm to don a thick winter jacket, it's the magical time when knit sweaters and cardigans are in high season.
This stylish version hits all my buttons: The unusual top-down construction that starts at the shoulder seam makes for an interesting and fun knit, the relaxing garter stitch is broken up by decorative brioche elements and watching the colors fade is just a joy.
And let me tell you about the yarn: Nature's Luxury On Stage is a luxuriously soft sport weight blend of Merino, Silk and Camel with the softest sheen that lets this cardigan truly shine. I've chosen a taupey neutral that fades into three shades of pink, from the light to almost burgundy.
The Autumn Affinity cardigan is meant to be worn causally open – which is why the fronts will not meet when knit to pattern. If you prefer a closable cardigan, you can adjust the pattern to fit your needs.
Short-rows are worked to create an – almost – straight finish. An attached brioche band and i-cords surround the cardigan. Brioche cuffs are the finishing touch.
Yarn:
4 colors of Nature's Luxury On Stage
Sport weight, 50% Merino / 30% Silk / 20% Camel, 300 m / 328 yd per 100 g
Pictured in the colorways Diamonds & Pearls (A - taupe), Marcia Baila (B - light pink), Skandal um Rosy (C - medium pink), Dancing Queen (D - dark pink)
Yardage:
Color A: 538 (555, 616, 693, 767) m / 588 (607, 674, 758, 839) yards / 2 (2, 2, 3, 3) skeins
Color B: 188 (194, 215, 243, 268) m / 206 (212, 235, 266, 293) yards / 1 (1, 1, 1, 1) skeins
Color C: 235 (243, 269, 303, 336) m / 257 (266, 294, 331, 367) yards / 1 (1, 1, 2, 2) skeins
Color D: 237 (244, 271, 306, 338) m / 259 (267, 296, 335, 370) yards / 1 (1, 1, 2, 2) skeins
In Total: 1198 (1236, 1371, 1545, 1709) m / 1310 (1352, 1499, 1690, 1869) yards / 5 (5, 5, 8, 8) skeins
Gauge:
20 sts / 36 rows = 10 cm / 4" in garter stitch (relaxed after blocking)
Sizes:
XS (S, M, L, XL) to fit chest circumference of 32-34 (36, 38-40, 42-44, 46-48)" (=EUR sizes)
Needles:
US 4/3.5 mm circular needles (or size needed to obtain gauge), DPNs for cuffs & border
Notions:
tapestry needle, 6 stitch markers, stitch holders, removable stitch marker
DIGITALES STRICKMUSTER erhältlich in Deutsch und Englisch
Herbst ist die Jahreszeit der gemütlicher, lässiger Strickjacken – und gibt es etwas schöneres?
Wenn es zu kalt wird, um ohne Jacke raus zu gehen, aber die dicke Winterjacke noch etwas länger im Schrank bleiben soll, dann ist die magische Zeit der Strickpullover und 
-jacken gekommen!
In dieser stylishen Version sind alle meine Lieblingsdinge vereint: durch die nahtlose Konstruktion, von oben nach unten gestrickt, bei der die Ärmel gleich mit gearbeitet werden, und so eine Fledermausjacke mit Dreiviertelärmeln entstehen, kommt keine Langeweile auf. Das entspannte Kraus-Rechts-Muster wird durch dekorative Element in Patent aufgelockert. Durch den Einsatz von fünf abgestimmten Farben entsteht ein sanfter Verlauf, durch den man einfach nicht aufhören kann weiterzustricken.
Und dann ist da natürlich noch die Wolle: On Stage von Nature's Luxury ist eine luxuriöse Mischung aus Merino, Seide und Kamel, die der Jacke einen sanften Schimmer und sagenhafte Weichheit verleiht.
Als Grundton habe ich mich für ein neutrales Taupe entschieden, der Farbverlauf geht von einem zarten zu einem kräftigen Pink.
Die Jacke is so konstruiert, dass man sie offen trägt, weshalb die Vorderseiten sich auch nicht treffen.
Verkürzte Reihen bringen die Jacke (beinahe) zu einem geraden Abschluss. Ein angestrickter Patentrand und Ärmelbündchen runden Autumn Affinity ab.
Garn:
4 Farben von Nature's Luxury On Stage
Sport weight, 50% Merino / 30% Seide / 20% Kamel, 300 m / 328 yd pro 100 g
Abgebildet in den Farben Diamonds & Pearls (A - beige), Marcia Baila (B - helles pink), Skandal um Rosy (C - mittleres pink), Dancing Queen (D - dunkles pink)
Farbe A: 538 (555, 616, 693, 767) m / 588 (607, 674, 758, 839) yards / 2 (2, 2, 3, 3) Stränge
Farbe B: 188 (194, 215, 243, 268) m / 206 (212, 235, 266, 293) yards / 1 (1, 1, 1, 1) Stränge
Farbe C: 235 (243, 269, 303, 336) m / 257 (266, 294, 331, 367) yards / 1 (1, 1, 2, 2) Stränge
Farbe D: 237 (244, 271, 306, 338) m / 259 (267, 296, 335, 370) yards / 1 (1, 1, 2, 2) Stränge
Gesamt: 1198 (1236, 1371, 1545, 1709) m / 1310 (1352, 1499, 1690, 1869) yards / 5 (5, 5, 8, 8) Stränge
Maschenprobe:
20 Maschen / 36 Reihen = 10 cm / 4" in Kraus Rechts (entspannt nach dem Spannen)
Größen:
XS (S, M, L, XL) passt bei 32-34 (36, 38-40, 42-44, 46-48)" Brustumfang (entspricht EUR-Größen)
Nadelstärke:
US 4/3.5 mm Rundstricknadeln (oder Nadelstärke für Maschenprobe), Nadelspiel für Ärmelbündchen und Umrandung
Sonstiges:
Stopfnadel, 6 Maschenmarkierer, Maschenhalter/Wollrest zum Stilllegen, entfernbarer Maschenmarkierer