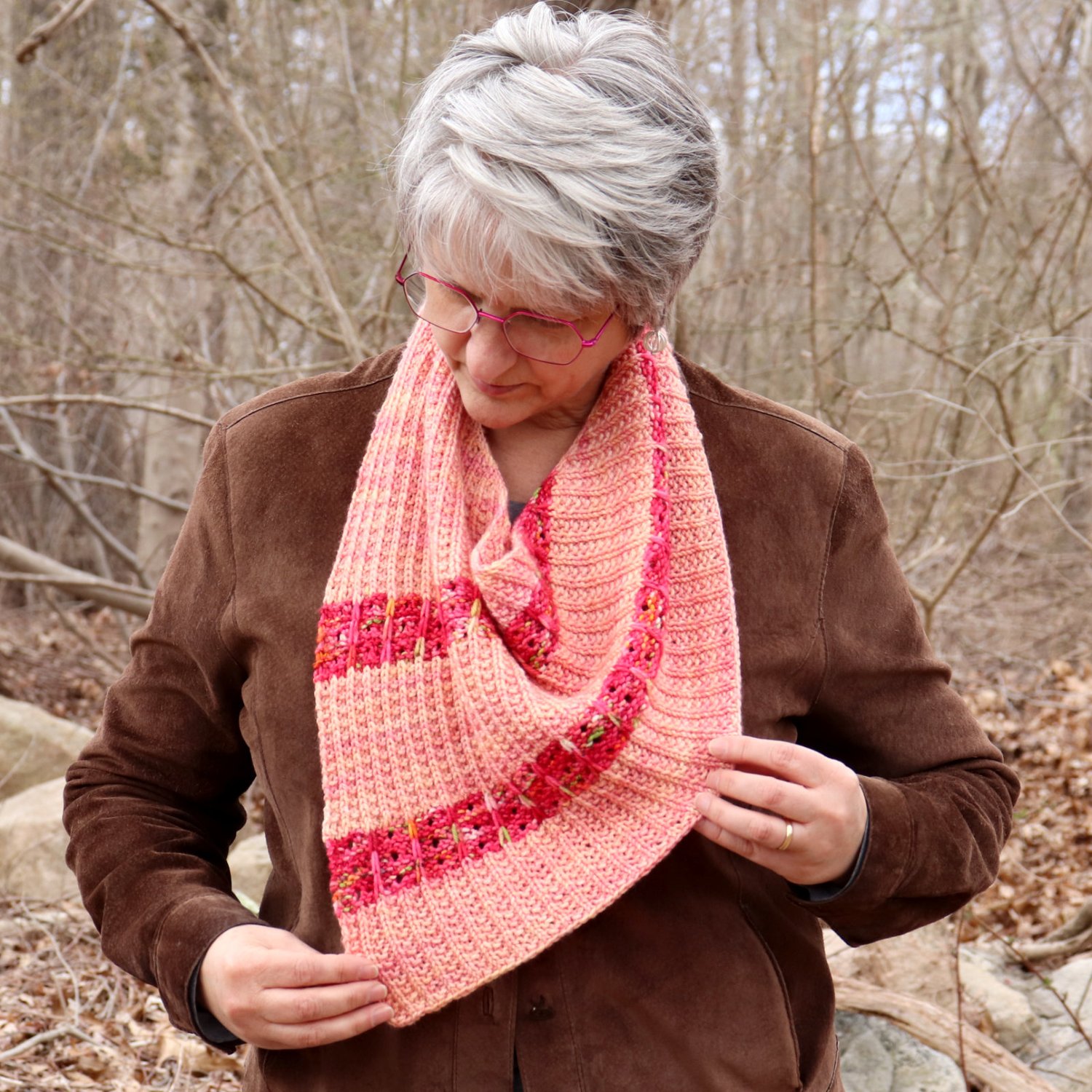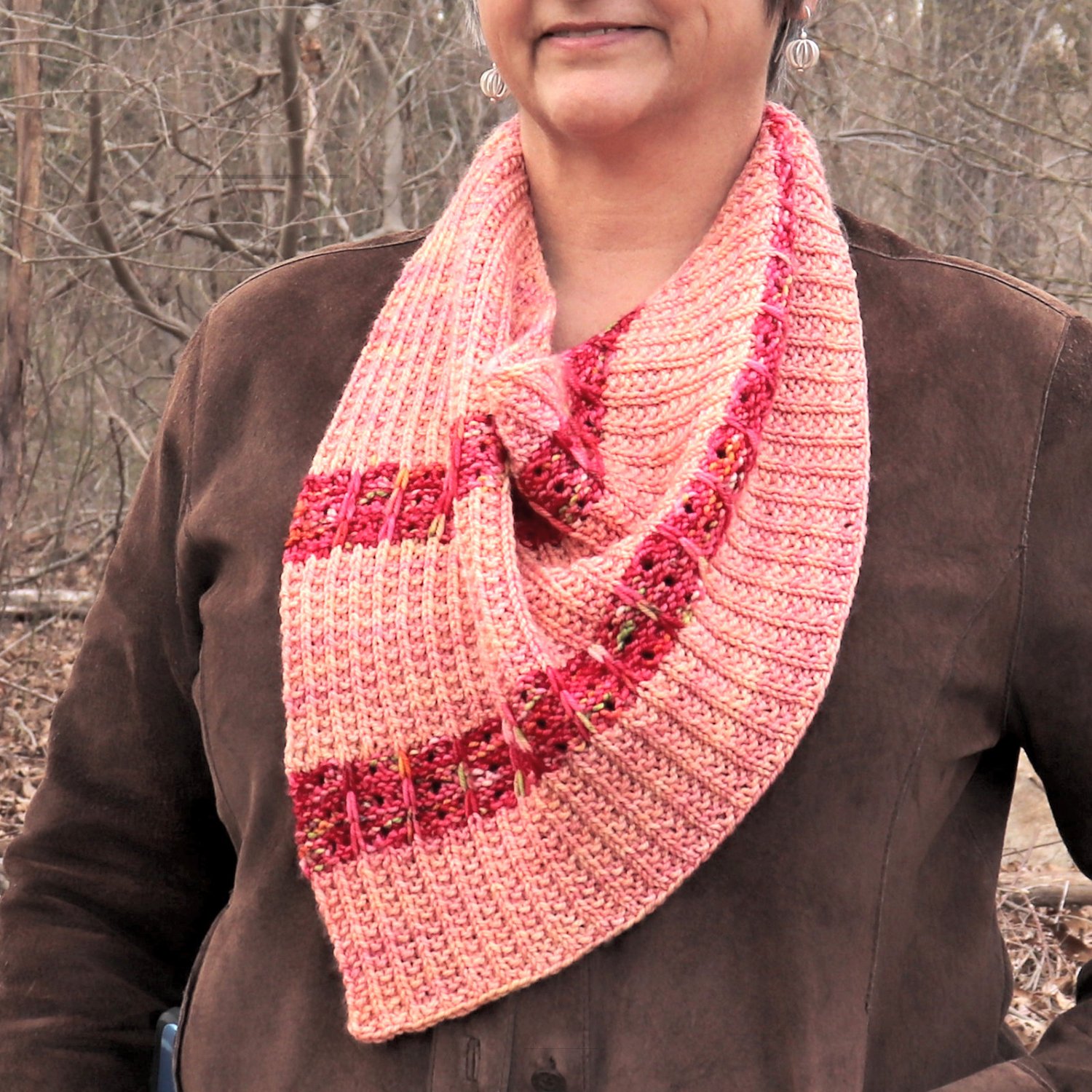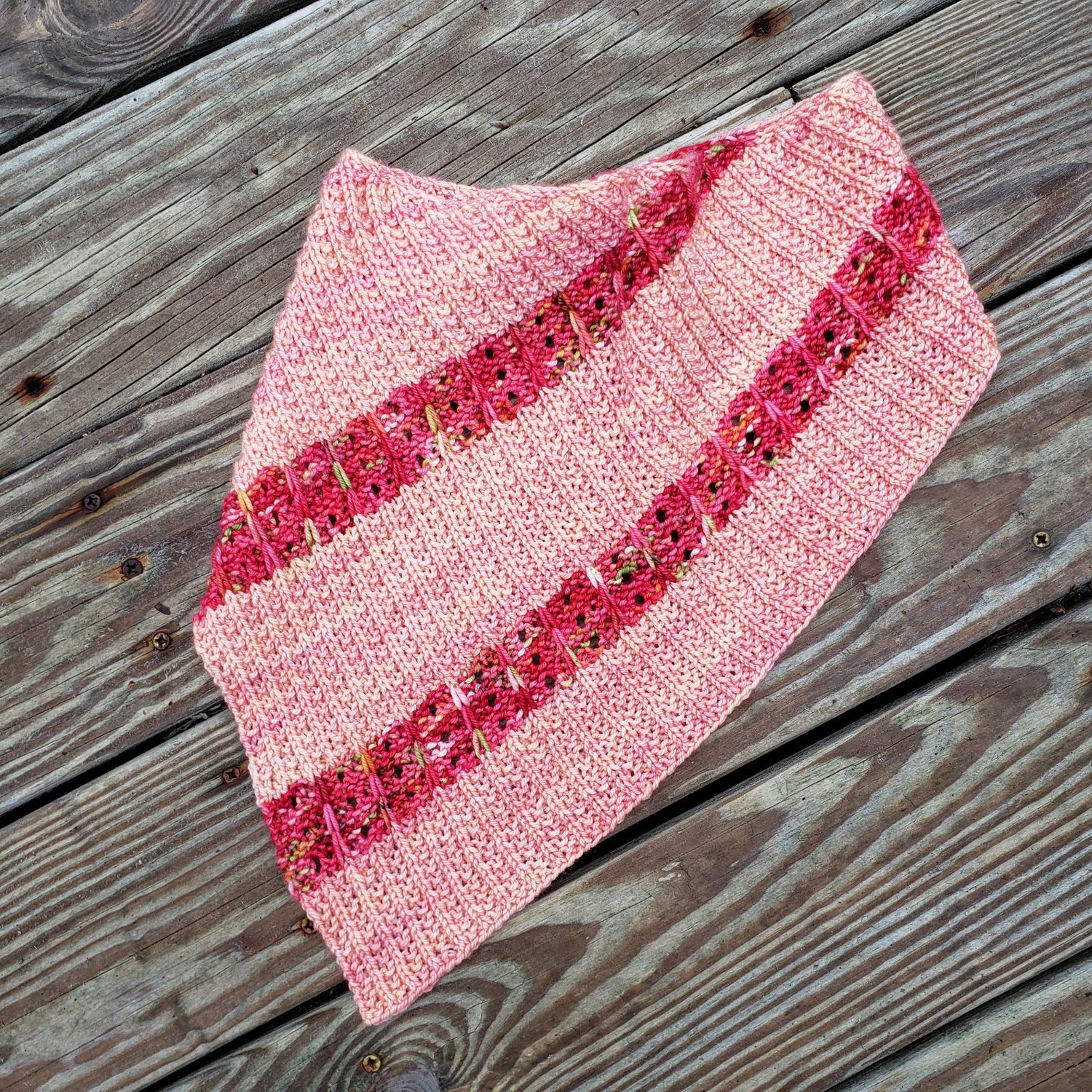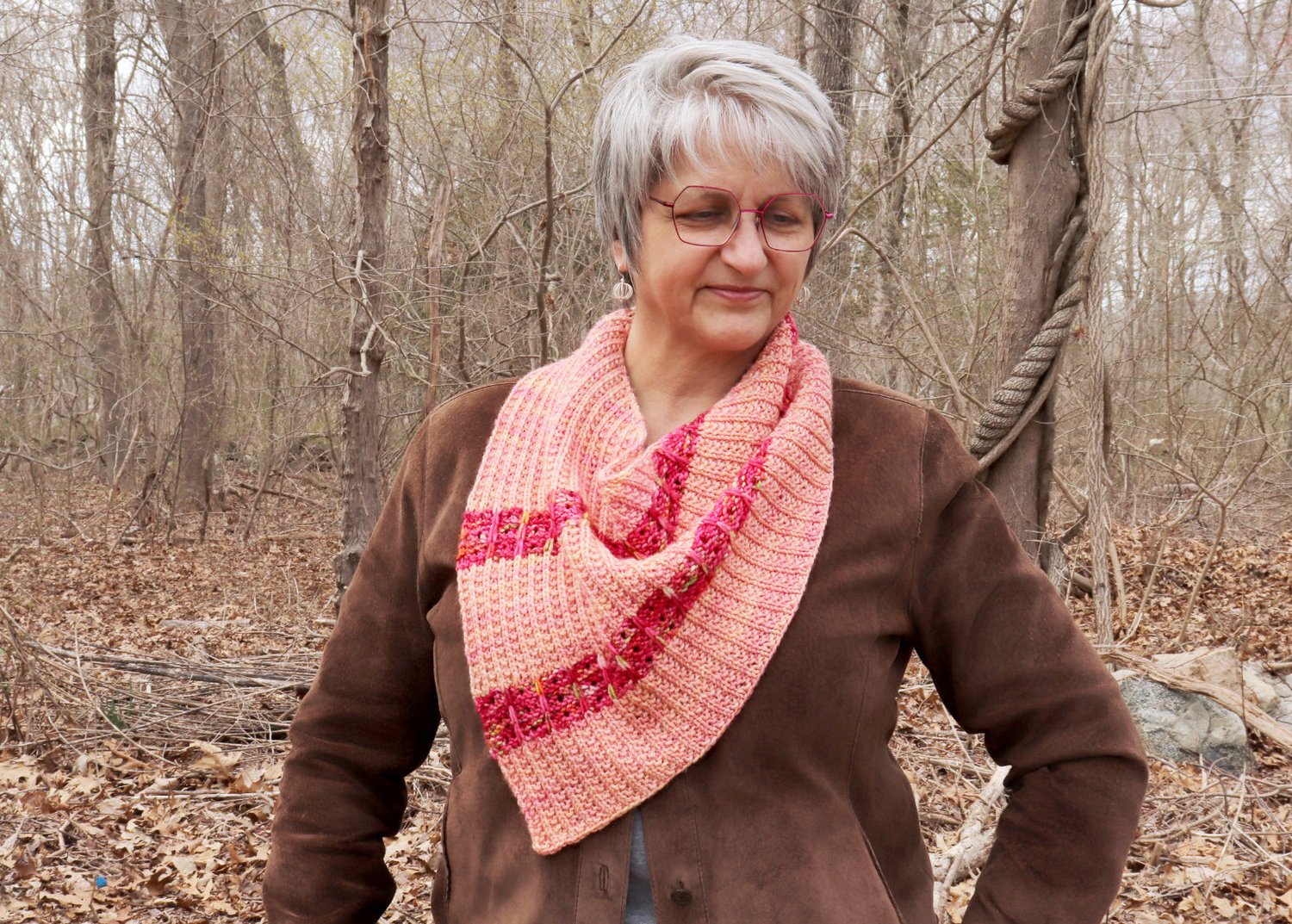 Avon Mountain Cowl
CONSTRUCTION

The Avon Mountain Cowl is worked entirely flat and begins at the back of the neck at the right edge. After working few rows of garter stitch, the shawl shaping and farrow rib pattern begin simultaneously. Since shaping occurs along only one edge of the shawl, it is very easy to keep track of the increases. With a 3-stitch repeat, the farrow rib quickly becomes intuitive.
After the desired length has been reached, the cowl progresses without any shaping. This section
creates the long edge of the cowl at the same time as the left side of the back of the neck. Written
directions are included for easily binding off the cowl in the farrow rib pattern.
Once lightly blocked, the cowl is seamed up the back. Tips are given for using either mattress stitch
or whip stitch. A video tutorial is included for the mattress stitch.
Knitting alternates between sections of farrow rib and eyelets & slipped stitches. The single columns
of knit stitches form strong lines that are continued throughout the cowl. These lines break up the heavy
texture while adding lots of interest. They also act as a visual aid for keeping track of both pattern repeats making stitch markers unnecessary for most knitters.
Pattern also includes: optional charts within the text, a schematic, instructions for bind-off and blocking,
and video tutorials for skp, M1L, and M1LP stitches.
PATTERN INCLUDES

* optional charts are provided within the text
* schematic
* tips for seaming
* detailed instructions for the bind-off
* detailed instructions for blocking
* links to **video tutorials** for skp, M1L, M1LP, and mattress stitch specifically made for this cowl. Want to see the tutorials? Click
HERE
or use this url: https://www.youtube.com/channel/UC9tBUATQJnYW-kP09if_0Iw
YARNY DETAILS
YARN USED:
MC SweetGeorgia Yarns Superwash DK (100% Superwash Merino, 256 yds / 234 m per skein): sample uses 1 skein of Rose Gold.
CC Wobble Gobble Merino DK (100% Superwash Merino Wool, 231 yds / 211 m per skein): sample uses 1 skein of Rose.
YARDAGE:
MC 196 yds / 179 m; CC 53 yds / 48 m.
CIRCUMFERENCE:
22" / 56 cm at neck opening; Depth at widest point 15" (38 cm); 3.0" / 8 cm at back neck; measurements taken after blocking. See modifications below for sizing options.
NEEDLES:
US # 6 (4.0 mm) needles are recommended or size to obtain gauge. 32" (80 cm) circular needle.
YARN SUBSTITUTION:
DK weight wool is recommended. While self-striping yarn is not recommended due to the cowl's heavily textured patterning, most any other style of yarn (solid, tonal, gradient, variegated, etc.) will work.
GAUGE:
20 sts x 26 rows = 4" / 10 cm in farrow rib; 20 sts x 32 rows = 4" / 10 cm in eyelet & slipped st pattern; all swatches should be worked flat and lightly blocked. Gauge is not critical for this cowl, but a different gauge will affect drape, yardage required and size.
NOTIONS REQUIRED:
Tapestry needle, 1 removable stitch marker, and stitch markers for pattern repeats if desired, but not necessary.
SKILLS NEEDED:
K2tog, skp, yo, M1L, M1LP, slipped stitches, written instructions for binding off in pattern and blocking, optional charts, schematic, and tips for seaming with either mattress stitch or whip stitch, and **video tutorial** links for skp, M1L, M1LP, and mattress stitch.
MODIFICATIONS:
 The easiest way to achieve a larger circumference is to block the cowl's neck edge up to 24". Although a moderate amount of blocking will result in an even bigger cowl, the neck opening may be much too wide or floppy. Note that this will affect the other dimensions of the cowl.
If you are unhappy with the results from the first blocking, soak and block the cowl a second time. Be sure to measure the neck opening as you block.
PATTERN STORY
"Did you get to see Avon Mountain during your vacation?" That's an inside joke we love asking visitors. They look so confused and don't know what to say for fear of offending us residents. It's a steep drive up and a bit of a curvy drive down. It can be intimidating in icy weather but make no mistake - it's not a big mountain at only 260 feet tall. Really, it looks like a big, big hill and they've had no idea that they were even on a mountain.
One year a local radio station turned the joke on us locals as part of an April Fool's prank. Abruptly interrupting the rock music was an emergency news report. The DJ's voice trembled with fear.
OMG folks, what is that?
I can't believe what I'm seeing.
No wait, it can't be? Yes, yes, it is!
Avon Mountain is erupting! Folks, lava is spewing forth and destroying the local area! Avon Mountain is a volcano!"
It was totally silly for sure, but that didn't stop some people from believing it. This cowl is named in honor of Avon Mountain and it's joke-loving residents.
The Avon Mountain Cowl might look like it requires expert knitting skills, but that's just due to the texture created by the stitch patterns. If you're craving a simple knit, but bored with stockinette and garter stitch, the Avon Mountain cowl is perfect for your next knitting adventure.
The cowl features a farrow rib pattern that's just an easy **3-stitch repeat**. After knitting some rows of this highly textured ribbing, you'll be adding in snazzy pops of color in the eyelets and slipped stitches sections. With a 6-stitch repeat this section also becomes very intuitive. You'll be knitting the Avon Mountain Cowl flat and then seaming up the short back edges in no time.
Did you notice all those strong lines of knit stitches in the cowl? That was done on purpose. In addition to looking great, those columns of knit stitches act as **built-in stitch markers.**
The Avon Mountain Cowl is **designed to look like an asymmetrical shawl** when worn, but it's so much easier to wear. No need to fuss with it. Just put it on and look fabulous.
PATTERN POLICIES 
This pattern is a copyright of Brenda Schack of BrenJS Knits. Credit must be given to BrenJS Knits when selling items made from this pattern. Pattern and photos can not be used for resale purposes. Please share your work with the hashtag #brenjsknits so that I can admire your knitting!
REFUND POLICY
You are downloading a digital pattern. There are  no refunds on digital products. If you have an issue downloading your file please contact me at
brenjsknits@gmail.com
so that I can help you.