Come Watch Skripped Down! TICKET
Date and time
Fri, Nov 3, 2023 7:00 PM - 11:30 PM EDT
Location
The Opera House 735 Queen Street East Toronto, ON M4M 1H1


About this event
4 hours 30 minutes
Mobile eTicket (Bring proof of purchase)
19 + event
Skripped Down will be the first event of its kind, merging the various genres and styles of pole dance into one, spectacular event! Not only are we having a pole competition we will also have guest performers, comedic hosts, music, vendors and a raffle to win some prizes!!
Historically speaking, pole dance was birthed from the adult entertainment industry - the movements and flow that so many who attend pole dance studios know and love came from strippers. Currently in Canada, strippers are severely under-represented in pole dance competitions both as competitions and judges. My vision in starting Skripped Down is to create a safe space for dancers from all backgrounds to come together and share in their love and passion for pole dance in an inclusive environment. I am also thrilled to be bringing in talent from around the world to sit on our judging panel, putting Canada on the map as a hub for pole dance.
Ticket
Please show your emailed invoice as proof of purchase
Refund Policy
No Refunds
Meet Your Judges & Instructors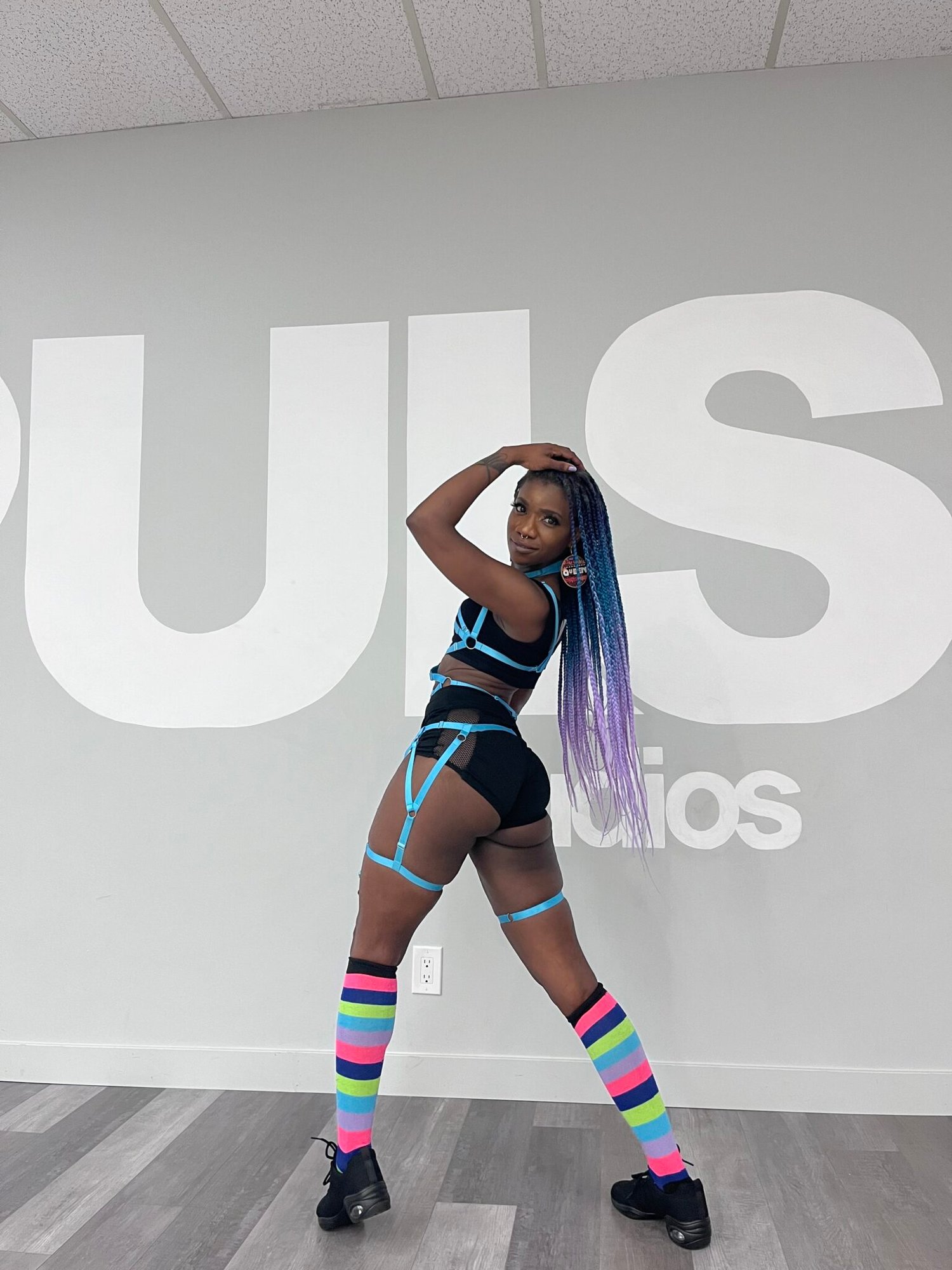 Siggy Cortez
Born on a tiny island in the Eastern Caribbean, called ST Vincent, Siggy Cortez is eccentric and vibrant in every way. From musical theatre to West African; her dance experience and knowledge is versatile. With 32 years of experience in an ocean of genres.
Siggy started of by creating Twerk Fitness to help women of colour relearn how to embrace their culture. A place to relearn colonized habit in deminishing the shame linked to most dance styles, originating from Africa but also quickly realizing that all women need a safe happy place to feel free.
Since the launch In 2019, Siggy has taught over 1200 women from a multitude of backgrounds how to regain confidence and own their sensuality.
A lover of African history and spirituality, her classes affords knowledge needs to truly respect the Aziz people's culture while using the sound of sweet soca and many other musical genres from the Afro Communities as hypnosis.
"My goal , it is to encourage those who have been through traumatic events in life to dance through it all."
She believes that love is a healing tool if used without judgement. This is her space where you connect with your Mind Booty and Soul.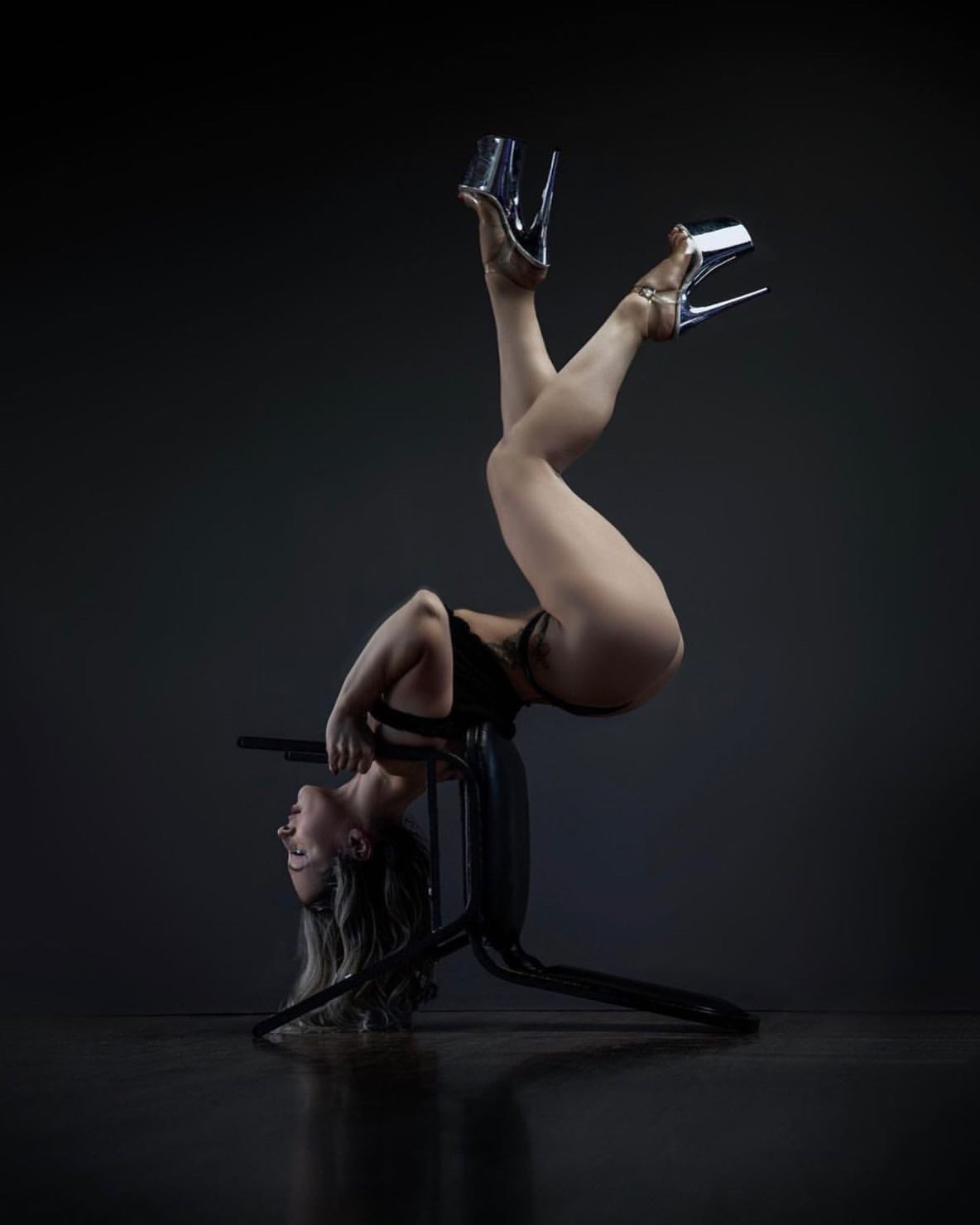 Tia Jax
Tia has been studying movement and dance for over three decades. She has been professionally trained in ballet, jazz, tap, modern, lyrical and acro. Tia also competed across North America as a child and well into her adolescence. In her adolescence she studied at a private studio, was accepted and enrolled into two art schools (grade 7-10 and grade 11-12) and was accepted (after an extensive eight-hour audition) into the commercial dance program in college.
Her teaching career began at age 16. She was hired to teach in a local women's facility where she taught Erotic Chair Dance and Erotic Dance. The studio had not known her age at the time. Talk about fate! From age 16-30, Tia taught jazz, tap and acro to children, teens and adults.
Tia began pole dancing in 2013. She fell in love with the way that it allows for full freedom of expression and sensuality in movement. She also found much appreciation for the athleticism and the artistry of it. It wasn't long after, that Tia was teaching and becoming recognized for her ethereal and sensual flow in pole, chair and floor dance.
Her movement has always been inspired by club dancers, her experience in the club and her technical dance background. Tia sees her self as a student, always! She is constantly training, creating and learning. She values growth in her form and artistry. The physiology of pole and dance are also something she has immense interest in, which reflects in her teaching style.
Tia believes that to be a great teacher, you have to always be in a state of learning. You can train with Tia online at www.tiajax.com and stay up to date with her online and in person classes on instagram @tia_jax.
"I am constantly being inspired and I am perpetually becoming a better teacher and mover because of those that I teach. I am always inspired by the growth of dancers but I am most inspired by their mistakes, or what they think are their mistakes. Never mistakes, only potential for creation!
I always like to encourage questions in my classes. This is how I become a better teacher and communicator. It also sanctions me to do more research, which in turn can inspire new movement.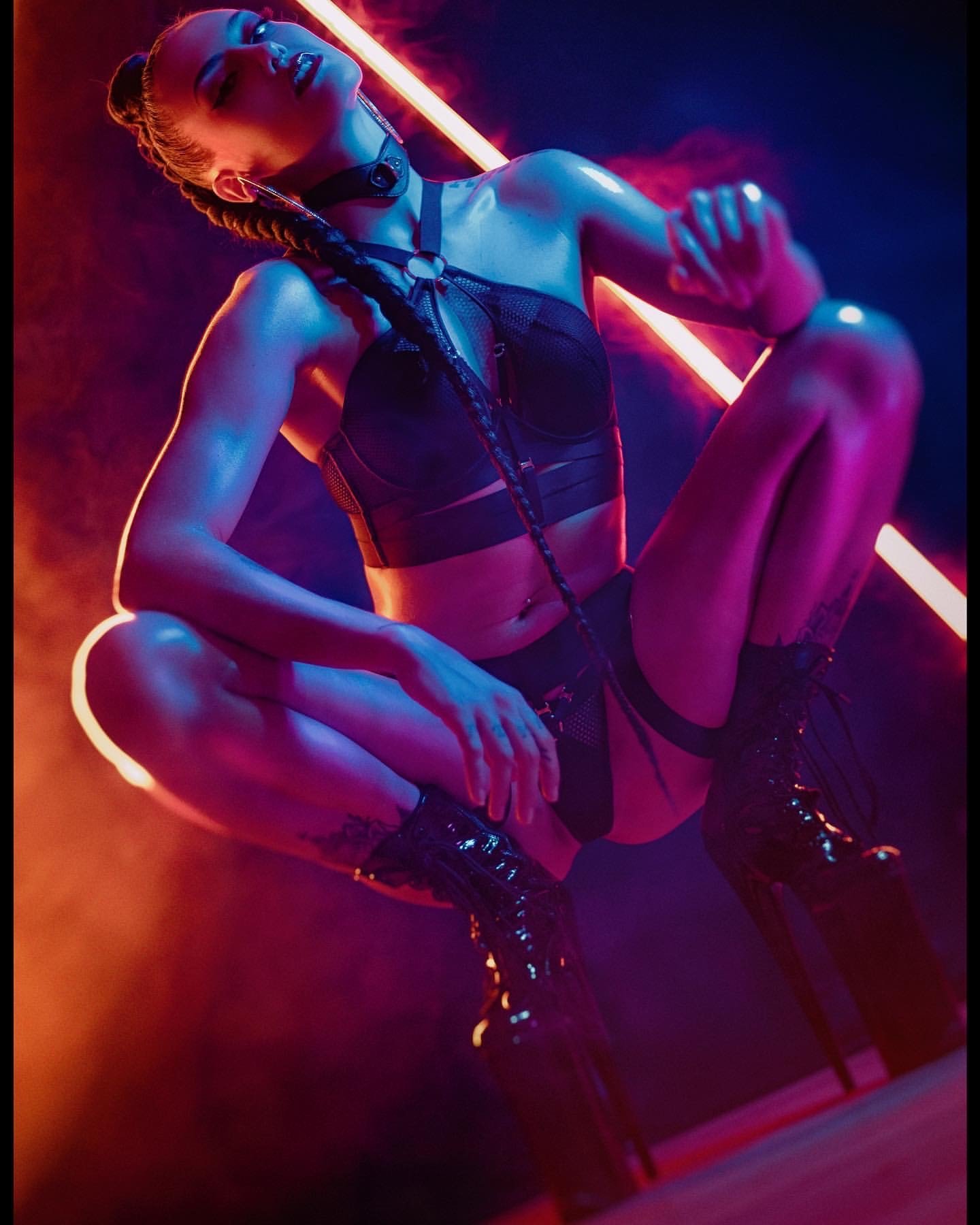 Lynx Chase
A true showpony at heart, Lynx Chase has always been passionate about movement and performance arts. Over the years, they have trained in a variety of disciplines ranging from Aerial Hoop, Silks, Contortion, Partner Acrobatics, Bellydance & Capoeira; however it wasn't until they took their first Pole Dancing class in 2012, subsequently beginning their journey of dancing in clubs all over the country as well as performing Burlesque, that they found their true vocation.
Lynx has been professionally teaching in Vancouver since 2015 and has also showcased their gravity defying acts at various events and festivals across the province such as Queer Arts Festival, Transform Cabaret Festival, Retro Strip Show, Bass Coast Festival & Vancouver Mural Festival.
It is their hope to continue to share their craft with the world by demonstrating the strength, sensuality, artistry and grace that goes hand in hand with the art of pole, striptease and erotic dance.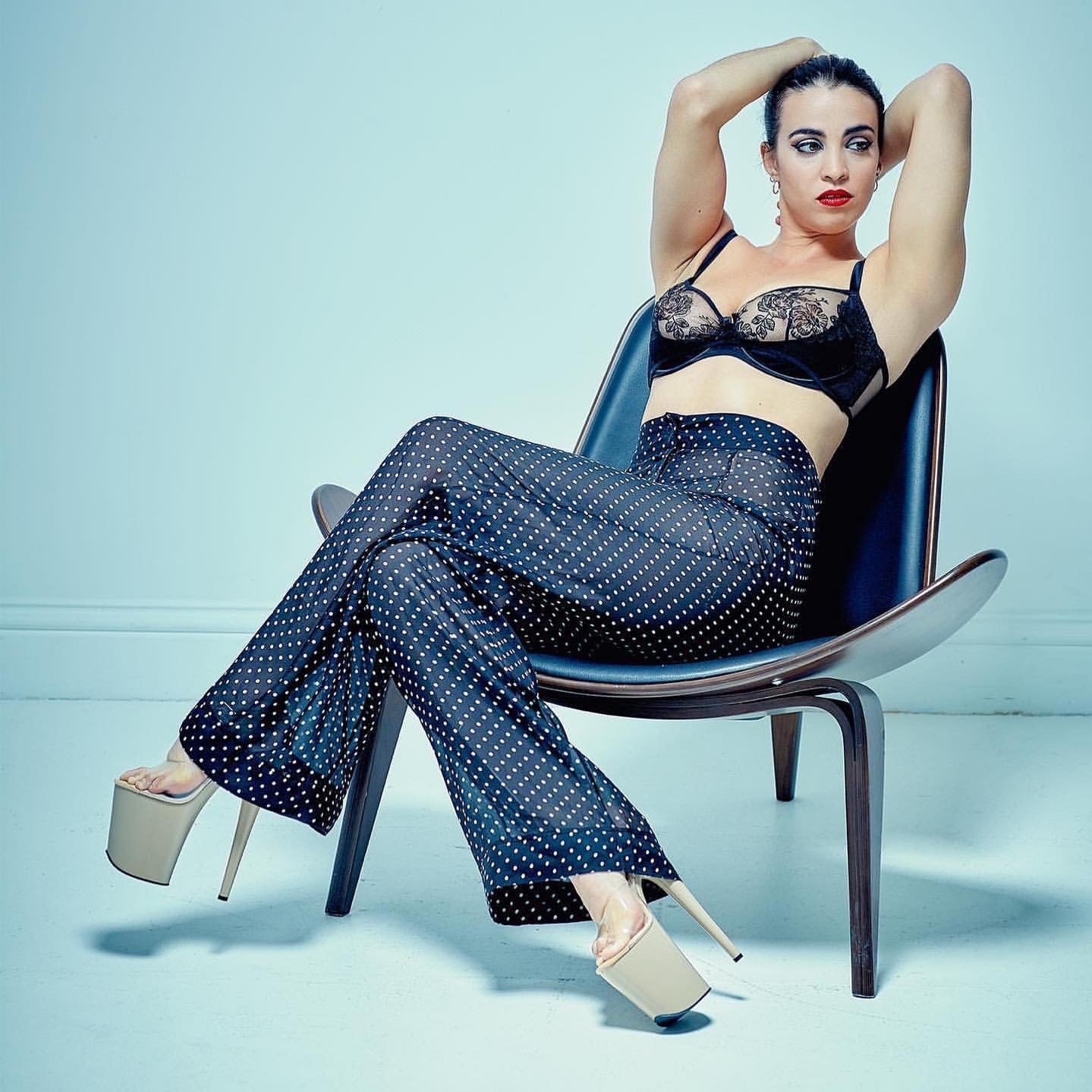 Jordan Kensley
Jordan Kensley is a US-based pole dancer and instructor. She discovered pole
dancing from a Youtube video in the summer of 2012 and, with no prior movement experience, decided then and there that she needed to be able to "do that" and went to the clubs. After moving to Los Angeles later that year, she discovered her first pole dancing studio, and was soon in any class she could find time for, working in the clubs at night. From that first spark of interest, her passion for movement & the body as an apparatus has grown ever since.
With no prior movement experience, Jordan understands how important having a basic understanding of "what is happening" from both a student and instructor experience; Jordan has multiple certifications from numerous teacher trainings, and believes in the importance of continuing her personal education to better the experience of learning and discovery for her students. In addition to being a well known instructor and performer, Jordan is a certified Structural Integrationist and uses this as a secondary career & within her classrooms to help better align people into their body, and how we relate to gravity. Jordan uses her movement background to expand that her Structural Integration practice, and uses her knowledge gained from Structural Integration to better inform her students of how their body engages within their own movement. She also includes the opportunity to schedule bodywork, as a 1×1 option, while she is on tour.
Jordan Kensley continues to learn about the Body in Movement and has become a powerful presence in the pole world by competing, judging, performing and teaching all over the world. She strives to create an inclusive space where everyone can embody the athlete, the artist, and the abolitionist in themselves. Jordan's goal as an instructor is to help her students realize those same qualities in themselves; she enjoys sharing her enthusiasm with her friends and students. Jordan Kensley has met so many inspiring people within this community and is looking forward to meeting you.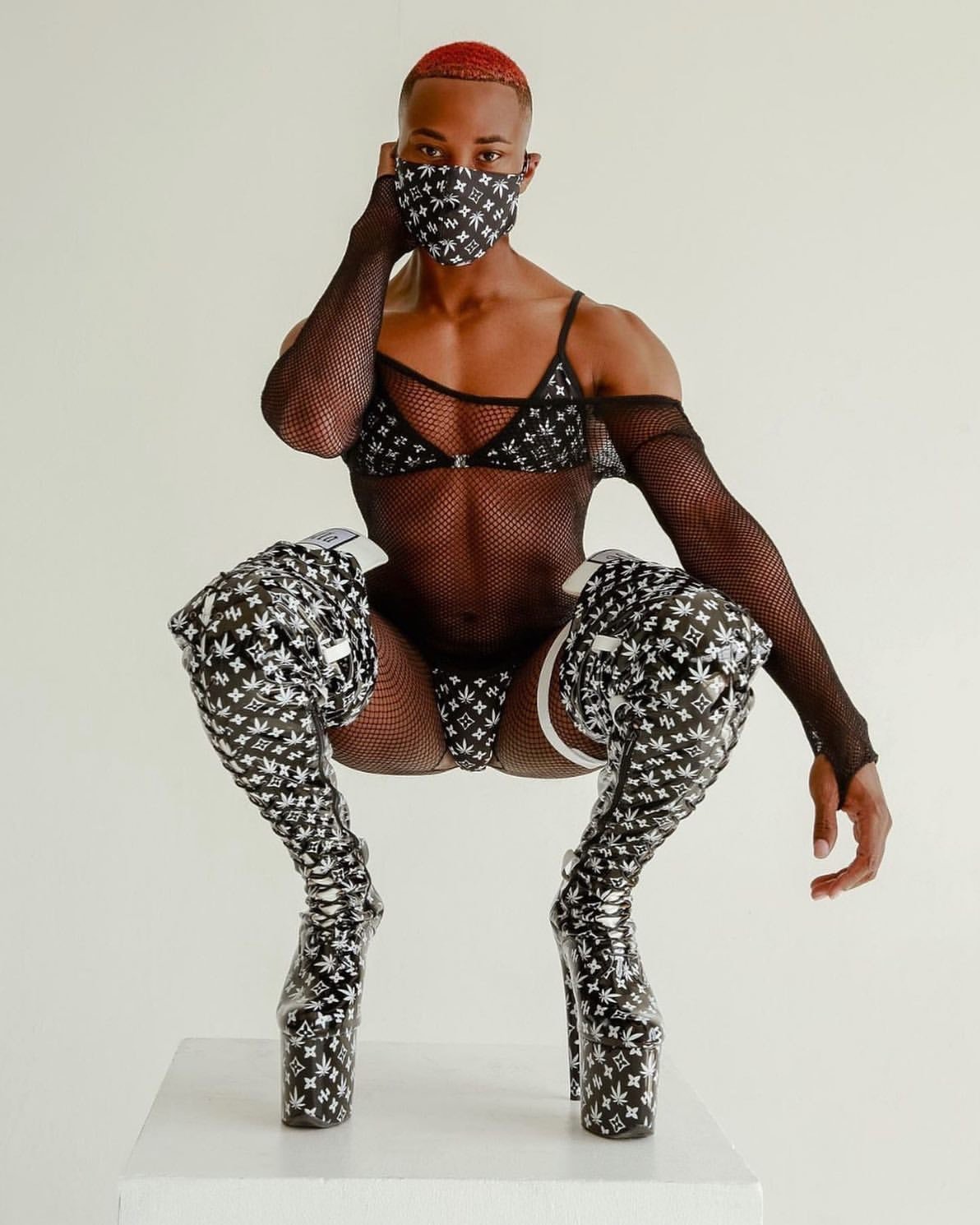 Yung Pole Master
As an active entertainer since 2014, Miles (AKA YungPoleMaster) knows that pole for the club is so much more than a series of tricks – it's about entertainment, sensuality, flow, and of course, getting paid.
After first getting introduced to pole 10 years ago, Miles has cemented his name and legacy in the pole industry. He's performed at UCLA, Crazy Girls, Pacers San Diego, Penthouse Hollywood, and The Abbey. Plus, he's taught 2 nationwide tours + Canada and Jamaica, and performed for Britney Spears, Lil Nas X, Lizzo. As a world-renowned pole instructor, he has coached Taylour Paige for the Zola movie and now judges competitions across the nation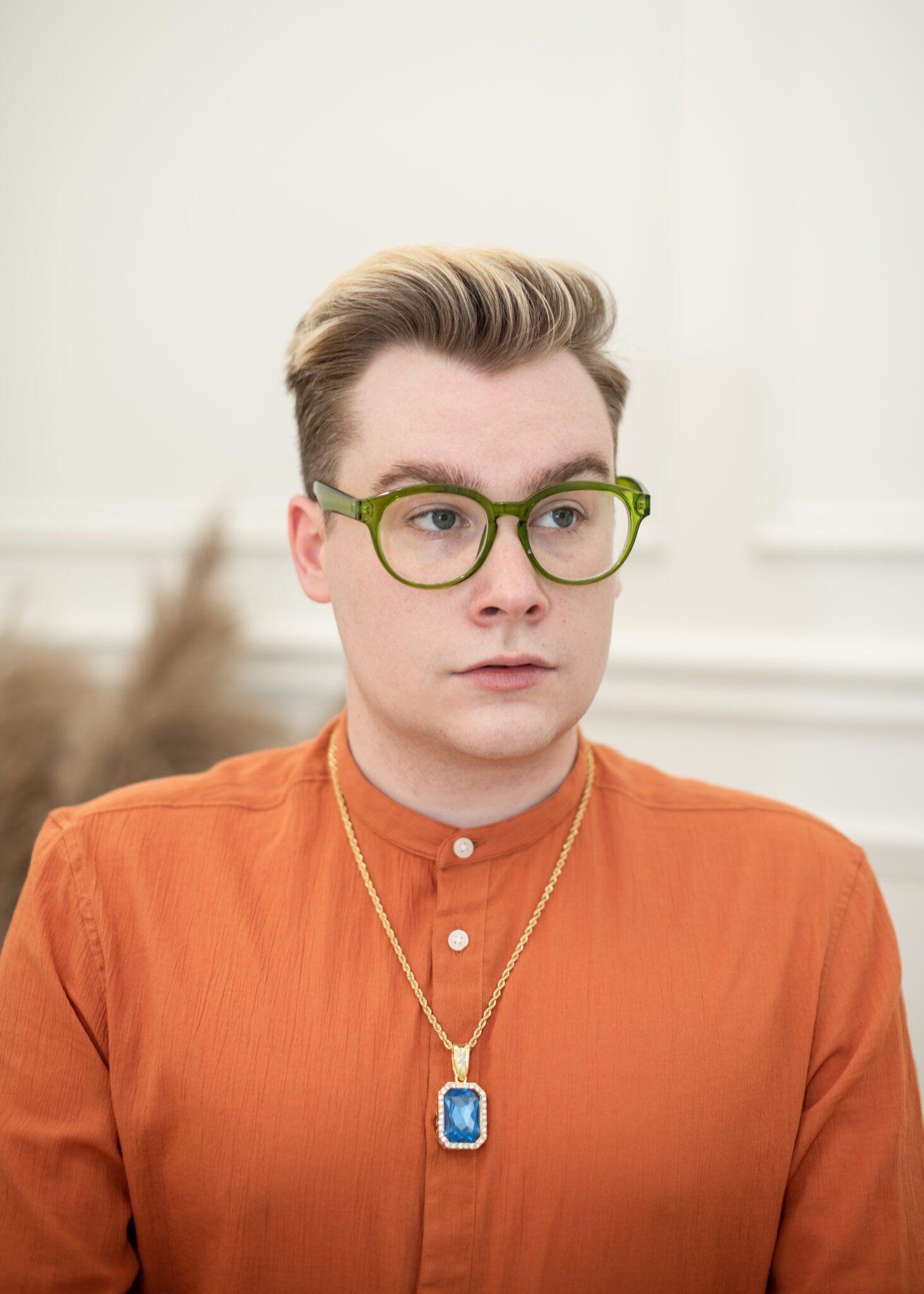 Tom Hearn
Tom Hearn is a Canadian Comedy award winning sketch comedian, actor, writer and director. Tom has toured their 5 star reviewed solo show "SLANG" & "Gay Garbage" all over North America, winning multiple 'Best of the Fest' and 'Hot Ticket' awards. Tom has amassed over 400k followers between TikTok and Instagram. His hit 'Ina Garten Series' has over 100 million views and 7 Million likes!
Select credits: Montreal, San Francisco, Chicago and Toronto Sketch Comedy festivals, JFL, JFL42, Halifax Fringe, A Sketch Comedy Extravaganza Eleganza, 'Children Ruin Everything' (CTV), 'Good Sam' (CBS) and 'What We Do in the Shadows (FX). In drag they're known as Hunni Krüller!
https://isthattomhearn.com/about/
https://www.instagram.com/isthattomhearn/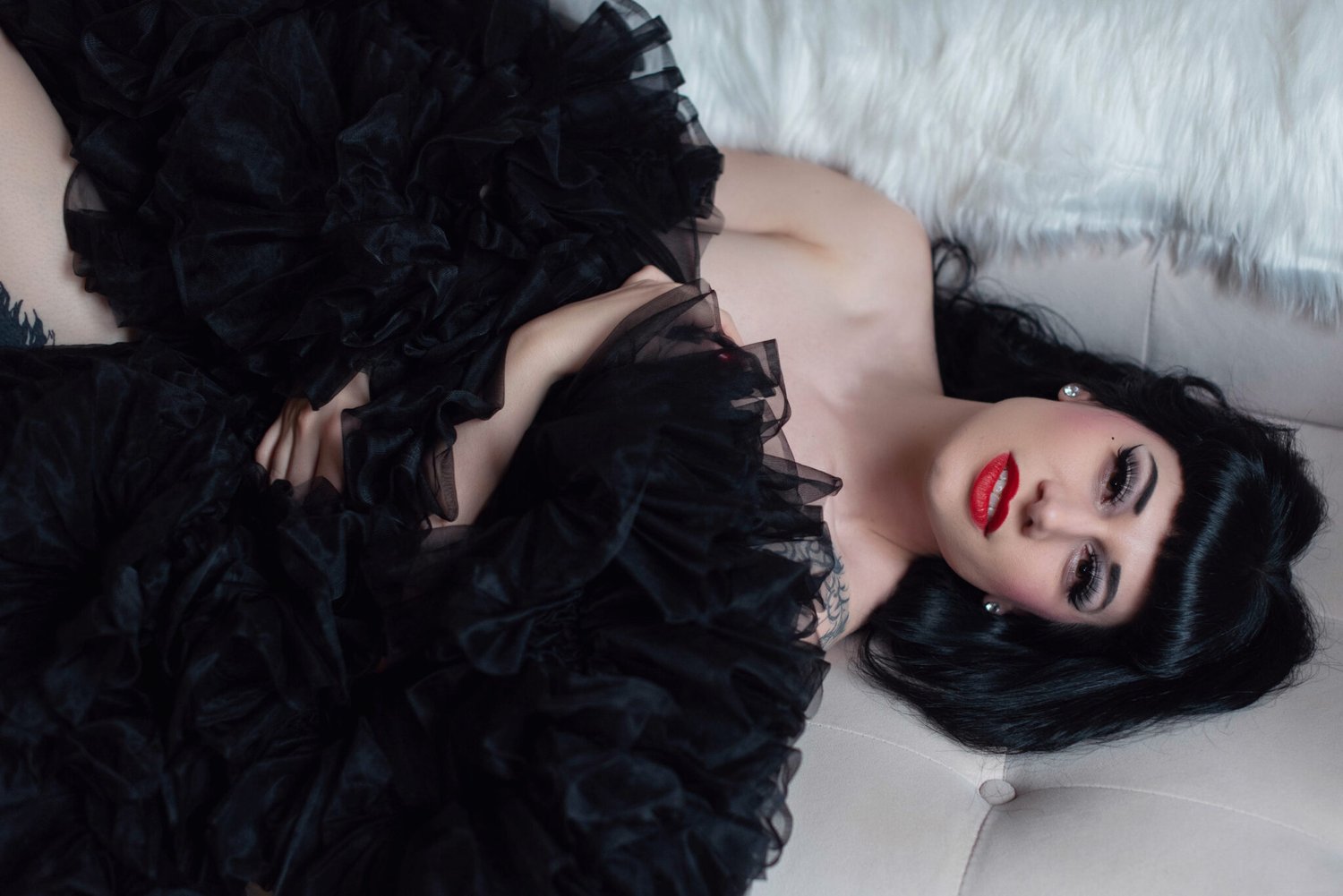 Miss Kiss
Through years of excitement and experience Miss Kiss has become a veritable staple of the Vancouver performing arts community. A practitioner in a multitude of mediums and a Capilano University graduate, she has acted onstage for theatre companies large and small, as well as onscreen in movies, television, web-series, and specials. This multi-talented burlesque performer and host has trod the boards (in high heels) in such shows as Retro Strip Show, La Maison LUST, April O'Peel Productions, Ariel Helvetica Presents, Sex at the Circus, Geekenders, Vancouver Burlesque Company, Beatles Burlesque, and the Vancouver International Burlesque Festival, among others. Her ability to captivate her audience and simultaneously support the cast about to take the stage is what makes her little goth heart tick all the faster. Sit back and relax while Miss Kiss does her stuff.
WANT TO COMPETE? BE SURE TO READ THE REGISTRATION INSTRUCTIONS
Read and follow instructions carefully. After your selection proceed to check out and fill in information asked. Scroll down your summary to add the video link under "Notes or Instructions". If you forget to send your video link with the application payment, email us your video link with the matching name used when applying. Good Luck Everyone!!
Rules and Regulations
---
Entry
Entry is open to anyone aged over 19 years.
Entry is open to national and international competitors.
Applicants must enter the division that suits their level. If you have won first or second place in any competition you are considered a Professional. Your level will also be determined by your video submission.
Applicants can be any gender.
Video Submission Rules:
Videos MUST be on youtube or vimeo. No downloadable files allowed. Videos may be on unlisted setting in youtube, but not private. Videos must be of good quality with sufficient lighting. Only one video will be viewed per entrant per category. Entrants cannot submit multiple videos. The video must show only the entrant performing. It is not acceptable to submit a group performance and expect the judges to identify the entrant in the group.
It is strongly advised that competitors submit a video that matches the Skripped Down criteria or your chosen category. It is also important to make sure that you demonstrate that you have strong performance skills and have good stage presence, even if your video is filmed in a studio setting. The judges want to see that you are capable of engaging and connecting with an audience.
Applicants will be selected based on a video entry of a previous performance not older than 2 years. The video must have no cuts or edits. Must be no longer than 3 mins. If you send a video longer than that. We will only be watching up until the 3 mins mark.
Your video submission does not have to be your competition piece.
Applications will be evaluated and competitors will be selected by accredited Stripper Judges from all over North America.
Video submission must be sent in by July 31st 2023 Midnight SHARP!
Video links can be added on your check out page under "Notes and Instructions". If you forget to send your video there please send to: SKRIPPEDDOWN@GMAIL.COM with the same name you applied with so we can find you.
Final results from our online judges will be in 3 weeks time.
Props and Costume
Performers are permitted to use any props, costuming, or footwear, provided that:
a) the space allows for it physically;
b) it can be feasibly/theoretically transported on a plane, and;
c) it can be set up and completely removed in under 2 minutes.
Any use of the above items should be described in the applicant's entry. That must be place in the section "Notes or Instructions" which you will find at the bottom of your check out page.
If you don't know what props you're using as of yet. When you find out please email us your prop list.
There will be NO payment or fines for props or late props. We just need to know what you're bringing and to make sure its approved.
G-STRINGS ARE ALLOWED! PASTIES ONLY NO NUDITY – As we are not licensed for that. If your pastie falls off you will not be deducted points but if you let it effect your performance than judges will deduct accordingly.
No glass of ANY kind, no fire/hot wax, oils, liquids, paint, sand, or any materials that could potentially damage the poles/stage/etc.
Terms & Conditions of Entry
Competition and Performance
Competitors must ensure they have warmed up and stretched properly prior to performing.
Competitors must not consume alcohol or any prohibited substance prior to performing.
Performances must be between 2.5 and 3.5 minutes long.
Any significant changes to the performance as described in the application stage are not permitted without Organizer approval. Competitors MUST ADVISE the Organizer if there will be a clean up required after their performance, and must gain Organizer approval.
Grip aids are permitted if applied to the body only. You may not apply grip aids directly onto the equipment.
Grip aids that leave a residue on equipment after cleaning are not permitted (I-tac, Chalk..)
Grip gloves are allowed
Lotion, creams, oils, and glitter before the competition is prohibited
Competitors must adhere to the rules of the venue.
Waiver of Liability
The competitors acknowledge and accept that Iconyx Elite Entertainment, Skripped Down CAN and its owners and staff (the Organizers) their directors, instructors, employees, agents, landlords, leases or franchises ("Related Parties") and venue and its owners and staff (Venue) their directors, instructors, employees, agents, landlords, leases or franchisees ("Venue Related Parties") are not responsible for injury or damage resulting from participation in the competition, including the competitors' arrival and departure from the competition.
The competitors acknowledge that pole dance is a dangerous activity and as such the competitors voluntarily accept the risks associated in participating in the competition.
The competitors waive to the fullest extent permitted by law all legal rights of action against and fully releases the Venue and Venue Related Parties and the Organizers and Related Parties for the loss, damages, or injury howsoever arising out of or in relation to the participation by the competitors in the activities conducted or organized by the Organizers and Related Parties including without limitation, liability for any negligent or tortious act or omission, breach of duty, breach of contract or breach of statutory duty on the part of the Organizers or Related Parties.
Photos & Videos
Competitors are aware that they may be photographed or videoed during their performance.
The competitor acknowledges that photos or video may be published by the Organizers.
The competitor releases all rights or claims over any photos or videos, and acknowledges that such material is the property of and can be used by the Organizers for promotional or other uses, without compensation to the competitor.
Competitors may film their own performances, provided it does not interfere with the photographers and other spectators, and are free to use them as they see fit.
Failure to abide by the Skripped Down rules and regulations before and during the event.
Inappropriate costume, or wardrobe malfunction that exposes prohibited body parts (intentionally or otherwise), per judges' discretion.
During the show, the competitors may not converse with the judges.
Showing ANY misconduct or behavior (including online) that would defame the character, reputation and image of Skripped Down CAN and its affiliate competitions. Winners and title holders must be willing to represent Skripped Down and all affiliated parties/sponsors in a positive light before, during and after the competition. Failure to do so may result in stripping of any titles awarded and/or banned from future Iconyx Elite Entertainment events.
Failing to appear on time to the venue.
Touching the rigging, lights, cables, or other areas of the stage or truss (intentionally or otherwise).
Falls and slips (depending on severity – judges may stop performance).
If the organizers feel you are intoxicated or unsafe to perform due to consumption of drugs or alcohol, you will be immediately disqualified.
COMPETITORS MAY CONTACT SKRIPPED DOWN CAN AT ANY TIME WITH ANY QUESTIONS OR CONCERNS: SKRIPPEDDOWN@GMAIL.COM
Applications are considered open April 1st when we announce via social media, website, or otherwise statement to that effect. The current rules will be published at the same time as applications opening and will remain in effect throughout the November 3rd event. In the unlikely event that a critical rule change – defined as essential to the function of the applications evaluation system or clarity of rules is necessary after applications have opened, we will clearly indicate in the section of the rules what changes have been made. Any non-essential rule suggestions and non-essential changes are held for discussion for inclusion in subsequent years.
!!! IMPORTANT !!!
When applying you will be directed to another website. Read and follow instructions carefully. After your selection proceed to check out and fill in information asked. Scroll down your summary to add the video link under "Notes or Instructions". If you forget to send your video link with the application payment, email us your video link with the matching name used when applying. Good Luck Everyone!!
Categories
---
Skripped Down consists of 3 categories and one Overall Competition. There will be 5-7 competitors in each category. Applicants may select more than one category to enter and pay an entry fee for each category:
CONTEMPORARY
The Contemporary category is for performances incorporating another dance style (e.g. lyrical, jazz, ballet, modern, ballroom, etc.) to create a performance that is artistic in style. It is the choreography that will make your routine contemporary. It can be full of emotion and tell a story or be abstract and just be movement in time and space – void of all emotion. Balletic to Pedestrian. There are no real rules here. Anything that you come up with is allowed. In regards to music it can be any genre of music, the spoken word, noise, drum beats, or even total silence where the dancer's count movements in breaths taken. Competitors will be judged on artistry, musicality, and flow.
Note: ALL CATEGORIES REQUIRE HEELS.
JUDGING CRITERIA FOR CONTEMPORARY:
Stage Presence/Crowd Engagement
Lines/Technique
Music Choice/Musicality
Costume
Use of stage
Execution of Movement and Tricks
Story Line Development
SENSUAL
The Sensual category is for performances that celebrate the beauty and art of the erotic style of pole dance and striptease. Being sensual is an incredibly effective tool for reconnecting with your body, sensuality power and purpose. We want to see confidence embodying the sexual self through movement. In regards to music we are looking for pretty much anything. Just make it soft, slow, sultry and sexy.
NOTE ALL CATEGORIES REQUIRE HEELS
JUDGING CRITERIA FOR SENSUAL:
Stage Presence/Crowd Engagement
Music Choice/Musicality
Costume
Use of Stage
Execution of Movement and Tricks
Sex Appeal
Eye F/Eye Contact
ALL OUT
In this category we are looking for expressive, exaggerated, and highly energetic movement. In other words raw emotions and movement in a powerful way. This style can be aggressive with attitude and is danced to upbeat and fast-paced music, – moves are meant to take up space and challenge the audience to feed off and return the energy. We are looking for hard hitting moves such as kips, flips, heel clacks, hip checks and more. Krump on stage if you want to! just bring the energy.
Note* ALL CATEGORIES REQUIRE HEELS
JUDGING CRITERIA FOR ALL OUT:
How Hard Are You?/Overall Energy
Stage Presence/Crown Engagement
Music Choice/Musicality
Costume
Use of Stage
Execution of Movement and Tricks
Sex Appeal
Eye F/Eye Contact
There will be 3 different judges for each category. Each criteria is scored out of /10
There will be a 1st , 2nd , and 3rd placings for each category and division and prizes. ONLY in the Professional divisions will you be eligible to compete in Chromageddon.
CHROMAGEDDON
All 1st place winners in the professional division of their category will compete in Chromageddon. We will select a random song from the list of songs provided for the contestants to improvise with. The winner is selected based on the crowd no judges. This win is the overall champion, and they will receive the title of Skripped Down/Chromageddon 2023 and the Rent Check Prize of $1,000.00
REGISTRATION: Choose Your Category
Prizes
---
1st, 2nd, and 3rd place winners in each category division will receive a medal for their placing. The overall winner which will be judged by our audience will receive a rent check prize of $1,000.00 CAD, a beautiful crown, trophy, and sash. Including holding the title of Skripped Down Chromageddon 2023 for one year.