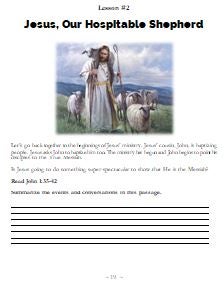 Welcome Inn Bible Study
On Sale
$25.00
The Art of Welcoming People into your life with love and grace is a command, a lifestyle, and a lovely way to live your life.  More than a Bible Study,
Welcome Inn
is filled with creative ideas, tips, recipes, and planning sheet to make hospitality easy and fun!  Imitate Jesus in your unique way with poise and confidence, reflecting the Love of Christ in all you do! Let your life, home and family join together to say:  "Welcome!"
When you search the Scriptures in
Welcome Inn: The Art of Hospitality in Jesus' Name Bible Study
, you will find that hospitality begins with our Hospitable Shepherd Jesus who welcomes us into His Kingdom with open arms. The One who knocks at the door of our hearts so He can come in and dine with us is the One who wants to fill us to overflowing with a welcoming heart!
Imagine opening your home to others to provide refreshment that changes lives! Hospitality is simply opening up our hearts and homes to welcome others in!  It's so fun to experience the lifestyle of hospitality because lives are transformed, friendships are built, and loneliness disappears!
Dig into God's Word to investigate biblical principles and examples of hospitality.
Then get practical with how-to's on everything from birthday parties, showers, holiday celebrations, and more to formal events and hospitality-on-the-go. Detailed planning sheets! Wisdom that works! 
Welcome Inn Bible Study
was created for women of all ages (teens to retirees) and can be used alone or in a group setting. In addition it is used in the
God's Girls 106: Friendship, Hospitality, & Celebrations
course.
Welcome Inn Bible Study was written so that you can practice hospitality with confidence and love!
You will find:
Biblical Principles
Practical Tips
Holiday Celebration Ideas
Party Ideas
Easy Ways to Get Started
Easy Recipes
Etiquette Protocol
Conservation Starters
Planning Sheets
Wisdom for Being the Perfect Guest
Survival Skills for the Interview/Dinner
Hosting Formal Events
Show hospitality to children with all the birthday party ideas and worksheets to create your own welcoming birthday celebrations. There are holiday parties for festive holiday celebrations that will refresh your guests physically and spiritually.
Welcome Inn
is packed with recipes that are used in our home as we show hospitality.  All the recipes are easy and delicious!  From Mexican Chicken to Polynesian Meatballs, from Scones with Devonshire Cream to Train Car Sandwiches, from Hot Cross Buns to Date Pudding--you will find recipes for every occasion that will be sure to please your family and your guests.
Welcome Inn
is also packed with games...for birthday parties, holiday parties, wedding showers, baby showers, and evenings of fun. There are ideas for a quiet evening with another couple or family and suggestions to take hospitality with you. Enjoy!
Here are the Bible lesson themes and practical helps in the Family Inn sections:
Practice Hospitality
The Family Inn: A Home That Says Welcome
Jesus, Our Hospitable Shepherd
The Family Inn: "Join Us for Dinner or An Evening of Fun"
Easy Recipes
The Heart of Hospitality
The Family Inn: Holidays & Special Occasions
Summer Hospitality
Holiday Party Plans with Recipes
The Spirit of Welcome
The Family Inn: Birthdays
Birthday Party Plans with Games & Recipes
The Ministry of Hospitality
The Family Inn: Welcoming Strangers
The Family Inn: Rest for the Weary & Troubled
Lifestyle of Hospitality
The Family Inn: The Guest Room is Ready
The Family Inn: Hosting Showers
Shower Games & Recipes
Manners of Hospitality
The Family Inn: Receiving Hospitality
The Family Inn: Hosting Formal Events
Hospitality to Jesus & His Beloveds
The Family Inn: Hosting Church Events
The Family Inn: Welcoming Ministers of the Gospel
The Feasts of Hospitality
The Family Inn: Hospitality on the Go!
Turn your home into a Welcome Inn and experiences the JOY of true biblical hospitality.
Author:
Meredith Curtis 
Publisher:
Powerline Productions
Pages:
265
Series:
Ladies Bible Studies
Age:
High School/Adult