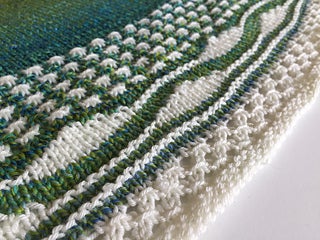 Snowfall on the Mountain Shawl
On Sale
CAD8.00
A simple two-colour shawl with a lot of impact. Each row only uses one colour to make things easy. Enjoy using one of your treasured gradient yarns as the main colour and letting the contrast colour paint a picture of snowy skies and mountains.

This shaw is part of a two-piece accessory set with the fingerless mitts by Mary Hull of Kino Knits. Check out her Rainy Season Mitts or the entire Point/Counterpoint Volume 1 collaboration.

Part of Point Counterpoint vol 1. Two designers + two yarns = inspiration through collaboration. Each designer independently created an accessory, then sent only a photo of the finished object to the other. In response, the designers used the same yarn to create a new accessory inspired by the first, thus making a set. The only limit was their creativity!

Size
One Size: 17" / 43cm deep and 51.5" / 131cm wingspan

Approximate Yardage: (with a 15% buffer)
Colour A: 437 yd. / 400m
Colour B: 300 yd. / 263m

Yarn Shown:
Colour A - 1 skein Cascade Heritage Wave
(437 yd. / 400m per 100g skein); colour shown 508 Tropical
Colour B - 1 skein Cascade Heritage Silk
(437 yd. / 400m per 100g skein); colour shown 5682 White

Skills Used
• garter tab cast on
• knit and purl
• yo
• slipping sts

This pattern has been test knit.