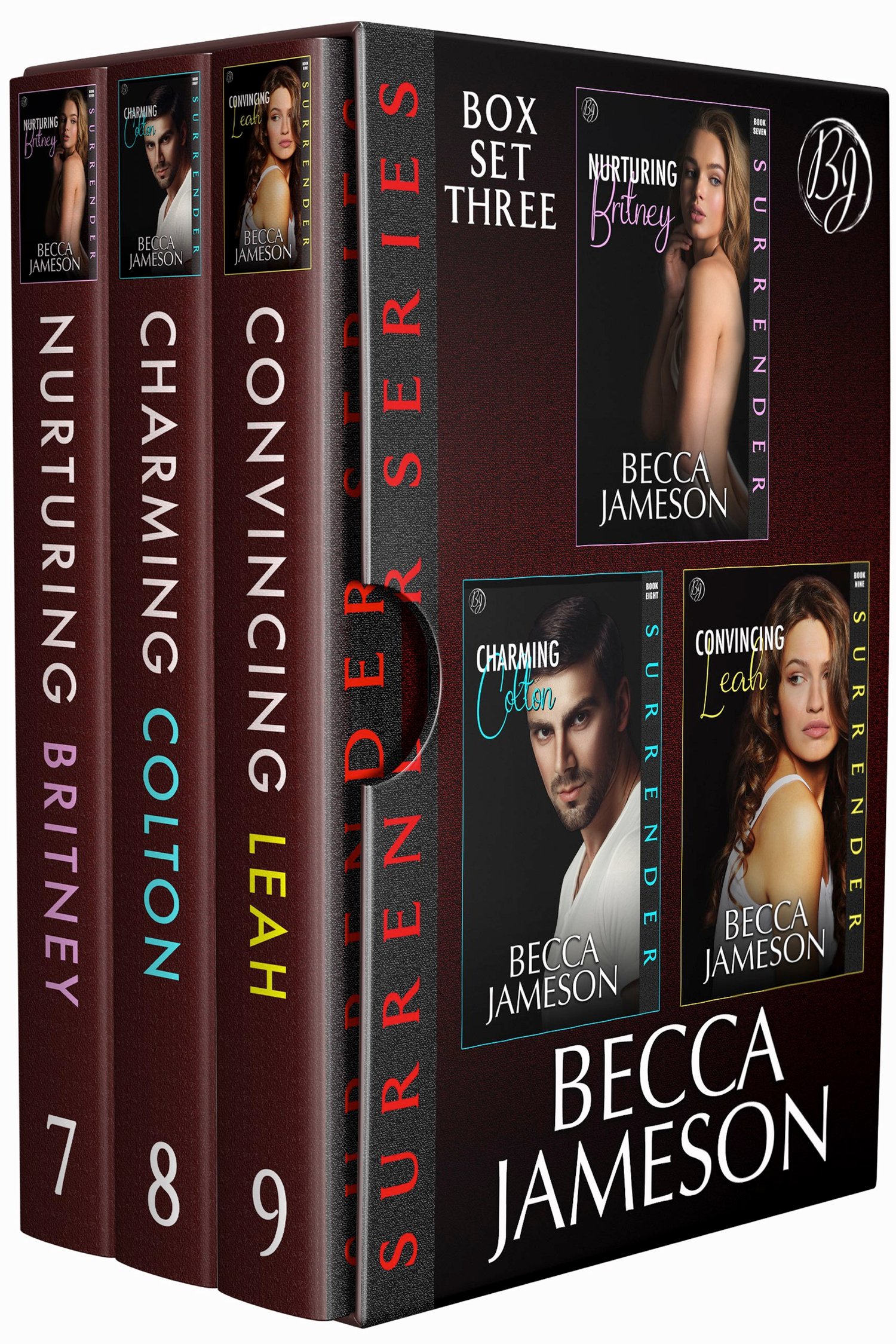 Surrender Box Set 3
The Surrender series revolves around a club in Seattle, Washington. The heroes in this series are wealthy men who find the perfect women to enrich their lives. This growing series consists of nine books so far. This box set includes books 7-9.

Nurturing Britney
Britney
I'm a stripper by night while I live plain and under the radar by day.
A gal has to do whatever's necessary to make ends meet.
My boss has maintained a hands-off policy for me, but now I know why.
I've been sold. My innocent looks. My petite frame. My virginity. I'm a commodity.
I'm on the run. I'm used to living a tough life. I've done it since I was born.
When Davis takes me in, he offers protection, solace, relief.
He offers a chance to experience the things I missed out on.
He offers to be my Daddy Dom. I'm his little now. I've never been happier.
But my boss is looking for me. He'll stop at nothing to find me.
Even if I could escape that fact, how long can I find comfort in being Daddy's little girl?

Davis
I left the military and moved to Seattle to join my buddies at Black Blade Protection.
I left behind my little. We were growing apart. We wanted different things.
I spend my days and nights protecting people. Providing security.
I'm not prepared to be knocked on my ass by a sprite of a woman who can't meet my gaze.
She's the entire package—cute and sexy with big blue eyes and hair down to her butt.
She needs my help, but it's impossible to ignore her tendencies as a little.
She's vulnerable and alone. Nightmares yank her out of her sleep.
She's also precious and gracious and has me wrapped around her finger.
I should keep my hands to myself. She doesn't know about my world.
The choice is ultimately hers, but first I have to destroy her buyer and end the threat to her life.

Charming Colton
Evelyn
I lead a very complicated and complex existence.
I'm a force to be reckoned with by day: pencil skirts and heels, totally professional.
In the evenings, I let myself be the little I am inside.
It doesn't matter that I don't have a Daddy for real.
I spend a few nights a week at Surrender setting up scenes to exercise my brat.
But now my life is in danger.
Letting Colton move in with me to protect me puts a cramp in my style.
How am I going to be myself around him and fulfill my own desires?
He's not even a club member. And Colton is certainly not a Daddy.
Or maybe he just doesn't realize it yet.

Colton
I've worked undercover for a long time. I've seen everything. Or…maybe not.
The gorgeous woman I'm assigned to protect has two sides.
I've always known I'm rather dominant, but a Daddy?
This is new to me. I need to play the role to keep her safe. It's just for a few weeks.
I'm shocked when I tap into a side of me I never knew existed.
Evelyn tugs at my heart. Both her little and her adult.
It doesn't take long to know she is mine.
Undercover work is not conducive to long-term relationships. Eve deserves more.
When this assignment is over, I'll never see her again.
I'm treading on thin ice. Now what?

Convincing Leah
Leah
A childhood reprimand has caused me to be extremely hard on myself.
To this day, I never misbehave.
But even my thoughts require absolution, and I get that at the club.
My favorite release comes in the form of impact play.
Two nights a week. That's all I allow myself.
Many of my friends are little. I get it, but it's not for me.
I can't be little. I was never little.
I became an adult when I was five.
I don't know how to be young. What if I do it wrong?

Craig
I've wanted Leah from the moment I first saw her.
I don't care that she's not little.
But I'm a Daddy, through and through.
After two months of playing exclusively with her at the club, I want more.
Can I set that part of me aside and be what she needs?
Her world gets flipped upside down by a crazy fan.
She needs to tap into her inner little to escape and hide.
And she needs me to protect and nurture her.
Can she see I'm here to pick up the pieces no matter where they fall?