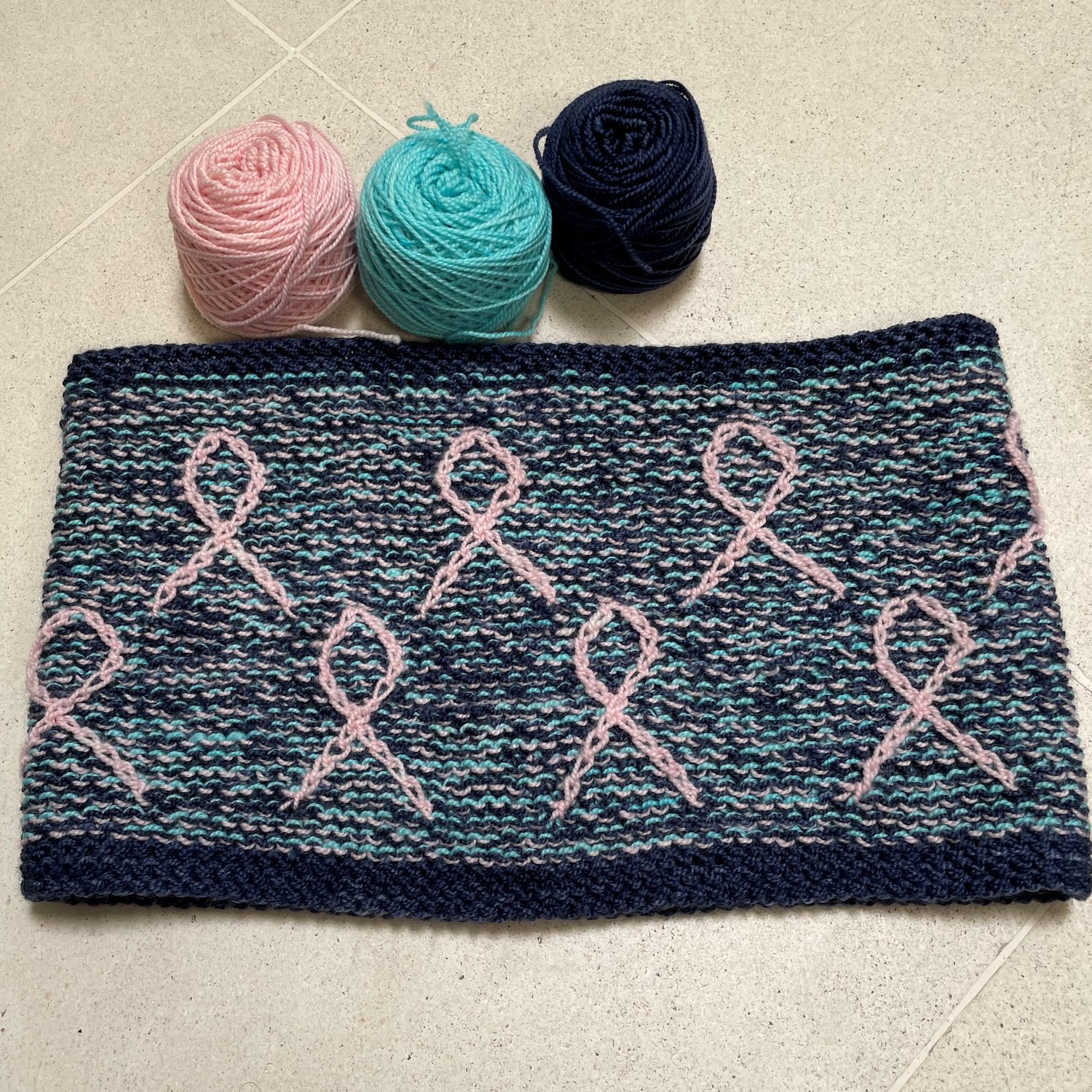 Fuck Cancer Cowl: Inside or Out
On Sale
Please purchase the pattern for $10 with no coupon code, $5 with the code FC5 or $2 with code FC2.   All the proceeds from the sale of this pattern will be donated to the Canadian Cancer Society.

Koigu has kits for the hat and cowl! $15 from the sale of each kit will be donated to Canadian Cancer Society too!.
Watch this video
for a closer look at this cowl and the
matching hat
.
Several years ago, a friend was diagnosed with breast cancer. Not knowing how else to help, I knit her a lot of chemo caps. This led to my very first knitting pattern; it was a hat with pink breast cancer ribbons all around it.
I noticed that when we were chatting with acquaintances, my friend would be the poster child for "Cancer can be beaten". The cancer ribbon hat seemed appropriate for her fight. But when we were chatting privately, she would tell me about how brutal the treatments were, her fears and her anger of having this put on her. It was very much Fuck This!
I wanted to acknowledge that I could see her being brave on the outside but also angry/scared inside. I tried unsuccessfully to knit a reversible hat with the cancer ribbons on the outside and Fuck Cancer inside. Four years ago, I did not have the skills to make a reversible hat. Since that time, I have been working on reversible techniques. This pattern is knit with
Fission Knitting
and uses techniques that I never dreamed of four years ago.
Innovating in knitting is fun, quick and extremely low cost.  You can try something new and rip it out to try again.  Cancer research is not low cost nor fast -- it involves incremental advances, that take years and lots of funding.  Please support cancer research through this pattern and yarn or directly through a cancer research centre. 
This was designed and made for a specific person. It never occurred to me to make the ribbons different colours. One of the first questions from the test knitters was if they could change the ribbon colour for different types of cancer. Of course! Please change any reference to "pink" in the pattern to any other colour! I say "Fuck Cancer" to all types of cancer.
NOTE: This is a very challenging pattern. This is NOT representative of most of my patterns and it is NOT a good project for learning Fission Knitting. If you've made one of my designs before, the skills you have learnt will be helpful but there is a lot going on with this pattern and it requires a lot of attention. Everything you need to know is explained in full detail.  If you're looking for a really engaging project to build skills and keep you focused, this is it! And imagine the bragging rights at Knit Night!
Tech editor: Kate Atherley
Subscribe to my newsletter
 and receive a free pattern too.