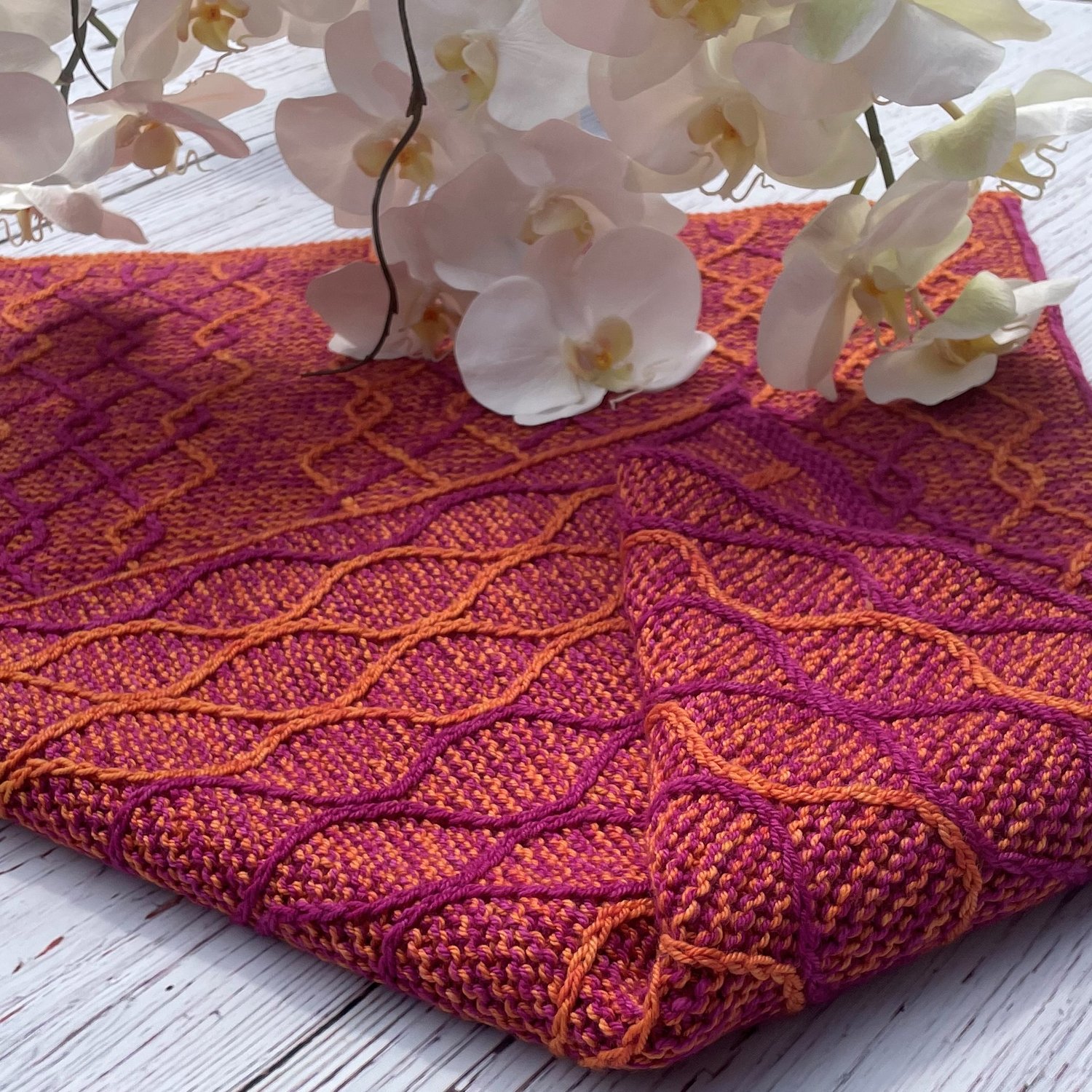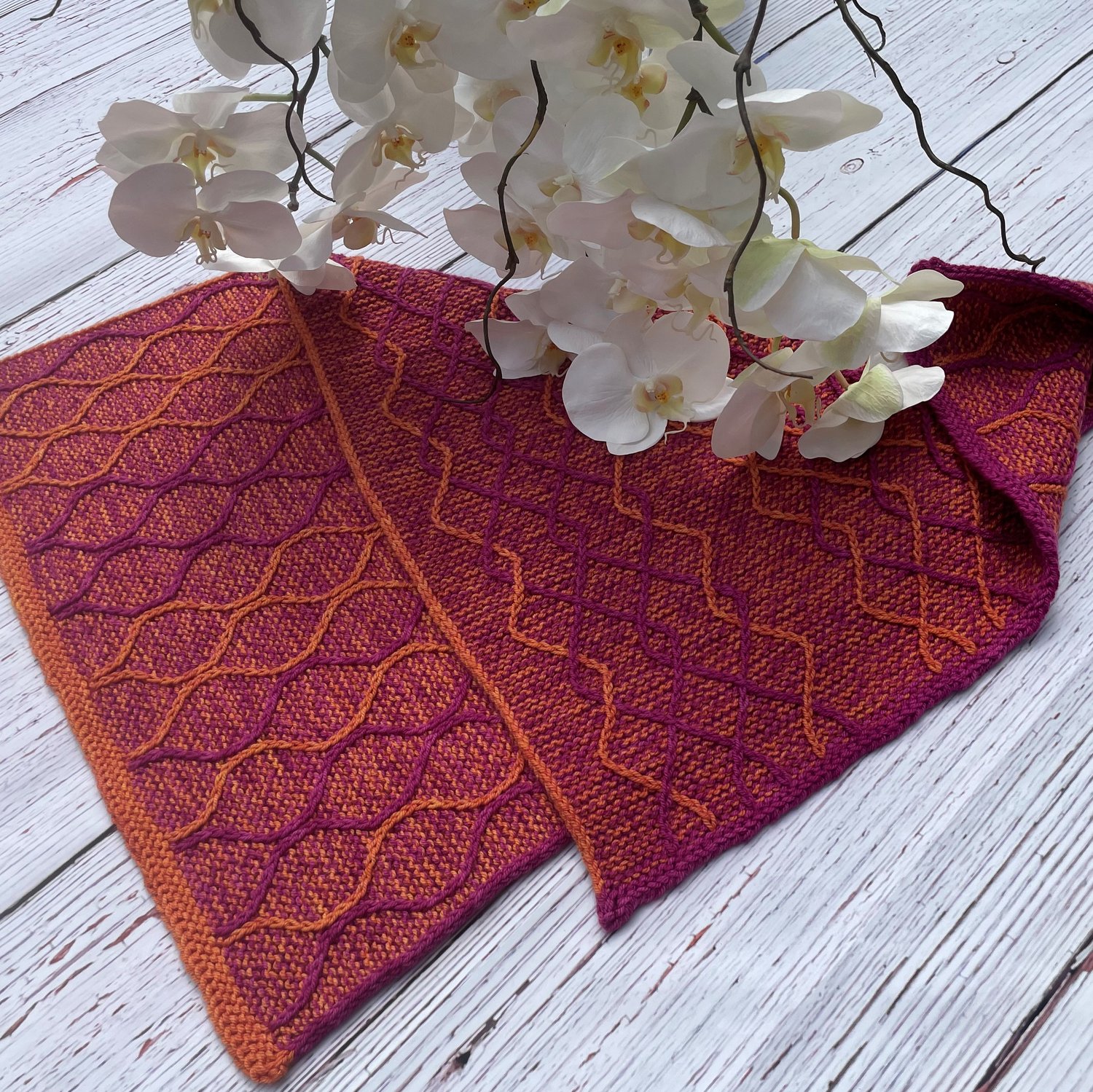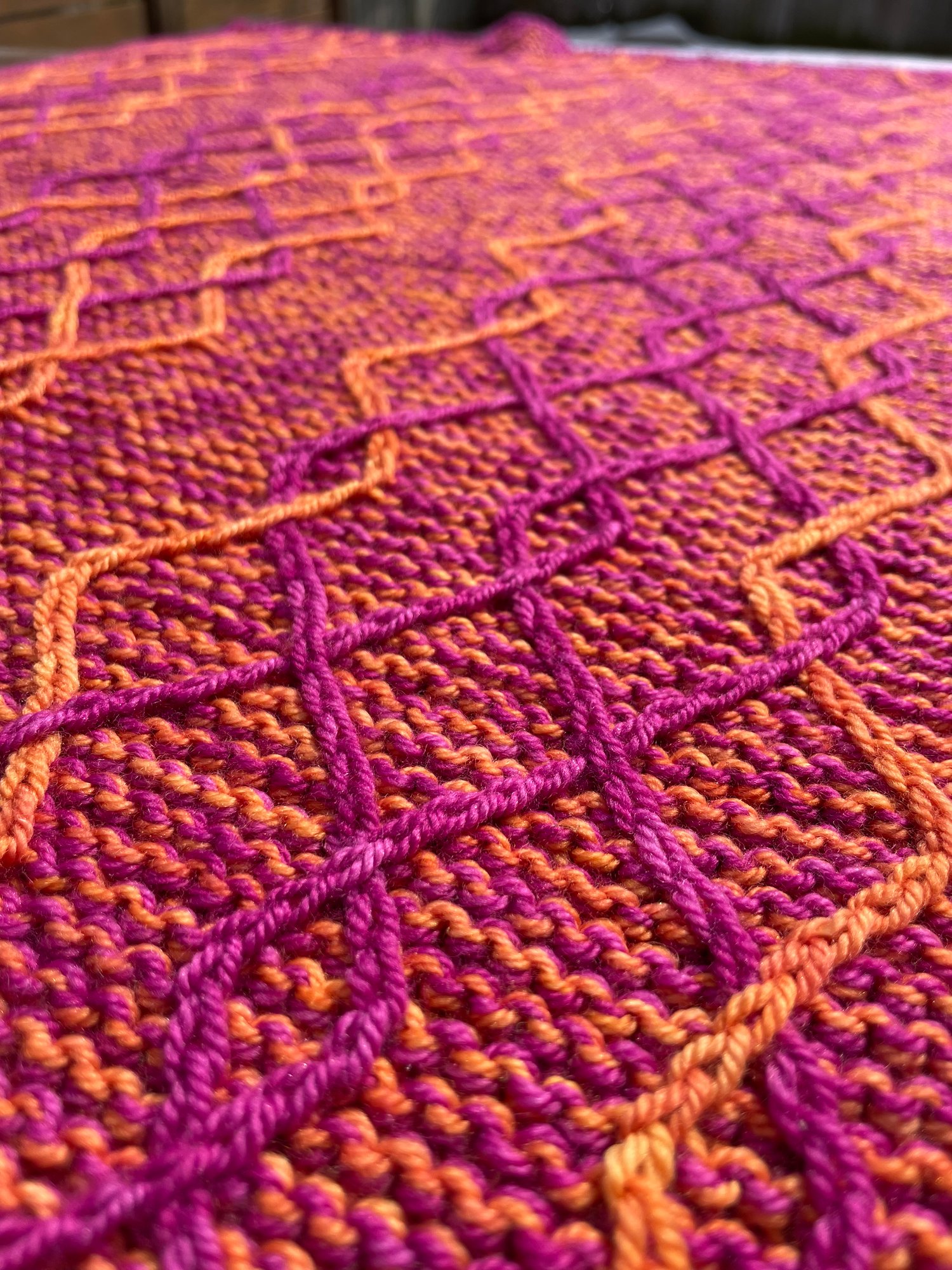 Comet Trails Blanket
On Sale
Please also see the matching Cowl, Scarf and Wrap. These 4 patterns can be purchased together in the Comet Trails Collection ebook.
The Comet Trails Blanket features a repeating cable motif that looks strikingly different in each repetition. In actuality, the cabling is the same for each motif, only the colour placement changes.
Fission Knitting is a reversible knitting technique where two yarns are worked in a marl. It creates a super squishy fabric with different raised colourwork cables on each side of the fabric. This motif is designed so you will practice each Fission Knitting stitch before moving onto the next. But you won't have to wait – you will see the reversible magic start to happen within the first few rows! Please see the Yarniverse information below for a full workshop on the working these designs.
The Comet Trails Blanket builds on the skills from the Comet Trails Cowl & Scarf but can also be worked as a first Fission Knitting project. You will learn how to establish the colour of each cable element – then watch that how that colour intertwines up the length of the blanket.
MATERIALS
Yarn: 2 fingering weight yarns; 750 yd/ 686m of each colour for stroller size; 1200 yd/ 1100 m for large size
Needles: 4.5 mm/ US#7 circular needles 24 inch/ 60 cm or longer
Gauge: 19 stitches/ 38 rows to 4 in/ 10 cm in purlwise garter (every row is purled) using two yarns held together. 
Finished Size: stroller size - 20 x 31 in/ 51 x 79 cm; large size - 33 x 31 in/ 84 x 79 cm
Notions: crochet hook in the same size as the knitting needles, cable needle, 4 removable stitch markers.
Recommended Yarn: Sweet Georgia Yarns Tough Love Sock; 2 or 3 skeins of Dark Orchid & Mandarin
*******************************************
The Comet Trails Collection is supported by my Fission Knitting Workshop in the Yarniverse! You will learn how to work all the cable stitches, manage your yarn, fix mistakes and much more!
From the same people who brought you Knit Stars Masterclass comes a brand-new innovation called the Knit Stars Yarniverse. The Yarniverse is a monthly membership that gives you a front-row seat to the brightest Stars in the global fiber arts community who share their latest techniques, most intimate, authentic stories, and best tips. With your membership, you get immediate, streaming access to 45 + workshops from Knit Stars Seasons 1-7 all organized into personalized Tracks to help you make the most progress! Plus there are weekly Yarniverse LIVEs with the Stars, Star Makers and Rising Stars, 100+ patterns, make-alongs, give-backs and so much more!
The Yarniverse is currently available at a founding member, accessible monthly price and you can cancel anytime! Using my link helps support me and my work as I earn a commission. Thank you so much!
Photography: Julie Crawford
Tech editor: Kate Atherley
Subscribe to my newsletter and receive a free pattern too.