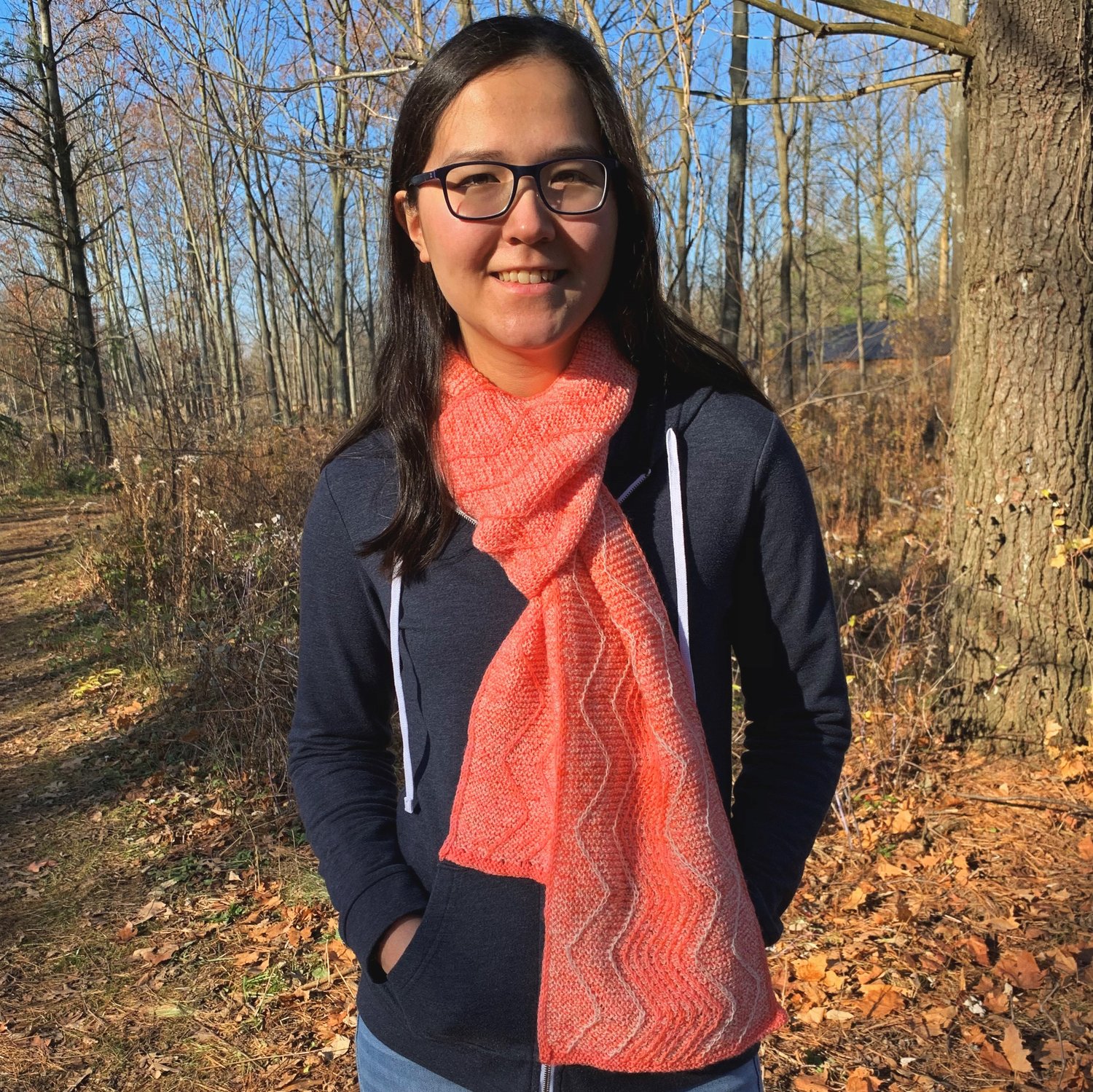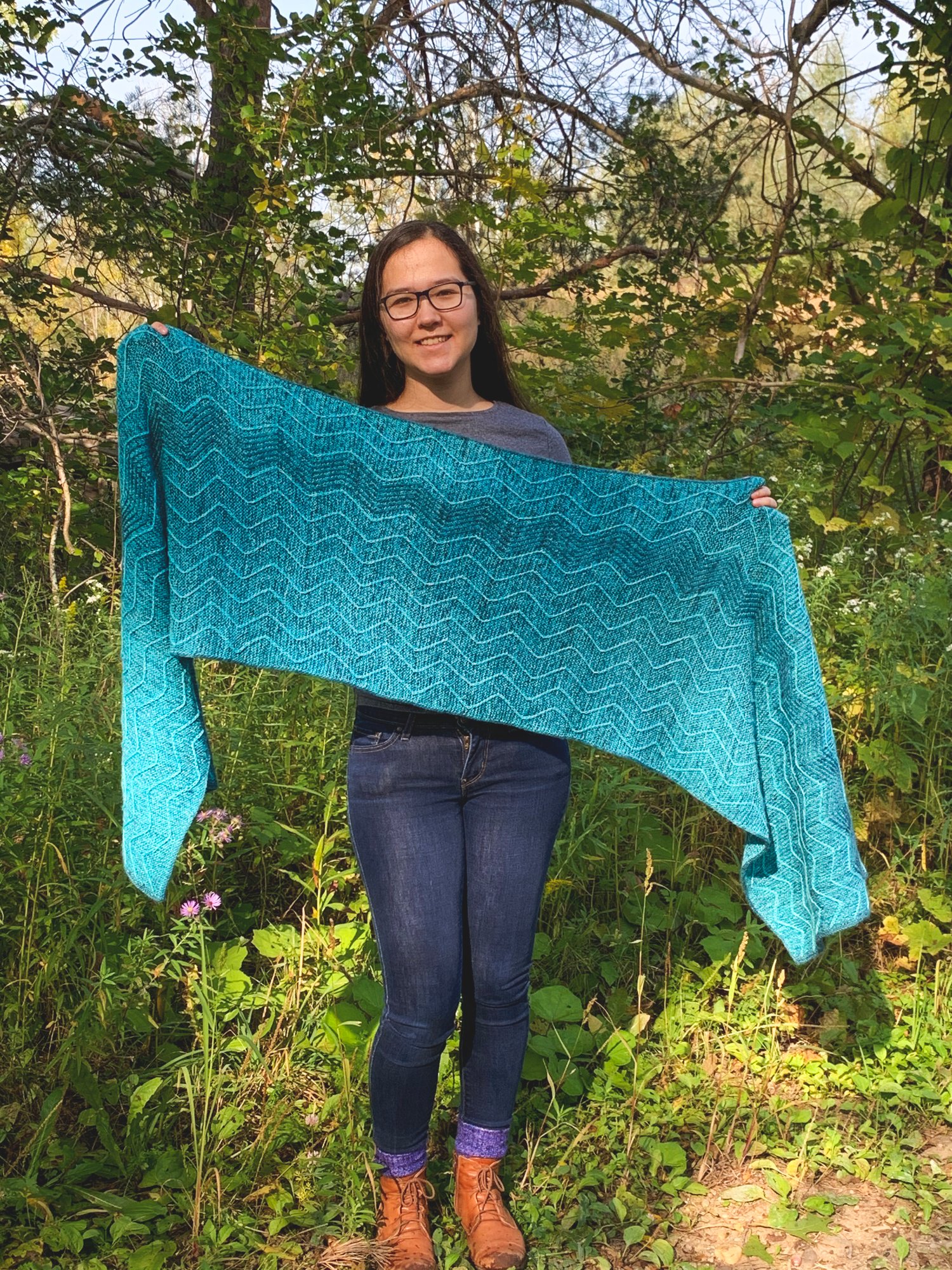 Sisters in Spirit Scarf & Wrap
On Sale
$7.00
This pattern is a part of the
Family Connections e-book
.
This project uses 
Fission Knitting
 to create a design that is different on each side of the fabric. The result is cables overlaid on both sides of a marled garter stitch middle layer. Two lace weight yarns are held together throughout this project. This creates a fingering weight fabric that is airy yet substantial and very warm.
On one side of the knit, zig zags are evenly spaced and are worked in a single colour creating a simple, calming beauty. On the other side, intensely spaced zig zags highlighted by a contrasting colour create an exciting playful look. This same zig zag motif is used throughout on both sides of the wrap/scarf; I love how the two sides of fabric produced from the same basic design element have such different characters.
As matching gauge is not essential in this project, look for fingering weight yarns that are very close in weight. The yarns do not need to be the same base.
I am 53 years old, I love knitting with black yarns and claim that I do not yet need reading glasses. When knitting this shawl, it was the first time that I have needed really good lighting. The yarn is laceweight and the colourways were very tonal and not high contrast. Choosing higher contrast colours is easier to work and may reduce eye strain. But no regrets; I love the way these lower contrast colours blend.
This pattern is written for both a scarf and a wrap size.
This pattern, 
Fraternal Forever Scarf 
and 
Genetically Linked Scarf
. are in the 
Family Connections ebook
.
The 
Fission Knitting Tutorials 
will help you get started with this technique.
For more patterns using this technique, please see the 
Fraternal Forever Scarf
and the 
Genetically Linked Scarf
. These 3 patterns are available in the 
Family Connections ebook
.
Tech editor: Kate Atherley
ERRATA: On the chart on page 23, there is a single knit stitch amongst the purl stitches near the left side on Rows 15-23. These should be purls.
Ways to learn about my designs and reversible knitting:
Subscribe to my newsletter
 and receive a free pattern too.
Published in
Family Connections Series
Mary W Martin's Store
Craft: Knitting
Category: Neck / Torso → Shawl / Wrap
Suggested yarn: Anzula Wash My Lace
Yarn weight: yarn held together
Lace
+ Lace
= Fingering (14 wpi) 
Gauge: 25 stitches and 48 rows = 10 cm in purlwise garter with both yarns held together
Needle size: US 4 - 3.5 mm
Yardage: 1200 - 3000 yards (1097 - 2743 m)
Sizes available: Scarf or Wrap Widths, Length Adjustable
Languages: English
See
RAVELRY Pattern Page
for more pictures and link to other projects.