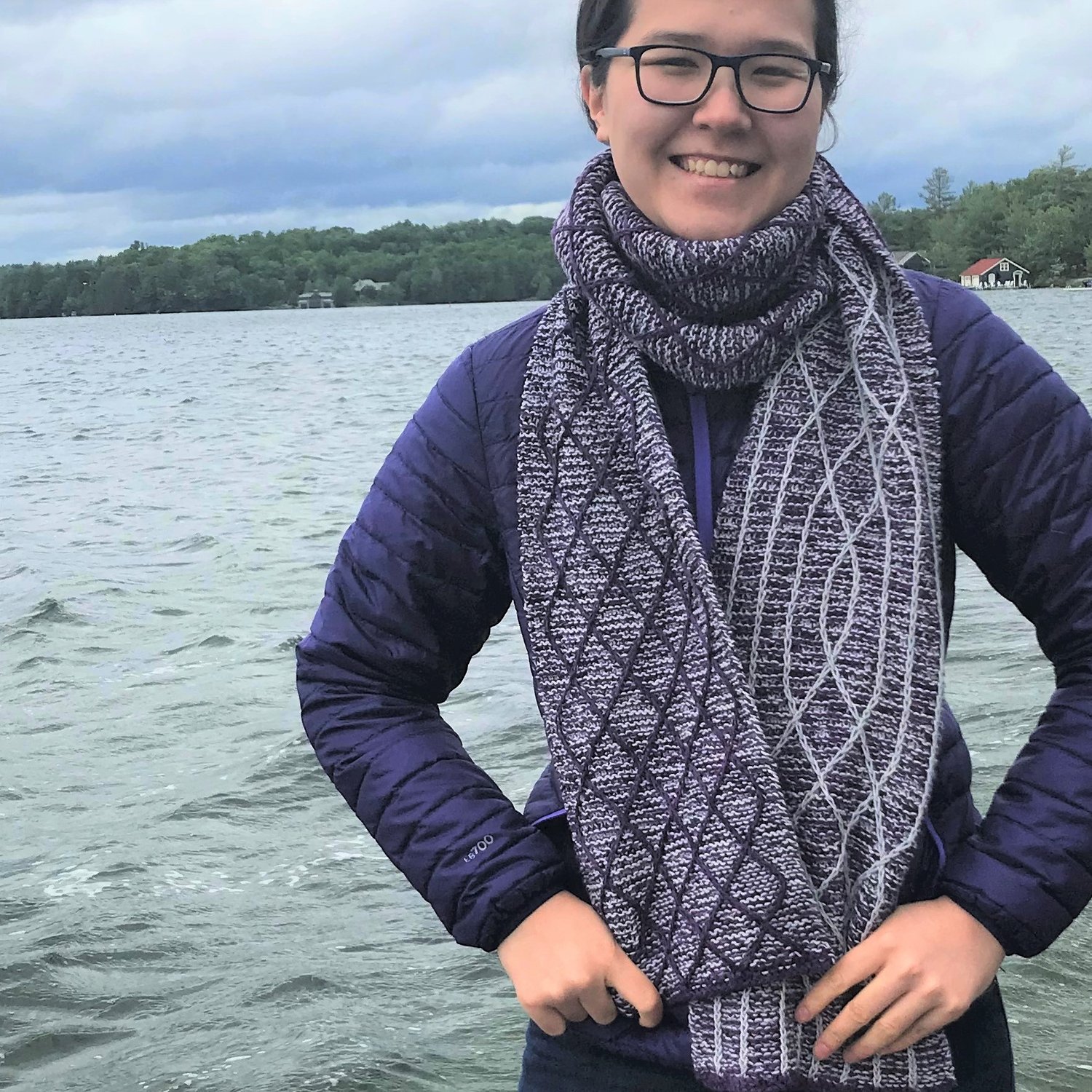 Fraternal Forever Scarf
On Sale
This pattern is part of the 
Family Connections e-book
.
This scarf uses 
Fission Knitting
 to create a different design on each side of the fabric. The result is cables overlaid on top of a marled garter stitch middle layer. Two fingering weight yarns are held together to create a worsted weight scarf.
The cables on each side travel in tandem for large portions of this pattern. At times their paths separate and later reconnect to move together again. The two sides of the scarf definitely feel related to each other but the different colours and divergence of paths gives each side its own character.
As matching gauge is not essential in this project, look for fingering weight yarns that are very close in weight. The yarns do not need to be the same base. Choose a needle size where you like the fabric. If the gauge is too loose, the cables will not look crisp.
The sample shown is knit in two high contrasting colours. This creates a background that is obviously marled. Choosing colours of lower contrast looks great too and will create a more cohesive looking background. Smooth yarns work best. Sticky yarns will be difficult to work with. At least one solid/semi-solid colour is recommended.
This pattern, 
Sisters in Spirit Scarf/Wrap
 and 
Genetically Linked Scarf
. are in the 
Family Connections ebook
.
The 
Fission Knitting Tutorials
 will help you get started with this technique.
Tech editor: Kate Atherley
Ways to learn about my designs and reversible knitting:
Subscribe to my newsletter
 and receive a free pattern too.
Published in
Family Connections Series
Mary W Martin's Store
Craft: Knitting
Category: Neck / Torso → Scarf
Suggested yarn: Miss Babs Putnam
Yarn weight: yarn held together Worsted (9 wpi) 
Gauge: 18 stitches and 38 rows = 10 cm in purlwise garter with both yarns held together
Needle size: US 7 - 4.5 mm
Yardage:1200 - 1500 yards (1097 - 1372 m)
Sizes available: length adjustable
Languages: English
See
RAVELRY Pattern Page
for more pictures and link to other projects.