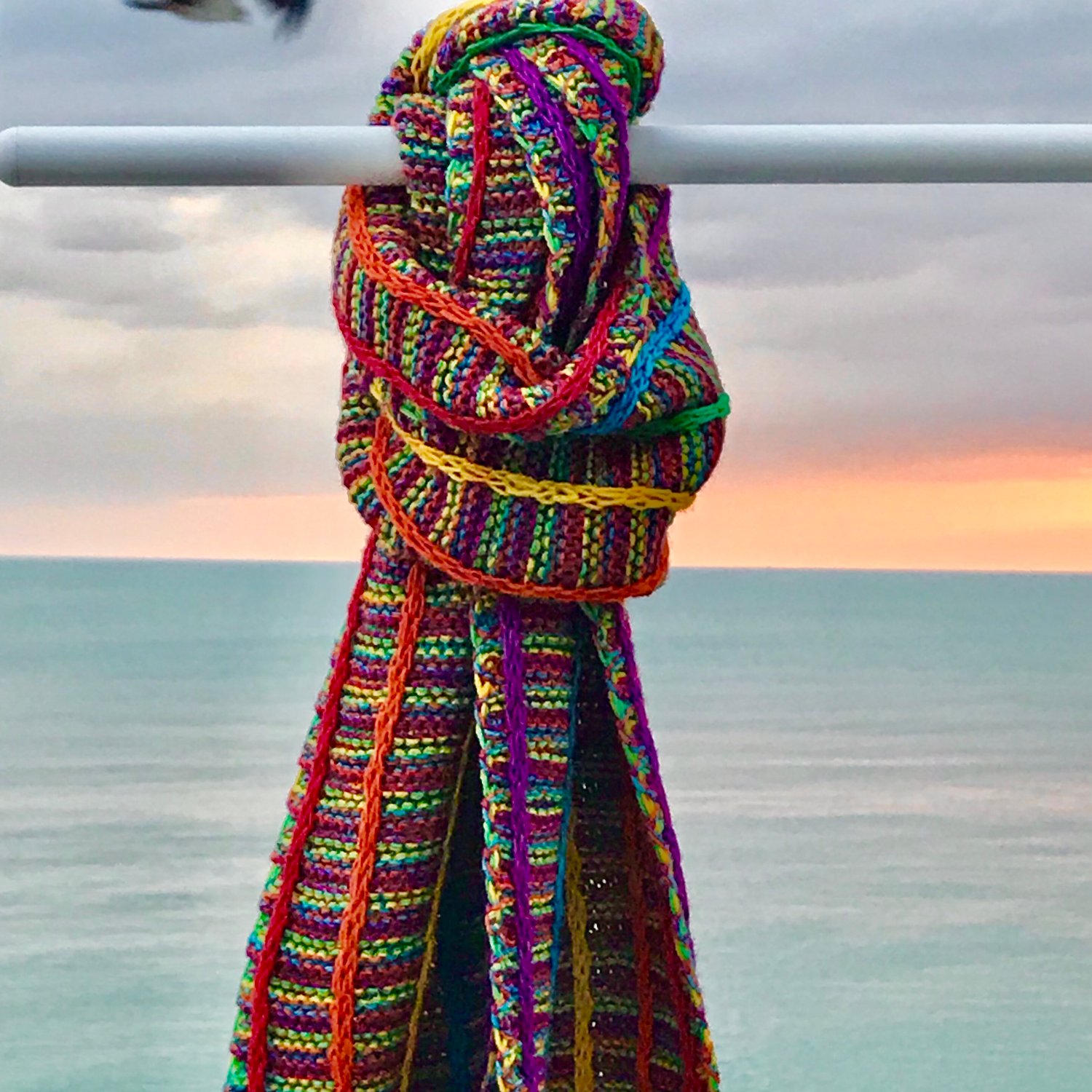 True Colours Scarf
On Sale
Six colour knitting!?! This scarf highlights the 6 colours of the rainbow by combining 6 fingering weight yarns to create a fabric similar to a DK weight knit with double thick reversible rainbow coloured stripes running along its length.
This is a great scarf for to wear to a Pride celebration and to wear everyday to show our support for those we love.
You will be learning several new techniques in knitting this scarf. The surprisingly simple design (a 3 row repeat) will be memorized quickly once the coloured stripes are established. The yarn is held double so it works up faster than a fingering weight project. This pattern is suitable for an adventurous beginner.
In January 2020, a young person with a special place in my heart died by suicide. They came out as transgender at their death. The designing and knitting of this scarf, helped me remember and grieve for this person.
My wish is for the fabric of our society to be one that is made warm and strong by the intertwining of all its members. May everyone celebrate each member's beauty when they move to the foreground to show their true colours.
All the proceeds from this scarf pattern have been and will continue to be donated to the LGBT Youth Line through the end of 2022.
After that time, the proceeds will continue to be donated to an organization that supports LGBTQ+ youth or the pattern will become free. The 
LGBT Youth Line
 supports 2SLGBTQ+ youth in Ontario, Canada.
A 60 inch / 150 cm long scarf, will need 165 yd/ 150 m of fingering weight yarn in each of purple, blue, green, yellow, orange and red. You will also need 30 yd/ 27 m of another fingering weight yarn for the edging; this can be one of the rainbow colours or any other colour -- this is a great way to personalize your scarf.
Marianated Yarns
 offers a vibrant 
rainbow colourway 
that is available year round.
Dutch, French, German, Japanese, Spanish & Norwegian versions of the pattern are available with the download.
Thank you for your support! At the end of 2020, $2,053 CAD has been donated to the LGBT Youth Line.
Tech editor: Kate Atherley
Ways to learn about my designs and reversible knitting:
Subscribe to my newsletter 
and receive a free pattern too.
Published in
Mary W Martin's Store
Craft: Knitting
Category: Neck / Torso → Scarf
Suggested yarn: coriand3r knits SW Merino Sock
Yarn weight: yarn held together
DK (11 wpi) 
Needle size: US 7 - 4.5 mm
Yardage: 1000 - 1200 yards (914 - 1097 m)
Sizes available: 7.5 in/ 10 cm wide, adjustable length
Languages: Spanish
English
Dutch
French
German
Japanese
Norwegian
See
RAVELRY Pattern Page
for more pictures and link to other projects.