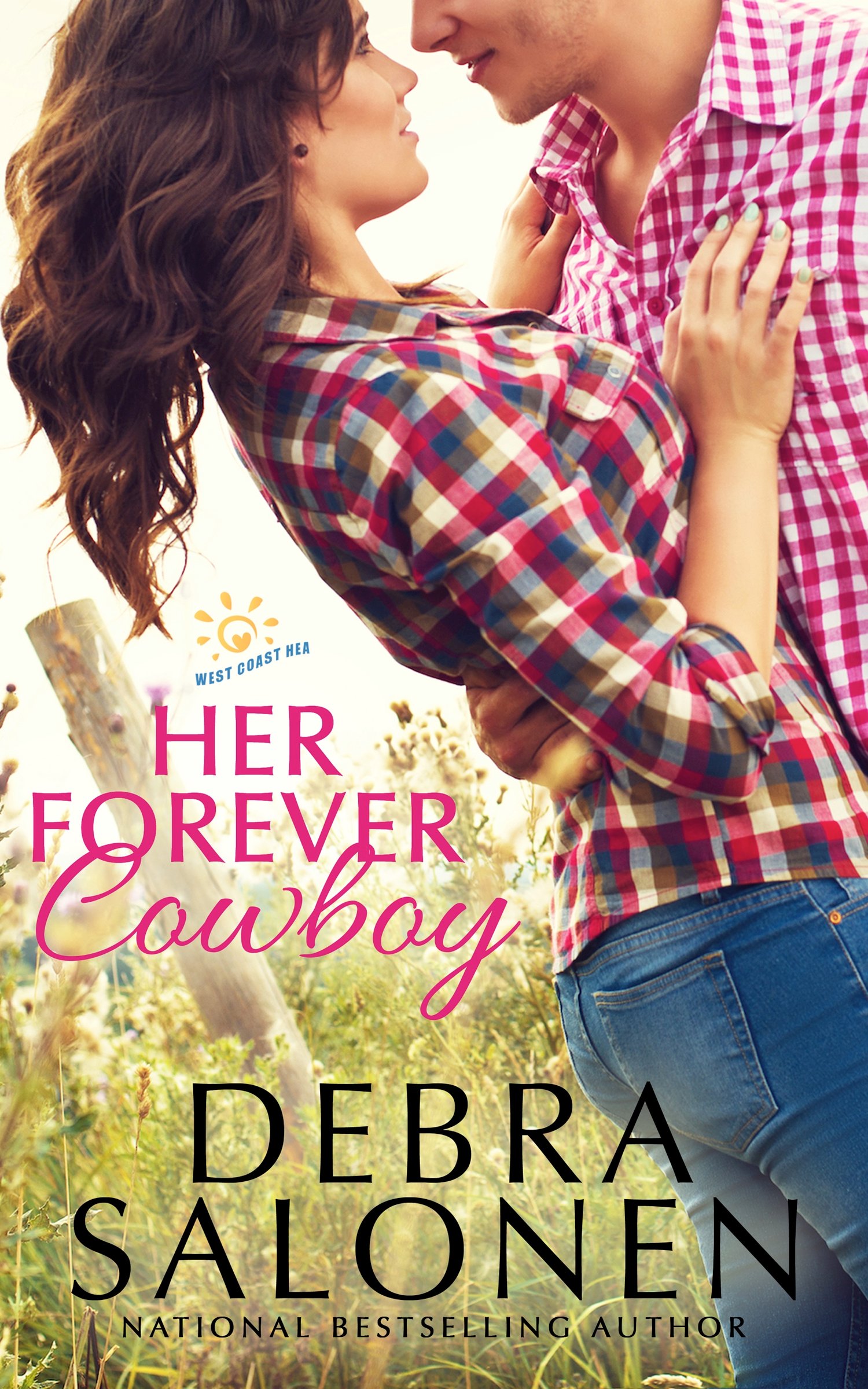 Her Forever Cowboy - Book I West Coast Happily-Ever-After
Welcome to the West Coast--where Happily-Ever-After is state of the heart.

 

A bull rider and a New York executive walk into a Nevada B&B...

Single mom Anne Fraser has sacrificed plenty to get ahead in the world of corporate hotel management. Just ask her eight-year-old daughter, Zoey. When her stepfather asks Anne to fill her late mother's shoes at the Silver Rose Guest Ranch, Anne can't say no. Even if the job includes sharing the reins with the man whose kiss she's never forgotten.

Will Cavanaugh planned to be the top bull rider in the country. He's come close in his fifteen-year career, but now an injury has him sidelined for the summer. He answers his grandfather's plea for help but soon realizes he's facing a new dilemma. Could one summer with Anne and her daughter possibly be enough? Or is it just the beginning?

Battered and a bit disillusioned by life, Will and Anne return to the Silver Rose to repay old debts. To fall in love again. But, just for the summer.

Or, maybe...for a lifetime.

 

HER FOREVER COWBOY is Book 1 in the WEST COAST HAPPILY-EVER-AFTER series. If you're a fan of true-to-life romance with believable characters in settings you'll want to add to your bucket list, you'll love this action-packed series from Debra Salonen—past winner of Romantic Times Reviewer's Career Achievement "Series Storyteller of the Year" award. "Debra Salonen captures reader attention with multifaceted characters, layered conflict and fast pacing."
—Pamela Cohen, Romantic Times

Buy HER FOREVER COWBOY--the first-in-series starter--that opens the door to six more unique, stand-alone novels set on the West Coast:

Book I:  HER FOREVER COWBOY – What if one summer isn't enough?

Book II: NEVER SAY NEVER -- Some second chances come with big secrets.

Book III: CALEB'S CHRISTMAS WISH -- How far would you go for the sake of a child?

Book IV: A BABY AFTER ALL -- When divorce is the answer, maybe two people in love need a new question.

Book V: LOVE, AFTER ALL -- A match made in heaven? When pigs fly—in designer shoes!

Book VI: THAT COWBOY'S FOREVER FAMILY -- The cowboy life wasn't enough for his daughters' mother, how can he make it work now?

Book VII: FOREVER AND EVER BY GEORGE -- Even the dog knows the importance of happily-ever-after.