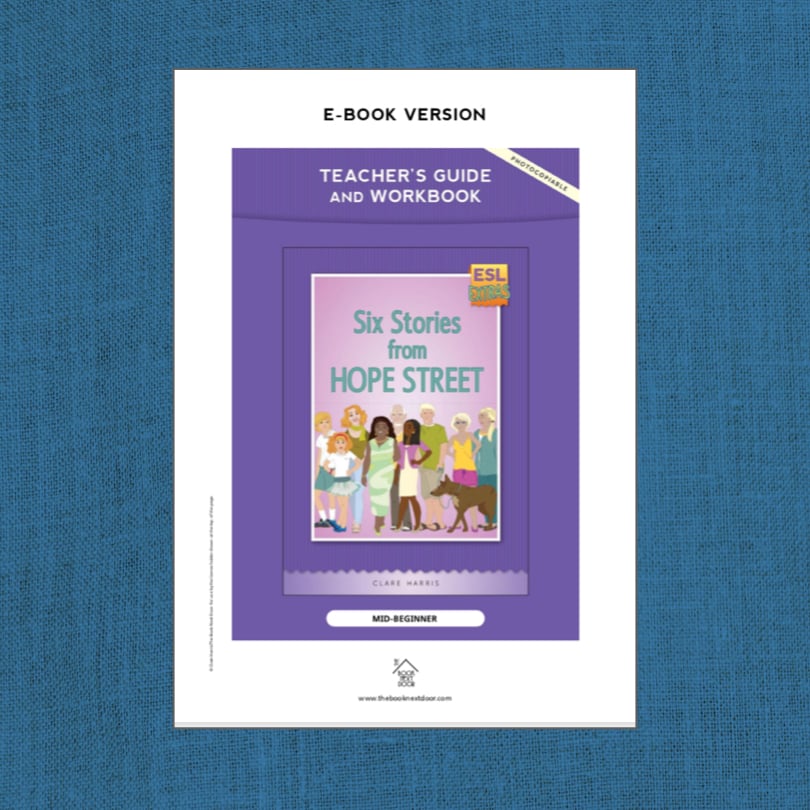 Six Stories from Hope Street: Teacher's Guide and Workbook e-book
On Sale
A$29.99
Preview
It was Monday morning.
I was in a hurry.
"Where are my keys?" I said.

"Here they are, Mum," said Alex.
"No, not those keys," I said.

Six Stories from Hope Street
is for mid-Beginner learners, who have been introduced to past tense, but aren't ready for extended narratives. It contains six light-hearted short stories about different characters living in Hope Street, told in simple past tense. While the books are aimed at adult learners, there are younger characters included. 
Like all the ESL Extras reading books, the book contains:
the illustrated story (which can be photocopied or shared online)
a page of notes for each story, for teachers or tutors
exercises and answers for each story
a 'board' game.
There's also an extra set of cut-up vocabulary or activity page for each story.
Like the other books, this is set in Australia, but learners everywhere will be able to relate to the situations. 
(There's an 'Extra Information' page at the front with tips on any Australian situations/usage, plus what to do if you don't use A4 size paper.)
The Preview package offers sample pages you can trial with your learners, and explains the terms of use. if you decide to purchase, the eBook will be stamped with your email address in extremely tiny font at the top of the page. Please contact me on info@thebooknextdoor.com if you have any queries!
Learners can read more about the Hope Street neighbours in
The Garage Sale
.