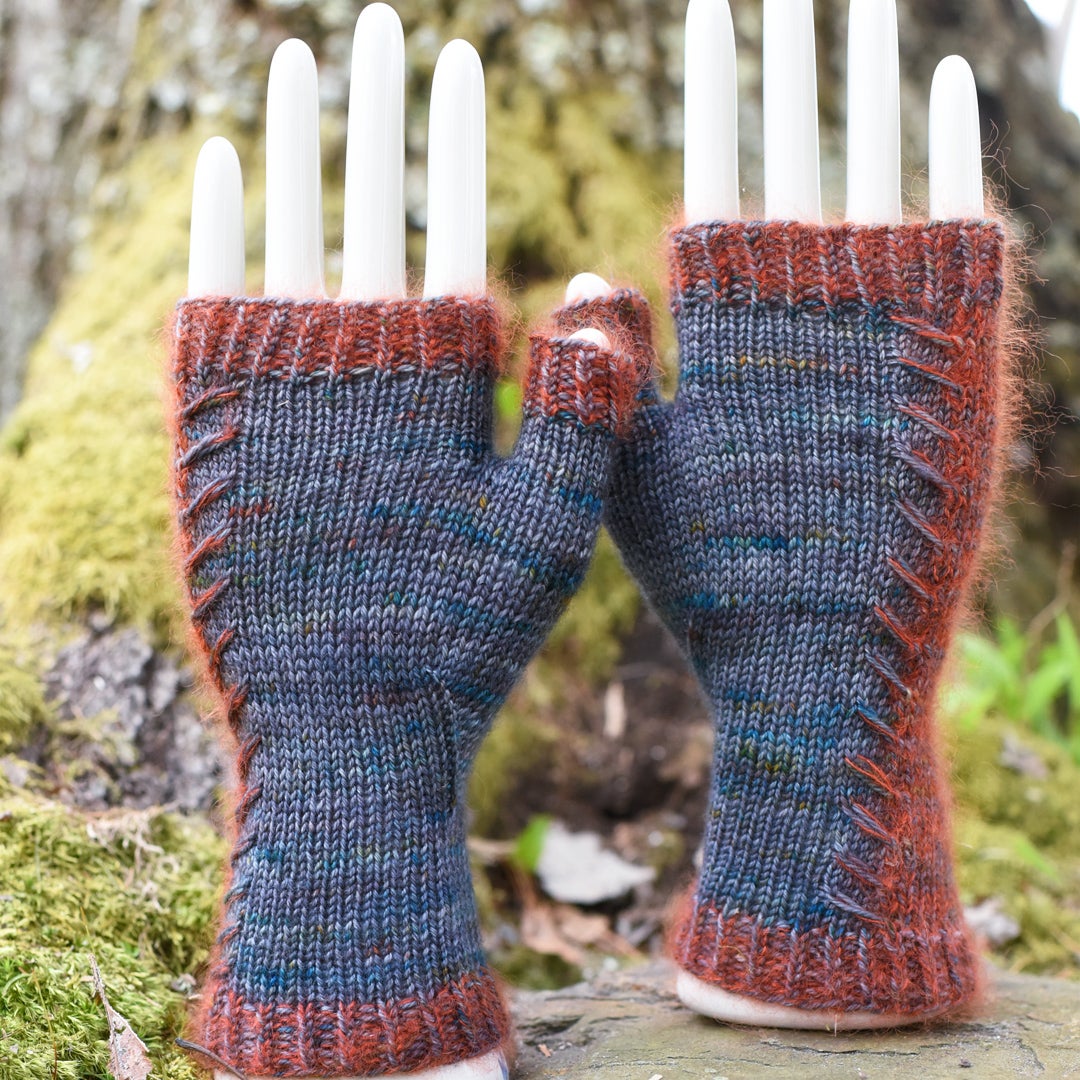 Incorrigible
On Sale
$8.00
---
Incorrigible
adjective
not easily swayed or influenced
---
I'm not a big fan of rules. Well, let's break that down a bit. I'm not a big fan of someone else coming along and telling me 'you have to do it this way, it's the rule' without actually explaining to me just what those rules are and why I should follow them.
And colorwork seems to have a lot of rules (at least according to a certain vocal subset of knitters). Make sure your yarns are the same weight. Use one yarn at a time. Carry each color across the whole piece. Keep your floats short. Turns out, you can break each and every one of those rules and still come out with an awfully nifty project.
If you feel up to a little bout of rule breaking and decide to make this, you'll use different weight of yarns (one should be a fluffy lace weight, the other can be anything from fingering through worsted weight). Sometimes you'll hold both yarns together, sometimes you'll use just one. You'll use the fluffy yarn on only part of the mitt. And you'll make scandalously long floats (that you will later cut short in an act of unspeakably satisfying knitterly defiance).
And in the end, after all that scandalous flouting of the rules, you'll have a lovely, tidy, orderly mitt (which will be all the more delightful because you know you someone out there would be scandalized by how you put it together).
---
The mitt is written in three sizes (castons of 38, 42, or 46 stitches), and you should feel free to adjust your gauge a bit to fine tune the fit of the mitt. Just be sure that you're working at a gauge that gives you a fabric you like with your chosen yarns!
I recommend working at something around 5.5, 6, 6.5 or 7 stitches per inch, and I've included a table to help you figure out what gauge you'll want to use for your size. With that range of sizes and gauges, the mitt will fit a hand or arm (measure the widest part you want the mitt to cover) between 6 and 9.25 inches (with *lots* of points in between).
Oh, and just to help you plan, I used about 150 yards of the main yarn (the gray yarn) and 75 yards of the contrast yarn (the orange one) to make mitts for a large adult. If you're making a larger or longer mitt (or if you use a skinnier yarn), you might want more like 225 yards of the main yarn and 125 yards of the contrast yarn yarn. I was able to comfortably get a hat and matching mitts for a large adult from one 100g skein of fingering weight yarn and one 25g skein of laceweight yarn.
---
This is perfect for you if:
- You've got an absolutely glorious yarn (or a particularly opinionated one) you want to show off
- You need to break some rules and still have it all come out ok in the end
It's not for you if:
- You don't like charts (the pattern uses charts)
- You hate swatching (you need to swatch to check your needle size)
---
If you're interested in the companion hat (shown in the next to last picture), you can find it
here
. If you buy both patterns together at the same time, you'll get 50% off the second pattern (make sure you see the discount before you pay, the price for both pieces together should be $12.00).