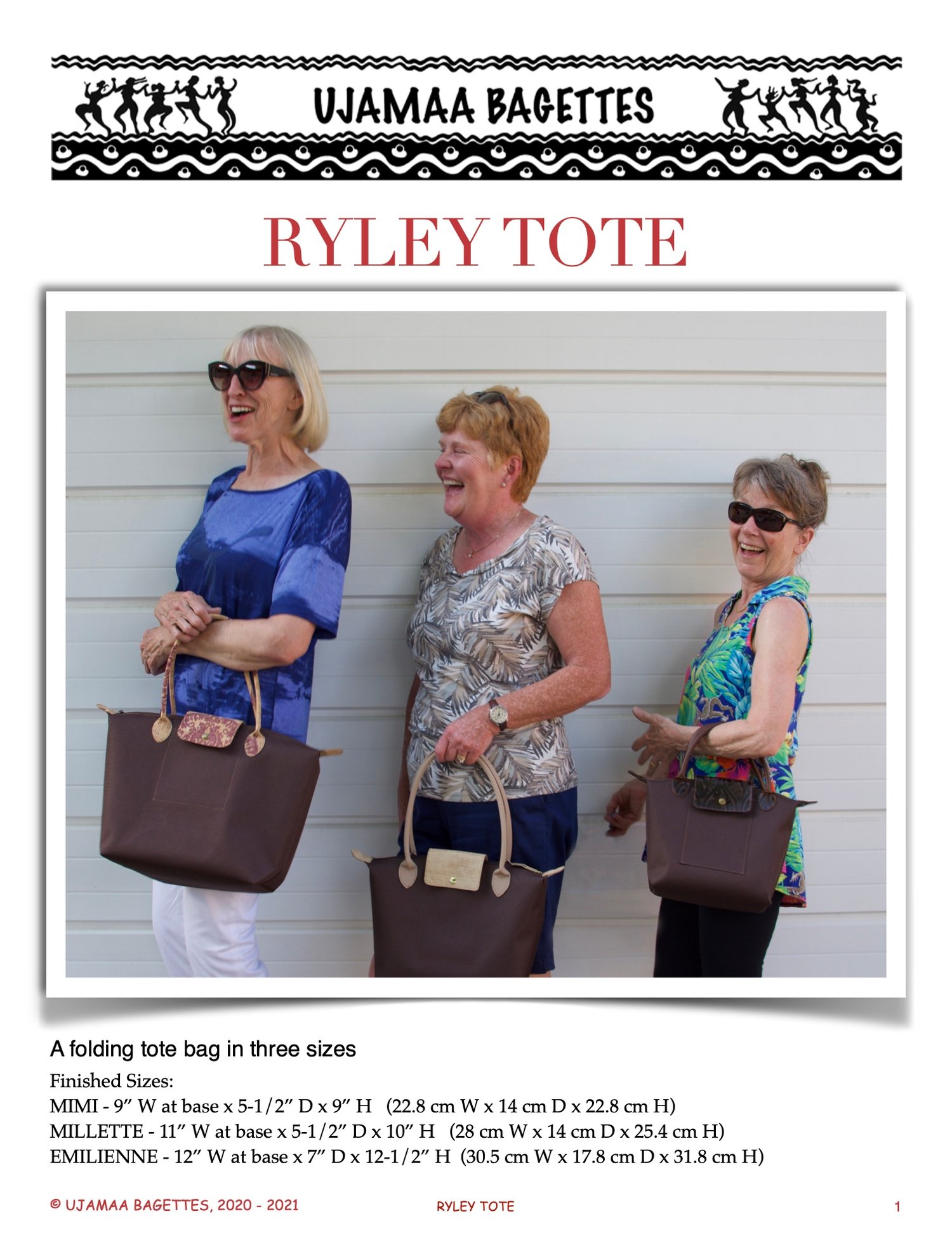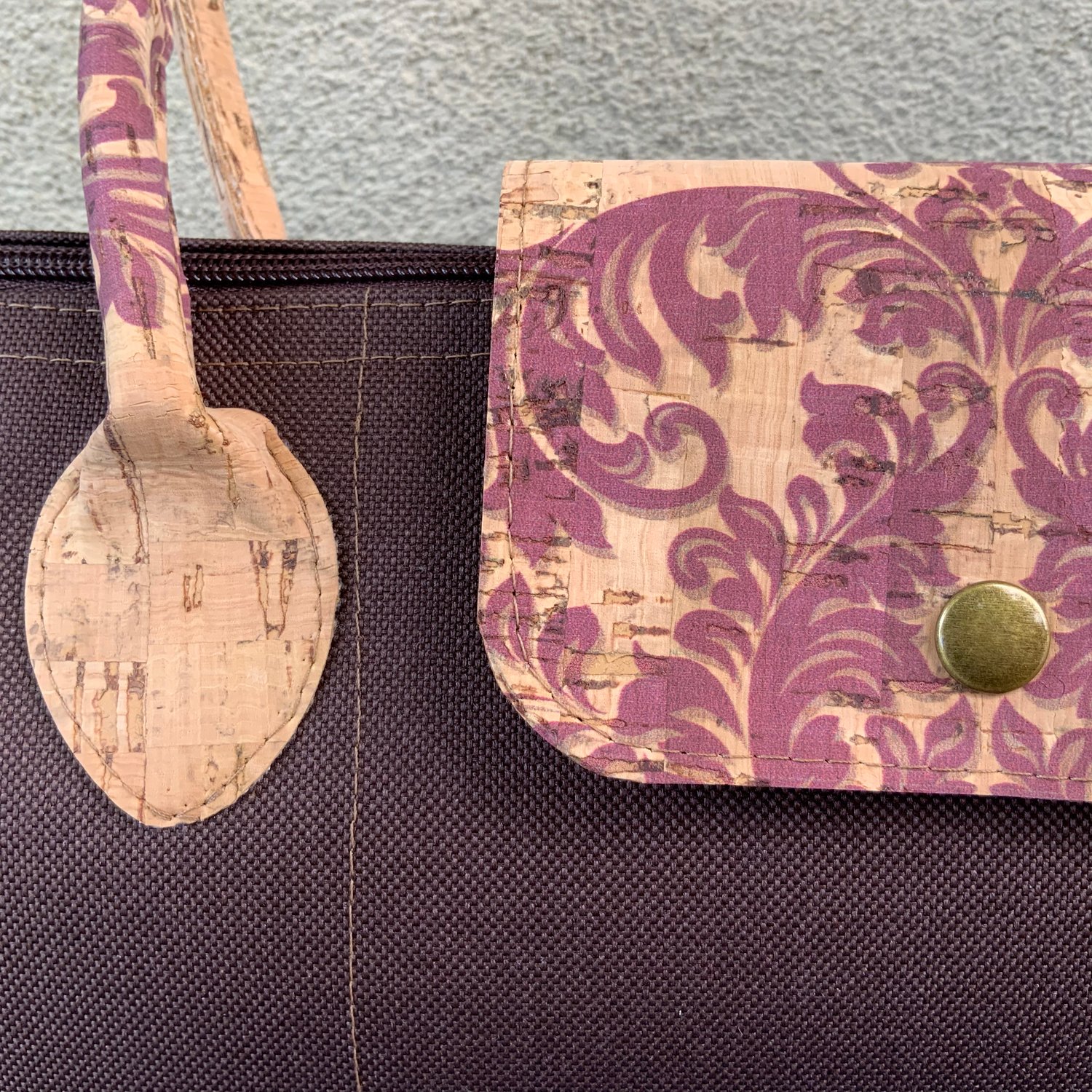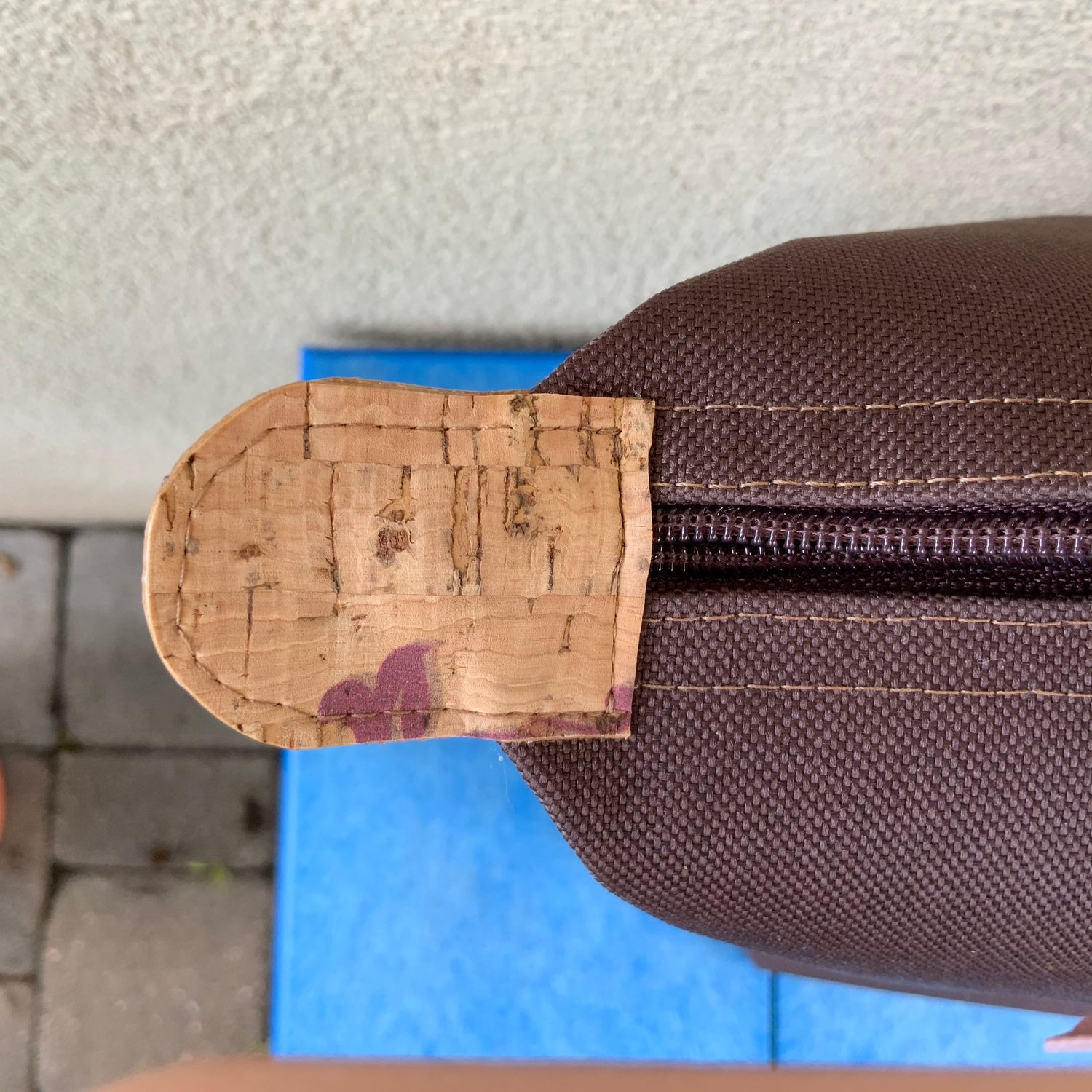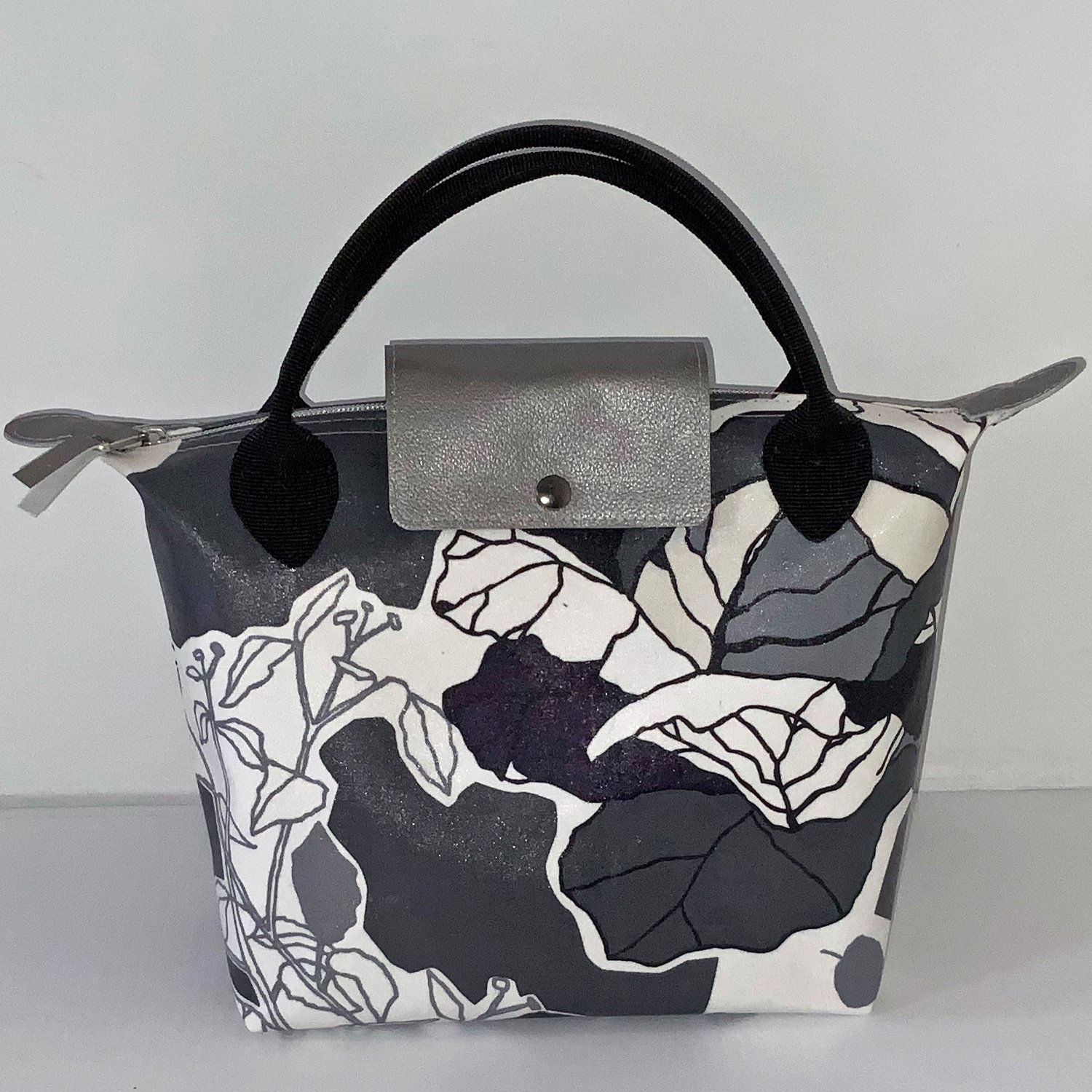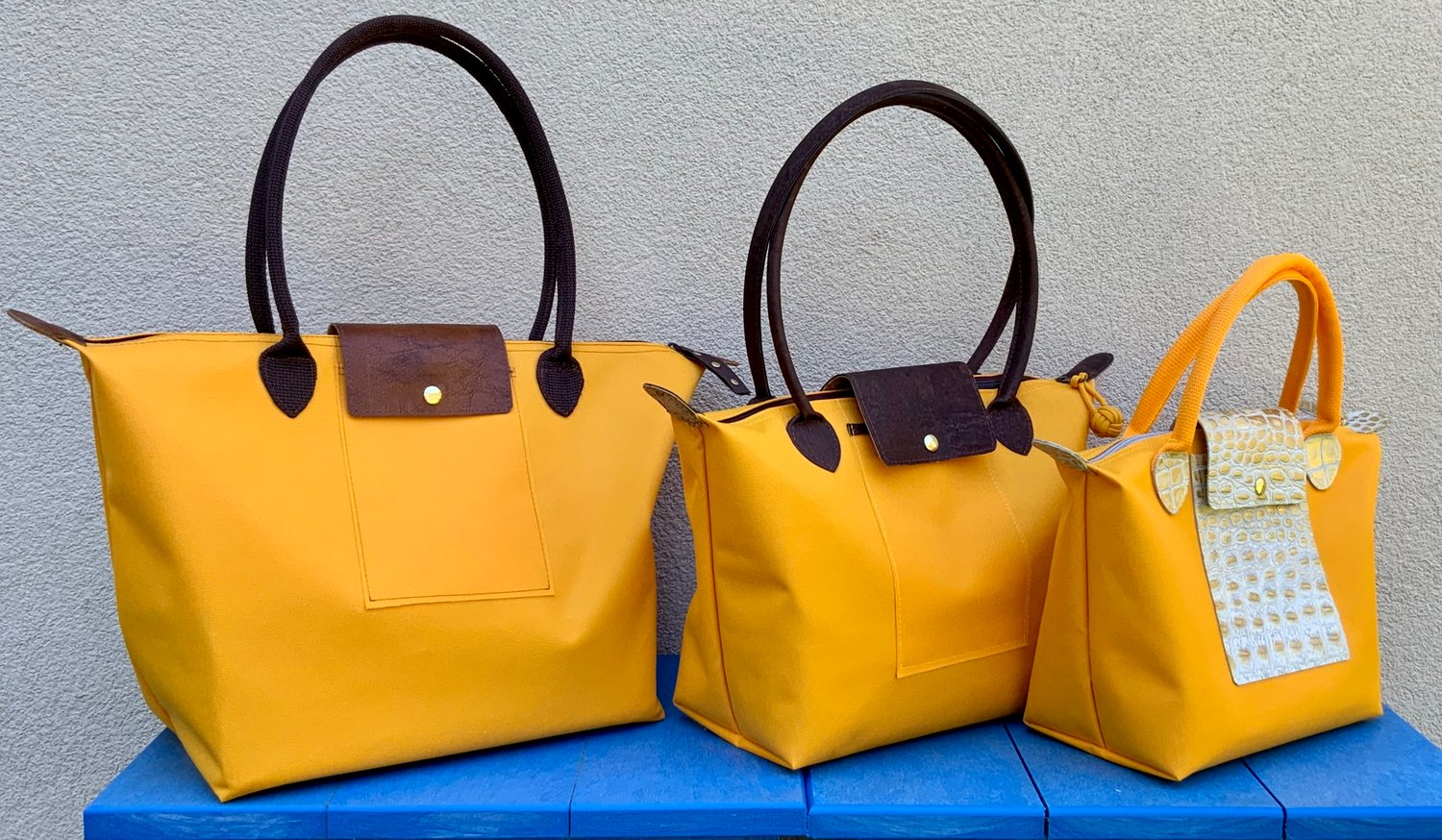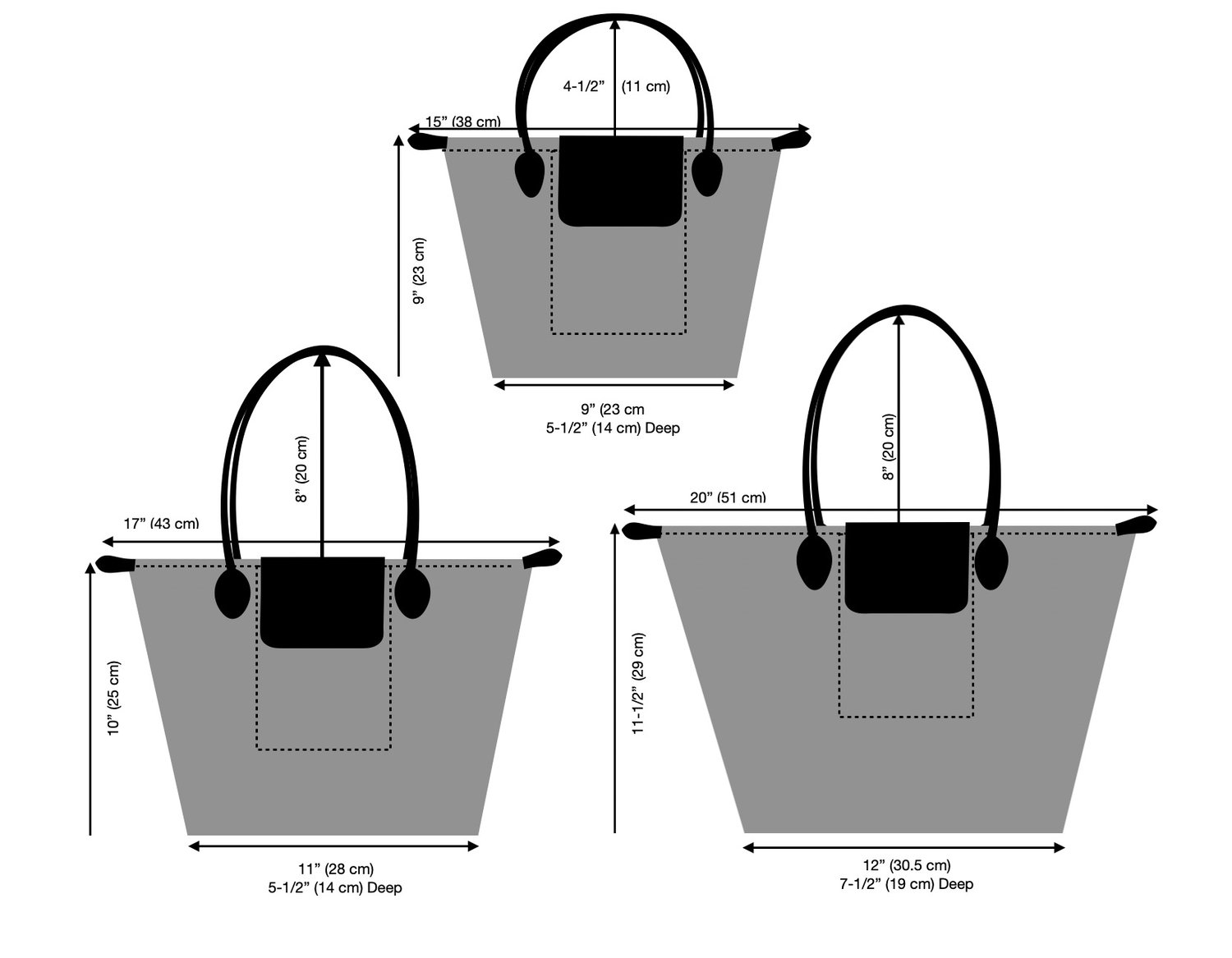 RYLEY TOTE - Pattern for a classy tote in three sizes
On Sale
CAD9.75
This is a digital pattern - NOT a finished product. Sorry, no returns.
RYLEY is a hard working tote which is handy for around town and perfect for travel since it folds flat to take up almost no space at all. Our RYLEY pattern is named after one of our grandmothers - one who was petite, red-headed, determined and strong, and she was the person who inspired one BAGETTE to sew. Like grandmothers, RYLEY TOTE comes in a variety of sizes, each one named after this special grand-mere - Mimi, Millette, and Emilienne.
FEATURES:
Three handy sizes - MIMI (small), MILLETTE (medium), and EMILIENNE (large)
Secure zippered top closure
Slip pocket for phone or compact wallet that can be added to inside or outside
Pretty leather or cork top flap for extra security
Wide, flat bottom
Designed for coated 600 denier coated poly with unlined easy construction
Suitable for waxed canvas
Minimal straight-line binding
Short, piped handles for MIMI
Long, piped handles for on the shoulder for MILLETTE and EMILIENNE
Folds flat for easy storage
No hardware
PATTERN INCLUDES:
Pattern pieces for body, flap and zipper tabs in all three sizes
Measurements for slip pocket
Uses zipper tape with the slider added after construction
Easy instructions for piped handles from webbing, leather or cork
Enough detail for the beginning bag maker
All construction is suitable for a domestic sewing machine
RYLEY TOTE is written to be made with 600 denier coated nylon for the body - waxed canvas is a great alternative - and leather or cork accents for the flap and zipper tabs.
MATERIALS:
Exterior - 60" wide 600D coated nylon - also suitable for waxed canvas
1/2 yard (.5 m) - 1-1/4 yards (1 metre) is sufficient to make all three totes for a matched set.
Straps and/or handles
PRE-MADE HANDLES:
Short Handles (Mimi) - 1 set 16"(40 cm) rolled handles
Shoulder Handles (Millette or Emilienne)- 1 set 24" (60 cm) or longer rolled handles
SELF-MADE HANDLES:
Short Handles (Mimi) - 32" x 1-1/2" (81 cm x 3.9 cm) nylon webbing or cork) plus 24" (61 cm) 1/4" (6mm) outside diameter clear vinyl tubing*
Shoulder Handles (Millette or Emilienne) - 52" x 1-1/2" (1.3 m. x 3.8 cm) nylon webbing, or cork plus 44" (1.2 m) 1/4" (6mm) outside diameter clear vinyl tubing*
* This flexible clear vinyl tubing is available at hardware store in the plumbing department. It is often used for aquariums.
Small piece of Kraft-tex for handle stabilizer.
Flap and cover tabs
1 - 9" x 6" (11.7 cm x 15.2 cm) piece of of upholstery weight leather, 1.5mm thickness
OR 1 - 9" x 6" (11.7 cm x 15.2 cm) piece of cork. Because you have to cut 2 flaps in cork this is a minimum amount and requires very careful cutting and allows for no margin for error or print considerations . Two pieces or a larger single piece is better.
NOTIONS & SUPPLIES
#5 zipper tape
MIMI - 16" (40 cm)
MILLETTE - 18" (46 cm)
EMILIENNE - 21" (53 cm)
1 - #5 zipper slider
1 - snap
1 or 2 plastic washers for back of the snap or a small piece of heavy Decovil
Recommended:
#16 universal or denim needle for sewing the coated nylon
Polyester thread
Marking chalk or erasable pen. Check to ensure marks will erase from your fabric choice.
Sewing clips. Pins are not recommended because of the fabric.
Double-sided tape
Lighter or candle for sealing zipper tape and/or webbing
Fray stop
Fabric glue
Edge coat or Mod Podge for finishing raw edges
Bone folder or letter opener for "finger" pressing"
Double sided tape
Erasable marking pen. Be certain this will erase from your fabrics.