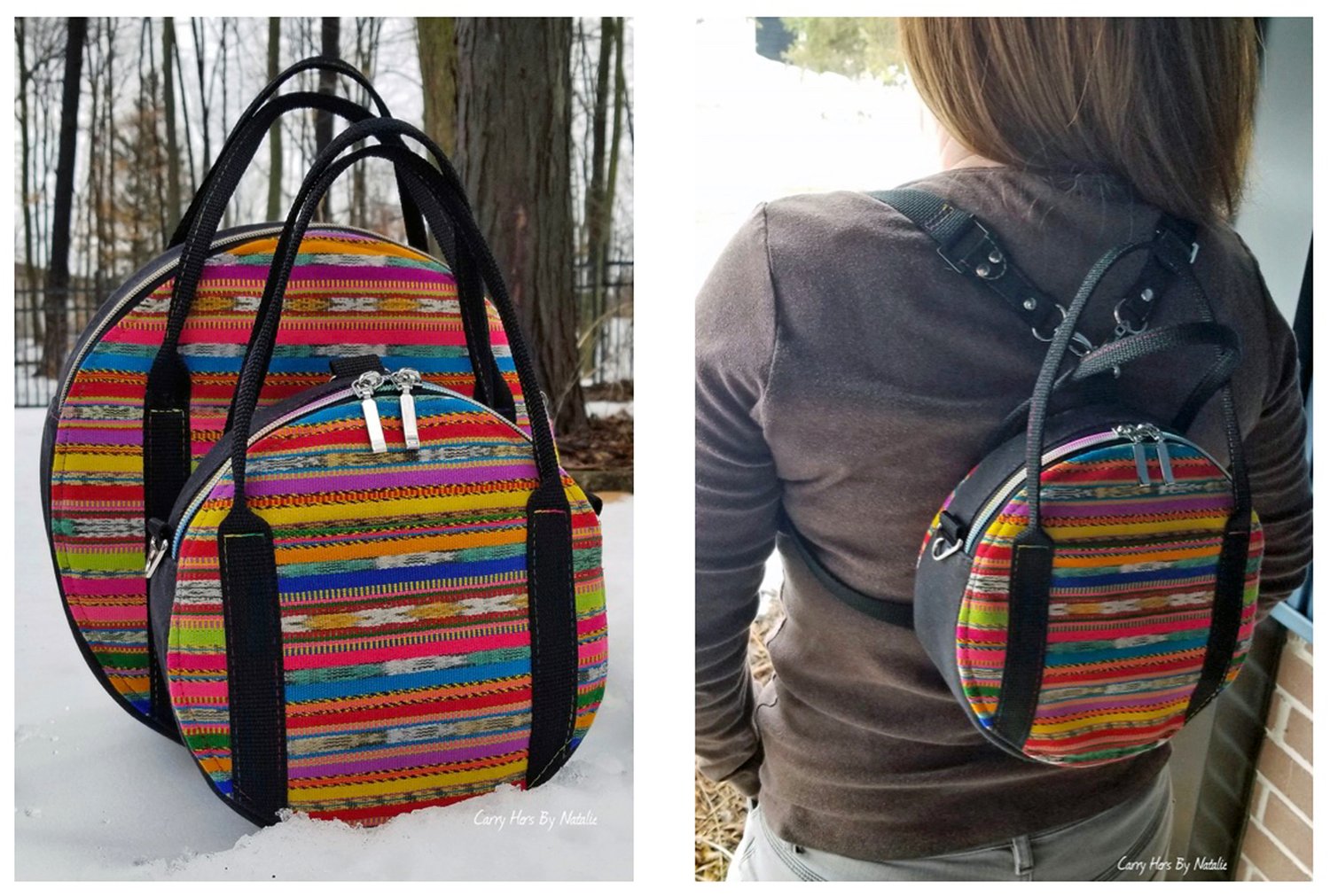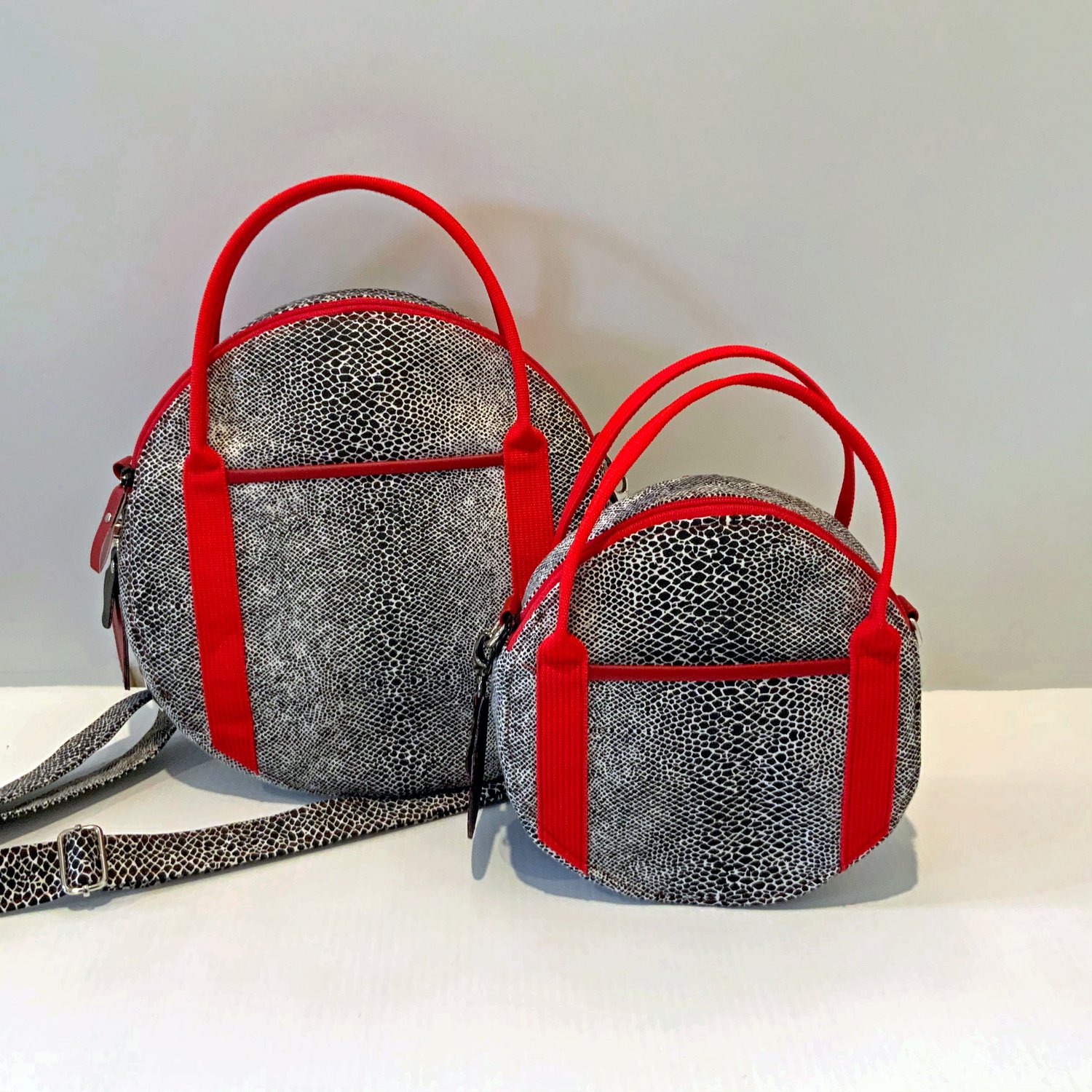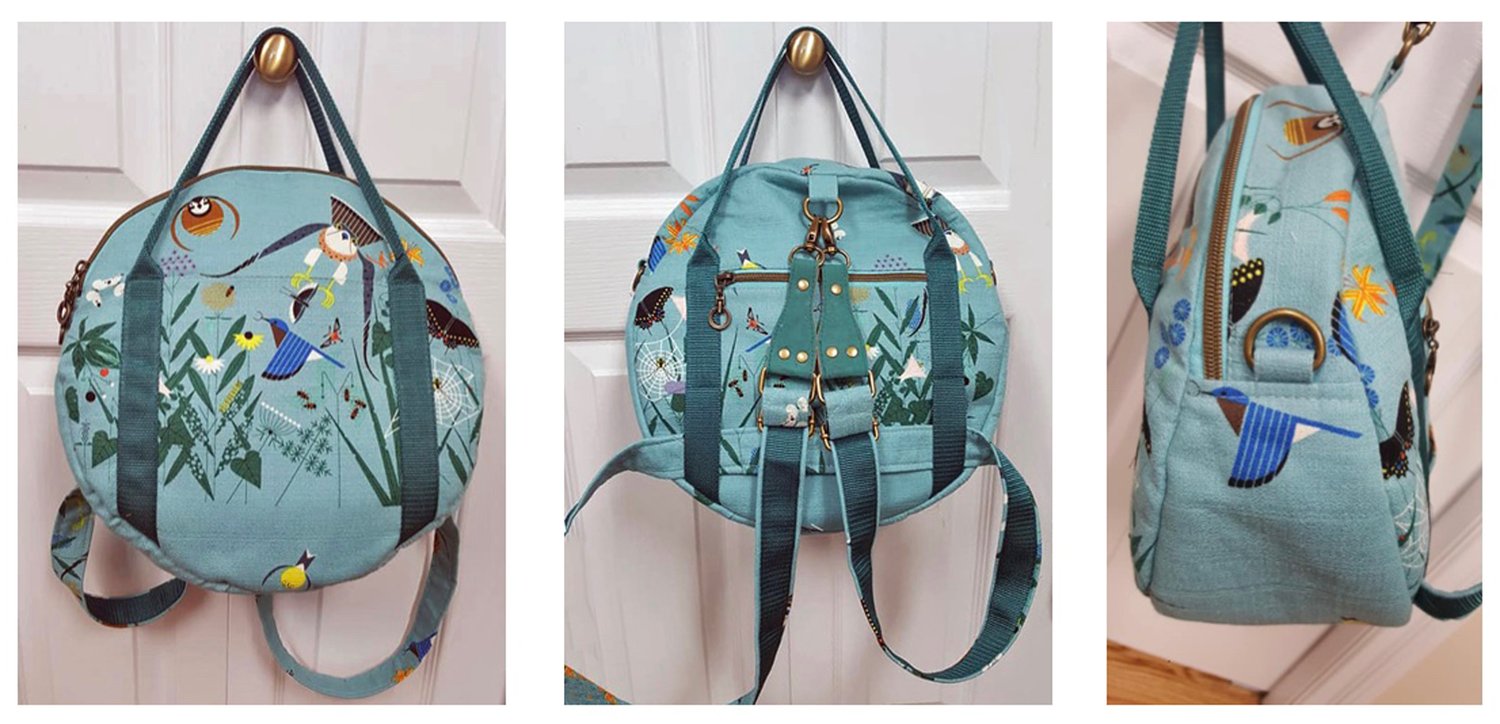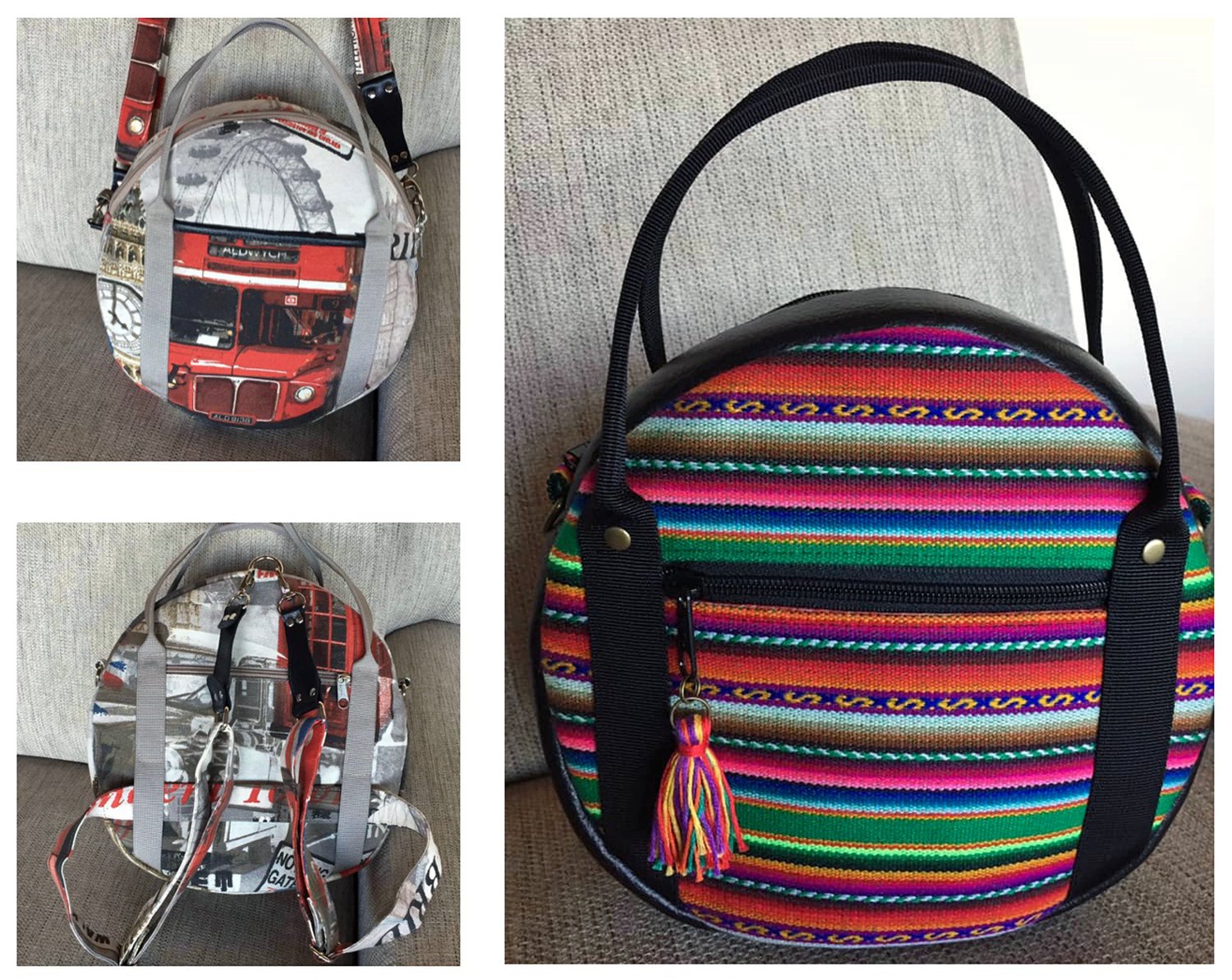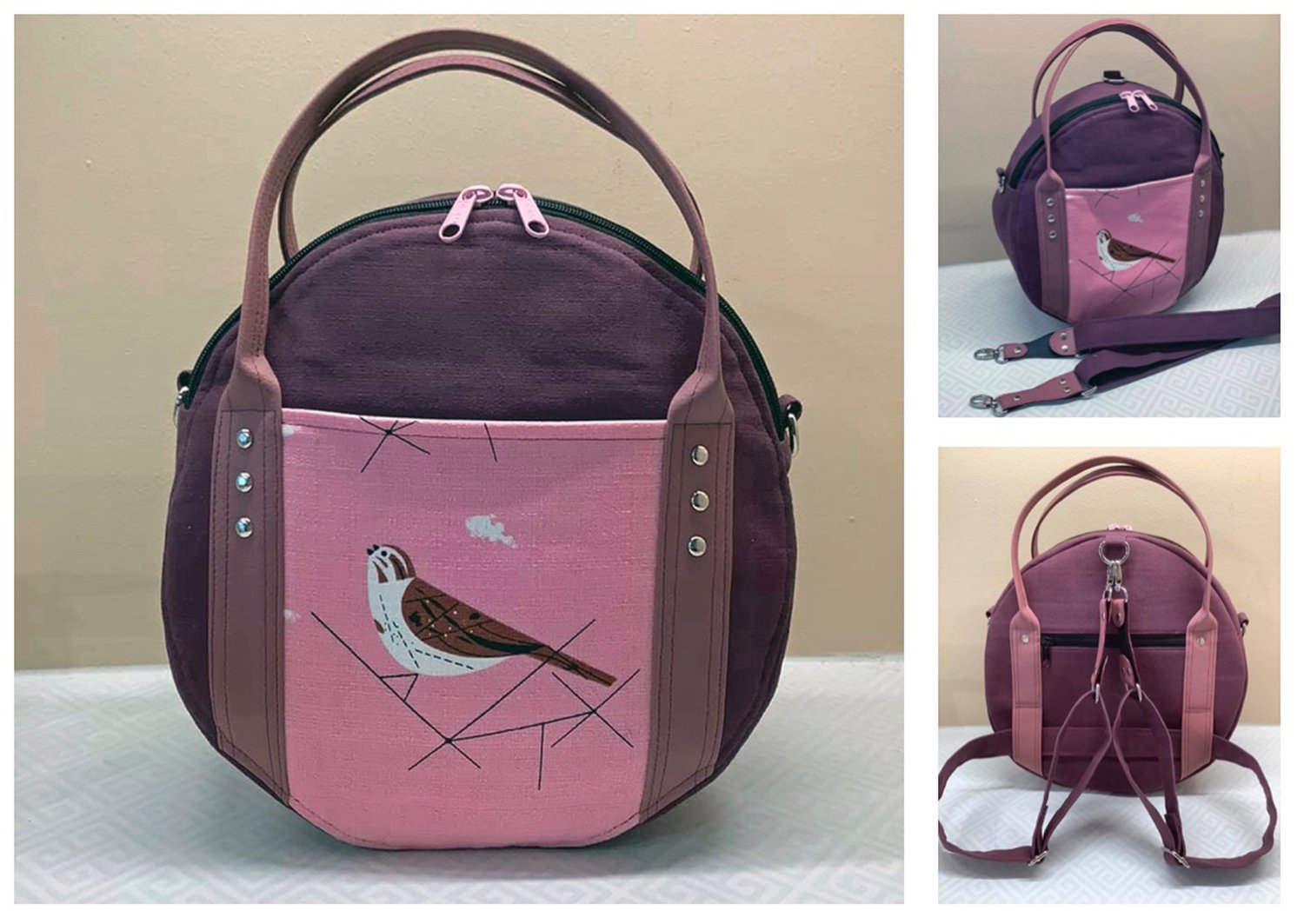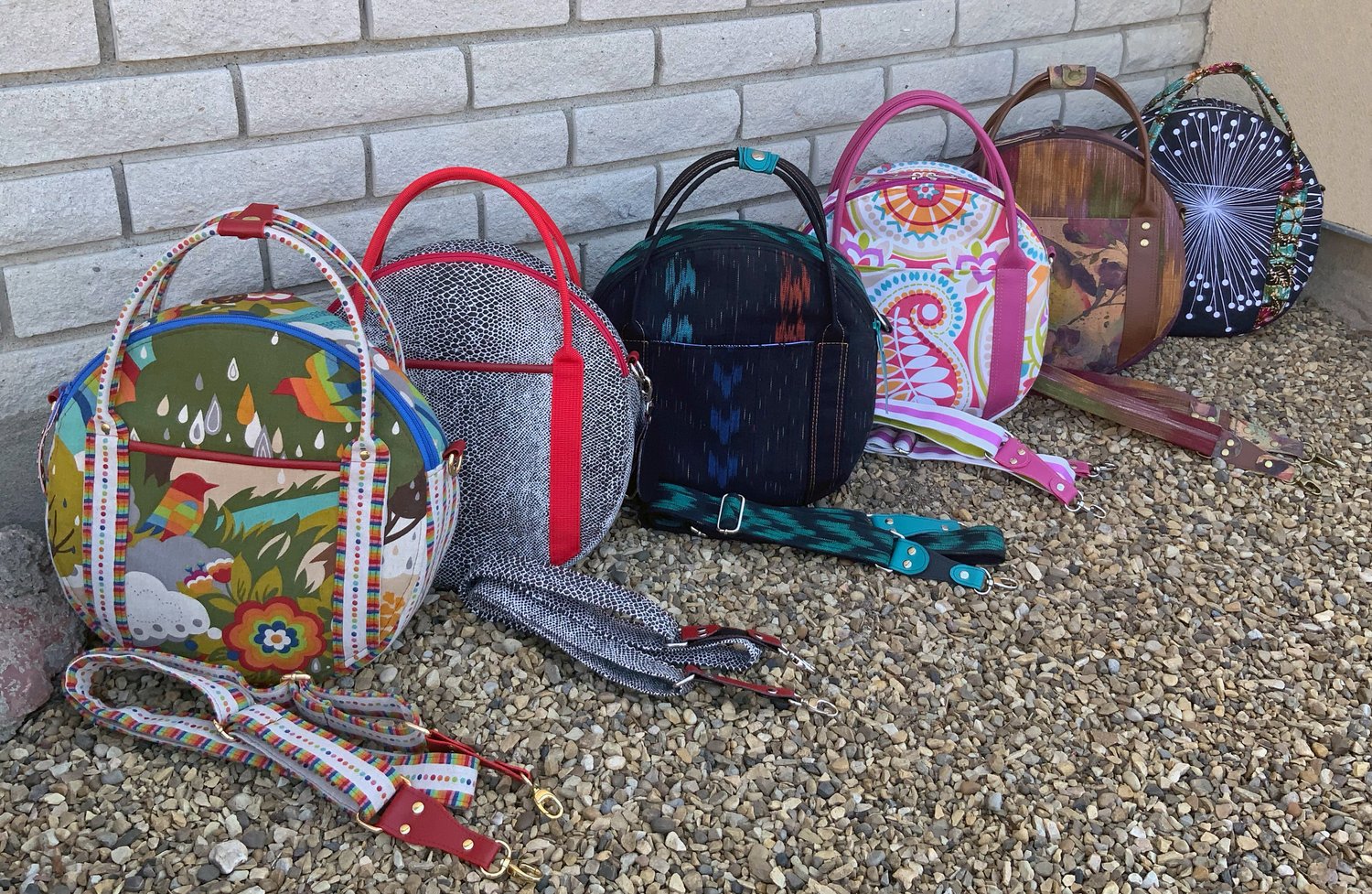 BABA BUNDLE - PARASKA and PEARL
On Sale
CAD24.00
This is a digital three-pattern bundle - both sizes, PARASKA and PEARL and full ROCK STRAP pattern.  Sorry, no returns.
A softly-structured, three-way bag with a curvy shape in two sizes
Finished Sizes:
PARASKA - 11-1/2" diameter x 5-1/4" base (29 cm x 13 cm)
PEARL - 8-1/2" diameter x 3-3/4" base (22 cm x 9 cm)
PARASKA and her smaller self, PEARL, are round, softly structured, wide-bottomed, three-way bags:
A handbag using the handles
A shoulder or crossbody bag using a ROCK STRAP, or
A backpack using the same ROCK STRAP.
FEATURES:
A soft, round bag with a big, broad, beautiful bottom achieved with a curved gusset
Soft and squish-able but sturdy and tough
Suitable for light to mid weight fabrics - quilting-weight, mid-weight canvas, twill
Firmer fabrics are also an option and will give the bag a firmer finish but may not be suitable for domestic machines
Intended to be soft but can be made with more structure by using foam on the gusset in place of the fleece
Exterior slip pocket on the front and secure zippered pocket on the back
Make as a handbag to be carried by the handles
Make as a shoulder/crossbody bag or a backpack by adding D-rings and an adapted ROCK STRAP. - the ROCK STRAP slips under the handles for the backpack conversion
Fully lined with inside zippered and slip pockets
Zippered gusset that allows the bag front to fold down for easy access
THE BUNDLE INCLUDES:
Patterns for both sizes, PARASKA and PEARL
Full ROCK STRAP pattern
BONUS pattern for MINI PEARL, a cute little bag charm
Pattern pieces to print for exterior, lining and fleece
Measurements for a few small rectangular pieces
Starting rectangular measurements for pre-fusing before you cut
Step by step directions and diagrams
Lot of tips for alternative techniques in TRY THIS
Our signature directions for insertion of zippered pockets
Labelling tags for easy identification of cut pieces
Suitable for domestic sewing machine if made from mid to light weight fabrics
MATERIALS and SUPPLIES
Exterior - 45 to 60" (114 to 150 cm) wide - Quilting cotton, light weight canvas. We do not recommend heavier fabrics such as denim if you have a domestic machine.
Lining - 45 " (114 cm) light-weight polyester/nylon or quilting cotton
Interfacing
1-1/2 yards 42" wide (1.4 m of 110 cm wide) mid-weight woven fusible such as Pellon 101 or equivalent
1 small piece -5" x 9" (13 cm x 23 cm) - of Pellon 809 Decor Bond for zippered pocket facings
1/2 yard (0.5 m) fusible fleece such as Thermolam
Contrast
1 - fat eighth (8" x 12") or equivalent fabric, leather, vinyl or cork for ROCK STRAP bridges
PARASKA:
15" (38 cm) - #5 coil zipper tape or equivalent finished zipper
1 or 2 #5 zipper sliders - your choice
9" (23 cm) of #5 zipper tape for exterior zippered pocket plus slider or equivalent finished zipper
9" (23 cm) of #3 zipper tape or 1 - 7" (18 cm) #3 finished zipper for inside zippered pocket
1 yard (1 M) of fold over elastic
PEARL:
12" (30 cm) - #5 coil zipper tape or equivalent finished zipper
1 or 2 #5 zipper sliders - your choice
8" (20 cm) of #5 zipper tape for exterior zippered pocket plus slider or equivalent finished zipper
8" (20 cm) of #3 zipper tape or 1 - 7" (18 cm) #3 finished zipper for inside zippered pocket
1 yard (1 M) of fold over elastic
BOTH:
Double-sided tape
Marking chalk or erasable pen. Check to ensure marks will erase from your fabric choice.
Clips or pins
Additional for crossbody version with 1-1/4" (3.2 cm) ROCK STRAP:
2 - 3/4" (1.9 cm) D-rings
2 - 1-1/4" (3.2 cm) rectangular rings for ROCK STRAP
1 - 1-1/4" (3.2 cm) adjustable slider for ROCK STRAP
2 - 3/4" (1.9 cm) swivel hooks for ROCK STRAP
Additional for Backpack version:
1- 3/4" (1.9 cm) D-ring
1- 1-1/4" (3.2 cm) adjustable slider for ROCK STRAP - this is an addition to the above
OPTIONAL:
Edge coat or Mod Podge for edges of non-woven