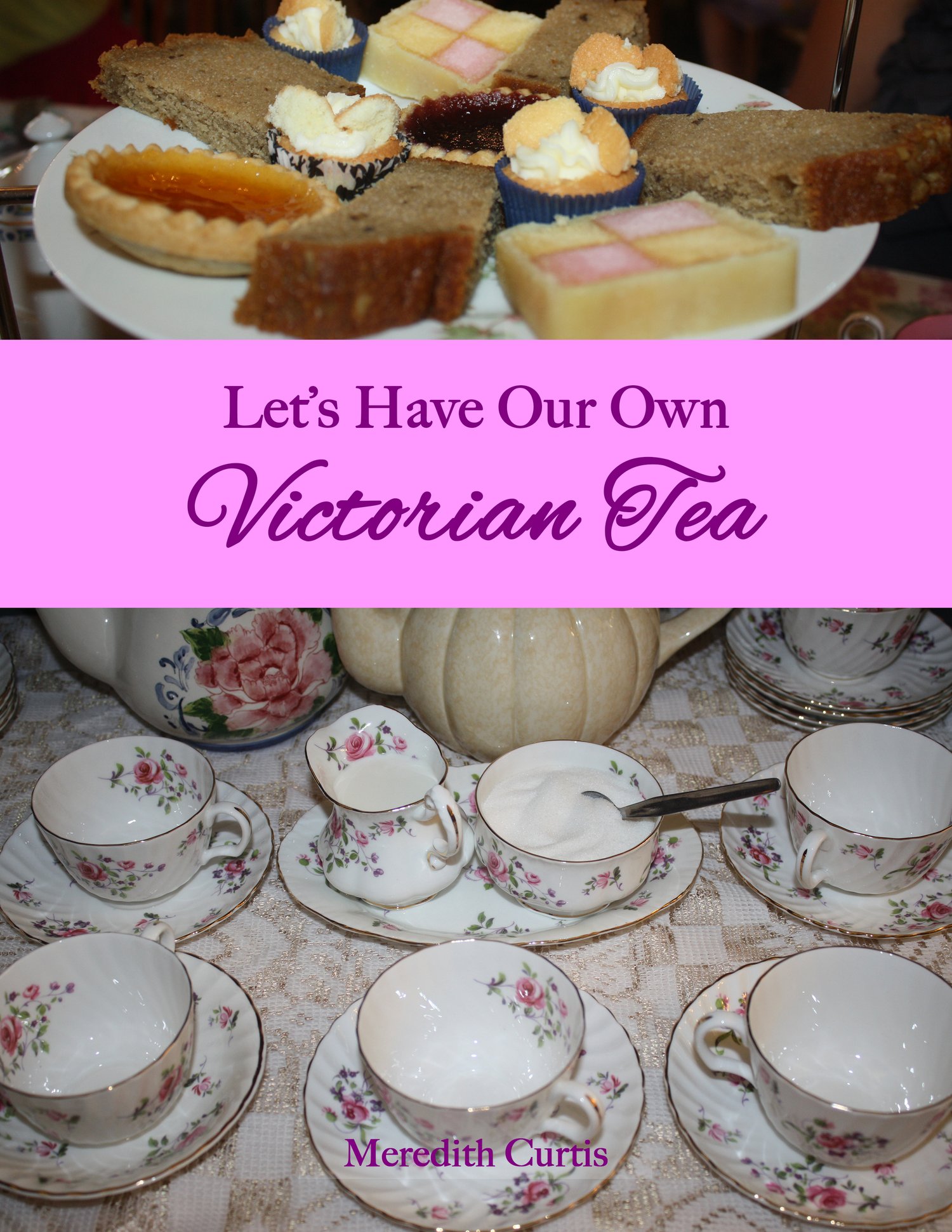 Let's Have Our Own Victorian Tea
On Sale
Do you ever imagine yourself living back in Victoria Times at a tea party sipping tea from a porcelain teacup?
There's something so romantic about tea parties, especially if it's a Victorian Tea Party. So, get ready to dress up and decorate with roses and lace to create your very own Victorian Tea.
In
Let's Have Our Own Victorian Tea,
learn how Meredith has hosted her own Victorian Tea including setting up/decorating the venue, scheduling the event, planning the menu, and dressing for the occasion. All plans are created to be adaptable to you and your family. The planning process is broken down to keep it simple. We have included conversation starters, hostess descriptions, decorating tips, fashion tips, Victorian poetry, and tons of recipes! You and your guests will have a cozy, elegant time.
BONUS GIFT:
templates to make your own lovely cardstock teacup 
Whether you are studying the Victorian Age or just want to have a special celebration, Let's Have Our Own Victorian Tea will take you step-by-step through the process of planning and hosting a Victorian Tea Party.
Starting out with a peek inside Queen Victoria and her family's life, you will learn about fashion, culture, and tea parties. What was a tea party like in Victorian England? How can you bring all that you learn together in your own event?
This is such a fun way to learn!
Or a great way complete a unit study
on the Victorian Age, Charles Dickens, Anne of Green Gables, Little Women, or tea!
We have included fashion ideas, crafts, and recipes!
You will receive helps & tips on...
How to Decorate
What to Wear
Icebreakers
Delicious Recipes
How to Set Up the Venue & Buffet Tables (complete with diagrams)
Who You Need on Your Team
Team Member Responsibilities
How to Greet Guests
You will also learn all about Victorian Times:
Queen Victoria
Prince Albert
Children of Albert & Victoria
Fashion
Manners
Food
Royal Family Education
History of Tea
History of Tea Parties
Tea Shoppes
High Tea
Cream Tea
​
Here are the chapters in Let's Have Our Own Victorian Tea:
How the British Took to Drinking Tea
Queen Victoria & Her Family 
Life in Victorian England 
Tea Time
A Victorian Tea Party
Our Victorian Tea Parties
Let's Plan the Victorian Tea Party
Setting Up the Tea
Victorian Tea Party Itinerary
Dressing & Crafting for the Tea Party
Victorian Poetry to Enjoy & Recite
Recipes
Resources for Studying Victorian Times
Author:
Meredith Curtis
Publisher:
Powerline Productions
Series:
Travel God's World & Teach History the Fun Way
Age/Grade:
Elementary, Middle, High, Adult, Everyone!
Pages:
123