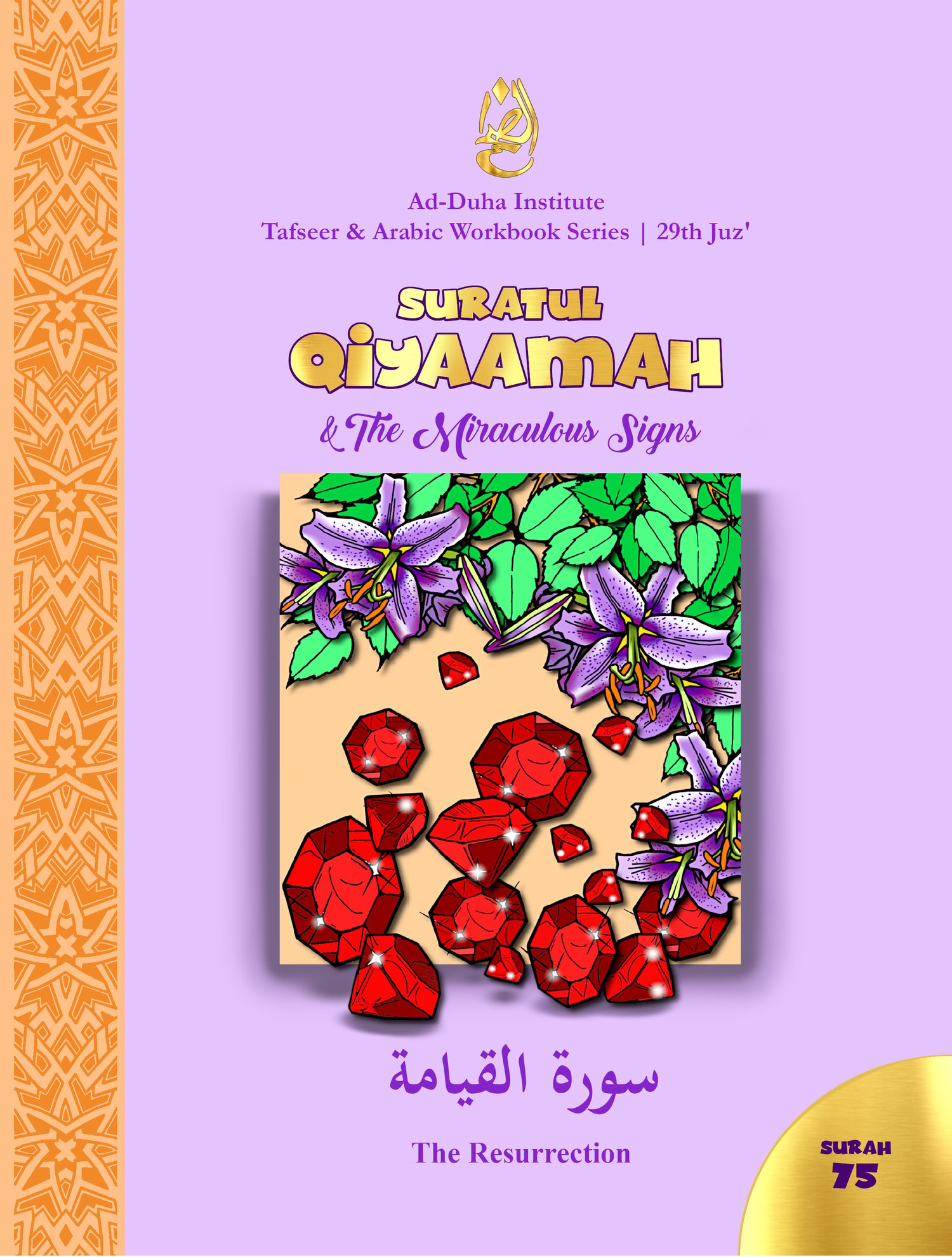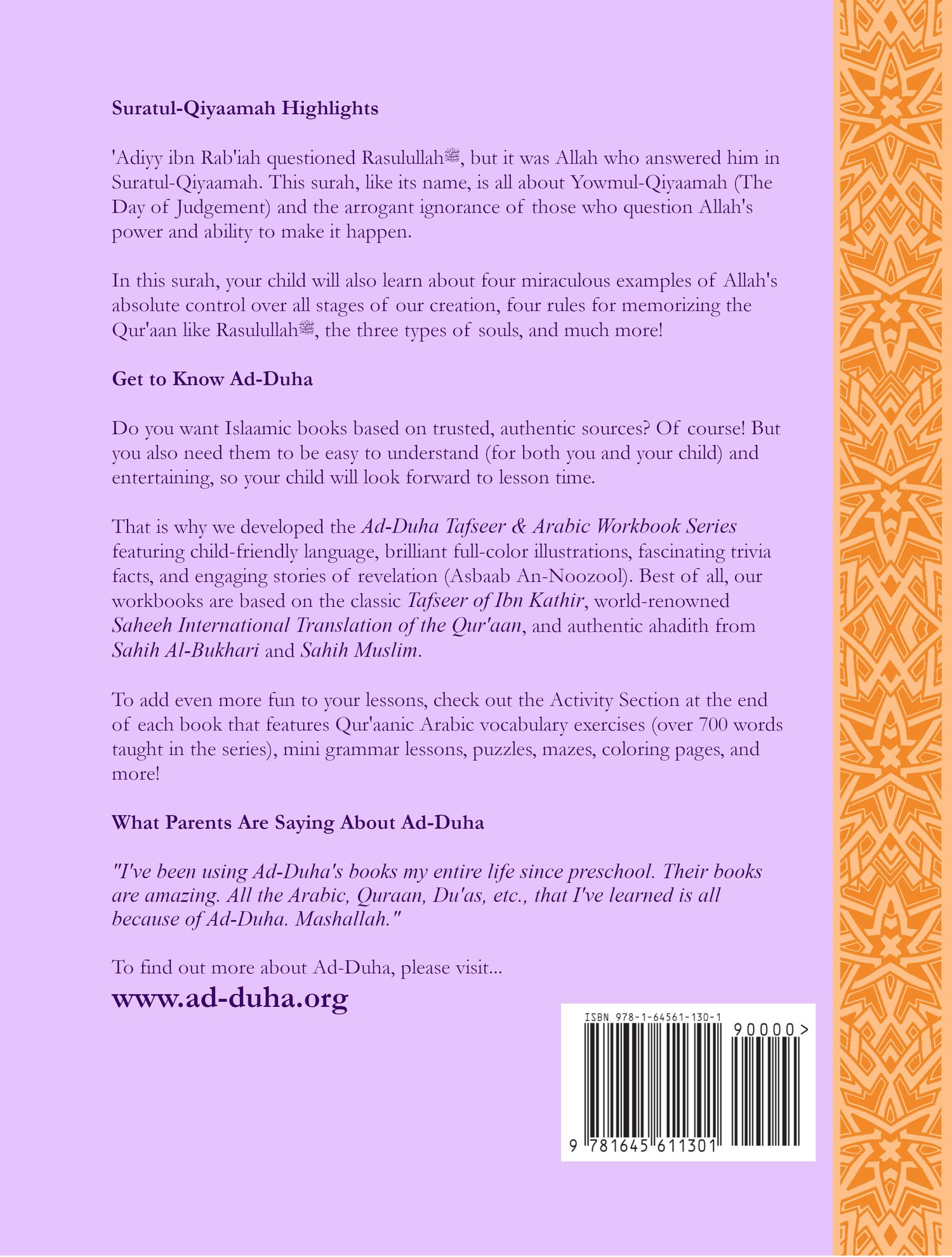 Tafseer & Arabic Workbook #75: Suratul-Qiyaamah & The Miraculous Signs
On Sale
Preview
Page Count: 138
Trim Size: 7.44" x 9.68" 
Format: e-Book (PDF)
Color: Full Color
Recommended for 3rd-5th Grade (as a read-along with an adult), 6th-7th Grade (for independent study). 
Summary:
'Adiyy ibn Rab'iah questioned Rasulullahﷺ, but it was Allah who answered him in Suratul-Qiyaamah. This surah, like its name, is all about Yowmul-Qiyaamah (The Day of Judgement) and the arrogant ignorance of those who question Allah's power and ability to make it happen. 
In this surah, your child will also learn about four miraculous examples of Allah's absolute control over all stages of our creation, four rules for memorizing the Qur'aan like Rasulullahﷺ, the three types of souls, and much more! 

Click below to see the book preview: 
Tafseer & Arabic Workbook #75: Suratul-Qiyaamah
Special Features:

Great introduction to the 29th Juz for children and teens
Full verse-by-verse Arabic text and English translation of the entire surah
Qur'aan Squad: Special Agent! (Qur'anic Arabic vocabulary exercises)
Detailed Qur'aan & Hadith references for everything taught
Bright, full-color illustrations
Excellent lessons from the Qur'aan and Sunnah
Entertaining activities to make learning fun
Footnotes explaining specific terms or Islamic concepts for new Muslims or non-Muslims
Available in high-quality paperback format as well (click here)

About the Series:
Do you want Islaamic books based on trusted, authentic sources? Of course! But you also need them to be easy to understand (for both you and your child) and entertaining, so your child will look forward to lesson time. That is why we developed the Ad-Duha Tafseer & Arabic Workbook Series, featuring child-friendly language, brilliant full-color illustrations, fascinating trivia facts, and engaging stories of revelation (Asbaab An-Noozool). Best of all, our workbooks are based on the classic Tafseer of Ibn Kathir, the world-renowned Saheeh International Translation of the Qur'aan, and authentic ahadith from Sahih Al-Bukhari and Sahih Muslim.

To add even more fun to your lessons, check out the Activity Section at the end of each book that features Qur'aanic Arabic vocabulary exercises (over 700 words taught in the series), mini grammar lessons, puzzles, mazes, coloring pages, and more!

What Parents are Saying About Ad-Duha:
"I've been using Ad-Duha's books my entire life since preschool. Their books are amazing. All the Arabic, Quraan, Du'as, etc. that I've learned is all because of Ad-Duha. Mashallah."

Copyright Notice:
Ad-Duha's mission is to help families provide their children with quality Islamic materials. Therefore, we ask that our customers help us in this task by honoring the copyright so that the school can stay financially viable (i.e., cover the costs of development, production, and marketing) through the legitimate sale of our products.

Purchasing books entitles you to use the books in your own home for yourself and your children. It does not grant ownership of the copyright or permission to make copies of the books for others in any form.

Please be aware that posting these books online, transferring them to a third-party printer/copier to be printed, sharing through email, or making additional copies (digital or print) for others outside your household (for free or for sale) is a breach of the copyright.

Any right not specifically mentioned herein is reserved by Ad-Duha Institute. For more information on copyright law in Islaam, please see the Copyright and Terms of Use link below (scroll down to the Fataawa Section):

https://www.ad-duha.org/terms-copyright