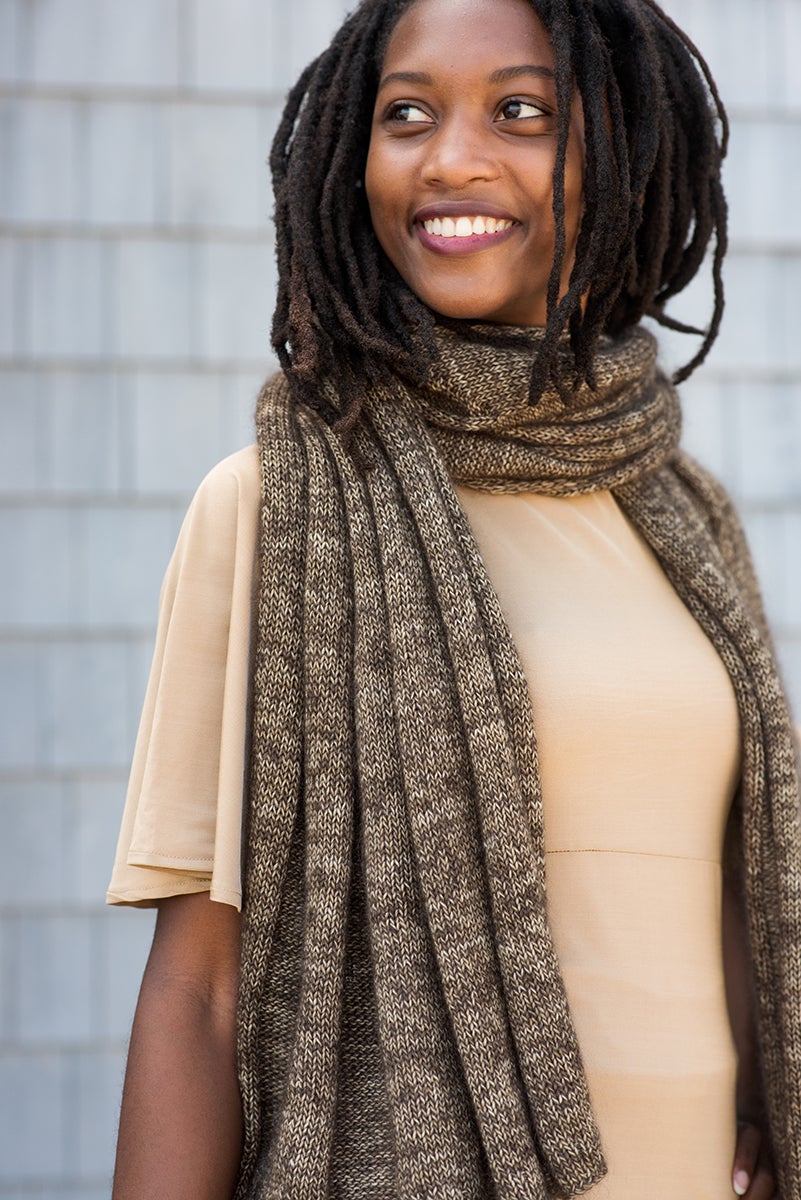 Rapport
On Sale
$8.00
Drapey, cozy, elegantly simple: Rapport is comfort knitting with a dramatic result. The design is completely reversible and symmetrical, so it looks good however you wear it. The combination of Shibui Silk Cloud and Tosh Merino Light yields a fabric that is soft and warm, with a comforting weight and flickering colour. To make Rapport, you need to know how to knit, purl, and slip stitches. That's it. The pattern includes instructions for three widths; the length is easily adjustable to suit your tastes. The sample shown is the largest size and is modeled by Josephine Ankarah, who is 5 ft 7 in/ 170cm tall.
Designed by Elizabeth Elliott in collaboration with Shibui Knits and Madelinetosh.
Sizes
Scarf (Narrow Shawl, Full Size Shawl)
13.25 in/33.5 cm (18 in/45.5 cm, 23 in/58.5 cm) wide x 78.5 in/199.5 cm long (length adjustable)
Yarn
Shibui Knits Silk Cloud
(60% kid mohair, 40% silk; 330 yds/300 m per .88 oz/25 g): 3 (4, 5) skeins (shown in Lovegrass)
Madelinetosh Tosh Merino Light
(100% superwash merino; 420 yds/384 m per 3.7 oz/105 g): 3 (4, 4) skeins (shown in Lovegrass)
Needles
US7/4.5 mm: 14 in/35 cm straight needles or circular needle: 20 in/50 cm or longer is recommended for Scarf and Narrow Shawl; 24 in/60 cm or longer is recommended for the Full Size Shawl (or size needed for correct gauge)
Gauge
23 sts & 29 rows = 4 in/10 cm in stockinette stitch with Silk Cloud and Tosh Merino Light held together, worked flat and blocked
Exact gauge is not essential, but differences in gauge will affect size and yarn requirements.
Notions
Yarn needle
About the yarns
Shibui Knits Silk Cloud is a laceweight, kid mohair/silk blend with incredible loft and a very high halo. Both fibres give this yarn a beautiful lustre, while the mohair fills in the spaces around the stitches, allowing the yarn to be knit at a loose gauge for a light, airy fabric with no memory or bounce.
Madelinetosh Tosh Merino Light is a fingering weight singles (1-ply) superwash merino yarn. It is kettle-dyed in the skein, giving a semi-solid colour. Superwash merino has some memory, though not as much as non-superwash; this memory helps the wrap keep its shape.
Both of these yarns are very soft and drapey. They each take dye differently, which gives depth to the fabric's colour when they are worked together. The semi-solid colour on Tosh Merino Light adds variation to the colour's intensity.
If substituting yarns for this project, you can either go with two yarns held together: a fairly springy fingering weight plus a high-halo laceweight for a fuzzy fabric with blurred stitch definition or a low-halo laceweight for a smooth, high-definition fabric. You could choose the same or similar colourways in both yarns, or go for contrasting yarns for a marled effect. If you'd prefer to work with one yarn only, look for a heavy fingering to sport weight yarn that gives a fabric you like at the pattern's gauge.
You will need approximately 995 yds/910 m (1350 yds/1234 m, 1730 yds/1582 m) of each yarn if holding two yarns together, or 995
yds/910 m (1350 yds/1234 m, 1730 yds/1582 m) of a single, heavy fingering to sport weight yarn. In the sample, I used less of the Tosh Merino light—using doubled yarn can be weird and unpredictable that way—so I've given the larger amount for each yarn to
be on the safe side.