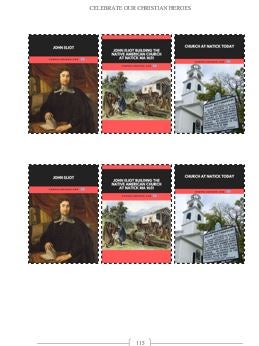 Celebrate Our Christian Superheroes
On Sale
$25.00
Our Culture Loves Super-Heroes!
Hey, we all love heroes, but let's let our children meet God's heroes!
Would you like to teach your children about church history with a Heroes for Jesus Party? It's a blast!
We have celebrated our Christian heritage and history with Heroes for Jesus Parties for years. Everyone always has a grand time! We love making memories while we learn together about mighty men and women who have changed the world for the glory of God!
Instructions are given for setting up your own Heroes for Jesus Party, along with monologues and costume suggestions for each hero and heroine. You just need some volunteers to dress up as a favorite church history hero or heroine and stay in character for a couple of hours. There is also a game or activity for each station.
Here are the heroes and heroines in this book:
Apostle Paul
Polycarp
St. Valentine
St. Nicholas
Athanasius
St. Augustine of Hippo
St. Patrick
Pope Gregory the Great
St. Caedmon
St. Bede the Venerable
St. Francis of Assisi
John Wycliffe
John Huss
John Calvin
Martin & Katie Luther
John Knox
Lady Jane Grey
Count Nicolaus Zinzendorf
John & Charles Wesley
William Carey
William Wilberforce
John Newton
John Eliot
David Brainerd
Hiram Bingham
George Mueller
David Livingstone
James Hudson Taylor
Lottie Moon
Mary Slessor
Amy Carmichael
William Cameron Townsend
Corrie ten Boom
Nate Saint
Jim & Elisabeth Elliot
Brother Andrew
Mother Teresa
Derek & Lydia Prince
Bill Bright
Edith Schaeffer
Billy Graham
Nicky Cruz
Joni Eareckson
Chapters in Book:
Celebrate The Saints
Different ways to celebrate Christian Heroes
A Perfect Halloween Alternative
Our Journey Away from Halloween, Information on Halloween, and Scriptures to Ponder
Heroes & Super-Heroes
Heroes of Yesterday & Today, Why Heroes Matter, and Our Only Super-Hero
Heroes for Jesus Party
Instructions for having your own Heroes for Jesus Party: Time, Place, Your Team, Itinerary, Set-Up, Stations, Decorations
Hero Dialogue & Station Activity
Meet all the heroes. Grab each hero's Monologue, Costume Suggestions, and Game/Activity Idea
Fabulous Fall Recipes
Great snack, breads, soups, salads, drinks, and dessert recipes to serve at your Heroes for Jesus Party
Resources
FREE Paul's Journey To Rome Game​ with template/instructions to make your own board game.
Banner & Invite Samples, Nicene Creed, Luther's 95 Theses, and our Statement of Faith.

In addition to learning how to have a Heroes for Jesus Party, let's take a peek at ways to celebrate the Saints and why heroes matter. We will also take a serious look at Halloween. Of course, we have to add autumn recipes to make and bake for your festivities.
As a bonus, you will receive the template and instructions to make your own board game: Paul's Journey to Rome. We love this game! It's easy and fun to put together. You will just need to add dice and purchase some Tootsie Pops.
Enjoy!
Series: Celebrate
Author: Meredith Curtis
Game Creator: Laura Nolette
Publisher: Powerline Productions
Paperback: 224 pages
Age/Grade: Parents & Children's Bible Teachers