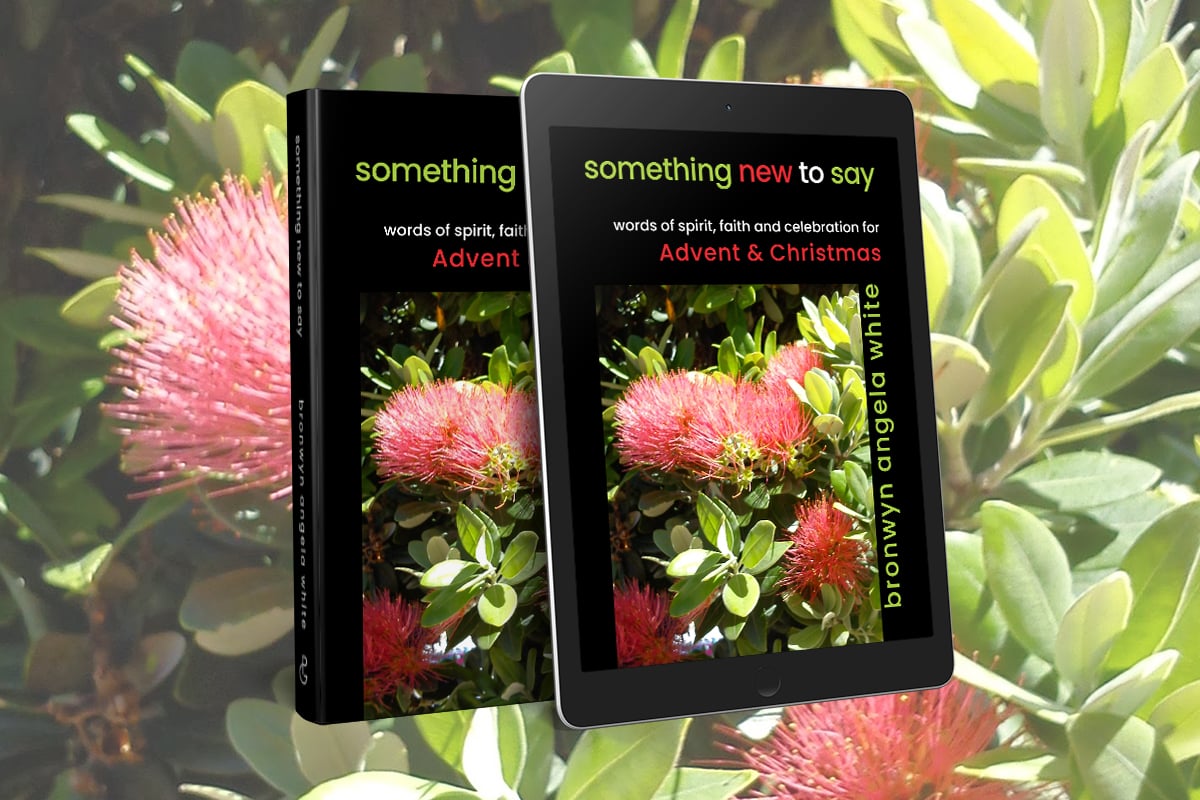 something new to say – eBooks (PDF, EPub, Mobi)
On Sale
something new to say: words of spirit, faith and celebration for Advent and Christmas
by bronwyn angela white
You are buying eBook editions of this 70 page book in PDF, ePub and Mobi formats.
The ISBNs are: PDF 9781991027382; ePub/Kindle/Mobi 9781991027399
You can download 1, 2 or all 3 eBooks. 
After paying for your eBook/s you will be provided with links on screen to download them immediately. You will also receive an email link to download them later.
See the bottom of this page for details of other places to order this eBook and also the Print editions. 
---
Description
Something new to say is a collection of liturgy resources for the season of Advent and Christmas.
Author Bronwyn White lives in Aotearoa New Zealand, where Christmas comes at summertime.
This collection celebrates a festive season where pohutukawa and rata are in bloom, friends gather around barbecues or picnic at the beach on Christmas Day, and many people travel to catch up with family or enjoy school holidays.
The prayers, affirmations, reflections, and blessings are in inclusive language, with an emphasis on "faith not belief" and social justice. This book is ideal for progressive and liberal faith communities and churches.
Lay and ordained worship leaders will find them especially helpful, and there's plenty for individual contemplation and enjoyment too.
About the words

Everything in this book—including the poetry—was written to be read, presented or performed aloud.
Several pieces were written as litanies, with 'the leader' beginning each section and 'the people' responding with the lines in italics.
On the page, some of the liturgical works will seem repetitive. In
you who delight me
, I grouped items with similar themes or formats to show how simply a basic outline or idea can be varied for different situations.
In this book, I've grouped writing by type—prayers, reflections, blessings etc—and especially with the prayers you might like to pick and mix paragraphs to create a different form or format for your occasion.
When the ideas are fresh, you can use a familiar form to introduce inclusive, liberal and theologically progressive concepts to a more conservative audience.
I hope these resources will be enjoyed and shared by anyone who sees the sacred in the everyday.
Reviewers comments
"Bronwyn's words are more powerful and real than a thousand theological treatises on incarnation."
Rev Dr Margaret Mayman
Contents
Poems and Prayers
A world safe for a new born baby
Emergency responders & peace-keepers
Entertaining angels
In this season of Advent and wonder
Let us be the gift we long for
Love born in us this day
Red tape, red ribbon
Refugee child
Signs of home
We wait in the silence of this whare kōwhanga
Spring to summer
Suddenly there is light all around
We ask—and answer
Wonder of life-stories told afresh
You who delight me
Affirmations, calls to worship & responses
Affirmation of faith for Advent
Come, let us walk the road
Star—Light—Word
Word made flesh in a baby
Word reborn—embodied
We crouch with Mary on the straw
Reflections
Angel messages
But where are the others?
Doors wide open
Gifts for a baptism
Holy Families—outrageous possibilities
I have to differ
Kissing the face of God
Mary full of grace—Anna's story
Mary to Elizabeth
Blessings
Celestial brightness
Christmas Blessing
Courage of a teenage Mary
Hope, joy, love of Christmas
Blessing of Water and Spirit
Glossary and References
Definition of te reo Māori words
References
Thanks again
Praise for "you who delight me"
---
Other places to buy this eBook
Click the links to order:
Amazon.com
 | 
Amazon UK
 | 
Amazon Aust
Kobo NZ
 | 
Kobo UK
 | 
Kobo USA
 | 
Kobo Aust.
| 
Smashwords
Places to buy Print editions 
 [More links coming soon]
Click the links to order:
PGPL NZ
Amazon.com
 | 
Amazon UK
 | 
Amazon Aust