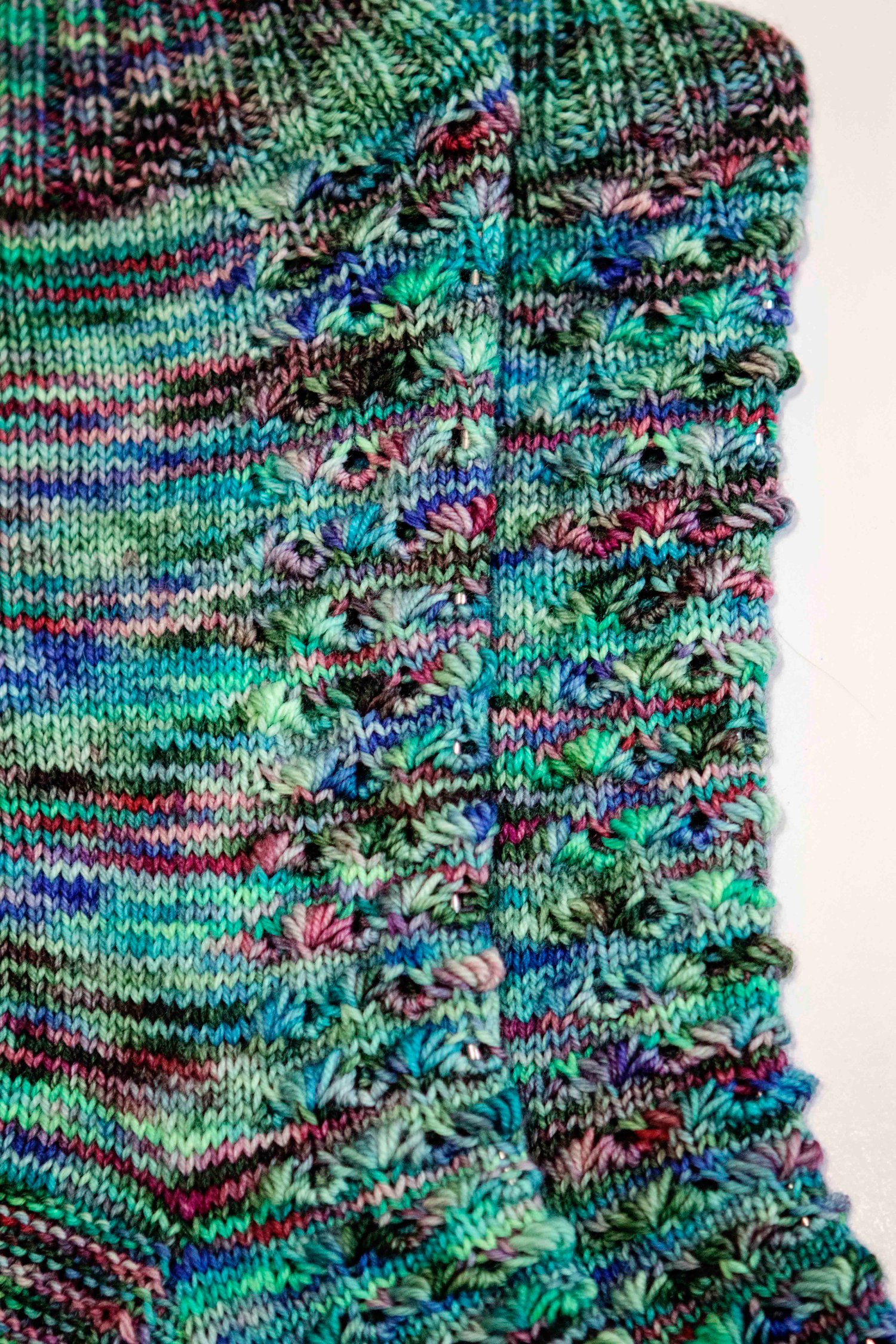 Cocoon Socks
On Sale
£4.00
This pattern is part of The Cosy Sock Club Collection - A Sock Pattern Club by the Knitting Expat. It is exclusively available for Club members only until 1 January 2019 - You can purchase the club Ebook at any point to get this and the other patterns in the collection before then.

The inspiration for this design was to incorporate a combination of stitch techniques which look complicated in the finished fabric but are actually quite simple to knit once you know how it all works. (there is a Video tutorial included in the pattern showing you how to work all these techniques). I love how these socks look in variegated yarns and I know they would work beautifully on all different dye styles as well so this a great one to really go crazy with colour!

There is a tutorial linked in the pattern which shows you how to work the special stitches if you prefer a more visual guide.

From 1 January 2019 this and all the other patterns in the collection will be available for individual purchase.

What you will need:
• Yarn – 100g Sock Yarn (approx. 365-400m / 400-440 yds) Sample knit in Babbles Yarn in the Calypso Colourway (75/25 Superwash Merino / Nylon).

• Needles – 2.25mm or 2.5mm (US 1 or 1.5) on a Long cable for magic loop (I suggest 40" / 100cm for two at a time knitting).

• Notions – Stitch Markers if you wish to mark pattern repeats. I also use a progress keeper to keep track of my row count and how many rows I have done (this can also work to mark the instep side of your work).

• Gauge – Approx 8 sts/inch in stockinette

• Size – Socks are sized in a XS, (S, S/M, M, M/L, L, XL). Sizes are based on foot circumference and not length as you knit the sock as long as you need to in order to fit the recipient. Please also note that socks need to have about 1-2 inches (2.5-5cm) of negative ease in order to provide a nice snug fit around the foot without being too baggy. Further, socks will loosen up over time and with wear so personally I prefer a nice snug fit at the start to reduce this effect later.

48sts - X Small for a foot circumference of approx. 6-7 inches
56sts - Small for a foot circumference of approx. 8-9 inches
60sts - Small/Medium for a foot circumference of approx. 8.5-9.5 inches
64sts - Medium for a foot circumference of approx. 9-10 inches
68sts - Medium/Large for a foot circumference of approx. 9.5-10.5 inches
72sts - Large for a foot circumference of approx. 10-11 inches
80sts - X Large for a foot circumference of approx. 11-12 inches
Notes for Printing:
• Instructions for Cuff Down are on Pages 4-5
• Instructions for Toe Up are on Pages 6-7
• Stitch Pattern instructions are on Page 8-9
• German Short Row Heel instructions is on Page 10-11
• Modified Heel Flap Adjustment instructions are in a separate PDF that can be found with this pattern in your Ravelry Library.

If any links within this document do not work directly from the document then please copy and paste into your web browser.

Note about Instructions:
• Instructions are shown XS (S/S-M/M/M-L/L/XL) throughout the pattern, where stitch counts vary.

• I knit my socks using the Magic Loop method, however the pattern can be adapted to be used with DPN's or 9inch Circulars or your preferred method for knitting socks.

• Instructions are provided for both Cuff Down and Toe Up. The Cuff Down method is first followed by Toe Up instructions. A general outline of the sock construction is first provided followed by the stitch pattern to be used for the leg and foot.

• At the end of the pattern you will find the generic instructions for the German Short Row Heel which is worked exactly the same way for both Toe Up and Cuff Down socks.

• To work the GSR heel in Garter Stitch you will just need to knit every row rather than purl the wrong side rows.

• The Modified Heel Flap Adjustment (MHFA) instructions can be found as a separate PDF download along with this pattern. This was done to reduce the file size of this pattern.