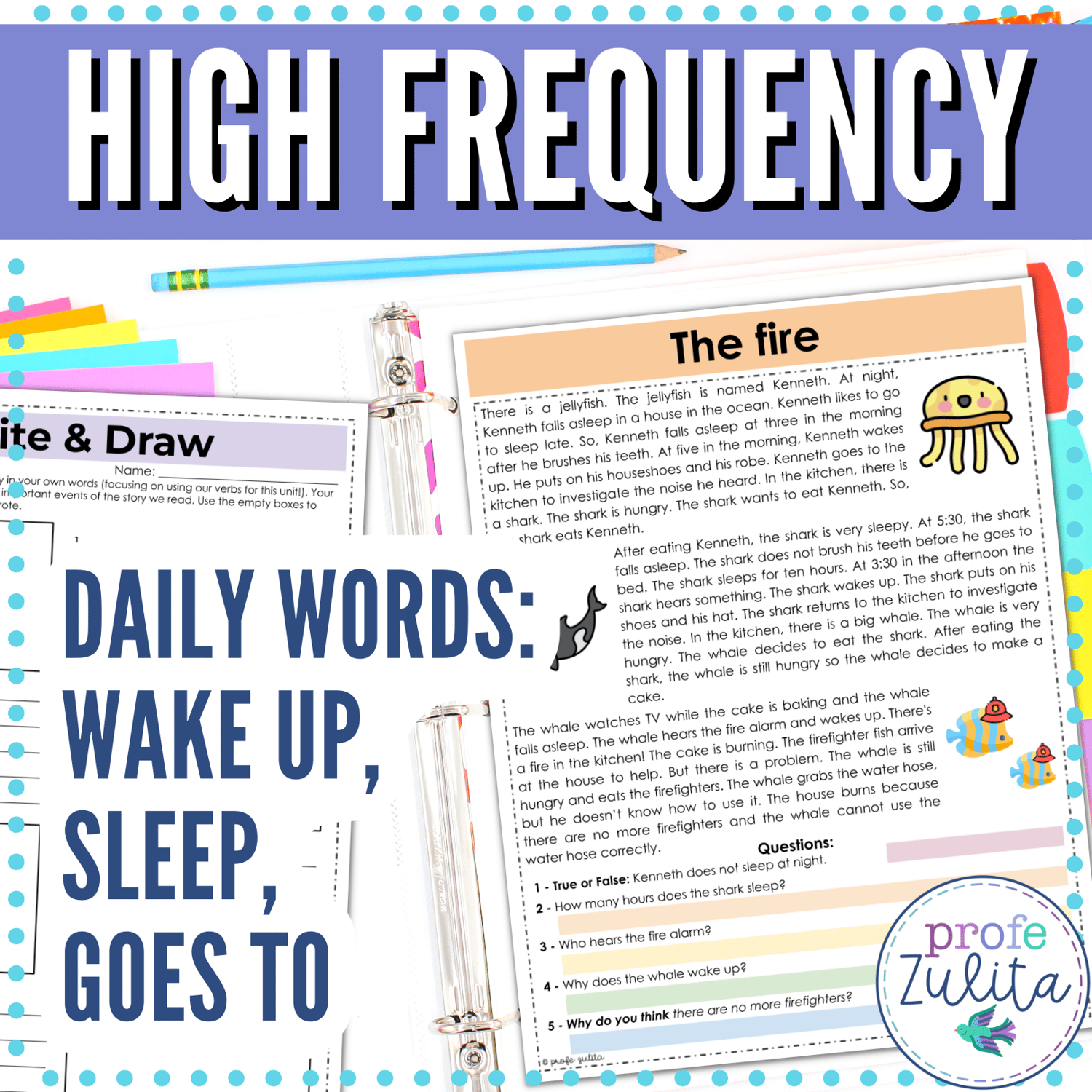 3 Reading Comprehension Stories & 7 Activities Level 2 : Beginner + ESL Newcomer
Preview
This English comprehensible input story set features high frequency verbs in the present tense. This Level 2 ESL / ELL short story set is accompanied by various reading comprehension check activities. Students will receive lots of comprehensible input with daily verbs: wakes up, falls asleep, goes to as they read. This English short stories set is perfect for ESL / ELL classes for both young and adult students. This short stories set would also be a great for extra reading practice. Check out the preview to see the stories and activities!
Story Preview:
Story 1:

 A group of students goes on a trip to a ghost town

Story 2:

 A jellyfish wakes up to find a guest in his house

Story 3:

 Two cats meet on the Titanic
Includes:
- 3 ESL comprehensible stories
- Each English story has editable text
- Each English story includes a text only and a version with reading comprehension questions
- 4 reading comprehension check activities for all stories
- 1 individual reading comprehension check for each specific story
- PDF and digital format
Teachers like you said:
⭐️⭐️⭐️⭐️⭐️ - "The students were engaged in the activities and short stories. I used this with Freshmen ESOL students. Teaching 26 ESOL students can be very challenging for 90X2 minutes a day. Activities like these are a nice way to engage their creativity while interpreting the material." 9th grade ESL / ELL
⭐️⭐️⭐️⭐️⭐️ - "I love this resource because it gets my ELL students talking and learning!" Middle School ESL / ELL
⭐️⭐️⭐️⭐️⭐️ - "These are really neat and simplified texts for ELLs. Thanks." Middle School ESL / ELL
⭐️⭐️⭐️⭐️⭐️ - "Perfectly accessible for my newcomer ELs. I was happy to find a resource that was perfectly comprehensible for them!" - 4th / 5th Grade ESL / ELL
This product contains a PDF download with a link to a Google Drive folder. You will need to make a copy of the files in the folder to access them.