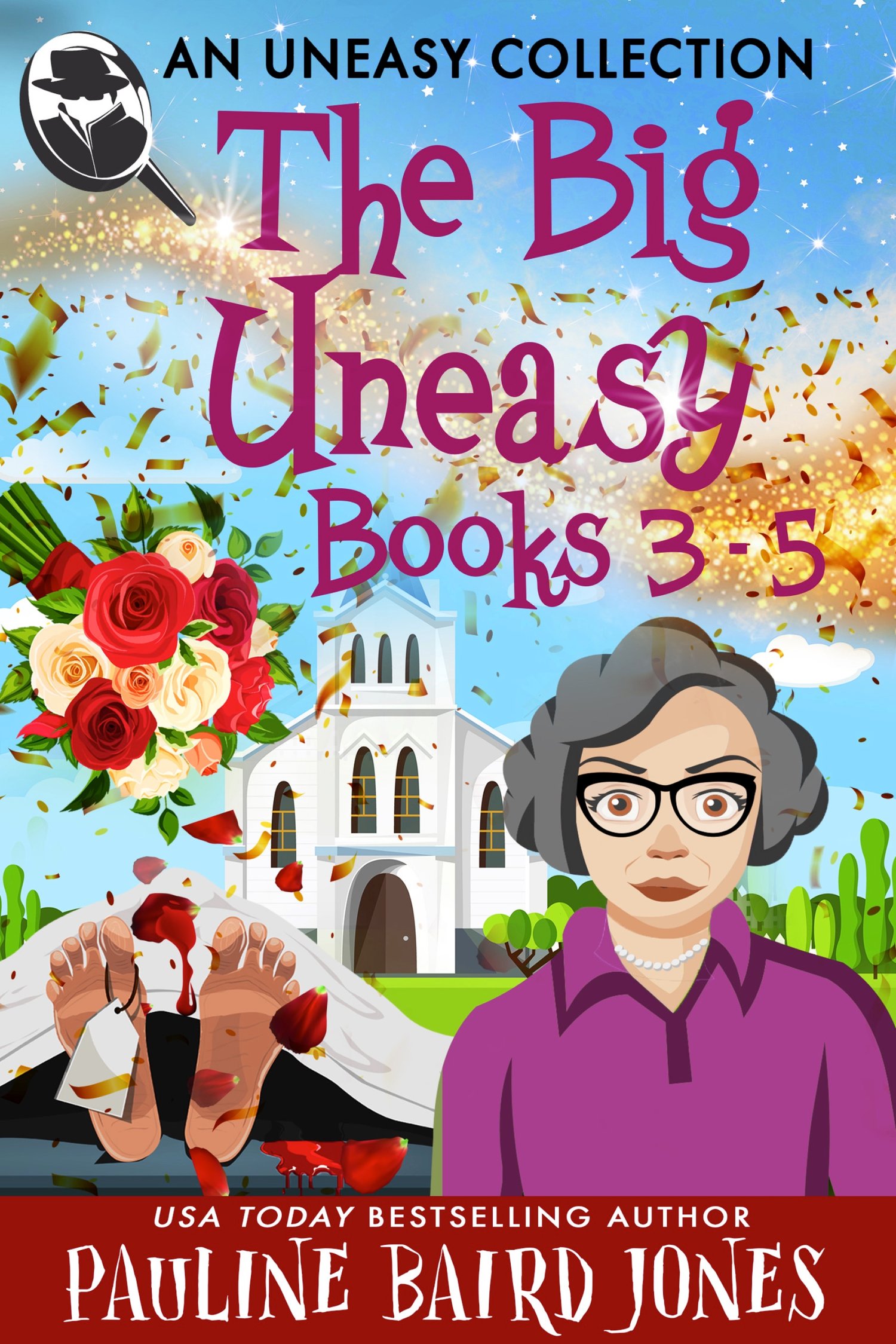 An Uneasy Collection: The Big Uneasy Books 3-5
Rapid pacing, a sense of humor, lovable characters, and the no-holds-barred New Orleans setting make for a perfect storm of a mystery series. Take your armchair trip to the Big Easy now!

This collection includes The Big Uneasy Books 3-5.

- Louisiana Lagniappe -

Becca Smith Poole should have known her forty-fifth high school reunion would be anything but normal - especially when a dead body turns up! Renowned for her problem-solving skills, Becca is determined to discover who the murderer is - and if her former high school crush is still as handsome as he was in their younger days. The first will take some time to solve, the second one took her breath away.

Retired detective Zach Baker has been lonely since the last of his Baker's dozen moved out. When he sees Becca Smith's picture in the "where are they now" brochure, he wonders if this might be a first chance for him with the gal he could never connect with in high school. But before he can ask her out, a murder breaks up the party.

Lucky for him, his son's upcoming wedding is full of problems requiring Becca's professional problem solving touch. Can a retired cop and a mystery reading problem solver unmask a killer before the wedding? Even more challenging, can Zach convince Becca that there is no end date for falling in love?

Dive into the next installment of the Big Uneasy series that reviewers have said will "make the reader feel as if they've been plopped down right in the middle of the Big Easy." Get Louisiana Lagniappe: The Big Uneasy 3 now!

- Worry Beads - 

Laura Baker has seen a lot during her job as a New Orleans EMT. She has responded to just about every type of emergency known to man. An unexpected act of kindness during one call puts her on the news—and her life and heart at risk.

Archie Gunn receives an unexpected tip that sends him to the beautiful and mysterious city of New Orleans. His trip opens up more than he expects –and a bayou full of danger. There is a lot going on in New Orleans and it isn't all good times and Mardi Gras.

Download the latest installment of The Big Uneasy series and discover what happens in New Orleans can be downright deadly!

- Fais Do Do Die -

He kicks down doors, and she serves hors d'oeuvres. And the Big Uneasy delivers them both a huge helping of high stakes danger—and a chance at romance.

A happy ending skeptic and caterer, Sarah Burland has a high profile gig at a fundraiser. It's a coup for her catering company until murder kills the party spirit and triggers a hostage situation. 

SWAT Team Member Calvin Baker's job cost him his marriage. He's done with romance—even if he does find himself taking an interest in a family friend, Sarah, from time to time. He's sure his feelings are platonic until he finds out she's caught in a hostage situation. 

Cal's team affects a rescue, but Sarah's troubles aren't over. The victim's friends—and enemies—keep trouble cooking, and the deeper they dig, the more confusing things get—and the more their attraction to each other grows.

Can the cook and the cop survive long enough to work out their differences? Take a ride into another installment in the engaging Big Uneasy series and find out!

Book your armchair trip to New Orleans now!