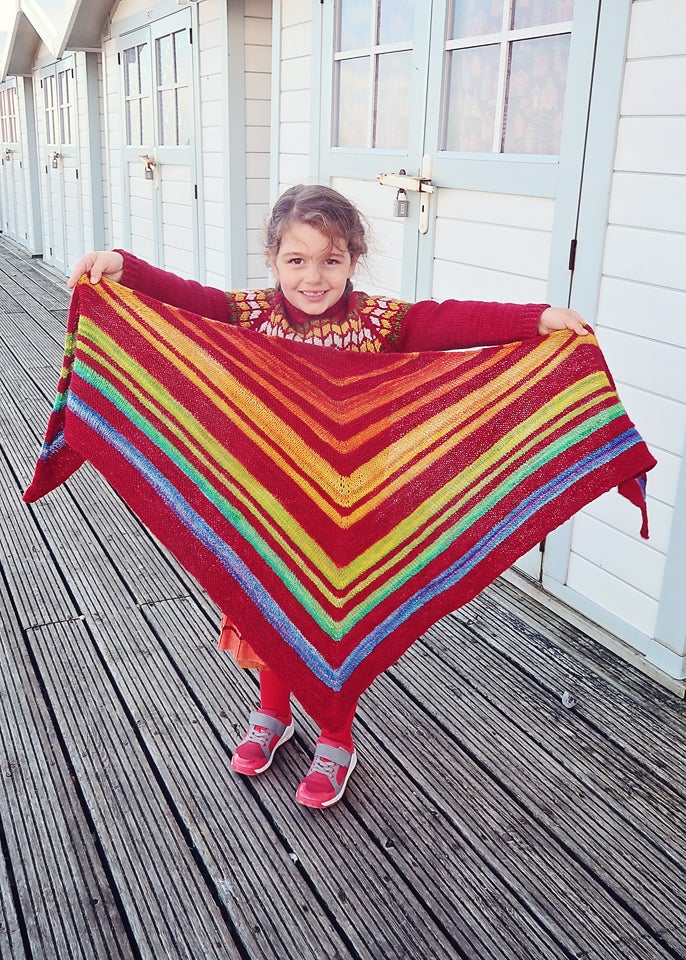 Uniquely Yours Shawl
On Sale
£0.00
I designed this shawl specifically to show off the uniqueness of handspun yarns, however it will work wonderfully with any kind of yarn handspun or otherwise! In fact this shawl was knit with a combination of handspun and commercially spun yarn!
I wanted to offer this shawl to you all for free as a thank you for all of your support with my designs over the last several years! It was a joy to design this one and I hope you will enjoy it just as much when you knit yours.
If you feel so inclined and would like to support me in being able to offer this pattern for free you can always donate to my
KOFI ACCOUNT
This shawl is super simple and meant to be an easy knit to show off some fun coloured or textured yarns. The joy of this shawl is that you can make it as big or as small as you would like just by adjusting the yarn weight or quantity of yarn you use.
You can use as little as two 50gm balls of fingering weight yarn to get a small shawlette, or even as much as 5 or 6 skeins (or more) of worsted weight yarn for more of a blanket shawl! It really is all up to you! Although please note, if you are changing your yarn weight you will also want to look at adjusting your needle sizes too.
I've named this shawl Uniquely Yours as how long you knit each section for can be chosen at random by yourself, your child, a Random Number Generator or even by the Roll of the Dice, making the finished object uniquely yours as there wont be another shawl like it!
What you will need
:
•
Yarn
 – 100-200gm of Fingering Weight Yarn in 2 colours. Yarns used were 100gm of Exmoor Sock Fingering Weight (60% Exmoore Blueface, 20% Corridale, 10% Zwartbles and 10% Nylon) hand-dyed in a Ruby Red Colour (COLOUR A) and, 70gm of Rainbow Handspun (approx. fingering weight) (COLOUR B). (Note Yarn Weight can easily be substituted for any yarn weight you want)
•
Needles
– 3.75mm (US5) on a Long Cable to accommodate all the stitches (I suggest 32"/80cm or 40"/100cm length)
•
Notions
– 3 Stitch Markers, Scales (for weighing your yarn - OPTIONAL)
•
Gauge
 – Approx 24 sts / 4 inches in stockinette stitch after gentle blocking (although gauge is really not too important with this shawl as long as you are liking the fabric you are getting).
Finished Size of Shawl – 170cm (67 inches) on the longest edge & 71cm (28 inches) at the deepest point Note this size is changeable depending on the yarn weight, needle size and quantity of yarn you choose to use.