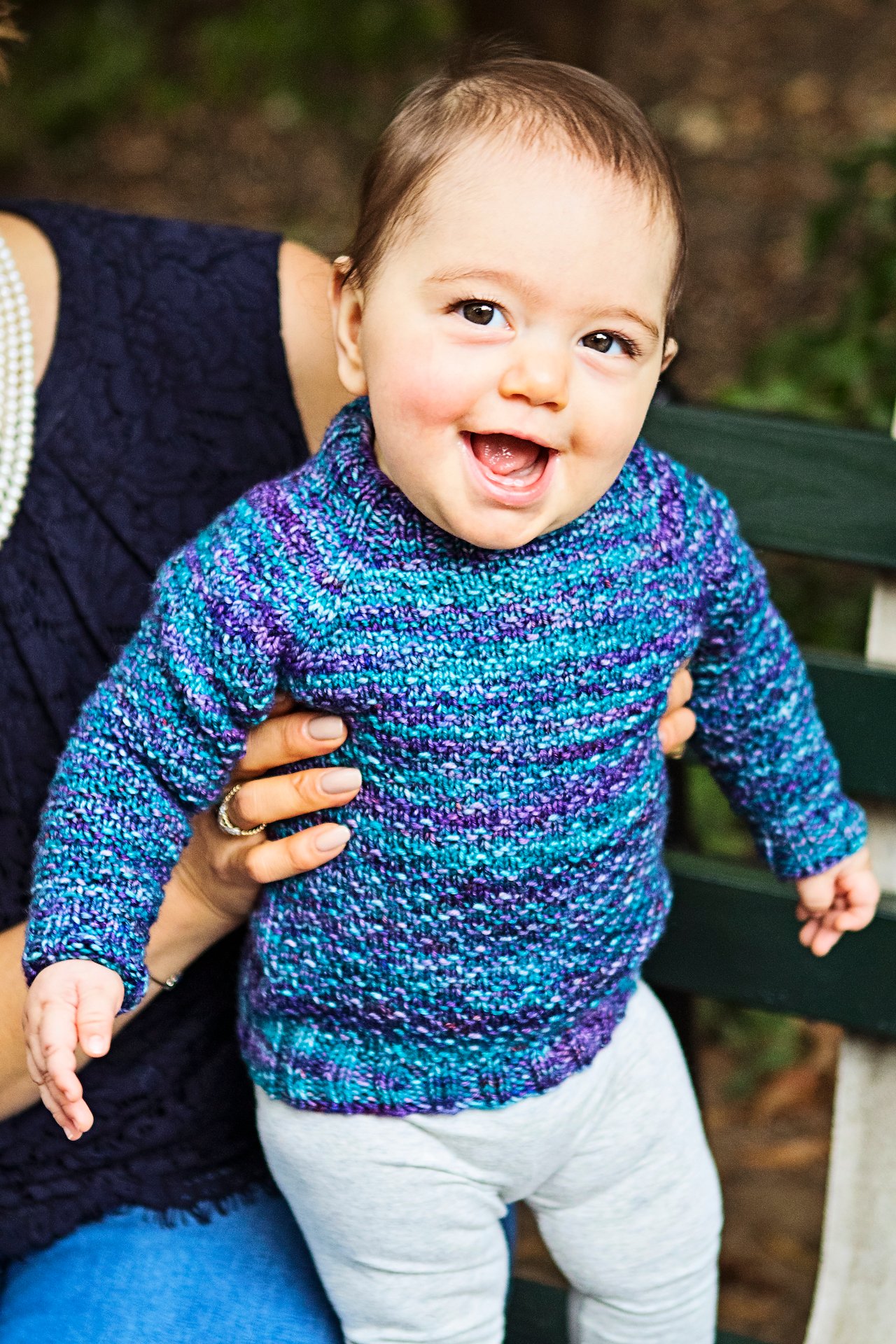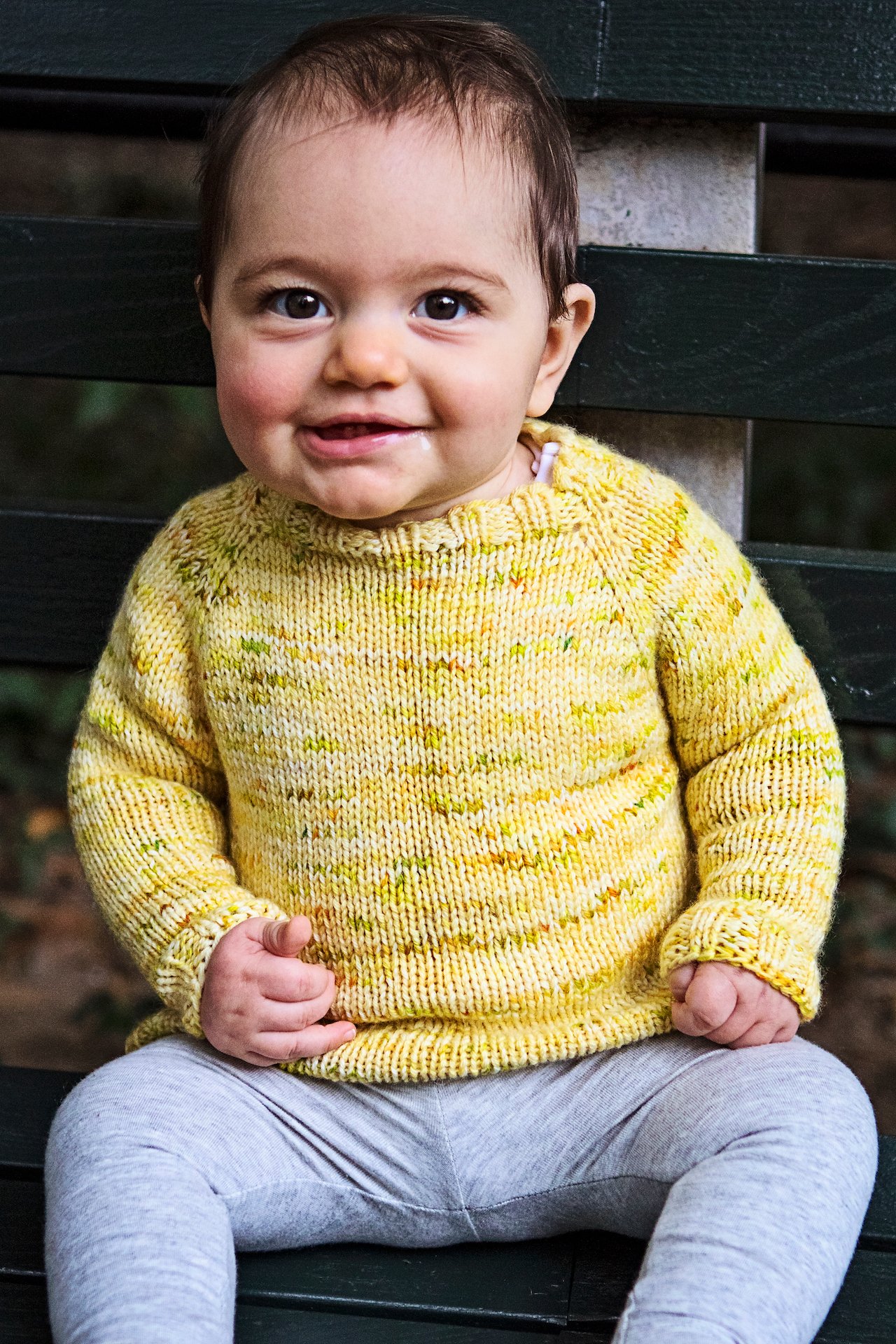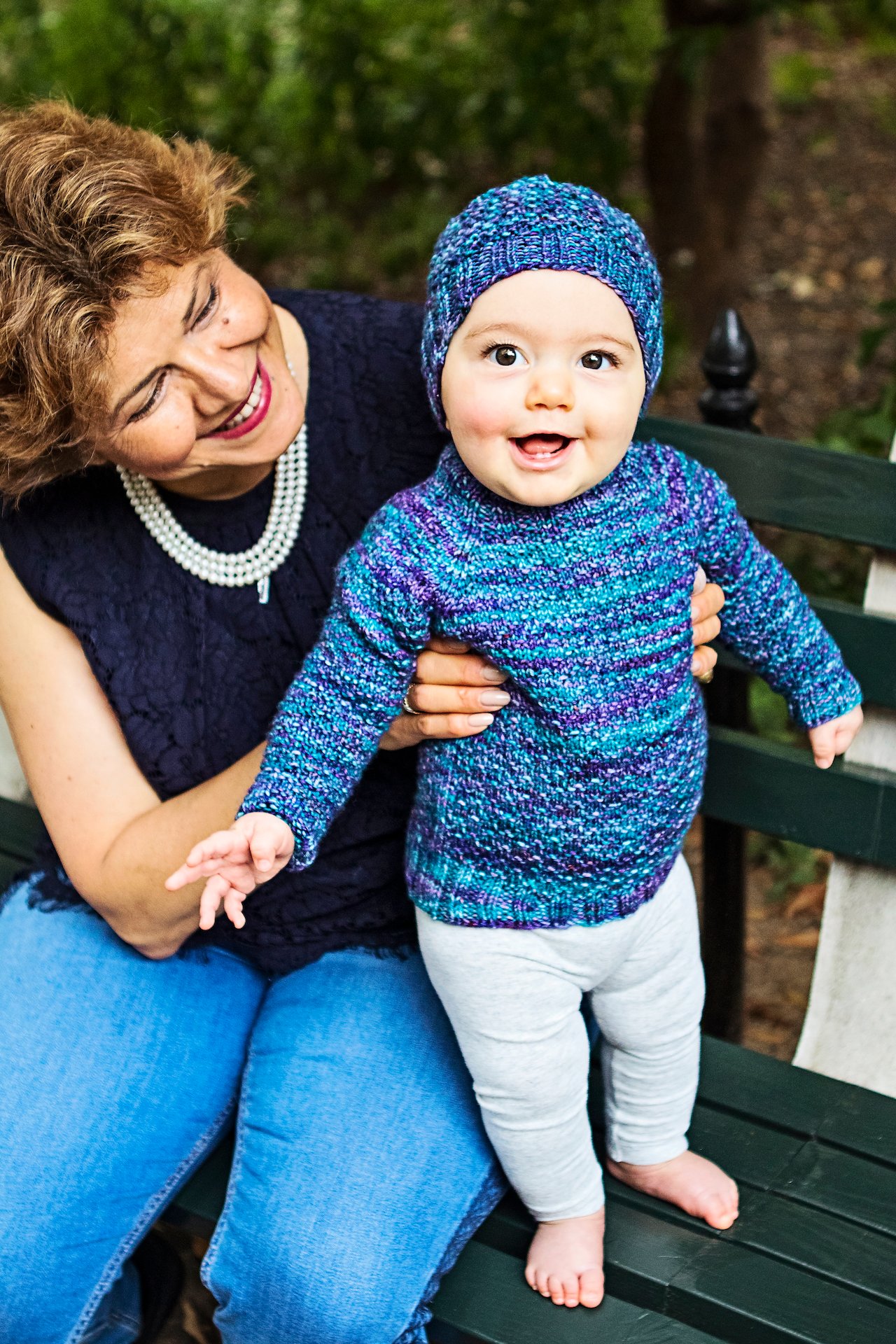 Child Mix & Match Sweater
On Sale
£5.00
This is a fun and easy to knit pattern … you can knit it in either a DK or Worsted weight which gives the added bonus of making this a rather quick knit as well! Lots of fun with plenty of options to choose from and Mix & Match to make your sweater as unique as you wish.

Please note there is a matching Hat pattern to this sweater as well the Child Mix & Match Hat - so if you purchase the patterns together as an E-Book you will be saving 25% off the total price compared to purchasing the patterns separately.

What you will need:
Yarn – There are two weight options for this pattern DK or Worsted, as well as two options for how you knit the pattern – stockinette or textured. See more exact yarn amount requirements in sizing chart below. Yarn used in the Textured sample – Makershaven Yarns DK in the Layla Colourway (211m/231yds) – Alternatively you can also use fingering weight yarn held double which is what was used for the Plain Sample (Primrose Yarn Co on the Sophia MCN base in the Lemongrass Colourway).

• 250 – 700m (273 – 765 yds) of DK Weight Yarn (100-400g)
• 250 – 700m (273 – 765 yds) of Worsted Weight Yarn (100-400g)

Needles –

• DK Textured Version – 4mm (US6) 16inch (40cm) circulars, and longer cables for magic loop on sleeves or DPN's.

• Worsted Textured Version – 4.5mm (US7) 16inch (40cm) circulars, and longer cables for magic loop on sleeves or DPN's.

Note for those knitting the larger sizes (2-4, 4-6 & 6-8yrs) I would suggest you use a needle 1-2 sizes smaller than you are going to use for the body for your ribbing, especially to avoid a saggy neckband. For the younger sizes it can sometimes be hard to dress a young child/baby if the neckband is a little tighter so I recommend you stick with the same needle size as you will be using on the body to provide the most flexibility.

Notions –

3 Stitch markers
Beginning of Round Marker,
Scrap yarn (or stitch holders),
Tapestry Needle
Gauge – All versions the gauge is 20sts/4inches and 28rows/4inches (this is for both Worsted and DK) – Gauge should be measured AFTER blocking.

For this reason it is vitally important that you swatch and use the right size needles to get correct gauge in the texture pattern, and for either weight you use, in order to get the correct sized garment. Knitting the garment at the incorrect gauge may result in a sweater that is smaller or larger than intended (and if larger you may not have enough yarn to complete the garment). The recommended needle sizes in the pattern reflect the sizes I needed to use to get gauge for this pattern using the different weights and stitch patterns.

Sizing – The pattern includes 6 children sizes ranging from 3-6 months up to 6-8years old. You can knit the sweater with 1-2 inches of positive ease (2.5-5cm) and this will give a good amount of room for your baby/child to grow into the garment over time so they can wear it for longer. I have also made the sleeve and body lengths longer than average to accommodate those rapidly growing little ones. Of course these lengths are easily customizable to your preferences and you can adjust as you wish.

(sizing chart is the last photo on this pattern page)

I would also suggest going off the finished chest circumference measurements to see which size you need to knit for your intended recipient as the associated ages next to it are the average and the child you knit for may be smaller or larger than the average.

The textured sample shown is the 1-2yr size on a 7month old baby (she is on the larger size clothing wise) and there is a good amount of ease in this size for her to grow into it. The plain sample shown is in the 6-12m size also shown on the same 7month old baby and there again there is still a little ease, but not as much, so this will fit her nicely through this coming winter season while the other size should still fit her next winter as well.

Please read the pattern notes and information carefully and I strongly suggest highlighting (or otherwise marking) the information that is relevant to the size of garment you are knitting to ensure you are following the correct information. I have tried to make this pattern as versatile and customizable as possible but as a result there is a lot of information included in it; the Printing Notes will also help you to find the pages you need for each section of your project.

There are several options you can choose from to mix and match and get a finished garment you will love!

Two Neckband options – a Regular Crew neck, which, is the same at the front and back. As well as a Raised Neck version with a couple short rows which helps to raise the back of the neck slightly to give a definite front and back to the neckline. All of the shaping is done in the ribbing, this makes the instructions for the body easier to follow.

This raised neckline also helps keep the back of your child's neck warm in cooler weather (cause we all know how hard it is to get a child to wear a scarf!).

Two Body Options – Stockinette or Textured. The stockinette version is great for those lovely tonals/speckled yarns that you just want to show off as is. Where the textured version is great for those yarns that may have a tendency to pool or just to add a little something extra – plus its fun to knit!

Two Hem Options – a Regular Straight Hem, which as it states is simply knit straight without any shaping. As well as a Curved Hem, which uses a few short rows to create a high-low hem look with the back of the hem being slightly longer than the front. All of the shaping is done in the ribbing again to make the instructions for the body easier to follow.

The High-Low hem is great for older children to keep their lower backs covered when they are running around playing and their clothes ride up a little, and for smaller babies it's easier to tuck the longer back under them when they are sat down again to ensure their lower back is nice and snug.

Two Sleeve Options – Short and Long Sleeves, instructions are provided for a short sleeve for those in climates where it may not be required to have full length sleeves, as well as instructions for long sleeves.

Two Yarn Weight Options - You can choose to the knit the pattern in either a DK or Worsted weight yarn (you will need to swatch and adjust needle size to get correct gauge).

So between all of this you have 8 options on how to customize the pattern and two weights of yarn to choose from, so overall there are 10 different options to mix and match to get a result you will enjoy.

Other Customizing Options:
You can further customize your sweater by doing any of the following –
• Striping the sweater
• Using a contrasting colour for all the ribbing
• Using scraps to get an eclectic look
• Hold Fingering weight doubled (typically this gives a worsted weight but you should check gauge to ensure accurate sizing) to create a fun marled look

Please note there are 2 PDF's one is the Plain Stockinette version with all the options and the other is for the Textured version with all the options, this is done to make things easier to navigate within the pattern.