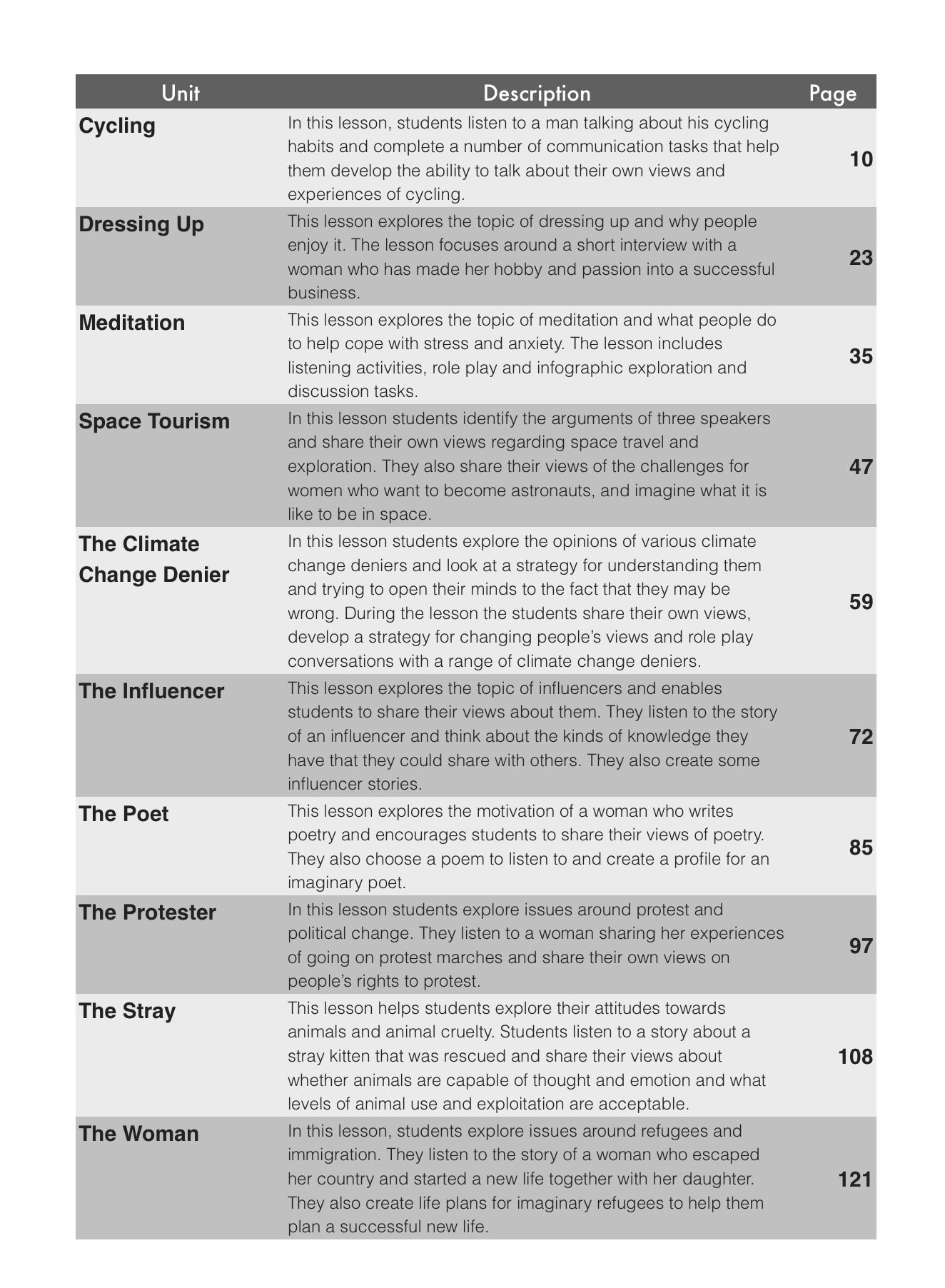 Conversation & Listening 3 - Blended Learning Edition + Students' Workbook App
On Sale
$24.99
Get your students speaking and developing their listening and conversation skills with this series of 10 engaging lessons for the remote, face to face or hybrid classroom.
This book also includes a workbook app for students that enables them to access the materials, media and interactive self study activities from their mobile device or computer desktop.
Each of the 10 units in this 130-page PDF teachers' guide contains around 120 mins of learning materials.
The lessons can be used as a conversation course, or you can select individual lessons to supplement and existing course.
Level:
B1+
Topics
Unit 1 - Cycling
Unit 2 - Dressing up
Unit 3 - Meditation
Unit 4 - Space tourism
Unit 5 - Climate change denial
Unit 6 - The influencer
Unit 7 - The Poet
Unit 8 - The Protester
Unit 9 - The Stray
Unit 10 - The Refugee
The materials have been designed to be user-friendly for both the physical and the remote classroom, with audio files built into the slides and a wide range of materials that students can scan onto mobile devices or open in a browser tab to make listening or role play type activities easier to manage.
Blended learning
The blended learning activities that are included in each unit are intended to extend the students' learning and help to develop their learner independence. The activities can be used at the discretion of the teacher either in a flipped way to prepare students for the lessons or to consolidate and extend what students have learned during the lessons.
These activities have been developed to help students develop their writing skills, activate their vocabulary, improve their pronunciation and further develop their listening skills. Each unit contains at least 5 interactive activities that students can do either on their computer or mobile device.
The materials use visually rich images, audio monologues and creative and engaging tasks to help students develop empathy with others and approach the development of their language skills in a personal and intimate way.