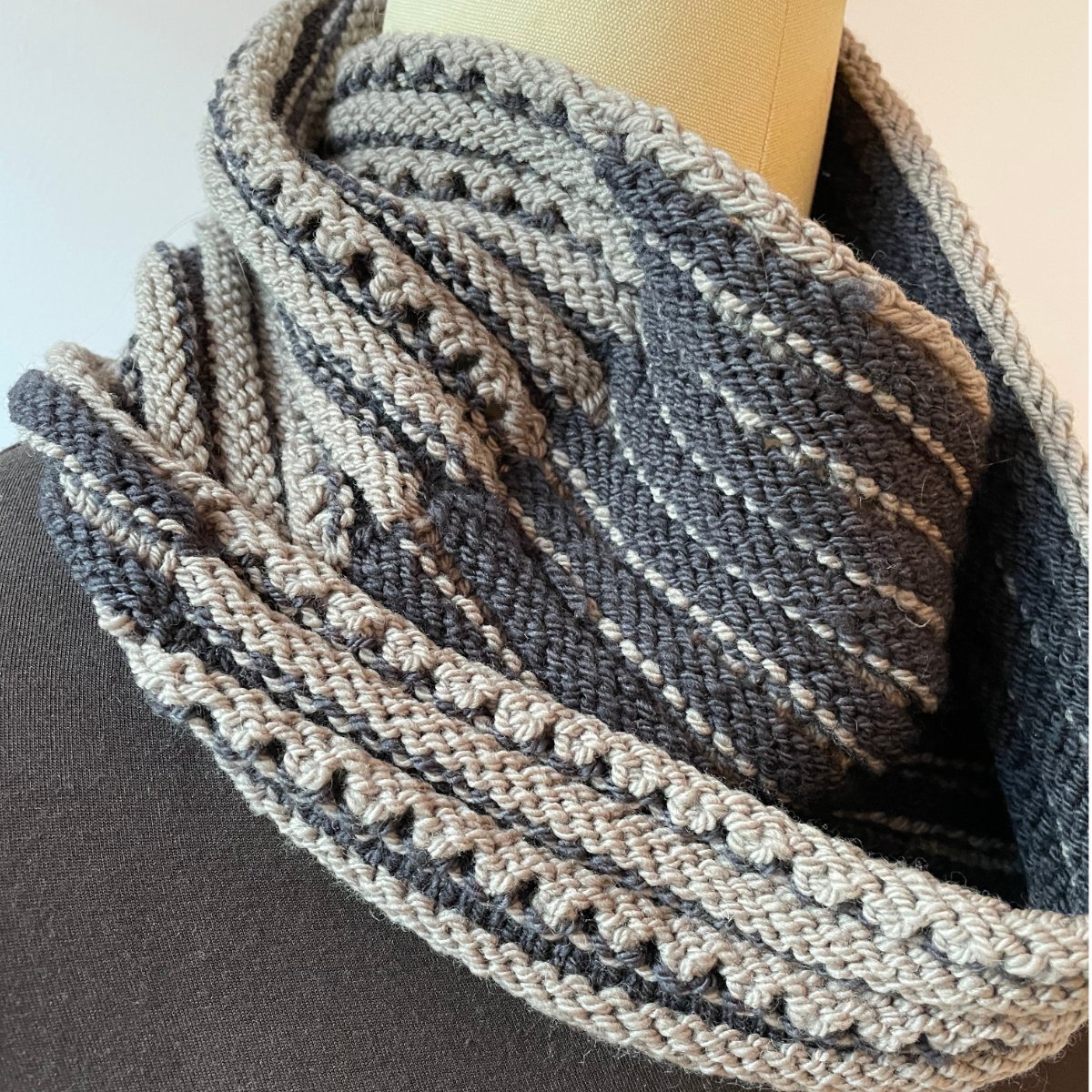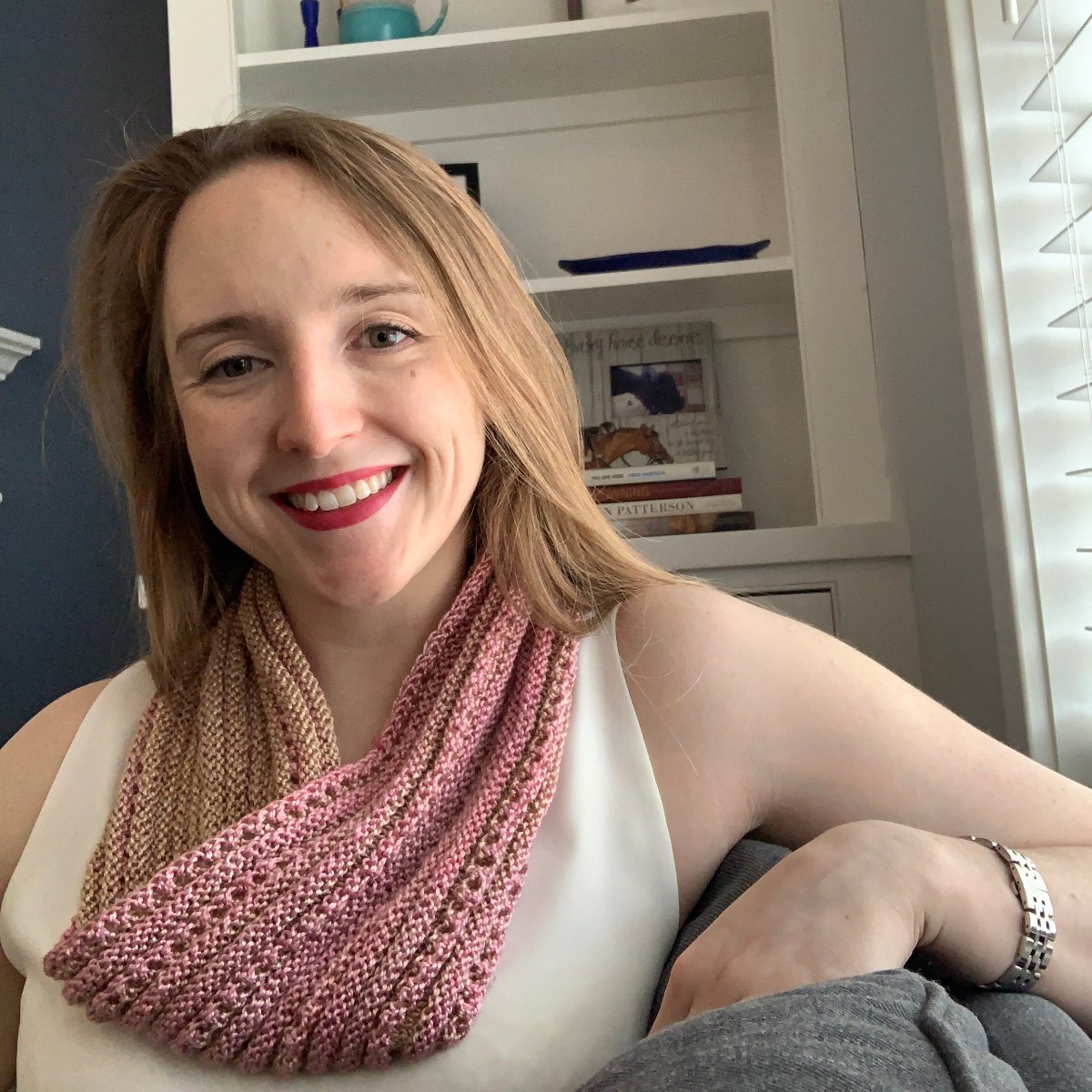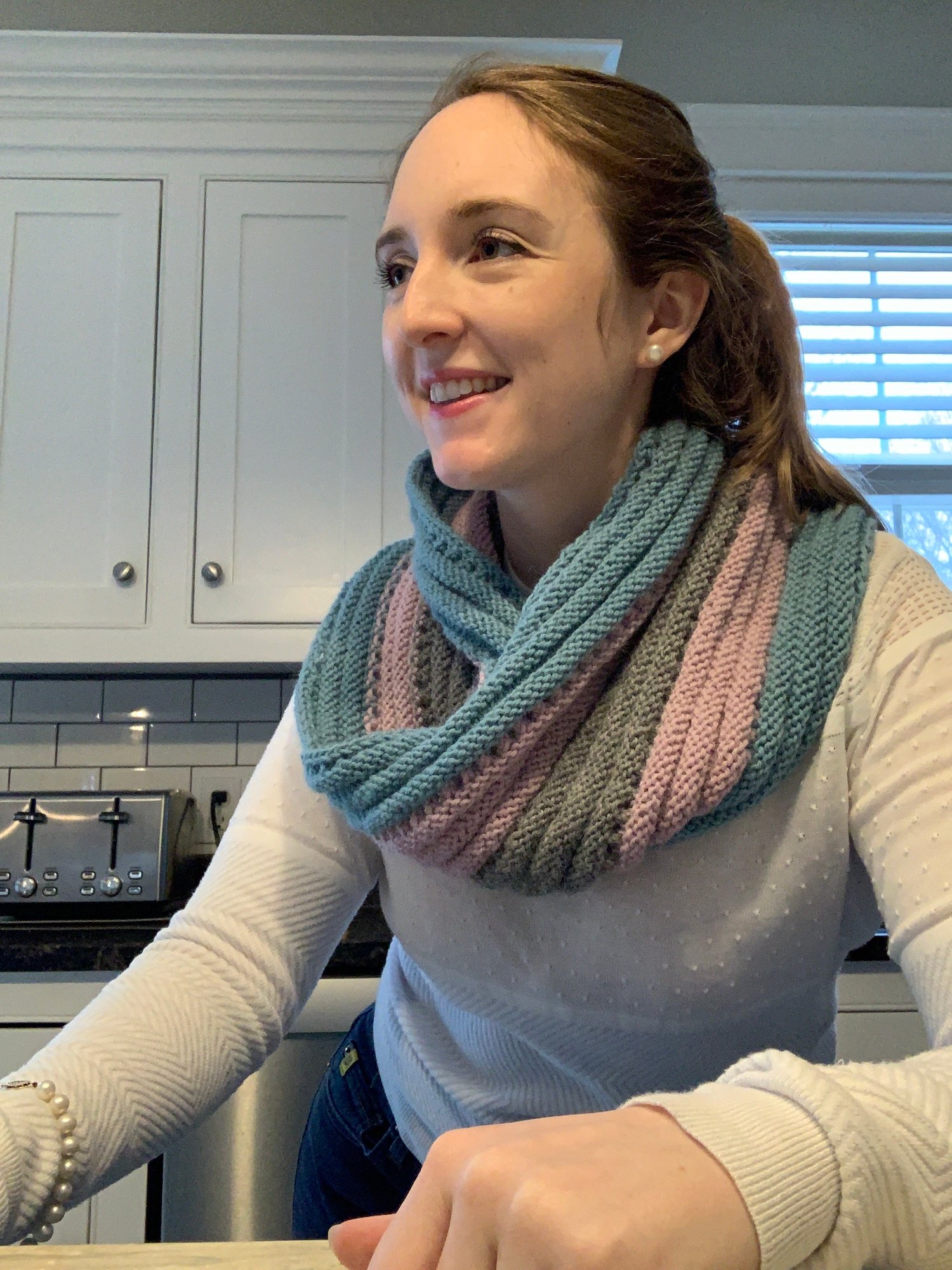 Lyon Cowl & Lyon Traboules Cowl
On Sale
Lyon Cowl is ribbons of color in a comfortably, squishy cowl with a stylish twist.  Begin with Cat Bordhi's moebius cast-on and work horizontal ribs and eyelets through the singular magic of a moebius.  This is a perfect project for using up bits of yarn left over from favorite projects.
Find out how to use this pattern, do the Moebius Cast on, proceed after the cast on, and do JSSBO (you will be so smart when you are finished!)
by watching tutorials
.  Use this coupon code to access the tutorials:
 llvwawr2u3xllt

Flexibility is a key element here: end the horizontal ribs when needed to accommodate your yarn quantity.  Use the Yardage Calculator to estimate yarn needed, and follow either written instructions or Action charts — or use both!
Even more flexibility is in the Lyon Traboules Cowl.  Enter a few key numbers into a Calculator and create your own version to your preferred measurements, gauge, and yarn.  Use this calculator to create your own perfect Lyon Cowl.
Lyon Cowl
Follow along written instructions, Action chart, or a combination and end up with a lovely, wearable cowl.  Use up leftover yarn, use a set of mini-skeins, or even make it one color!  I have given you the exact color sequence I used, but you can do whatever works for the yarn you are using.  Be adventurous and use up your leftovers!
If you've done a moebius, you know how fun they can be.  The change at the half-way point of every round will keep things looking the same on both sides — or does it?  With a moebius you have so many ways to twist and turn things.  Although the pattern has lots of rounds, it is easy to see how it unfolds after the Setup and first two rounds — four rounds of Reverse Stockinette & Stockinette, followed by four rounds of Stockinette & Reverse Stockinette, with the next four rounds interrupted by an Eyelet round.
If you find you need to end before finishing all the rounds, work three rounds in a color set then bind off in the same color.  It really doesn't matter what set you are on.
A moebius is worked from the inside outward in both directions.  Each round works first one side of the center, then the other, working twice the number of stitches as are cast on.  On the Setup Rnd, work into an open loop even if it is into the back leg.  Check out Cat Bordhi's video to better understand working a moebius.
Lyon Traboules Cowl
Lyon is known for its Traboules, which are covered walkways that were built to protect the silk, silk workers, and silk merchants from the elements when moving their goods from factories to market.  Generally secret or hidden passageways and stairways the earliest in Lyon date from the 4th century.
Take the Lyons Traboules to get the cowl you want!  Use the Lyon Traboules Calculator to get numbers for making this at any gauge, in any yarn, in your preferred measurements.
I have mirrored the Lyon pattern, putting in the cells information is needed from.  I'm really curious to know how you like this — so please take the survey at the end, even if you don't actually knit a Lyon Traboules.
I love the way knit-purl transitions look, but if you don't, avoid them by changing color on the 2nd or 3rd round of any color set instead of the 1st round.  You can even do this in a solid color!
For more information about Lyon Cowl & Lyon Traboules Cowl here on JillWolcottKnits.com.And find more Jill Wolcott Knits® patterns here on PayHip.