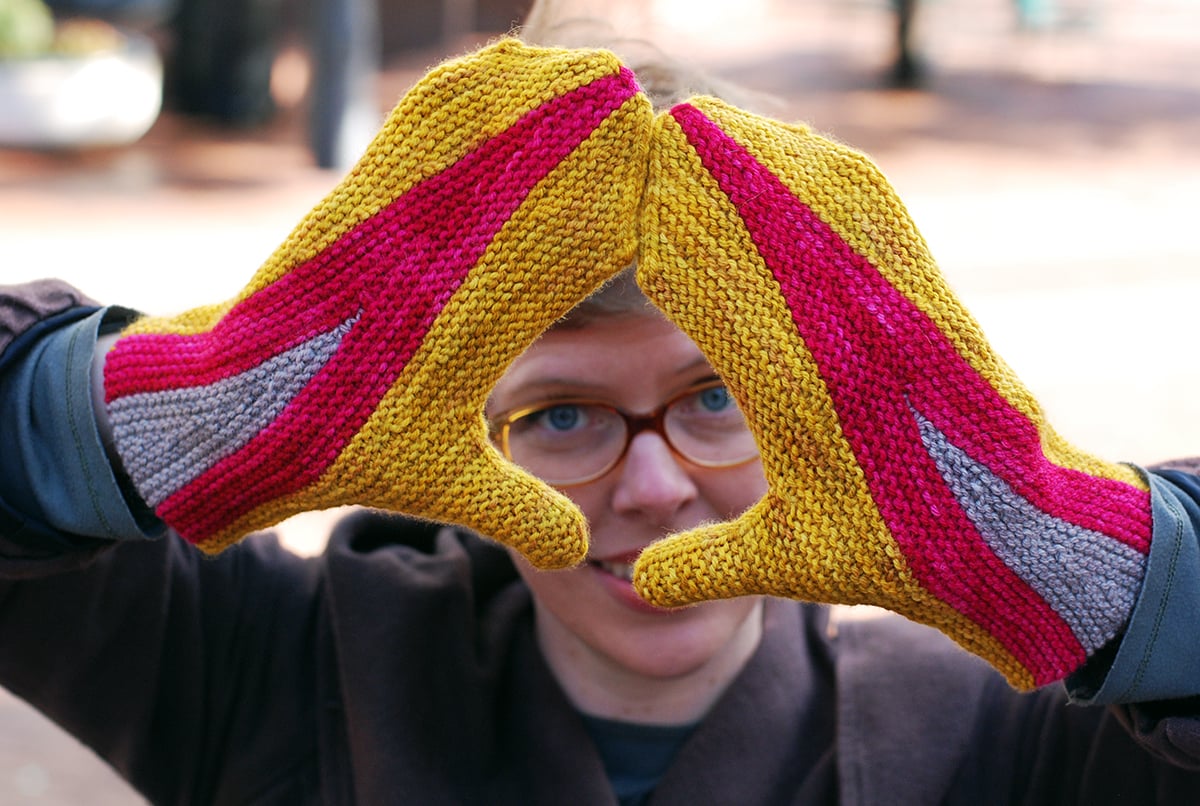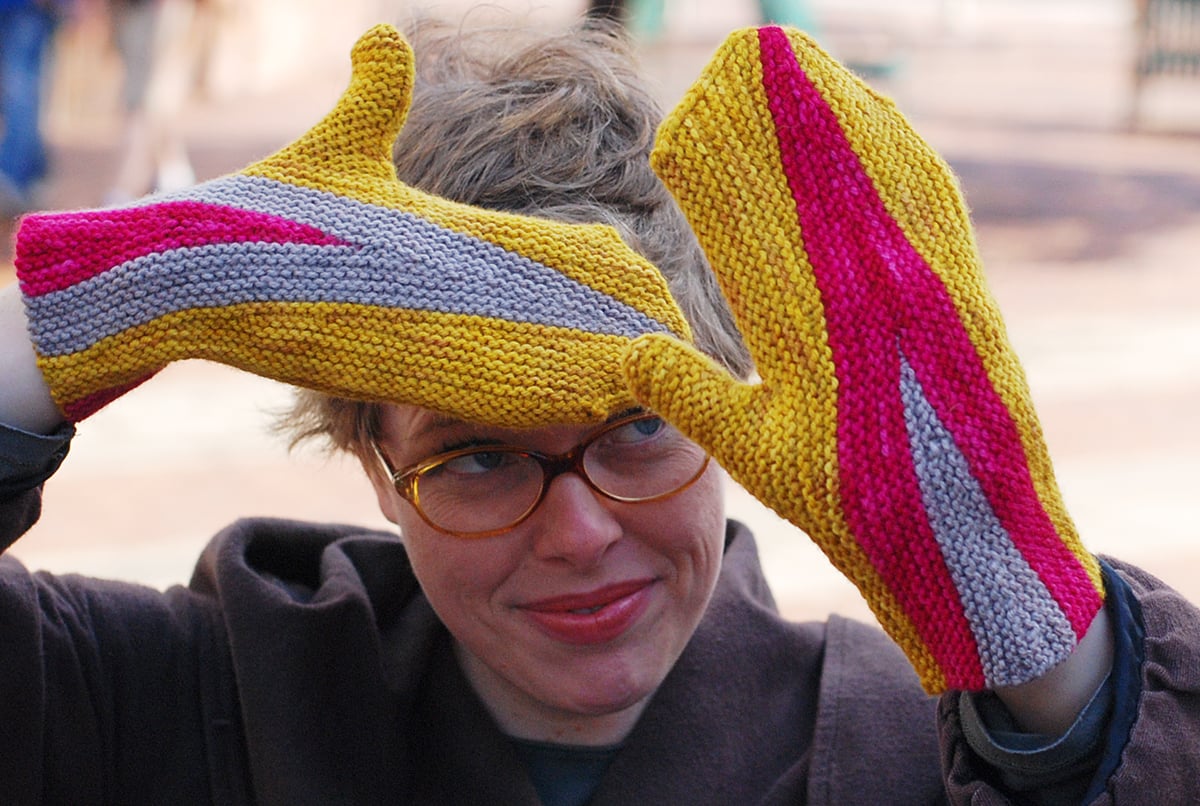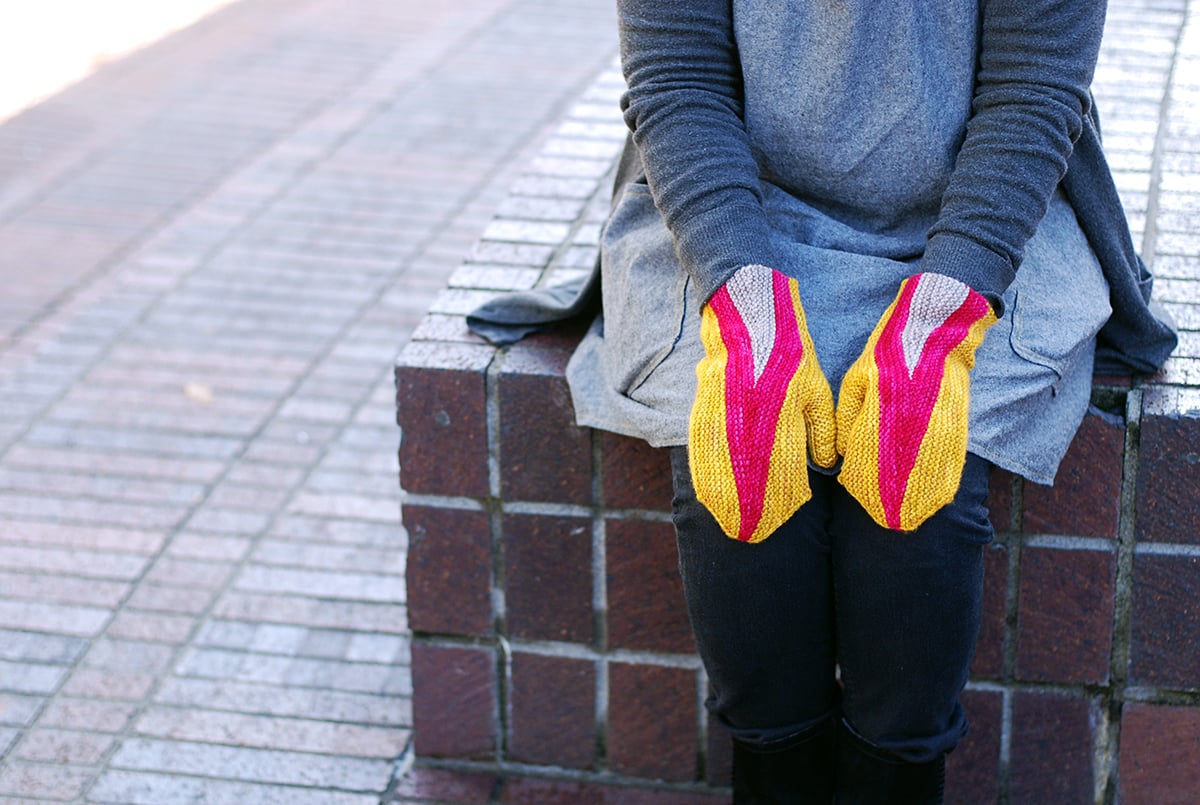 Incenter
On Sale
Preview
3-color garter stitch mittens with triangular color blocks
This is part of the 
In Triplicate Trio
: each individual pattern is $6 or the set of all three is $12.
fun to make - worked sideways in one piece with short rows for color design
colors flip placement on front and back of mittens, which can be worn on either hand
construction is made with Judy's magic cast-on on outside, grafting on inside, and thumb worked around
mittens are one size (adult), with thumb (and gusset) placed and sized to fit
make a kid size by using a smaller yarn/gauge
Incenter is a pair of comfy garter stitch mittens in three colors — the unusual sideways construction makes them super fun to make!
The main body of the mitten is one size fits most, and the thumb is placed and sized for the best fit; you can try it on your hand as you go to make sure the fit is perfect.
Yarn:
approximately 200-215 yards total sport-DK weight yarn, in three colors. I used Blue Moon Fiber Arts Gaea Sport, colorways Ochroid (yellow, color A, 106 yards), Mica (brown, color B/C, 47 yards) & Lover's Leap (HOT pink, color C/B, 47 yards).
Sizing:
8.5" circumference, 10.5" tall, a roomy size for most adult hands; to adjust hand size, adjust gauge.
Thumb is made to fit small medium, large hand: thumb is placed 4 4.75, 5.5" down from top of hand, thumb gusset is 2.25 2.5, 3" tall, thumb circumference to fit 2.25 2.5, 2.75", thumb length 2.5 3, 3.5" (all measurements are approximate). Make choices/adjustments by trying it on your hand as you go; you can use stitch counts besides the numbers given to get a more precise fit as needed.
These are made modularly with short rows, beginning by casting on to work outwards from the side, then across both sides with the short-row color patterns, to the thumb side, where the thumb is placed for the best fit and worked in the round. The pattern includes process photos.
Even though the mitten body is not actually worked in the round, you'll work with a long circular needle like working the magic loop method to turn the sharp corner around the top, until the piece is flexible enough to be able to work flat across.